Liverpool return to the Ataturk in Istanbul, the stadium in which they famously won their fifth Champions league trophy, when they face Besiktas in the Europa League on Thursday. Josh Sexton looks back at the Liverpool team that started the final in 2005, compared to the current team, almost ten years on.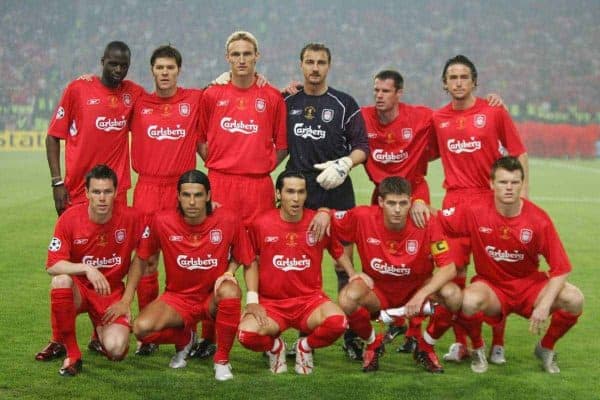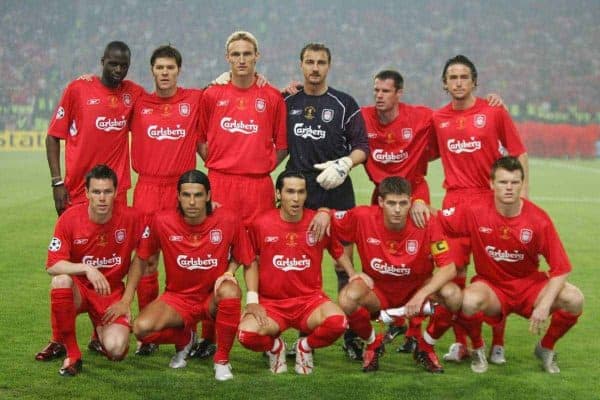 The Goalkeepers: Jerzy Dudek (then) and Simon Mignolet (now)
That night in Istanbul, on the 25th May 2005, is a night that Jerzy Dudek of all people will never forget. The Polish stopper pulled out the performance of his life against AC Milan and he will forever be immortalised for his display that night.
By comparison, Simon Mignolet has had a shaky start to his Liverpool career. His lack of confidence and poor kicking ability mean the Anfield faithful have questioned whether he is good enough to play for Liverpool.
The display of confidence in the shootout in May 2005 and two UEFA Goalkeeper of the year nominations, mean Dudek is head and shoulders above the current man between the sticks.
The Defence: Steve Finnan (then) and Emre Can (now)
Steve Finnan didn't enjoy his best personal night in Istanbul, as Kaka and Paolo Maldini tormented him before he was substituted at half time, but in his time at Liverpool he was a very consistent and underrated performer.
Emre Can signed for Liverpool in the summer and has made a big impression on fans since his arrival. He has shown great versatility, thriving in his new role on the right hand side of a back three. Can has the potential to go on and be a massive player for the Reds, in the future.
Finnan's consistent performances at Liverpool made him a fan favourite, but the physical ability and versatility of Emre Can, means he should be aiming for higher heights than the Irishman managed to achieve.
Jamie Carragher (then) and Martin Skrtel (now)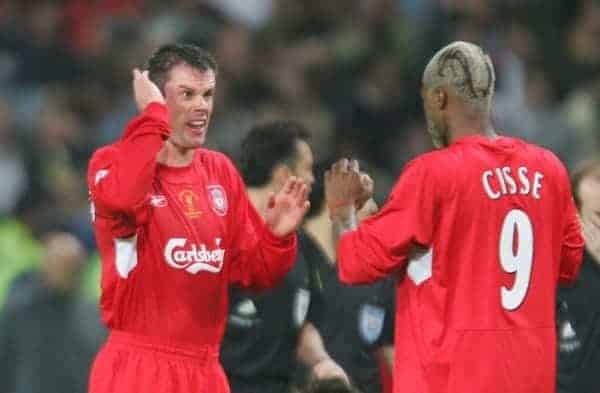 It is hard to know where to begin with Jamie Carragher. The Bootle-born centre half made 737 appearances during his time at the club, bettered only by Ian Callaghan. Carragher's attitude and work ethic made him the model professional and his tough talking and firm tackling style was unrivalled.
Martin Skrtel is one of the more experienced players at Liverpool and he quickly established himself as a cult favourite at Anfield, with his no-nonsense style of play. With over 250 first team appearances he is one of the longest serving members of the Liverpool squad, despite being criticised in the past for defensive errors.
This is a no contest, due to the legendary status that Carragher built during his Liverpool career, there hasn't been and won't be many better.
Sami Hyypia (then) and Mamadou Sakho (now)
Hyypia had an average night at the Ataturk in 2005, but he will forever be a Liverpool legend, due to his strong and composed performances. The big Finn was a terrific servant to the club and a professional on and off the field. He made 464 appearances for the Reds, forming formidable partnerships with both Stephane Henchoz and Carragher.
Mamadou Sakho has this season shown Liverpool fans why Rodgers paid £17 million pounds for his services. His composure has been a breath of fresh air for the defence and has been a catalyst in the success of the new back three.
Liverpool fans would hope that Sakho could match the ability of Hyypia, however it is unlikely that Sakho will become a legend at the club, in the same ilk as the big Finn.
Djimi Traore (then) and Alberto Moreno (now)
Traore is always labelled as one of the more obscure player to feature in Istanbul in 2005. The Kop made the song "blame it on Traore", after his clumsy own goal against Burnley, which knocked the Reds out of the FA Cup in 2005.
Keeping with the clumsy theme, Moreno made a shaky start to his Liverpool career, with his failure to clear his lines gifting Manchester City a goal, earlier in the season. However, since then the quick Spaniard has looked at home in the left wing back role, with his solo effort at Tottenham being a highlight.
Despite Moreno only signing in the summer, he has probably done enough to rank himself higher than Traore, and he will hope to go much further in the coming years.
The Midfield: Luis Garcia (then) and Jordan Henderson (now)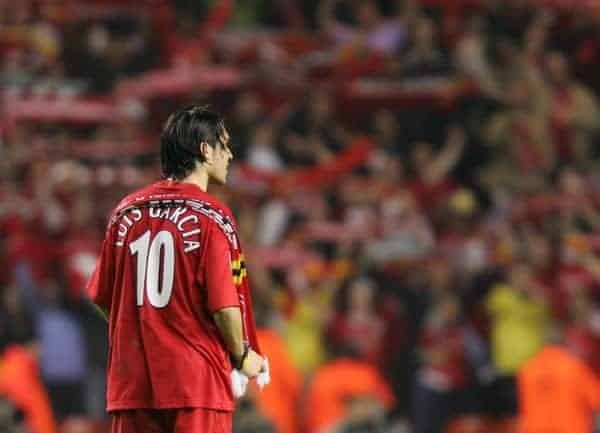 Garcia put in a quiet performance back in May 2005, but he won praise for his ability to perform in Europe, due to the way he played in the build up to the final. He became a fan favourite at the club, exciting the fans with great trickery and flair and will be remembered as a big game player.
Jordan Henderson was signed from Sunderland for around £20 million in the summer of 2011. His Liverpool career didn't kick-start as fans may have hoped, however Henderson has really kicked on since then and his work ethic and ability to provide the killer pass has won him the manager's approval.
Both players are fan favourites and it is a difficult comparison. Henderson probably edges the contest for his consistency, and he seems set to be the next Liverpool captain, hopefully a sign of good things to come.
Xabi Alonso (then) and Lucas Leiva (now)
Alonso scored in Istanbul, after his penalty was saved by Dida but he converted the rebound, to tie the game at 3-3 and he was loved by Liverpool fans. His range of passing and his ability to score from long range made him a true world class talent.
Lucas Leiva is another who has experienced his fair share of highs and lows at the club. He was scapegoated for many poor team performances in his early days, however after the sale of Alonso, Lucas found a new lease on life and despite ongoing rumours that Lucas could be set to leave the club he has been vital to the Reds' recent good form.
Despite Lucas's consistency, Xabi Alonso has shown during and after his time at Liverpool that he is truly a world class talent and has won countless honours to represent that.
Steven Gerrard (then and now)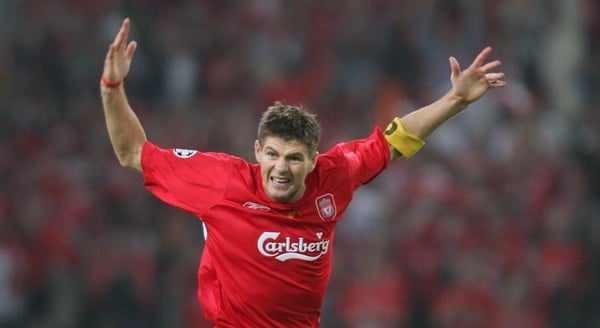 Gerrard was man of the match in Istanbul as he rallied the team to one of the greatest nights in football history. He is rated by many as the greatest Liverpool player of all time. It is always apparent that it is a dream come true for Gerrard to play for, and captain, his boyhood club. He has saved Liverpool on countless occasions and has won almost every honour at the club. The former England captain is idolised and adored at Anfield and it is unlikely that another player of his kind will play for Liverpool. He is beyond comparison, and will be sorely missed when he leaves.
John Arne Riise (then) and Raheem Sterling (now)
Riise was the only player to miss in the shootout in the Champions League final. He left much to be desired as a defender during his time at the club, however his ability to go forward was unquestioned. He could strike a ball with such ferocity and displayed fantastic crossing ability, including setting up Gerrard's header in Istanbul.
Raheem Sterling is a player with a massive future ahead of him. At the age of just 20 he is already an established first team player and his pace and skill are enough to frighten even the best defenders. If Liverpool can tie him up long term, the fans are in for something special.
Riise became a hero at Anfield, however he had some extreme lows during his time, and based on what the future may hold, Sterling takes this contest.
The Attack: Vladimir Smicer (then) and Phillipe Coutinho (now)
Despite Harry Kewell starting the final in 2005, he was substituted for Smicer due to injury, and the less said about that the better. Smicer scored Liverpool's second goal and converted the winning penalty in his last game for the club. Injuries disrupted parts of his time at Liverpool but he still showed glimpses of a great player, summed up by his contribution in Istanbul.
Phillipe Coutinho has been a revelation for the Reds this season, and has been nicknamed the magician for the trickery he has displayed in a Liverpool shirt. He has established consistency in his game and has shown his ability to split defences with passing and dictate games from the number ten role.
Coutinho takes this one based on his ability to produce the extraordinary; he can create chances out of nothing and will be crucial to the Reds for years to come.
Milan Baros (then) and Daniel Sturridge (now)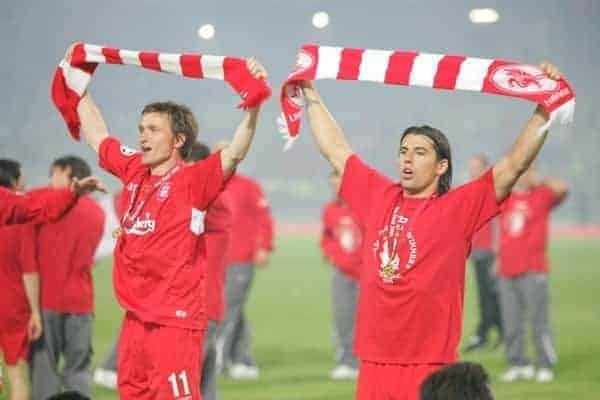 Baros had his ups and downs at the club, particularly in terms of goal scoring. His goal scoring rate could've been better, although injury did disrupt his second season at the club. His biggest weakness was that he would often go for glory rather than choosing a better passing option.
Sturridge has made a fantastic start to life at Anfield and has an impressive goal return to show for it. He has 33 league goals in 50 games, and he formed a formidable partnership with Luis Suarez in the 2013/14 season. Though injuries have disrupted this season, he scored on his return to fitness and will hopefully continue the way he began his time at the club.
Sturridge takes this contest. He is quick and a great finisher, although he, like Baros, has been accused of being selfish at times, he has already surpassed Baros's scoring in a smaller amount of games.
Hopefully, Thursday will go smoother than 2005, however there is no doubting that last time the Reds were in the Ataturk, it was one of the greatest nights in the history of the club.