Liverpool assistant manager Colin Pascoe believes Mario Balotelli fully deserved his first Premier League goal which crucially gave them victory over top-four rivals Tottenham.

The sides were locked at 2-2 with seven minutes remaining when the Italy international converted Adam Lallana's cross. Balotelli had been left out of the previous three squads after a woeful substitute performance at Chelsea in the Capital One Cup semi-final but Pascoe said the goal was just what he needed.
"Mario always works hard in training and recently he has been ill and he has had some knocks on his foot where he couldn't get his boot on," said the Welshman, standing in for Brendan Rodgers who had left to board a flight to Europe to watch a match tomorrow.
"It is testament to himself, he kept going and got his reward."
Considering he had waited all season for the goal, Balotelli did not look particularly pleased with his effort. There was no celebration and straight after the final whistle he headed off down the tunnel without shaking hands with team-mates or opponents, or acknowledging the fans who still back him despite his disappointing campaign.
"He is immensely happy. To get a winner at Anfield, I am sure he is happy. Again, with Mario he knew he would have a part to play and he certainly did," added Pascoe.
The victory was vital to Liverpool's Champions League ambitions as it moved them within three points of third-placed Southampton, who have a match in hand, and Arsenal in fourth.
"We needed to win tonight to get closer to the top," said Pascoe. "We always thought that. Our next (league) game is Southampton and we will look at that to get three points and keep closing the gap."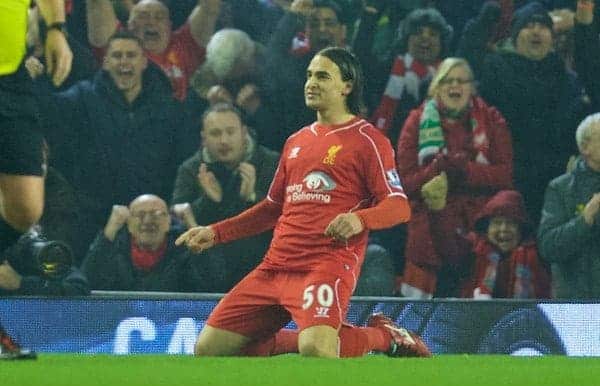 Lazar Markovic had given Liverpool an early lead, which was cancelled out by Harry Kane's 23rd of the season. Daniel Sturridge, on his first start for five months, won the penalty for Steven Gerrard to equal Robbie Fowler's club total of 183 but that was cancelled out by Mousa Dembele's close-range effort, only for Balotelli to have the final say.
"I think that it was a great game," said Spurs boss Mauricio Pochettino. "I am disappointed and at the same time proud of the effort of our players because it was great but in football you have to be lucky to get the points and today I think we were unlucky.
"I think maybe we gave the opportunity to Liverpool in the first half more than the second.
"We gave many balls away – easy balls to play – and Liverpool got the ball and played on the counter-attack.
"That was a little bit disappointing but I think the performance was good and we played to win the game. "I think it is a shame. We deserved a little bit more."