There can be no doubting that Steven Gerrard's time as a regular Liverpool starter is over, but should Brendan Rodgers start him against Everton on Saturday? Henry Jackson weighs up the pros and cons.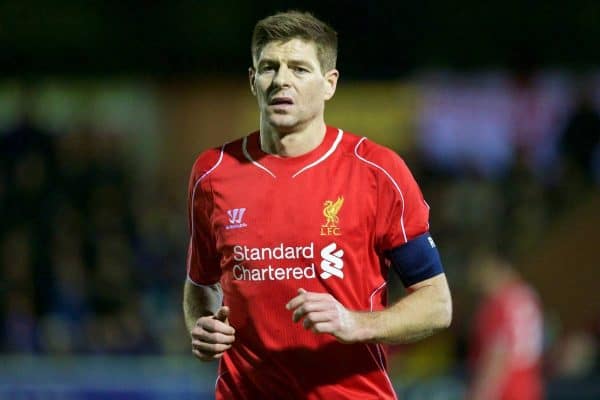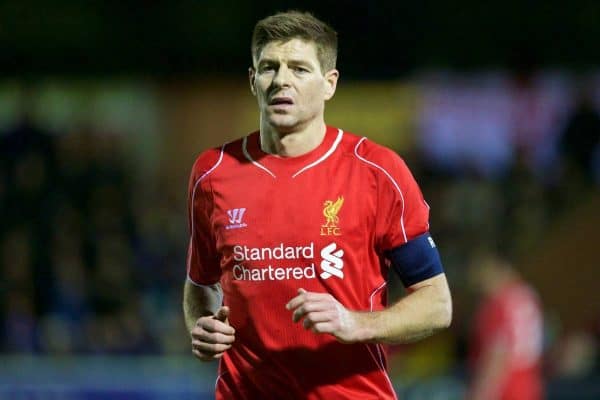 "It's likely that Gerrard is not only no longer Rodgers' first choice, but he will not start in his last derby on Saturday," writes The Mirror's Will Burton following Wednesday's last-gasp 2-1 victory over Bolton in the FA Cup.
For the first time in Gerrard's remarkable Reds career, there are now real question marks over his place in the side – even for what would be his 33rd and final Merseyside derby.
Should he start against Roberto Martinez's team?
AGAINST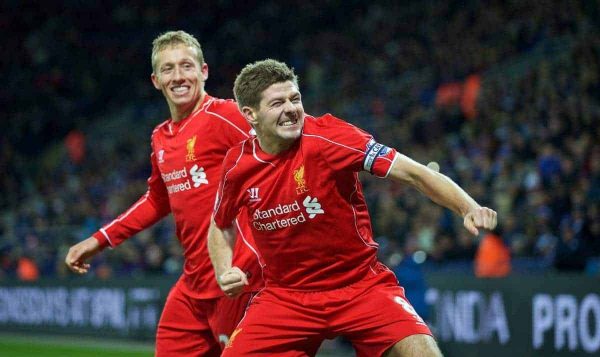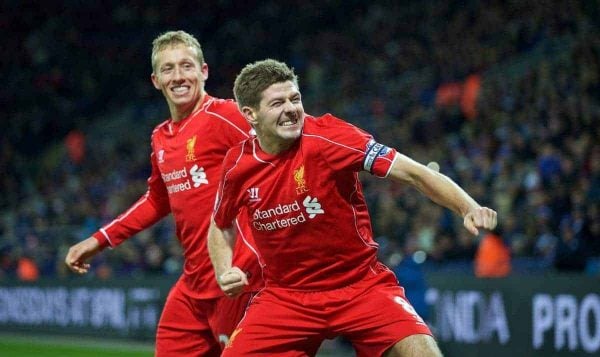 The biggest thing working against Gerrard is the form of those around him rather than his own performances and it is difficult to accommodate him in Rodgers' 3-4-2-1 formation.
Lucas Leiva and Jordan Henderson may both be well short of Gerrard when it comes to natural ability, but in terms of defensive cover and the balance they give to the current side, they have to be the undisputed first-choice pairing.
You only have to look at how much both players were missed against Bolton to see what they bring to the team. The Reds' performance improved when Henderson was on the pitch; albeit against 10 men.
Gerrard doesn't have the influence that he once did, and while his positional sense is something that has been criticised throughout his career, he got away with it during his peak because he was producing match-winning moments week in, week out.
That is not the case now, largely because of his ageing legs, and his flaws are far more evident because of it. Gerrard is still a very fine footballer, but he can almost look like a weak-link at times now.
There is, of course, an argument to say that the 34-year-old should be deployed as one of the two inside forwards behind the striker, in order to include him.
While the skipper has shown some decent form in that role, most notably against Leicester, Wimbledon and Chelsea, there are better options in that position now.
With Daniel Sturridge possibly to start his first game in five months, it makes sense for Rodgers to move Raheem Sterling back alongside Philippe Coutinho, giving Liverpool a potentially devastating front three.
Both are far more effective options in that role than Gerrard now, with more pace, intensity and work-rate at their disposal. With central and attacking midfield covered, the substitutes' bench looks a likely destination for skipper on Saturday.
FOR

The one thing that immediately springs to mind when you think of Gerrard not starting a game against Everton is the Toffees' fans rubbing their hands with glee. He has tormented his Merseyside rivals consistently for more than a decade, scoring 10 times against them and inspiring his side time and time again.
Whether it be the screamer at Goodison Park in 2001, the hat-trick at Anfield in 2012 or the free-kick earlier this season, he always seems to come up trumps against the Blues.
While 'Captain Fantastic' clearly isn't the force of old, he does still thrive most on the big occasion. His free-kick in the derby earlier this season, after a particularly tough week of criticism over his performances, is testament to that.
Liverpool don't have many who are so reliable when the pressure is on, and they are a young side who have been a little naive in important matches under Rodgers.
Gerrard still has that class in his locker, whether it be an inch-perfect set-piece, magical pass or stunning strike, which is why some will ultimately feel aggrieved if Rodgers doesn't start him at the weekend.
The derby can often be a feisty affair too, and both physical strength and experience can be invaluable in a game where red cards are rife. The 34-year-old has both in abundance.
CONCLUSION

Ultimately, Gerrard's inclusion or exclusion could come down to the fitness of Lucas Leiva. The skipper wrote on the Brazilian's instagram on Thursday ""I love you mate. Get yourself ready for the derby".



If Lucas is passed fit and Rodgers opts to start Sturridge, Gerrard will be watching from the bench.
But if Sturridge isn't fit, Gerrard should start ahead of Adam Lallana who is out of form at present and struggled in the last two games.
[interaction id="54d3be02a2eb4c4243412f91″]