With Liverpool's European campaign due to resume, we must now prepare for a demanding fixture list that could make or break our season, writes Simon Collings.

The Europa League – the confused and over-sized competition that it is – does provide Brendan Rodgers' side with another chance of silverware, and not many of us would argue against more European nights under the lights.
Okay, so Thursday night on Channel 5/ITV 4 (or whatever channel it is nowadays!) isn't ideal. And playing on Sunday afternoons – when we're supposed to be nursing hangovers or worrying about work on Monday morning – just doesn't seem right.
However, for all its drawbacks, I for one is looking forward to Liverpool participating in Europe's second-tier competition.
Yes I'd prefer us to be in the Champions League, however, apart from Steven Gerrard, our team lacks vital European experience. The Europa League is now the perfect opportunity on the continent for the likes of Emre Can, Raheem Sterling, and Philippe Coutinho to showcase their talents.
Not enough experience – yet
It's tough to argue it but would our youngsters benefit more from a decent run in Europe's second-tier competition, or to be hammered (possibly) by a Real Madrid or a Bayern Munich in the last sixteen of the Champions League?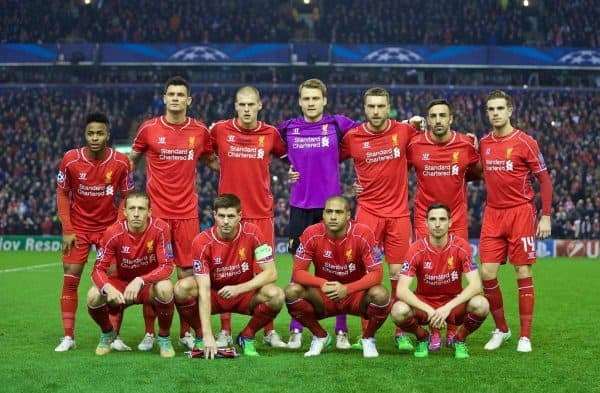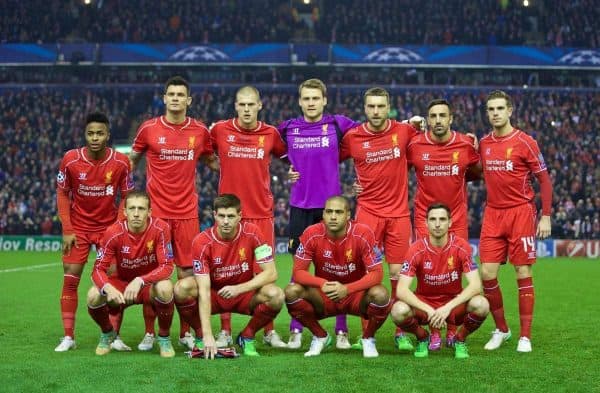 For me, it's the former.
At this moment, as a team, we're not equipped with competing against Europe's best – this years' group stage painfully confirmed this. A side can have all the talent in the world but if they haven't got the European experience/mentality, they're going to struggle. Just look Manchester City: They went from literally no Euro campaigns straight to the Nou Camp, and returned with their tails firmly between their legs.
Atletico lead the way
Having a crack at the Europa League allows up-and-coming teams (and players) a chance to gain vital European experience.
Athletico Madrid are the perfect example, and are now considered one of Europe's most feared sides. They were a whisker away from Champions League glory in 2014; having knocked out the likes of top-tier regulars Milan, Barcelona, and Chelsea. On the continent they look at ease, playing with a confidence and aggression that not many sides can cope with.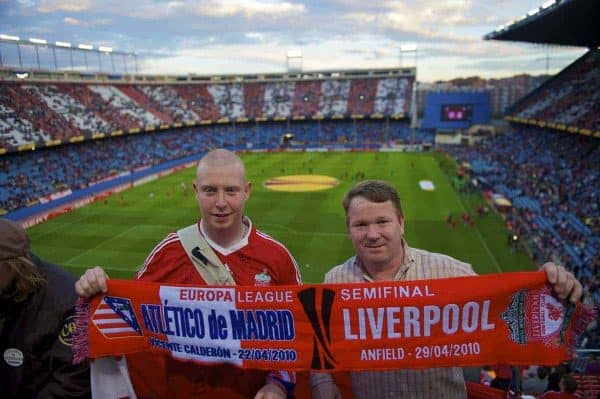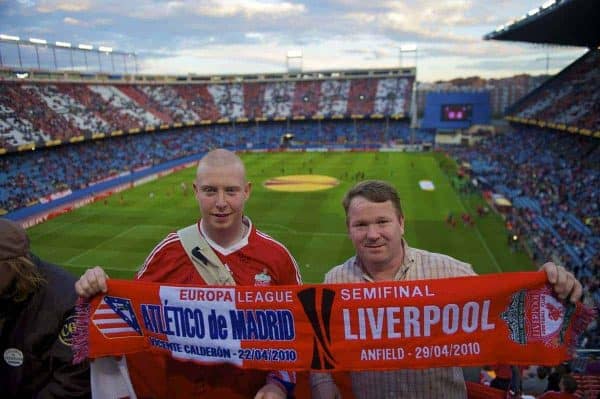 Their previous campaigns in the Europa League however, no doubt helped them establish their current European credentials. They won the competition twice in 2010 & 2012, and maintained this success domestically – turning them into the club we see today.
Closer to home
Unlike Atletico, top Premier League sides seem to turn their noses up at Europe's lesser competition.
I remember the likes of Chelsea, Tottenham, and Man. City all being humbled by 'lesser' sides because of their lack of interest (team rotation, and so-on).
Perhaps if Spurs and City had attempted to win the Europa League out-right, then they may have fared better in the Champions League?
As for Liverpool, if you look back at our European successes you see that the UEFA Cup triumphs were the catalyst for greater things.

Before dominating the continent in the late seventies and early eighties, two UEFA Cup wins in 1973 & 1976 gave the club, the players, and the manager the perfect springboard to achieve greater feats.
Without victory too in 2001, Istanbul might not have happened. That great run which kicked-off against Rapid Bucuresti, and which gave us great nights against Roma, Porto, and Barca, enabled the likes of Jamie Carragher, Sami Hyppia, Dietmar Hamann, and Gerrard to all gain the experience, and (more importantly) a winning mentality on the continent.
It's all about approach and experience on the European stage – something that Rodgers' side currently is without.
I believe the current format of the competition doesn't help though. UEFA have introduced the winners going into the following year's Champions League but they must also shorten it and revert back to knockout rounds if teams are to take it more seriously. There's clearly too many 'dead' games being played in too many groups.
In with a shout
No matter how messed up the format seems, Rodgers should still take it seriously. Since our dour exit from the Champions League back in December, we have improved as a side. Our confidence and intensity is back, and we look more like the team of 2013/14. Some suggest we could now take on the likes of Madrid, Bayern, or Barca and that we should forget everything else on focus solely on a top four finish.

Financially this makes sense. Yet if Rodgers did this, and chucked all he eggs in one top four-obsessed basket, by leaving aside the Europa League we'd be missing out on valuable European experience that would no doubt benefit the squad down the line. Financially it could help too. Why spend 30 or 40 million on future players with 'European experience' when we could help 'develop' our own?
Under-21s
It's like the under-21s at international level. I know as Liverpool fans we shouldn't care about the England setup but would a Sterling, Harry Kane, or a Ross Barkley benefit from playing in the European Under-21 Championship this summer? From an England perspective, of course they would.
Liverpool should treat the Europa League as if it were an under-21 tournament.

With the right attitude, Liverpool could do well – maybe not win it, but at least make the latter stages. There's still the likes of Napoli, Roma, Inter, Sevilla, Athletic Bilbao, and Ajax to contend with – not to mention Spurs and Everton. Yet if we progress against Besiktas we'll have an opportunity to go on a decent run, maybe making the semis.
If taken lightly however, we'll be out.
I hope that for the progression of the likes of Sterling and Coutinho, and also Jordon Ibe, Liverpool grab the Europa League with both hands (literally in May would be nice, of course!) and really take it seriously. It could pay dividends in the long run if we do so – just look back again to 2001, and the impact it had four years down the line!
See you all in Warsaw (hopefully) in May.