With Liverpool reaching a seemingly unstoppable level of form in 2015, Alex Malone highlights three key players leading the way.

Liverpool's recent form has been nothing less than astonishing, and that's not an exaggeration.
Let's not forget that after 12 games of the season we had 14 points.
After 18 games we had won seven, drawn four and lost seven giving us a measly 25 points. This was form that saw us in 9th place, four points ahead of Everton, three worse off than Swansea City, six behind West Ham United, seven behind Southampton, 10 behind Manchester United, 17 behind Manchester City and 20 behind Chelsea.
Now, after 29 games, we're 23 points ahead of Everton, 14 ahead of Swansea, 15 ahead of West Ham, four ahead of Southampton, two off the Mancs, four behind City, and 10 adrift of Chelsea.

The manager deserves great credit for the amazing turnaround, as does each and every player. But there has been a core of players who have played a genuinely massive part in this epic turnaround in results.
As these players have stepped up, games are being won with exciting regularity, goals are being scored, while the defence, who at times early this season resembled the Keystone Cops—drunk—have amazingly equalled a clean sheet record held since the Shankly days: six consecutive away clean sheets for the first time since 1972.
Let's take a look at three players, in no particular order of preference, who have played a massive part in a turnaround I think even the most optimistic of us would not have predicted.

I've been watching Liverpool for more years now than I care to admit, and in all of those years, there have been a select group of players who you know, from the very first time you see them play, that they have something special.
Kevin Keegan, Kenny Dalglish, Alan Hansen, Graeme Souness, Ray Clemence, Steve Heighway, Ian Rush, Robbie Fowler, Jan Molby, Steven Gerrard to name but a few…
Given the hundreds of players I've seen in Liverpool Red, the list is relatively small and select.
Add Emre Can to that list.
While the others now have legendary history and achievement on their CVs, Emre is just a kid still finding his way in the game and needing to prove himself long term. But it's been a long time since I've seen a player so young, so mature, so level-headed, and so damn good.
Can is, of course, German, so it's no surprise he is technically superior to many other players of his age. The Germans excel at producing such players. But to be so technically superior puts him on an entirely different level. Add to that, he is tough as old boots, has encouraging leadership qualities, is excellent with both feet, can pass short or long, tackle, drive forward, shoot, head…in fact there is nothing he can't do!

If you want to nitpick, you could say he's maybe sometimes not as positionally savvy as he could be in defence, but seeing as he's a midfielder by trade, that's not surprising.
Even then, he's adapting to the role like a United fan has adapted to mediocrity, and is improving by the week. He might not have been at his best recently against Swansea, but for one so young, his consistency has been fantastic.
He's also helping bring the best out of his central defensive partners. Martin Skrtel looks twice the player with Can alongside him; Mamadou Sakho looks more confident too.
Who would have believed in December, that Can would become part of a back four (goalkeeper included) that is breaking 40+ year old records for defensive solidarity, and has five clean sheets in the last seven games, conceding only two?
And there is absolutely no doubt he is going to get even better.
His future—once we find a defensive alternative of course—surely lies in midfield where I can see him driving through Premier League midfielders and scattering the opposition like the missus scatters traffic cones on the M62.
Phillipe Coutinho

It's virtually impossible to read about Coutinho these days, without seeing the words 'magician' or 'genius' somewhere in the text. That's because he is!
Coutinho, it was clear from early on, had a lot of natural South American flair and ability, but I think it's fair to say he blew somewhat hot and cold, was inconsistent, and his shooting made Luther Blissett look good! (Look him up, kids!)
The only thing consistent back then was that if Rodgers did play him from the start, he would routinely withdraw him by the 60th to 70th minute.
The question was a valid one: could the talented little Brazilian kid add consistency and toughness (mental and physical) to his game? Answer: a resounding YES!

Coutinho is one of those rare players where you would pay good money just to watch him. His ball control is tremendous; his close control at pace, mesmerising; his change of direction bamboozling, and he sees a pass as good—or better—than anyone else in the Premier League.
But the big, huge, colossal, gargantuan change, the one we all hoped for but—let's be honest—weren't ever totally convinced we'd see it, is his shooting. He's currently conducting his own personal Goal of the Season competition with absolute stunners against Bolton, Southampton and Man City.
This is a player who I believe has all the raw materials to become one of the greats. Right now, there is no better player in the Premier League—even if he, like the rest, had a dodgy day at the office at Swansea.
Just his presence on the ball scares defenders to death. I, for one, can never work out where his dancing feet are going to take him next, so god knows what defenders must be thinking as he comes gliding and jinking his way towards them?

And when he's not ghosting past them, he's curling balls around them, or making passes they couldn't possibly expect he could make.
The pre-season flick against Dortmund from around the halfway line, weighted perfectly for Daniel Sturridge to run on to and score was world class. The control and instant flick for Sterling to lash home against West Ham was one of those pieces of skill that leaves you shaking your head in disbelief at the majesty of it.
What on earth were Inter Milan thinking? £8.5 million for a player of this class, and with this must potential must be the bargain of the century.

I will be completely honest here and tell you that I never thought I'd be writing this. Jordan, you've proved me wrong pal!
What I saw back when Henderson was first introduced in to the first XI, was a quite one-dimensional player with no real confidence in his own convictions. Yes, he would bust a gut for the team, yes, he had an amazing level of energy, but I saw a player I thought would too often take the 'safety first' option for fear of making a mistake.
It's been noted by many before me that he seemed in awe of Stevie G and I have to agree—he certainly seemed to be back then, but not anymore!
Henderson's growth as a player had been steady over the last 18 months, his overall performances improving, more confidence in passing forward rather than sideways, and having a greater influence generally in games. What wasn't improving was his shooting.
It wasn't just that he consistently missed the target; it was how he missed it.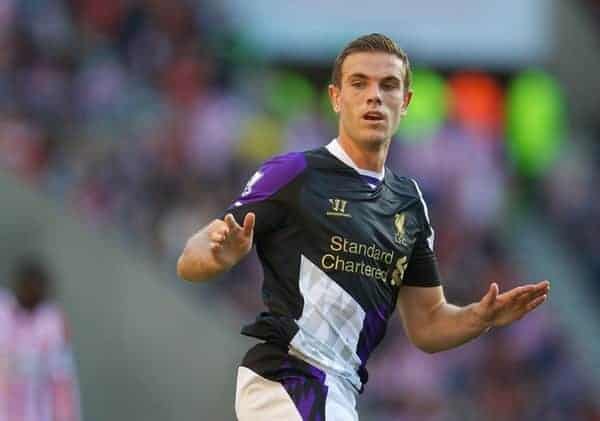 Technically, he just couldn't strike a ball cleanly, often leaning back, or getting his body shape and balance all wrong. A year ago, I was convinced that if he and Coutinho went to the local garden fete together, they wouldn't win a goldfish between them!
Fast forward to today, and I see a player transformed. I don't know if it's a coincidence, but Henderson's recent fantastic form has coincided with Gerrard's announcement that he was leaving the club at the end of the season.
Add to that, Steven got injured, leaving both the captaincy and the midfield general role both vacant. Jordan Henderson has not just taken the bull by the horns, he has wrestled it to the ground, and made beef burgers out of it!
He has grown visibly as a leader, as a protector of men and, vitally, as a player. He rarely misplaces a pass, and is essential to Liverpool's new press, possess, probe, pass and punish game.

His vision has also moved on from Ray Charles to Steve Austin and—just like Coutinho, he's learned to shoot!
Another one who couldn't hit a donkey's arse with a banjo is now scoring weekly worldies. The Man City hit was the best of his career by a million miles, closely followed by his Burnley one. He's even scoring flukes now!
With Can behind him—or maybe eventually next to him, and the little magician ahead of him, these are exciting times. An unbeaten league record in 2015 has been attained by, of course, every player on the pitch, and I'm not underestimating anyone else's contribution.
But with Can added to the defence, Henderson's performances (and goals) from midfield, and Coutinho's magic (and goals) up front, these three have been as instrumental and essential as anyone in driving Liverpool back towards the summit.
[interaction id="5509aefd7fdf079b4ef845ac"]
And let's not forget.. all this promise, all this potential, and they're only 21, 24 and 22 years old. Bright futures indeed…
Are Emre Can, Philippe Coutinho and Jordan Henderson the players who can contribute the most to Liverpool's future success? Let us know in the comments below.