Liverpool's fantastic 2-1 victory over Manchester City on Sunday was full of superb performances, but it was a majestic, and refreshed, Philippe Coutinho who ran the show.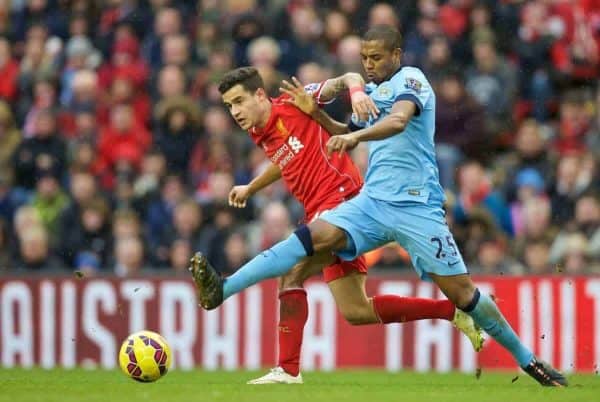 It was a phenomenal win for Brendan Rodgers' side, particularly given their exploits in the Europa League against Besiktas on Thursday evening, and subsequent flight issues.
The team performance was absolutely tremendous from start to finish, against the current champions, and a top-four finish is looking more and more likely by the game for the Reds. Is there a better team in the Premier League right now?
The brilliance of Coutinho
While individuals like Joe Allen, Jordan Henderson and Adam Lallana produced arguably their best performances of the season, Coutinho was on another level on the day.
It's easy to be a little biased and knee-jerk when it comes to lauding your own players, but in the Brazilian, Liverpool have a truly outstanding talent in their ranks.
The 22-year-old produced a virtuoso display against Manuel Pellegrini's side, full of sublime creativity and admirable hard work, and his fabulous winning goal means it is the second season running that he has slayed the current Premier League champions.
Two weeks in a row for Philippe Coutinho. Splendid technique. pic.twitter.com/7dZyLQymov

— Squawka Football (@Squawka) March 1, 2015
Great game at Anfield today, Lfc outstanding particularly Coutinho, Lallana, Henderson & Allen. Rodgers deserves most credit though. #3-4-3

— Jamie Carragher (@Carra23) March 1, 2015
There were times when City's star-studded side found the youngster almost unplayable. Time and time again he found himself in dangerous areas between the midfield and defence.
He is revelling in his left inside-forward role in Rodgers' 3-4-2-1 formation, linking up brilliantly with the likes of Raheem Sterling and Lallana in attack, and also the marauding Alberto Moreno.
Pellegrini's decision to play two up front certainly helped the former Inter Milan starlet, as Yaya Toure and Fernandinho found themselves overrun and lacking hunger throughout.
Coutinho simply kept finding pockets of space, and if you do that against someone of his class, it's only a matter of time before you are punished.

There is an unpredictability about the Brazil international's game that makes him such a joy to watch. He is always willing to run with the ball, while his passing is outrageous at times. One outside-of-the-foot pass to Sterling in the first-half was vintage Coutinho.
In a lot of ways, he is a player who goes to show that statistics are not always particularly meaningful, as his mesmerising performance on Sunday lunchtime goes to show.
His passing accuracy may only have been a modest 72 per cent, and he may have won less than half of his duels, but at the end of the day, this was one of the finest individual performances by a Liverpool player this season.
Coutinho plays with typical South American flair and freedom, and his influence at Anfield appears to be growing by the game. Quite how he didn't make Brazil's World Cup squad last summer becomes increasingly baffling.
Revitalised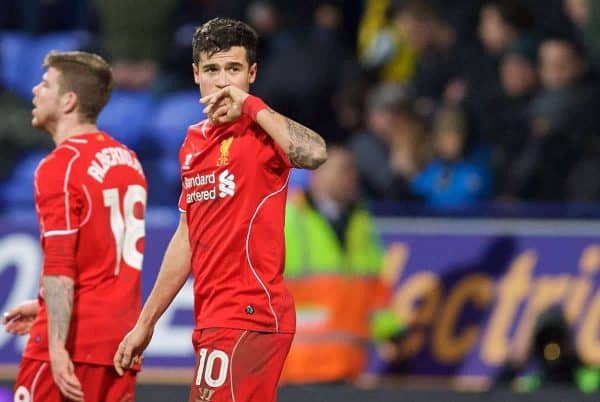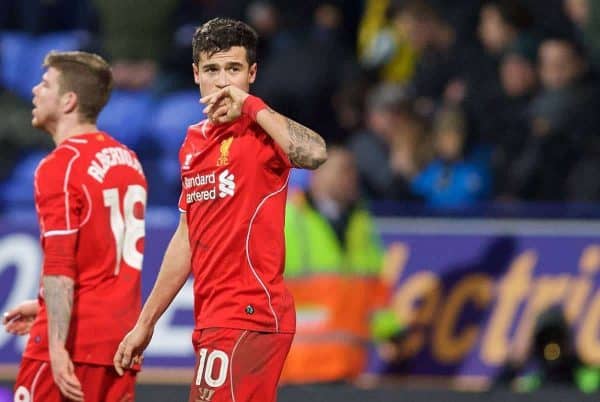 Having looked rather jaded in recent weeks, as Jack Lusby alluded to in mid-February, the Brazilian was rested for Thursday's Europa League loss to Besiktas.
It proved to be a shrewd decision by Rodgers, as Liverpool found themselves with a refreshed and influential Coutinho for the visit of City.
He had started 19 consecutive games for the Reds prior to their trip to Turkey, and although his performances were far from shabby towards the end of that run, any player is going to start showing signs of fatigue after so much football.
There was so much more zip to his passing and more energy in his legs, and Pellegrini's men couldn't live with him at any point.
Addition of goals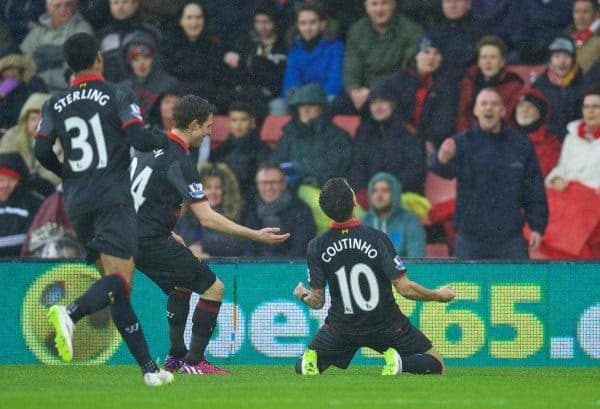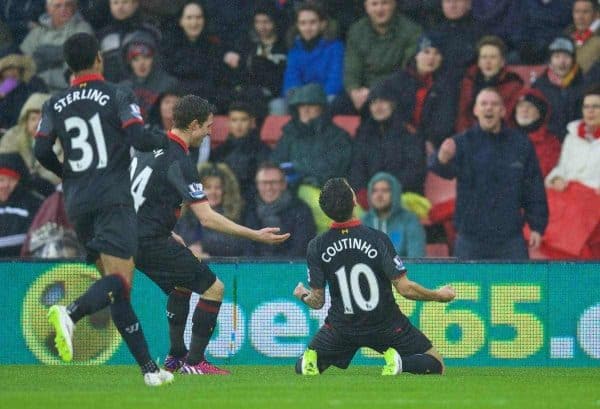 The one thing that has been labelled at Coutinho has been both his erratic shooting and lack of goals for such a technically-gifted footballer.
13 in 88 Reds appearances, since joining in January 2013, is fairly mediocre in truth, but there are definite signs that he is adding goals to his game.
Although he has only found the back of the net five times so far this season, four of those have come since the end of December. They have all been an exhibition of finishing too, which bodes well.
His lethal effort against Arsenal just before the turn of the year set the ball rolling, and wonderful strikes against Bolton, Southampton and City have since followed.
His shooting accuracy in his last 10 Premier League games has been 62 per cent, compared with a meagre 47 per cent in his 14 league appearances in 2014/15 prior to that. That is very telling.
The beauty with Coutinho is that he is still a very young player learning his trade. His shooting and ruthlessness in front of goal may still be far from perfect, but there are clear signs of improvement.
The future

Much has been made of Liverpool trying to tie Sterling down to a new deal on Merseyside, but it is Coutinho who is comfortably the Reds' most prized asset.
At just 22, the attacking midfield maestro is only going to get better, and it is simply a matter of time before Europe's heavyweight clubs come hunting for his signature.
Coutinho is fast becoming one of the outstanding players in the Premier League, which given his tender years, is quite something.
He would get into any side in the country- anybody who feels Oscar, Mesut Ozil and Angel Di Maria are superior at the moment have lost their marbles- and it is imperative he remains a Liverpool player for as long as possible.
City came into Sunday's game as understandable favourites, with all their proven, world-class superstars back in the team, but it was the magical Coutinho who ran the show and inspired his side to three points, in front of a joyous Anfield.
All statistics via Squawka and WhoScored.
Let us know your thoughts on Coutinho's wonderful performance in the comments below.