Liverpool strolled to a comprehensive 2-0 win over Burnley on Wednesday evening, not only consolidating the victory over Manchester City but ending their struggles this season against bottom half sides at Anfield.

If you take away last season – when the Reds were exceptional against those who finished in the bottom half of the Premier League – beating the weaker teams has been their Achilles heel for a long time.
Past failings
Under both Gerard Houllier and Rafa Benitez, Liverpool would often visit the likes of Old Trafford, Stamford Bridge and Goodison Park and pick up hugely impressive victories, only to ruin their good work at home to relegation-threatened sides.
The Reds' 2008/09 campaign stands out in particular, with a poor run of draws at the start of 2009 the reason Benitez's men didn't win a maiden Premier League title.
Having enjoyed a rare season of bottom-half domination in 2013/14 – Liverpool won nine of their 10 home games against the bottom half sides – the curse had returned to Brendan Rodgers' side prior to Wednesday's resounding win against Burnley.
The Reds had the fourth worst record in the Premier League against bottom half of the table sides at home; having beat only West Brom. Five other fixtures had seen four draws (against Everton, Hull City, Sunderland and Leicester City) and one defeat, against Aston Villa.
Therefore, victory over Sean Dyche's side was paramount to prove that this new look Liverpool could overcome such opponents.
Ruthless Reds

They achieved that goal on Wednesday, and the win was a welcome change. It emphasised the belief and confidence now running through the Reds' veins, and the result was never in doubt.
There was much talk about how Rodgers' men had to be ruthless and make sure Sunday's stunning victory over Manchester City didn't amount to nothing, and Liverpool delivered.
An opening goal midway through the first-half, struck brilliantly by Man of the Match Jordan Henderson, a goal early in the second-half and an easy remainder of the game represents the perfect home win in many ways. It is something that has so often evaded Liverpool under Rodgers and his predecessors.
Rodgers called it a "professional" performance post-match and that it was.
The Merseysider's improved finishing certainly has a part to play, with Philippe Coutinho and Henderson both scoring two stunners apiece in the last couple of weeks. The erratic shooting seems to have disappeared of late, while close-range efforts are being dispatched more consistently on the whole.
The amount of chances they are creating is also vital. Tom Heaton was terrific in goal for the Clarets, as seems to be the case with so many visiting 'keepers, but Liverpool's constant efforts on goal eventually ground the visitors down.
The individual errors that were hampering the team earlier on in the season also appear to have gone, and barring one dodgy back-pass by Dejan Lovren in the second-half, the Reds were faultless in defence.
The sloppy defending that we saw at Old Trafford and Selhurst Park late in 2014, among numerous others, seems a distant memory, and the lack of mistakes is a huge reason for Liverpool's resurgence in form.
Battle for top four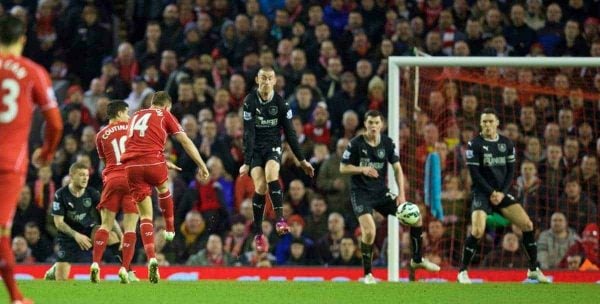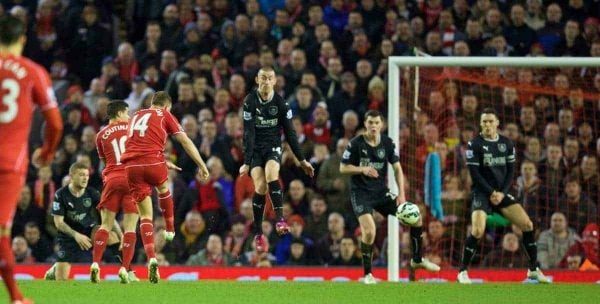 If Liverpool are to finish in the top four this season – something that seemed virtually impossible before Christmas – they simply must remain this merciless when they face weaker opposition.
For all of the jokes aimed at Arsenal, some of it warranted, some of it not so, they are masters of winning these matches.
The Gunners are incredibly strong against the struggling sides, displaying a clinical edge better than even current champions Manchester City and soon-to-be champions Chelsea.
Once it gets to the final few months of the campaign they barely ever slip-up in games they are expected to win, which is precisely why Arsene Wenger's team always qualify for the Champions League.
Manchester United may be incredibly average right now, particularly by their recent standards, but Louis van Gaal is a manager who is an expert at grinding out results. That or luck. You decide.
With all due respect to Southampton and Tottenham, chances are they will likely fade away a little between now and May, partly due to their own ability to struggle against bottom-half teams.
Arsenal and United are the benchmark, and Liverpool have to keep plugging away and hope they beat their top-four rivals when they come up against them in the next month.
Conclusion

Although huge wins against the top sides or thrashings of weaker teams can be utterly thrilling, sometimes it is victories like the one over Burnley that can bring the most satisfaction.
It was far from the most memorable performance, and will never be in the upper echelons of classic Liverpool matches, but these are the games that can easily prove tricky.
The professionalism and ruthlessness that Liverpool's young side showed was extremely pleasing, and bodes well in their quest to be back in the Champions League next season.
With United the next visitors to Anfield in the league, then followed by final three home games against sides currently in the bottom half of the table, win those four and chances are we'll be looking at a top four finish come May.
[interaction id="54f8406f23d7b1ac0891c6d6″]
Let us know your thoughts on the game in the comments section below.