With pressure increasing on Brendan Rodgers as the Reds' poor form continues, Ben Twelves takes a look at what the Liverpool owners could do with their chosen man.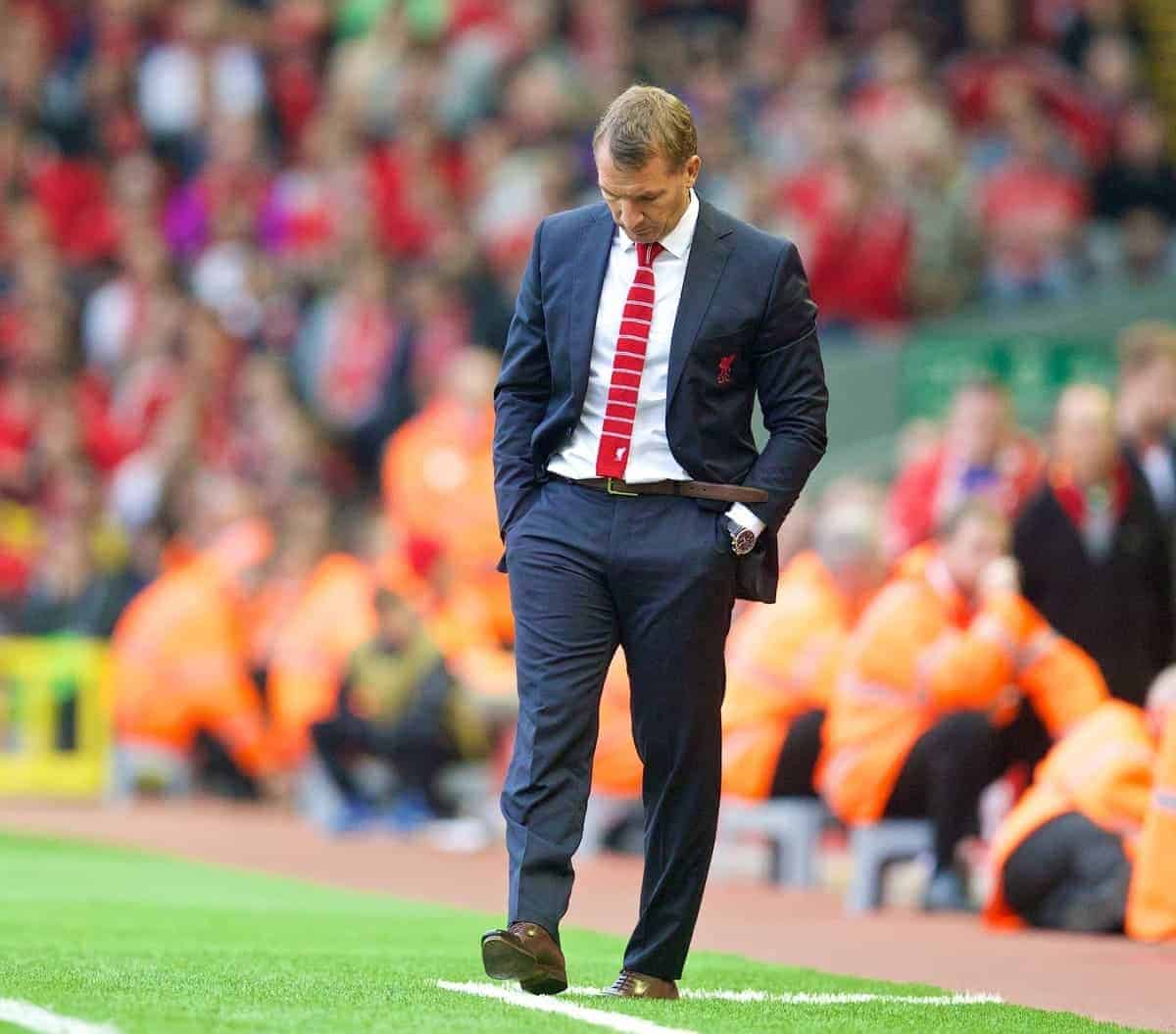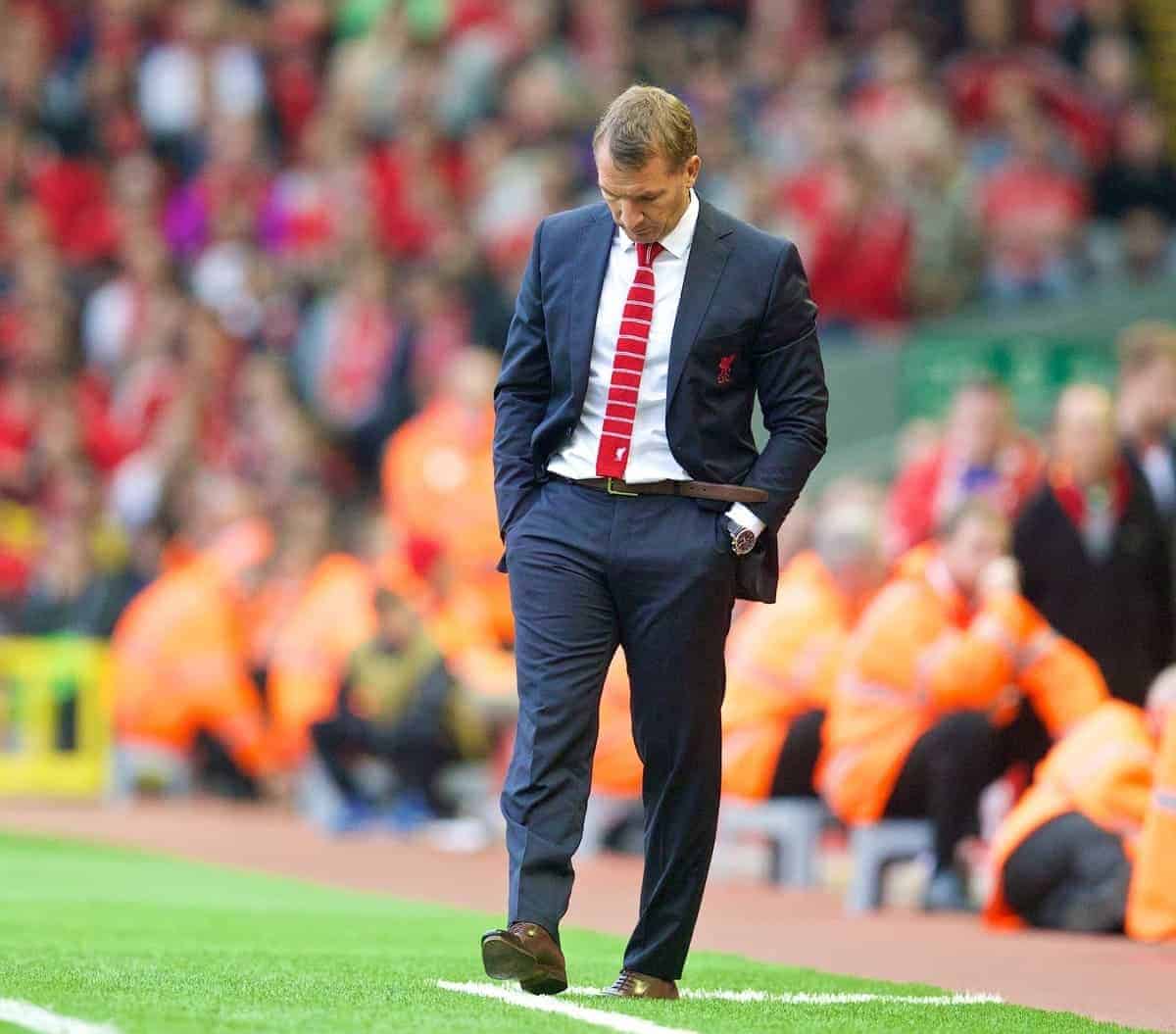 Brendan Rodgers finds his future in the Anfield hot-seat coming under the most scrutiny he's endured during his three-season tenure.
The campaign has been a huge disappointment and appalling recent displays – lacking motivation, any tactical nous, resembling everything but a Liverpool side – have plunged the Northern Irishman's position to new depths and under genuine threat.
Rodgers is now at the mercy of the clubs ruthless owners, Fenway Sports Group, with only four meaningless Premier League games left and the severity of the situation reaching boiling point.
So what are the owners do with Rodgers?
The Sack

We are now at the stage where parting company is a genuine and possible outcome for the Liverpool manager, who has done himself very few favours recently.
Performances have been largely poor all season, and results – bar the creditable 13 game upturn from January to mid-March – have been equally as bad for the most part too. But the spineless displays over the last seven games including an abject Wembley FA Cup semi-final showing has really made cause for concern.
While displays and score-lines are one thing, it's the repeating of the same errors game after game, with the same outcome arising and refusing to acknowledge it, alongside continually puzzling post-match comments that has made it increasingly difficult to defend the under fire boss.
I still like Rodgers, but it's getting increasingly hard to make a case that he should be in charge next season. Looking bleak.

— Andrew Beasley (@BassTunedToRed) April 28, 2015
Injuries have unquestionably played a big part this season, but the ridiculous selection of numerous players out of position over specialist options, as well as picking those not good enough to be on the bench let alone starting XI has proved a huge contributing factor to a damaging campaign that has seen numerous comments come back to haunt Rodgers.
The Liverpool leader has been his own worst enemy at times.
Even though performances have continually been below-par and dropped again to an alarming level in the last few weeks, little has changed as Rodgers bizarrely persists and labels performances "outstanding."
There has been a worrying lack of endeavour to make simple alterations – Mario Balotelli still plays as a lone striker, Glen Johnson still starts games despite being on his way out this summer while Javi Manquillo still gathers splinters sat on the bench.
Where's the inspiration from Brendan Rodgers? Really hate to call his future into question, but he's not helping himself at all.

— Jack Lusby (@jacklusby_) April 28, 2015
Along with the lack of realisation and addressing of self-inflicted problems, the desperate performances and almost insulting post-match comments, Rodgers is giving the American owners little reason to believe that he is still the right man to lead the club.
The manager has his well-documented philosophy and style to the way he desires to operate and that isn't an issue. The way he has failed to acknowledge that certain parts of it are failing certainly is though.
It's this reluctance to accept that he is making mistakes that could well result in the loss of his job at the end of the season, with the 42-year-old having now given FSG every reason to pull the trigger for the third time during their time ownership.
I am sure FSG expected some digression this season – but not to this extent. They'll have expected much better. They are ruthless. #LFC.

— Si Steers (@sisteers) April 28, 2015
Backing Brendan & Addressing Structural and Transfer Issues
While this campaign has been a monumental struggle, last season showed that Liverpool do have a talented manager at the helm. Though a lot hasn't worked according to plan, the long-term vision and way of work Rodgers upholds in keeping with the clubs hierarchy could keep him in the job.
It must not be forgotten too, that Rodgers was the man to make us dream again, and he showed that with the right quality of player at his disposal and tools to succeed, he can do just that – with his small group taking a memorable title challenge to the last with the best football Anfield had witnessed for many years.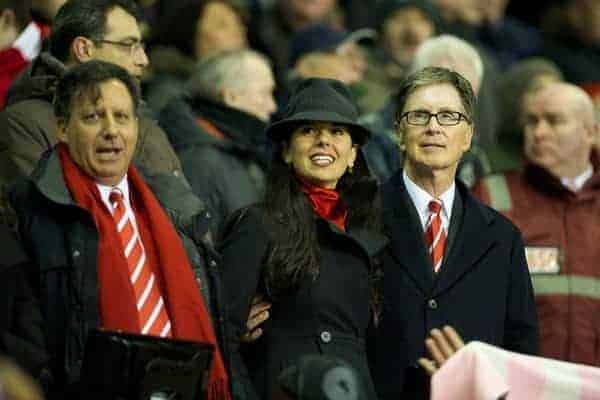 The disappointing downturn that has followed since that title charge has left another rebuilding job to do but it remains to be seen if those in power decide to undertake the procedure with or without Rodgers. If he is handed the chance to go again, the club must work to address some ongoing issues.
The unclear recruitment strategy – especially at the top end of the market – has ultimately been the crux behind a damaging season, as the club failed to attract the proven quality needed to take another step forward after last year's giant leap despite boasting Champions League football, a lure Liverpool won't have this time around.
Sign proven quality, not players with potential again

— Billy Liddell (@Liddellpool) April 19, 2015
Signing potential – some that have already proven they are exciting prospects – is essential in keeping with the long-term success plan, but alongside the young talents, the club must improve in their pursuits of attracting proven talent to Anfield to ease the immediate burden on adapting youngsters. Failure to do is catastrophic as proven this season.
Rodgers resented the idea of working with a Director of Football on arrival at Anfield to retain full control, but after three free-reign years that has boasted a worrying number of failed signings and progression grinding to a halt, the need for structural adjustment has become clear.
Rodgers may only survive in a revamped structure, if he refuses that, I think he'll go. Problems all stem from poor recruitment. #LFC.

— Si Steers (@sisteers) April 28, 2015
It may not be the system in which Rodgers wants to operate under, but with how the current approach failed so miserably in the summer, he may have to accept it if he wants to prolong his days as Liverpool manager.
The Final Four
There is only four games left of a truly forgettable campaign to play, but they could still yet be some of the most important in Rodgers' time at Anfield.
The fixtures will have no bearing on a disappointing season overall, but they represent the chance for Rodgers to show once more that he can see problems, he can address them as he did earlier in the campaign, and show signs that he is still the right man to take Liverpool Football Club forward.
If he responds positively ahead of summer showdown talks with FSG, Rodgers may well be handed the chance to take the club forward again. If he doesn't, it could be game over for him before talks of moving forward have even begun.
[interaction id="553ff1afa39598ff057f501a"]