Liverpool supporters groups are boycotting Tuesday night's game at the KC Stadium. Jack Lusby explains why it's the right thing to do and why more clubs' fans must take action too.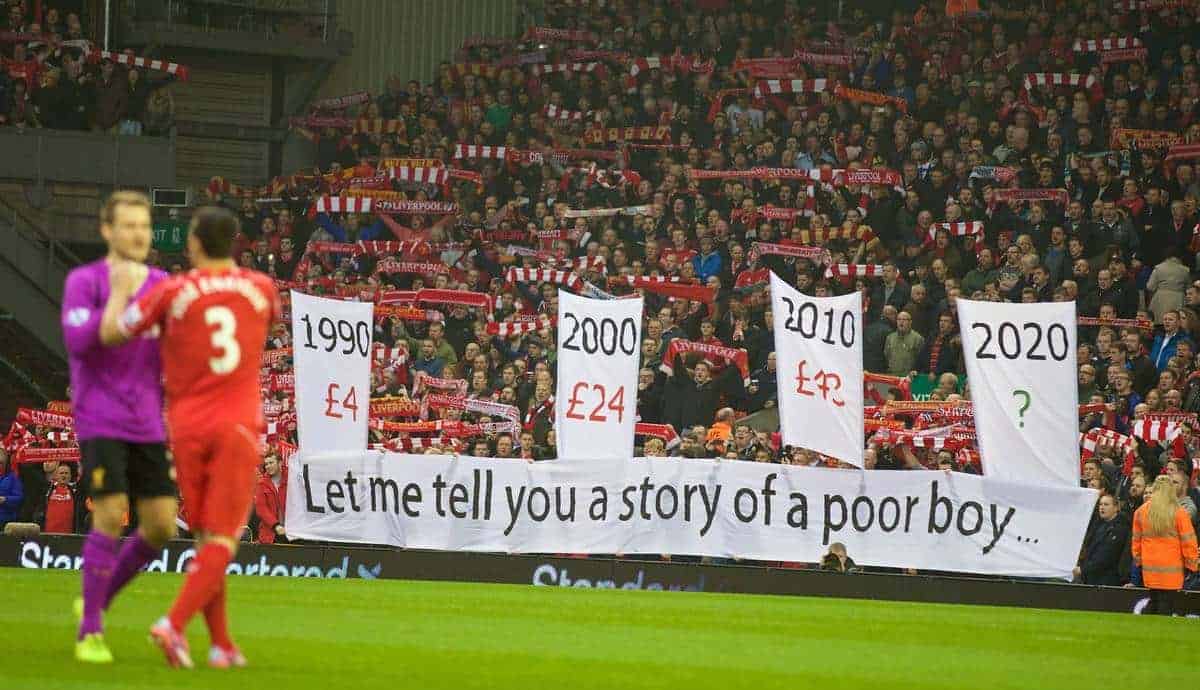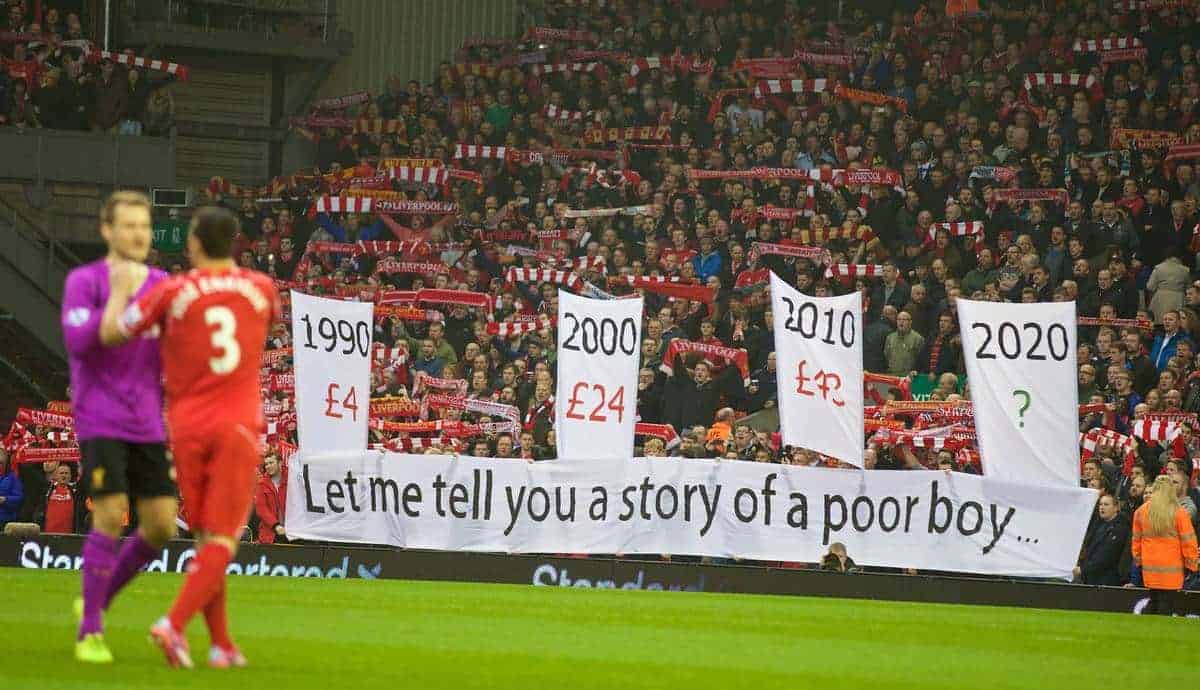 As Liverpool travel to Hull City's KC Stadium for Tuesday night's clash, a significantly lower crowd of Reds will follow them, with supporters groups leading a boycott in reaction to ridiculous away-ticket pricing in the Premier League.
Both Spirit of Shankly and Spion Kop 1906 — two of the club's largest and most influential supporters groups — are leading the protest.
Spirit of Shankly detailed their reasoning behind the boycott earlier this month.
In short, Liverpool supporters (and supporters of other "category A" clubs) are being charged more than other clubs for the very same match-day experience, purely because of the club's status. Spirit of Shankly implores supporters to stay away from the KC on Tuesday night, with empty stands serving as a symbol of protest against a showing of greed that is becoming a miserable trend in football.
A wholesale boycott is the right move by Liverpool fans, and should lead the way for others.
Why Boycott?
Earlier this season, Newcastle United fans boycotted the club's televised encounter at home to Tottenham Hotspur, in protest against owner Mike Ashley and his close-fisted approach to running a Premier League side.
Up to 16,000 fans were expected to avoid St. James' Park for that clash, with official figures skewed by the inclusion of season ticket seats — the stadium was comparatively desolate.
Towards the end of 2014, the board of directors at La Liga side Valencia led a boycott of their derby clash with Levante, with an official statement also declaring: "The Valencia Football Club [discount] 15 euros per ticket towards the acquisition of the 1,050 seats available for that area."
During the 2010/11 season, up to 1,500 Borussia Dortmund supporters boycotted their side's derby clash with FC Schalke, in protest at a near-doubling of ticket prices.
This included what was deemed a "top-game surcharge."
Whoever is boycotting, for whatever reason, there is one, salient goal: to make a statement. At the KC, Liverpool supporters can do the same.
Typically this revolves around money, and unfortunately it looks like it can only get worse from here.
Things Can Only Get Worse

In October of last year, BBC Sport released the findings of their Price of Football study, showing the increase in ticket prices between the 2011/12 season and this current term.
They reported that: "The average price of the cheapest tickets across English football has risen at almost twice the rate of the cost of living since 2011."
In attempting to contextualise their findings, the BBC suggested that:
"Critics of the price hikes said clubs had lost touch with fans and argued that the recent £3.1bn windfall from television rights should have resulted in a drop in ticket prices for supporters.

"But some clubs, particularly those in the Premier League, point to packed-out stadiums as proof they have got pricing right."
Unfortunately, it is the final point that makes boycotting the only option—it is a typical supply-and-demand situation, and if supporters keep filling out stadiums, clubs will deem it acceptable to up the prices of tickets. 'Why not?' is the notion in its essence.
That this came following an increase in money given to clubs in return for television rights is daunting, with the latest deal the biggest yet.
The Premier League will receive £5.12 billion for a three-year contract running from 2016, with Sky's £4.2 billion contribution an 83 percent increase on what they had previously paid.
While the likes of Crystal Palace manager Alan Pardew and Hull boss Steve Bruce have called for this to be used by clubs to lower ticket prices for supporters, precedent dictates that it will, in fact, go the other way.
Now seems the perfect time for Liverpool supporters to make their mark, before the situation spirals even further.
But this is only the beginning.
Only the Beginning for the Football Fans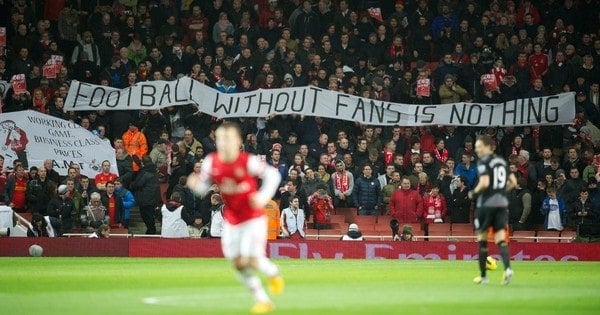 An empty away stand in the KC will make a statement in the short term, but should resonate to fans of every Premier League club.
With the price of tickets only increasing as seasons go by, the typical expenditure of an average, match-going football fan will continue to outgrow their yearly income—yet clubs continue to see fit to do so, alienating the lifeblood of their club.
The fundamental spirit of Liverpool Football Club can be found in the Kop, not the Fenway Sports Group boardroom. The same can be said of any club.
The powers that be will continue to take a 'why not?' stance on ticket pricing, fuelled by an ever-growing popularity of the sport symbolised by the Premier League's record television deal, unless a sustained effort is made to show that this can't go ahead.
Empty stands affect the performance of players, the reputation of the club and, importantly, the success of their business model.
The former two points are a miserable by-product, but one that is necessary.
In a utopian footballing future, ticket prices in England will be as affordable, if not much lower, than those of the notoriously economical Bundesliga, for example—both home and away, fans should be bracketed as one, not segregated between clubs, be they deemed big or small.
Stay away from the KC Stadium on Tuesday night, support Liverpool Football Club elsewhere, don't fund the greed that is pervading English football — hopefully other clubs will take note.
Are you boycotting Liverpool's Tuesday night clash with Hull City? Let us know your stance in the comments below.
SEE ALSO: Hull City boss Steve Bruce calls for Premier League action on ticket prices