Liverpool face Aston Villa in the FA Cup semi-final at Wembley on Sunday as Brendan Rodgers' side look to reach their first cup final for three years. Henry Jackson counts down the Reds' 10 greatest games at the iconic stadium.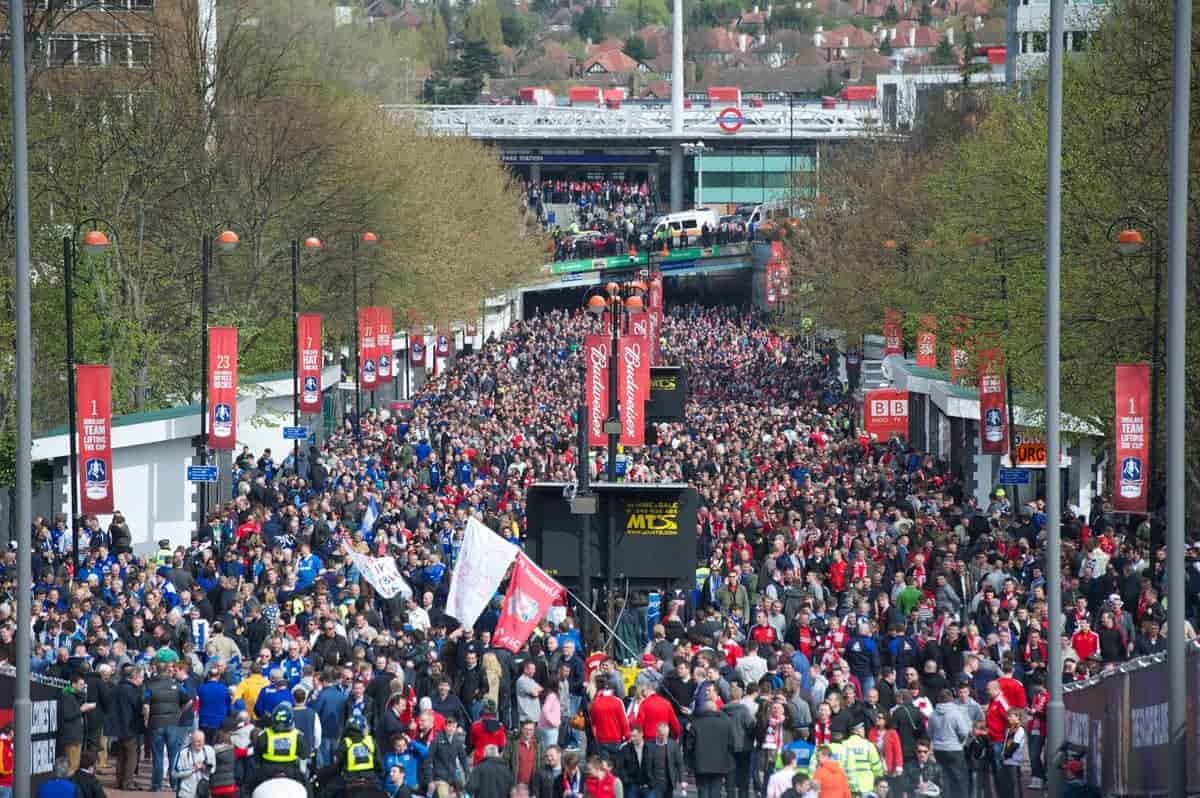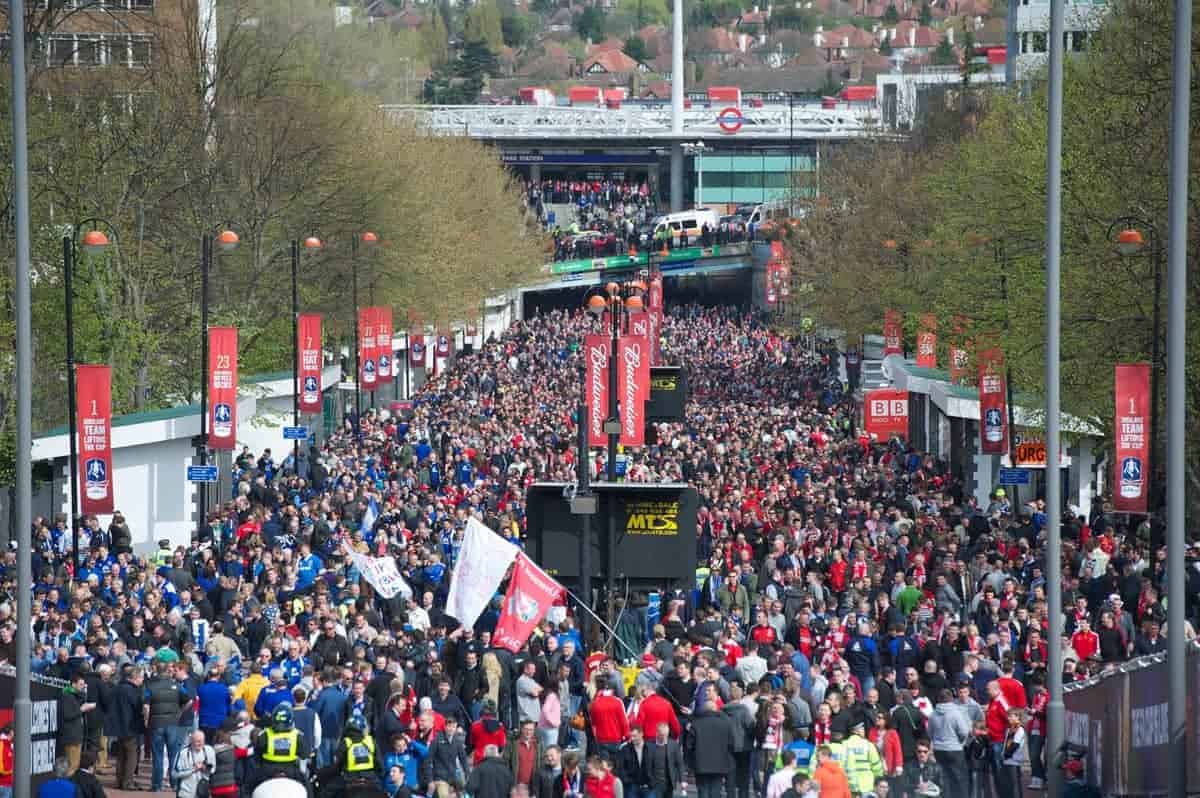 There will be some who will understandably be aggrieved that Sunday's showdown is even taking place at Wembley.
The tradition used to be that the semi-finals were held at Old Trafford and Villa Park, but the FA have had their way and that's something we have to get used to now.
The upside of this is that Sunday gives the current crop of Liverpool stars to chance to etch their name into Wembley folklore.
Throughout the Reds' great history they have experienced plenty of memorable moments at the world-renowned ground, clinching silverware time and time again.
Here are Liverpool's 10 greatest Wembley matches (not just FA Cup); do you agree with the selections?
10. Liverpool 2-0 Sunderland– 1992 FA Cup Final
Liverpool's domination of English football may have been on the wane by 1992, and Graeme Souness was experiencing a tough time as manager, but this FA Cup victory was the high point in an otherwise average season.
After a tight opening 45 minutes, the deadlock was broken two minutes after the restart. Michael Thomas, the man who had robbed the Reds of the title three years previously for Arsenal, fired home a superb half-volley to make it 1-0.
The game was put to bed by Liverpool legend Ian Rush after 68 minutes, as the Welshman slotted a composed finish past Sunderland goalkeeper Tony Norman. It would be almost a decade before the Reds' next FA Cup triumph.
LFC Starting XI: Grobbelaar, Jones, Nicol, Wright (c), Burrows, Houghton, Molby, Thomas, McManaman, Saunders, Rush.
9. Liverpool 2-1 Bolton- 1995 League Cup Final
Having won just one trophy in five years since their league title win in 1990, Roy Evans' Liverpool side faced Bolton in the League Cup final.
The day belonged to the Reds' talented wide man Steve McManaman, who produced a virtuoso performance and almost won the cup by himself.
The former England international scored sublime solo efforts in either half, the second of which was particularly brilliant, and although Alan Thompson pulled a goal back for the Trotters, Evans' men clung on for victory.
LFC Starting XI: James, Jones, Babb, Scales, Ruddock, Bjornebye, Barnes, Redknapp, McManaman, Rush (c), Fowler.
8. Liverpool 2-2 Cardiff (Liverpool won 3-2 on penalties)- 2012 League Cup Final
Liverpool had not won a trophy for six years going into this showdown with Cardiff in the 2012 League Cup Final, but despite being strong favourites on the day, they didn't have it all their own way.
Kenny Dalglish's side found themselves 1-0 down to Joe Mason's 19th-minute strike, and it took until 30 minutes from the end for Martin Skrtel to fire home a scrappy equaliser.
Dirk Kuyt looked to have won it in extra-time, only for Ben Turner to make it 2-2 with two minutes left on the clock.
Although Steven Gerrard and Charlie Adam both missed in the eventual penalty shootout, Gerrard's cousin Anthony sent his spot-kick wide to seal Liverpool's glory.
LFC Starting XI: Reina, Johnson, Skrtel, Agger, Enrique, Gerrard (c), Adam, Henderson, Downing, Suarez, Carroll.
7. Liverpool 3-0 Newcastle– 1974 FA Cup Final
After a wonderful spell as Liverpool manager, perhaps the greatest in the club's history, Bill Shankly's final game in charge was this triumphant 1974 FA Cup Final against Newcastle.
In truth, the win was never really in doubt despite the match being goalless at half-time. Kevin Keegan opening the scoring 12 minutes into the second-half, Steve Heighway added a second and Keegan wrapped up the win in the dying moments.
It was the perfect send-off for Shankly, whose impact on Liverpool Football Club was absolutely enormous.
LFC Starting XI: Clemence, Smith, Thompson, Hughes (c), Lindsay, Callaghan, Cormack, Hall, Heighway, Keegan, Toshack.
6. Liverpool 2-1 Leeds– 1965 FA Cup Final
This final showdown with Leeds in 1965 proved to be a pivotal day in the Reds' history, as they clinched their first ever FA Cup crown. After a goalless 90 minutes, extra-time was needed to separate the two sides.
Shankly's men struck first thanks to Roger Hunt, one of the club's all-time great strikers, but Leeds' tenacious talisman Billy Bremner levelled after 100 minutes.
The stage was set for Hunt's strike partner Ian St. John to head home the winner, following excellent work from Liverpool's all-time appearance-maker Ian Callaghan, and the Reds had won the first of seven FA Cups to date.
LFC Starting XI: Lawrence, Lawler, Strong, Yeats (c), Byrne, Smith, Stevenson, Callaghan, Thompson, Hunt, St. John.
5. Liverpool 2-1 Everton– 2012 FA Cup Semi-Final
It may not have been a final, but this FA Cup semi-final showdown with rivals Everton three years ago was a thrilling match with a dramatic ending.
A disastrous mix-up between Daniel Agger and Jamie Carragher gifted Nikica Jelavic the opening goal of the game in the first-half, and for a while it seemed that Liverpool were dead and buried.
Sylvain Distin's dreadful back-pass allowed Luis Suarez to pounce after 62 minutes though, and it looked to have sent the game into extra-time.
Andy Carroll, the Reds' £35million flop, had other ideas, however, heading home Craig Bellamy's free-kick with three minutes remaining to set-up a final with Chelsea. Sadly, they lost that 2-1.
LFC Starting XI: Jones, Johnson, Carragher, Skrtel, Agger, Gerrard (c), Spearing, Henderson, Downing, Suarez, Carroll.
4. Liverpool 2-1 Man United (AET)- 1983 League Cup Final
Liverpool haven't fared particularly well in cup finals against Man United down the years, but this was a memorable victory against their bitter rivals in the 1983 League Cup Final.
Norman Whiteside's early goal looked set to have given United a precious win, but Alan Kennedy's arrowed shot late in the day took the match into an extra 30 minutes.
Ronnie Whelan produced a magical curling finish eight minutes in extra-time, one of Liverpool's best ever goals at Wembley, and it proved to be the winner for Bob Paisley and his side.
LFC Starting XI: Grobbelaar, Neal, Hansen, Lawrenson, Kennedy, Lee, Whelan, Souness (c), Johnston, Dalglish, Rush.
3. Liverpool 3-1 Everton– 1986 FA Cup Final
The first ever Merseyside derby FA Cup final was a memorable occasion back in 1986, and it was the Red half of the city who were celebrating at the end.
The Reds had just pipped the Toffees to the league title a week earlier, but Gary Lineker's first-half goal meant Everton looked likely to gain revenge.
Rush equalised after rounding Bobby Mimms, before Australian cult hero Craig Johnston put Dalglish's team ahead with a close-range finish.
Rush put the icing on the cake with a typically ruthless finish late on, as Liverpool completed a wonderful win over their local rivals.
LFC Starting XI: Grobbelaar, Nicol, Hansen (c), Lawrenson, Beglin, Johnston, Molby, MacDonald, Whelan, Dalglish, Rush.
2. Liverpool 3-2 Everton (AET)- 1989 FA Cup Final
After the horrors of the Hillsborough disaster a month or so earlier, it was fitting that the 1989 FA Cup Final was once again a Merseyside derby.
There was a feeling that Liverpool simply had to win the game, after all the pain those associated with the club had suffered, and that's exactly what happened.
John Aldridge's very early goal looked as though it would be the difference between the two teams, but Stuart McCall stunned the Reds in the 89th minute.
Rush came off the bench to make it 2-1 in extra-time, but McCall again equalised. Liverpool's legendary striker won it for his side after 104 minutes though, to seal an emotional win.
LFC Starting XI: Grobbelaar, Nicol, Hansen, Ablett, Staunton, Houghton, Whelan (c), McMahon, Barnes, Beardsley, Aldridge.
1. Liverpool 1-0 Club Brugge- 1978 European Cup Final
There are some memorable victories mentioned above, but Liverpool's 1978 European Cup Final success against Club Brugge tops the lot. Paisley's side dominated the Belgian outfit from start to finish, and should really have won the contest easily.
As it turned out, the game was settled by arguably the Reds' greatest ever player Dalglish, who dinked a beautiful finish into the corner of the Wembley net with 64 minutes played.
It was Liverpool's second European Cup triumph in a row, and confirmed their reputation as the continent's finest side at the time.
LFC Starting XI: Clemence, Neal, Hansen, Thompson, Hughes (c), Case, Souness, McDermott, Kennedy, Dalglish, Fairclough.
Let's just hope Sunday's clash with Villa, and hopefully the final that follows, will both be worthy of being in this list come the end of the season.
What is your favourite Wembley memory as a Liverpool supporter? Let us know in the comments below.