With Daniel Sturridge struggling in recent weeks, Jack Lusby believes partnering the striker with Raheem Sterling will see him shine.

Daniel Sturridge has cut an isolated figure as Liverpool's lone striker since his return from injury, and with Liverpool's 3-4-2-1 system now looking stunted, perhaps now is the time to offer him a partner in Raheem Sterling.
Brendan Rodgers' side have scored just seven goals in their last five Premier League games, with their inability to convert chances behind crucial losses to Manchester United and Arsenal which have seen their top-four hopes diminished.
Liverpool take on Newcastle United at Anfield on Monday night in what seems like a fairly straightforward tie, with the 13th-placed side having won just one of their last five league games.
This could be the perfect opportunity to switch to a front-two attacking system.

This week, Sturridge conceded that: "Next season is when you'll see what I can really do again. My performances will be back to exactly where they were before."
Perhaps a direct reference to the striker's poor performances of late, Sturridge acknowledged that his 2014/15 form has been affected by injury.
Since returning from a five-month lay-off earlier this year, Sturridge has scored just four goals in 15 games—in his last 10 appearances, Sturridge has scored just two.
His first touch has been sloppy, his runs out of sync and his efforts on goal selfish and misguided.
The Sturridge of 2014/15 looks a far worse prospect than that of 2013/14, with the striker thriving alongside Luis Suarez last season.

In February, Sturridge explained his desire to form a strike partnership with Suarez's replacement, Mario Balotelli, after they combined effectively in the 3-2 victory at home to Tottenham Hotspur.
"I'd say I can play with any player not just Mario. Whatever team the manager chooses to put out I will do my best, whoever I have a partnership with," Sturridge said.
"I try to adapt to whoever I am playing with and bring out the best in each other, and we (me and Mario) click when we are playing together.
"I like playing with a partner, but I also like playing on my own… With Mario I can move around and go into wide areas because I know he will occupy the centre-halves."
Substitute Balotelli for Sterling in this testimony, and the situation is much the same—it is clear that Sturridge feel he is at his best in a front two, and who better to accommodate this with than Sterling?
Raheem Sterling

While not quite as alarming as Sturridge, Sterling has experienced a slight dip in form of late—although for different reasons to that of his teammate.
Used as a wing-back in recent Premier League clashes against United, Swansea City, Burnley and the first FA Cup quarter-final tie against Blackburn Rovers, Sterling struggled, unable to influence the game directly.
There is also the notion that his performances may be affected by a long-term contract struggle with the club—a situation only exacerbated when Sterling gave an interview to the BBC earlier this month.
Sterling's comments on his recent playing position during that interview were that he was being "sacrificed to play in a more defensive position," when he "trains every day to play up front."

On Sterling's contract situation, Sturridge told reporters at Liverpool's new home kit launch that: "As long as he is playing regularly he will be happy – I don't think it is anything to do with anything other than that, and I hope he will stay at the club."
Without even needing to read between the lines too much, it is clear that Sterling is eyeing a regular central role at Liverpool, and there is all the reason to grant him this wish.
Sterling has shown in the past two seasons that he is most effective in a central role, with his performance as Liverpool's No. 10 in the 3-2 victory away to Norwich City last term the perfect example of his talents.
Furthermore, this season the 20-year-old has flourished as Liverpool's centre-forward, with three goals and two assists in 10 games in this role.
Overall this season, Sterling has made more dribbles (3.1) and more key passes (2.1) per league game than any other Liverpool player—he is best when he is allowed to utilise his movement and pace in a central role, and can supply chances for others.
As Liverpool most creative forward, and a player who is well-tuned to a striker's role in this Liverpool system, utilising Sterling as a partner for Sturridge makes perfect sense.
It could be the move that revitalises the 25-year-old's form, and the Reds' goalscoring prospects.
Formation Change?

However, clearly, partnering Sturridge with Sterling would require a formation switch for Rodgers' side, but it can be argued that there is no better time to do so.
After losses to United and Arsenal in the league, and a poor performance despite the victory away to Swansea, Rodgers bemoaned his side's lack of goals:
"We are still trying to find solutions at the top end of the field. When everyone is fit and available we are able to compete with this squad, but our top goalscorer is on six goals. Three players on six goals. That's the reality of where we are at, and we have to find solutions for that.

It's about finding what suits the players. We have obviously got a number of players out now and when we changed the system it suited them. We are always looking to find a way."
As the manager continued that "I think in terms of the efforts on our opponent's goal, we need to increase that level," it seems that his qualms are as much to do with his strikers' movement as they are his side's ability to create chances.
Adding Sterling's pace to the attack could help solve this problem.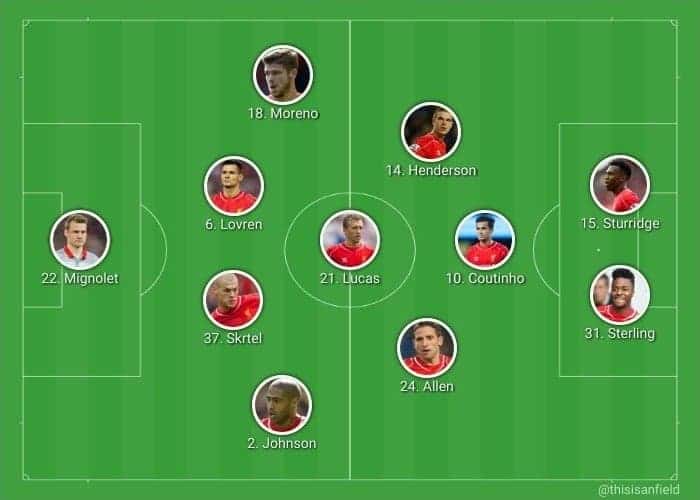 This could be within the 4-4-2 diamond formation that fared so well last season, allowing Philippe Coutinho to continue in a central playmaking role at the tip of the midfield.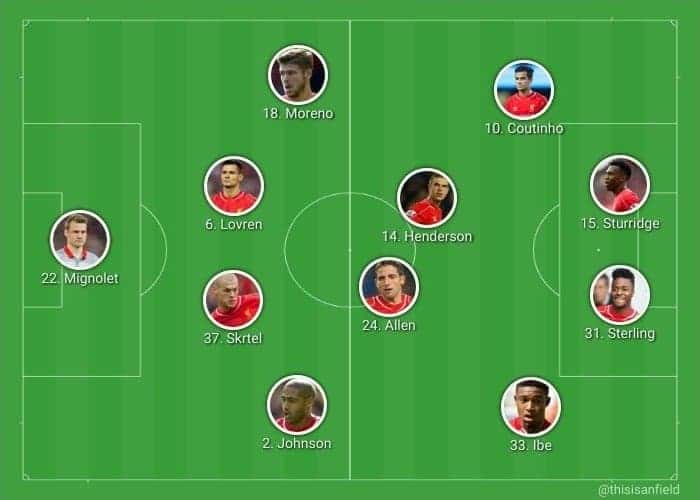 Conversely, this could come in a more traditional 4-4-2 system, with Coutinho and one of Jordon Ibe or Lazar Markovic operating in wide roles.
This would be a simple adjustment from the 4-3-3 system that was seen in the recent victory over Blackburn, swapping a midfielder for a striker.
Daniel Sturridge's struggle in front of goal has set the tone for the whole of Brendan Rodgers' Liverpool side of late and, against Newcastle United on Monday night, it may be the right time to offer the striker an attacking partner in Raheem Sterling.
[interaction id="552a74977fdf079b4e32c065″]
Statistics via WhoScored.
Should Raheem Sterling start alongside Daniel Sturridge against Newcastle United on Monday night? Let us know in the comments below.