Stephen McGarty looks at how Liverpool could turn to former players to improve the club's leadership off the pitch, in a manner which Ajax and Bayern Munich have adopted.

Firstly I want to start by clarifying a few things. I don't believe that FSG or Ian Ayre are in any way bad people, or even that they are managing us poorly. The assessment I'm making off them going into this article is that their form thus far has been inconsistent at best.
I think they need to be praised for their handling of the club on the business side. They're increasing Anfield's capacity, they've significantly cleared our debt and by signing up to so many sponsorship deals they've stabilised the club financially. On this side of things they've done brilliantly.
It is a shame the same cannot be said for the footballing side of things. Our horrendous history in all things transfer related, be it finding the right players or securing them afterwards, has left the club in disarray. Like I said, we all know it.
In this article I therefore propose that Liverpool Football Club should look to incorporate the sort of system utilised by Ajax and Bayern Munich, in which former players and coaches have a much greater say in the running and direction of the club.
Much has been made of the fact neither our chairman or principal owner turned up on Saturday to bid farewell to our longest serving captain. I don't think there's anything wrong with them not turning up as these are clearly not football people, they're business men. So leave the football side of the club to the football people.
At Bayern Munich, former player Karl-Heinz Rummenigge is the chairman. Below him, another former player, Matthias Sammer is the sporting director. Gerd Muller is the assistant manager of their B-team. Even as far back as the late 70s, former player Uli Hoeness was made general manager and led the club through a period of success up until his incarceration last March.
At Ajax they seem to have gone even further. On the board they have one former player and another former scout/coach. Marc Overmars is currently employed as the technical director, whilst Edwin Van Der Sar is the marketing director. Both manager, Frank De Boer, and assistant manager, Dennis Bergkamp, came through the club's youth system and represented it at first team level. This is just the tip of the iceberg for both clubs, dig deeper and you will find ex-professionals who both love and understand the identity of the club scattered throughout youth team staff.
At some point in this article I planned to plead to our own arrogance, saying that we can be the first to bring forth this new way of running a football club. The funny this is that I can't because we wouldn't be. Clubs of a similar size to us are doing this and it is working.
Why do I want this? I can hear a few of you ask. Let me explain. We are constantly told that football clubs are now businesses, that we are cattle, that identity and history means nothing. This is being proven elsewhere to not be true, and to no other club in the world should the fact it isn't true be such a relief. We have an identity, we have a history, we have a fan base as active as any in the world. We also have ex-players who care, they care deeply, and they are being shunned.
Listen to the words of Jamie Carragher talking about Raheem Sterling on Monday Night Football, don't tell me we couldn't use a man like that at Melwood. Read the angry words that John Aldridge wrote recently on the lack of accountability caused by the clandestine transfer committee, this is a man who wants things to change and who cares enough to be a part of it. Hear what Steven Gerrard has said about his future, he wants to come back "in some capacity".
As a club we have a deep connection between players and fans. That shouldn't end with retirement, nor should it be just something nice we can point to in a blog post, it should be the foundation upon which we build our future. Robbie Fowler, Rob Jones and Steve Mcmanaman have worked a lot with the youth sides. These legends, still in their late 30s / early 40s, clearly want to help and to be involved, we need to embrace that.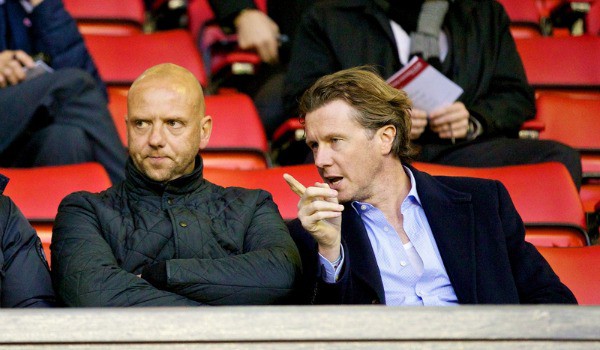 This article is ridiculously romantic I know. A man who scores goals is not necessarily the man to organise a goalscoring team, or to run a trophy-winning club, but lets look at what we lack.
Firstly, we are currently lacking any individual with pulling power. Neither Ian Ayre or Brendan Rodgers has any pedigree in the game, and Jordan Henderson's few months of Champions League football is unlikely to draw in other top professionals either.
Now imagine these negotiations are run by former Champions League winners? A former Champions League captain even? Screw it, we need to get this marquee signing, send Stevie, Phil and Graeme, three Champions League winning captains should do the trick, ask Kenny if he fancies it as well. If just 10% of top players make great managers/chairmen/DoF's etc them we can create our backroom staff, transfer committee and board before Gerrard gets back from America to find his own nicely polished desk somewhere in Melwood.
We lack leadership, well we can't put any of these guys back in the squad. But the influence of having these men, winners, leaders, legends, there at a managers disposal cannot be underestimated.
I also want to make it clear this is not just about ex-pros. The football side should be left to football men, and that includes coaches. If those I mentioned before represent the preservation of tradition and identity, then young coaches like Alex Inglethorpe, Neil Critchley and Pepjin Ljinders represent the way tactics, training and player development have changed, and continue to change, since many of the legends have retired. In fact, in the way many of them are doing now anyway, I would want any ex-professionals to also take there coaching badges, not necessarily the highest ones, but enough to give them a respect for the work the coaches have to do.
Finally, and my hope is the other changes will help this, increased involvement and consultation of supporters groups. Uli Hoeness, when he was still Bayern president, said they did not believe "Supporters were like cows to be milked", I believe the likes of Dalglish and Rush would feel the same.
As I said before, this is a romantic article. Liverpool is a romantic club. But just allow yourself for a moment to let your mind wonder; FSG have continued to improve the financial state of the club. Dalglish as sporting director, with Jamie Carragher as his understudy? Steven Gerrard has just completed his first season as Liverpool manager, as a result of all the added influences in the club the youth players are stepping up with more confidence. The skills they would always have had now honed by the many fantastic coaches and an array of mentors within the club. In Gerrard's backroom staff sits Fowler, Hyypia and Inglethorpe.
Liverpool Football Club was built on the bootroom, on hiring from within, on continuing the Liverpool way. Is it not possible that the old ways are sometimes the best?