Liverpool's 2014/15 campaign was ultimately one of great disappointment, but which eleven players make it into the Reds' best team this season? Henry Jackson reveals his selections.

The season certainly didn't pan out the way many Liverpool fans had hoped, and a six-place finish is not what the doctor ordered after such a brilliant 2013/14 campaign.
Despite this, there have still been numerous individuals who will be pleased with the way they have performed between August and May.
Here is Liverpool's Team of the Season (3-4-3 formation):
Goalkeeper: Simon Mignolet

Simon Mignolet may have endured a torrid first few months to the season, when it seemed as though his Liverpool career was virtually in tatters, but he responded magnificently.
Having been dropped for Brad Jones for a few games prior to the turn of the year, the 27-year-old produced a string of brilliant performances, and was arguably the Reds' standout player between January and May.
A combination of terrific shot-stopping, improved decision-making and great consistency ensured an unlikely turnaround in fortunes for Mignolet, and he was only just pipped to the Golden Glove award by Joe Hart.
Right Centre-Back: Emre Can

Of all Liverpool's summer signings, Emre Can has been comfortably the most successful so far. The club have a real gem on their hands in the form of the young German.
The 21-year-old thrived as a right-sided centre-back in the 3-4-3 system that flourished under Rodgers, showing composure, power and influence beyond his years.
Can's future definitely lies in the centre of midfield, however, and he may well be seen as Steven Gerrard's long-term successor in that role. Let's just hope we never see him deployed as a right-back ever again.
Centre-Back: Martin Skrtel

Martin Skrtel is set to become the Reds' second-longest serving player, behind Lucas Leiva, and he enjoyed one of his finest years in a Liverpool shirt to date.
In truth, his form was a little patchy prior to the change of formation- Dejan Lovren's ineptitude was mainly to blame for that- but as soon as Rodgers went with three at the back, the Slovakian was brilliant.
It allowed him to focus solely on out-and-out defending, and his aerial presence and reading of the game came in handy time and time again as the season progressed.
Left Centre-Back: Mamadou Sakho

There are many who still feel strangely unconvinced by Mamadou Sakho, but he is the best defender Liverpool have to offer, and he should only get better in the coming years.
The former Paris Saint-Germain captain always makes the Reds' rearguard look more solid, and his use of the ball is invariably fantastic. Don't listen to those who claim he 'looks dodgy on the ball'; he enjoyed a 90 per cent success rate in 2014/15.
The France international is a contender for the captaincy next season, and should hopefully boss the back-line for years to come. He might not be perfect, but he is a vital player for Liverpool.
Right Wing-Back: Jordon Ibe

It seems crazy that Jordon Ibe should be included in many ways, given his lack of game time, but that is both a huge sign of how impressive the 19-year-old has been, and a damning indictment of those around him.
Ibe only made 14 appearances after returning from his loan spell at Derby, but he still made a sizeable impact. His performance in the Merseyside derby was outstanding, and he put in similarly impressive shifts against Tottenham and Southampton.
He may not be at Raheem Sterling's level yet, despite what some may claim- he is yet to register a goal or assist for the Reds- but he is still a huge part of the club's future.
Centre Midfield: Jordan Henderson

Henderson once again consolidated his reputation as being one of the first names on the team-sheet at Anfield, enjoying another impressive year at the club.
The 24-year-old scored six goals in the Premier League, including stunning strikes against Man City and Burnley, and produced nine assists for teammates. Not bad for someone who just runs around, in the eyes of some.
With Gerrard departing, Henderson will now likely replace him as captain, and we should expect to see the Englishman's game go up another notch next season.
Centre Midfield: Lucas Leiva

Having struggled to find a place in the starting eleven during the early months of the season, Lucas was restored following the woeful 3-1 loss to Crystal Palace.
The Brazilian had a huge influence on Liverpool's turnaround in fortunes, sitting in front of the back-four and bringing an air of calm and authority to the midfield.
Gerrard was not suited to the role, Joe Allen blew hot and cold and Jordan Henderson was wasted there, but Lucas was perfect in bringing adding much-needed balance to the side. An incredibly understated player.
Left Wing-Back: Alberto Moreno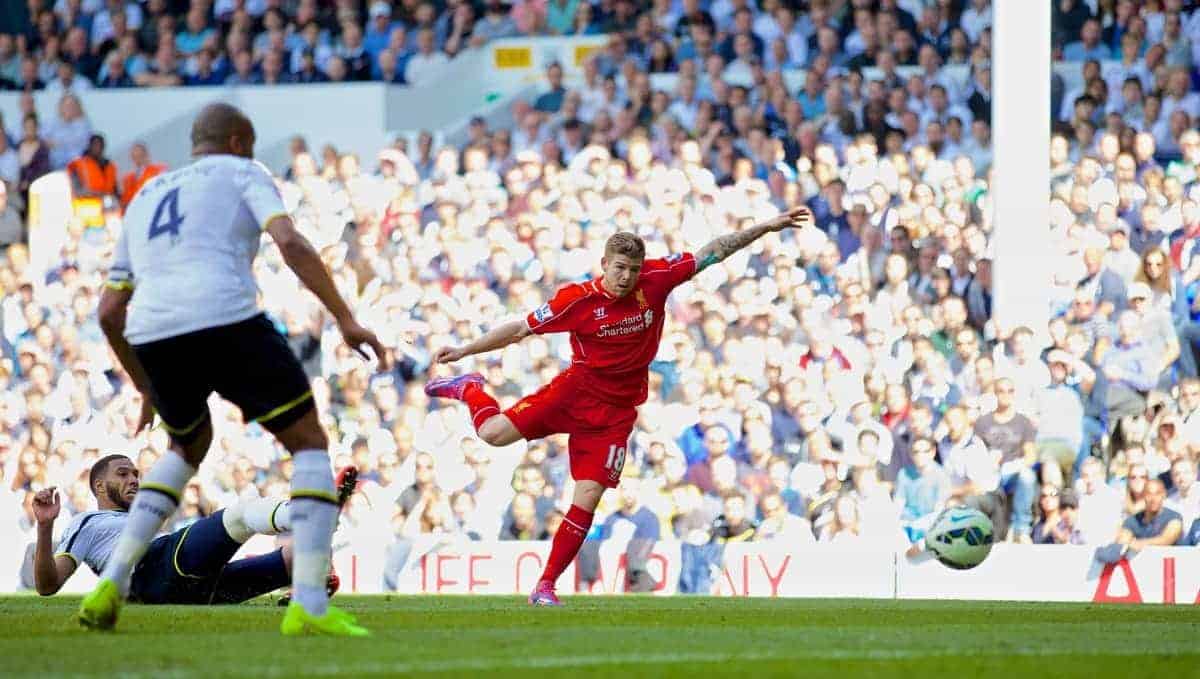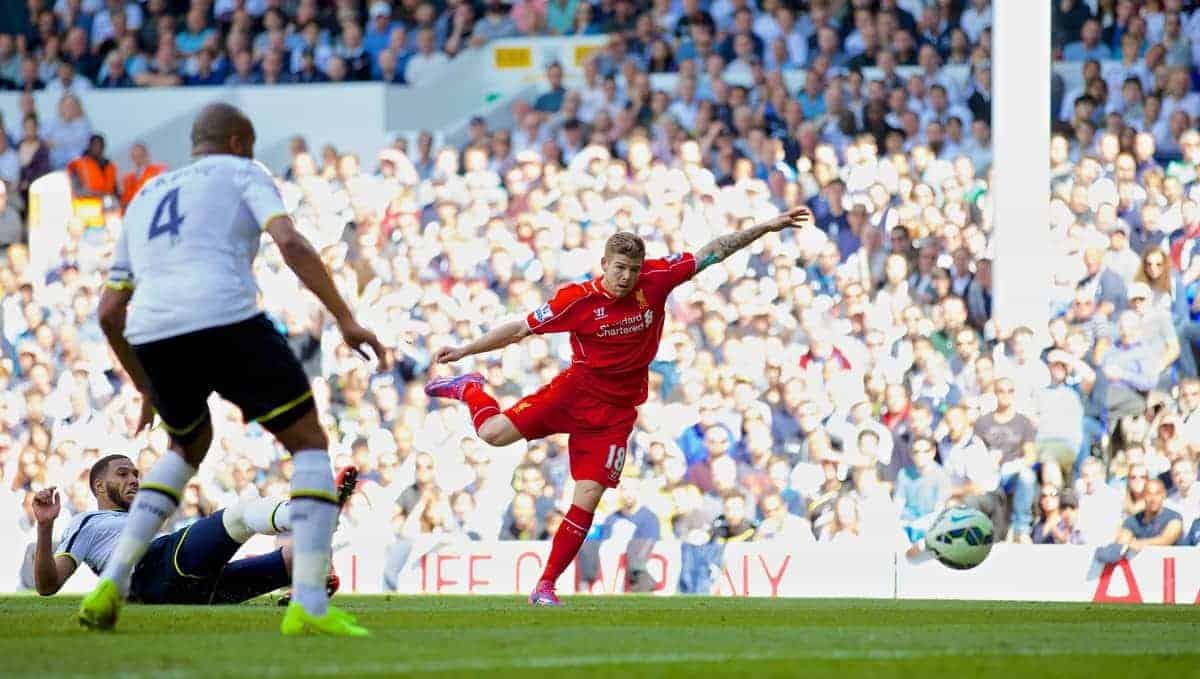 It's tricky what to make of Alberto Moreno as a player. At times he has looked like the quality long-term option at left-back for Liverpool, but on other occasions he has looked hapless.
His brilliant solo effort against Tottenham in August was a terrific start to life on Merseyside, but he has never really kicked on properly.
At 22, Moreno still has years ahead of him, and should only improve as he grows more accustomed with the Premier League. He makes this team more by default than anything though.
Inside Forward: Steven Gerrard

By Gerrard's ridiculously high standards, this has actually been one of his poorer seasons, but he was still better than a number of his teammates.
The 34-year-old is clearly not the player he was, but he still chipped in with 13 goals, making him Liverpool's top scorer in his final year at Anfield.
The consistently dominant display weren't there like they used to be, but Gerrard still managed to produce some memorable moments, including inch-perfect free-kicks against Everton and Basel, a match-winning performance at AFC Wimbledon and a late winner at home to QPR. He will be greatly missed.
Inside Forward: Philippe Coutinho

Barring perhaps Mignolet, at a push, Coutinho was far and away Liverpool's most impressive player in 2014/15.
The 22-year-old Brazilian was a pure joy to watch at times, whether it be his wonderful creativity, outrageous footwork or ability to score spectacular goals.
QPR, Arsenal, Bolton, Southampton, Man City and Blackburn all felt the wrath of Coutinho at various stages of the season, and Liverpool will be praying they can keep hold of their prized asset this summer.
Striker: Raheem Sterling

Forgetting all the recent furore surrounding Sterling- something that is currently clouding peoples judgement of him as a player- he has had another good season on the whole.
The 20-year-old scored some important goals early in the season, then thrived as a lone striker when Rodgers altered the system. He showed clever movement, lightning pace and improved finishing, scoring eight goals and providing eight assists in all competitions.
Sterling's form may have plummeted in the last month or two, but it's easy to forget how vital he was during Liverpool's 13-game unbeaten run earlier in the campaign.
The XI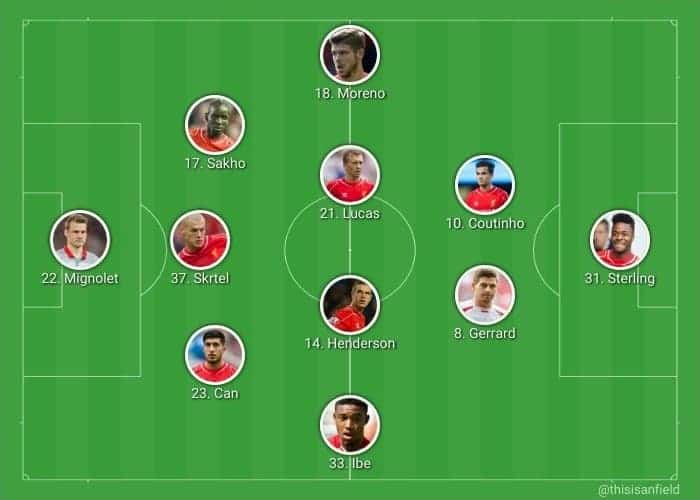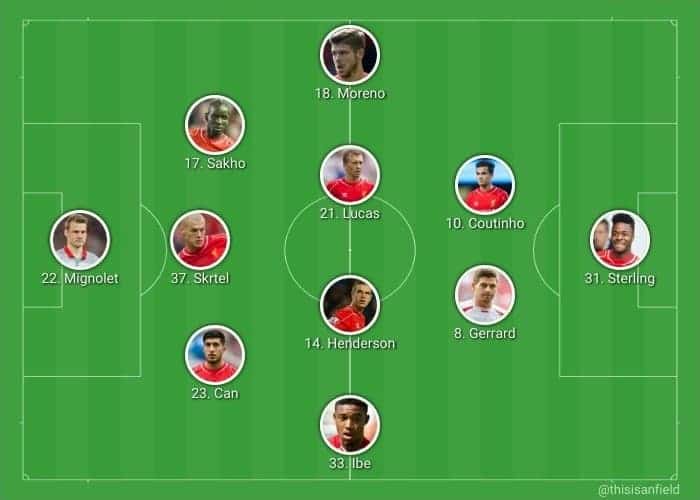 (All statistics via Squawka and WhoScored)
What would your Liverpool 2014/15 Team of the Season be? Let us know in the comments below.