Liverpool captain Steven Gerrard is not one for sentimentality but even he admits his penalty miss may have been in part to the emotion surrounding his impending departure from his boyhood club.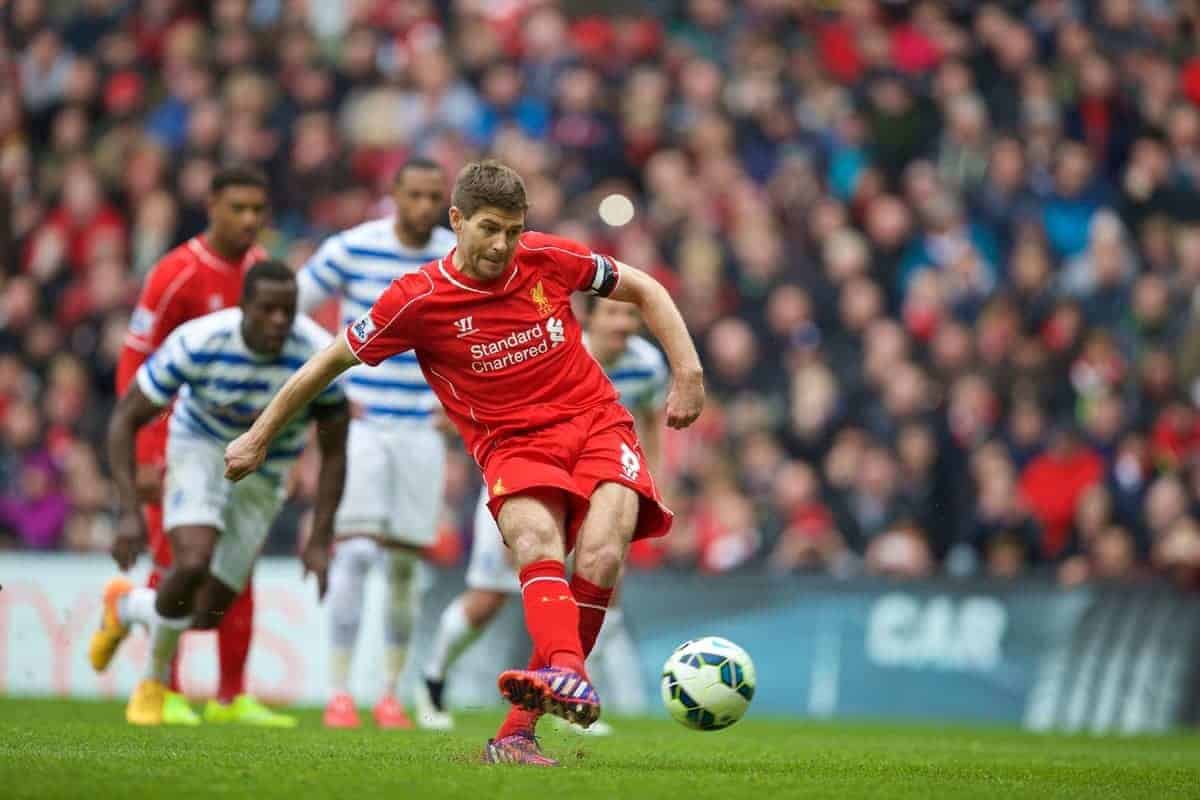 The 34-year-old, playing his penultimate match at Anfield before leaving for Los Angeles Galaxy, saw his spot-kick saved by Robert Green as he tried to put his side back in front at home to QPR but he did eventually redeem himself with an 87th-minute header to secure a 2-1 win.
Gerrard's penalty miss was his 10th in 57 spot-kicks and his sixth at Anfield, five of which have strangely been against London clubs.
"It was a poor penalty from myself and I am very disappointed with it," he told liverpoolfc.com. "I changed my mind on my run up, which is something you can't do when you're a penalty taker.
"Maybe it was the game, the emotion, being desperate to score and get on the scoresheet… I don't know.
"I was looking at Rob Green for as long as I could and I felt like he was going to go to his right, my left, which made me change my mind.
"I should have had the confidence that I could still score even if he went the right way.
"I take full responsibility for that but it was nice to make up for it and help get the team three points. It's very big for us.
"I'm delighted with the header and everyone goes home happy because we've got three points."
The win brought to an end a miserable fortnight for the Reds which saw them lose a Wembley FA Cup semi-final to Aston Villa, held to a goalless draw at West Brom and then lose at Hull as their Champions League hopes were virtually extinguished.
Fourth-placed Manchester United's surprise home defeat to the Baggies offers a glimmer of hope, with Liverpool now just four behind with three to play but those dropped points in the last week are likely to come back to haunt them.
"Everyone wanted desperately to reward the fans with an FA Cup final," said Gerrard, who had more reason than most to get there as the final fell on his 35th birthday and would have been a fitting farewell for his brilliant service to his boyhood club.
"I suppose in the last couple of performances we've had a bit of a hangover from that setback.
"The manager has made it clear we want to finish as strong as possible, try to get maximum points in all of our remaining games and keep putting pressure on the teams above us.
"It was a big disappointment at Wembley, but when you play for a big club you've got to get over it, move on and look to the future.
"Hopefully next year this team and club can compete for all the trophies available."