Ahead of his final home game as a Liverpool player at Anfield on Saturday, Steven Gerrard spoke this week of his most important goal in front of the Kop — on 8 December 2004.

He told the media at his farewell press conference on Thursday, "If you're talking about one individual goal that was so important for the team and the club, that helped us progress to that incredible night in Istanbul, it'd have to be Olympiakos.
"The timing of the goal and what was needed on the night…in the dressing room afterwards, I realised it was an important goal to help the team progress, but it wasn't until Istanbul had calmed down a couple of weeks later and I reflected on the whole journey of the Champions League triumph, I realised the Olympiakos goal was such a huge goal."
The following is an extract from Steven Gerrard Fifty Defining Fixtures by Tony Matthews (Amberley Publishing, 2015).
Liverpool 3-1 Olympiakos
Wednesday, 8th December 2004
Having already played five of their Champions League Group A games – two of which had ended in 1-0 defeats against Olympiakos and AS Monaco – Liverpool knew they had to win their return fixture against the Greeks side to make it through to the knockout stage with Monaco. A draw would be no good whatsoever! This was to be one of the biggest games at Anfield for years.
Olympiakos were in good form, defensively sound, with three wins and a draw under their belts. They had defeated Monaco and La Coruna both by 1-0 and had conceded only two goals. Liverpool, languishing in seventh place in the Premiership, having drawn their last game 1-1 with Aston Villa, had not been playing well. Steven Gerrard was not, in his own words 'one hundred per-cent fit', having missed seven Premier League games already. But a Champions League game at Anfield invariably brings the best out of the Reds and everyone was up for a fight on the night…

Liverpool (4-4-2): Kirkland, Finnan (Josemi), Carragher, Hyypiä, Traore (Pongolle), Nunez, Alonso, Gerrard, Riise, Kewell, Baros (Mellor).
Olympiakos (4-4-2): Nikopolidis, Pantos, Anatolakis, Schurrer, Venetidis (Maric), Georgiadis (Rezic), Kafes, Stoltidis, Djordjevic, Rivaldo, Giovanni (Okkas).
Attendance: 42,045
The game itself was tense throughout but what a finish we had! Many fans looking downhearted were making their way to the exit doors, others were seated, biting their finger nails, but thousands were still roaring Liverpool on, to victory, they hoped. With time fast running out, up stepped Steven Gerrard to score a magnificent goal to clinch victory and send Liverpool into the knockout stages of the competition. Olympiakos had taken the lead through Brazilian Rivaldo, who netted from a freekick after he had been brought down just outside the penalty area.
This left Liverpool needing to score three goals to go through. Mission impossible? Not at all. With the Anfield crowd behind, Rafael Benítez's men drove forward, pegging the Greek side back in their own half. It was hotting up, and when Florent Sinama Pongolle converted Harry Kewell's cross to equalise, the roof at the Kop end of the ground almost came off. When substitute Neil Mellor stabbed Liverpool in front from 6 yards, all hell broke loose. It was brilliant stuff, but another goal was still required. It was 'man of the moment' Mellor who teed up Gerrard to lash the ball home from 25 yards and win the match in style.
Liverpool came flying out of the blocks and won three corners in the first 2 minutes, one of which saw Milan Baros have a goal disallowed after Giorgos Anatolakis had been barged out of the way. Soon after, another dangerous Gerrard corner landed on Sami Hyypiä's head, but the Finn was disappointed when his effort went wide from 6 yards. Unfortunately Liverpool's bright and breezy start fizzled out as the Greeks gradually got going, retaining possession to frustrate the Anfield crowd, Rivaldo and Predrag Djordjevic being the two most influential players. A Rivaldo free-kick flicked off Gerrard's head and flew over 'keeper Chris Kirkland's crossbar before Liverpool replied with Baros flicking a left-wing cross onto Nikopolidis' post.
Rivaldo, in superb form, was stretching the home defence and in the 27th minute he created a goal with some brilliant play to knock the stuffing out of Rafael Benítez's side. The Brazilian skipped past four players before Hyypiä brought him down 20 yards out. Unmoved, Rivaldo picked himself up, placed the ball in position and curled the free-kick into the net – although Kirkland wasn't too happy when the 'Red' wall split in front of him! Another Rivaldo run was halted by a foul tackle from Jamie Carragher, who was booked. Then, the impressive Djordjevic smacked a free-kick into Kirkland's arms before Gerrard, who had already clipped an improvised effort against a post, got the Liverpool engine running on full throttle.
At the start of the second half, Benítez brought on Pongolle for Djimi Traore and the substitution immediately paid dividends, as the young French striker, arriving at the near post, put away Harry Kewell's cross to give the hosts renewed hope. The Greeks refused to buckle, though, and the game became heated with several off-the-ball clashes. Hyypiä and Carragher were both spoken to by Spanish referee Manuel Enrique Mejuto Gonzalez, who then yellow-carded Gerrard for a wild kick, which could well have resulted in a red! But Liverpool's captain was here, there and everywhere, desperately trying to haul his side back into it. He was desperately unlucky when his blistering 25-yard volley was ruled out because Baros had fouled Gabriel Schurrer. Sadly, for Gerrard, his teammates were not up to the same standard. Kewell headed straight at Nikopolidis from 5 yards when it looked easier to score, Baros failed to make contact when well placed and Alonso was way off target with a speculative long-range effort.
Having seen Pongolle make a huge impact, Benítez tried his luck with Mellor, introducing the young striker in place of Baros in the 78th minute. And bingo, it happened again, as 3 minutes later Mellor was in the right spot at the right time to ram home Liverpool's second goal and set up a grandstand finish.
One more goal was required. The crowd turned the sound volume up to its limit and after Mellor and Pongolle both had penalty appeals turned down, it was left to Gerrard to whip in the all-important third goal with just 3.5 minutes remaining. Mellor did the spadework by setting Gerrard 8 yards or so outside the area. Pulling back his right foot, the midfielder released a bullet, which flew past Nikopolidis and into the net to send the crowd into raptures.

Perhaps Liverpool were fortunate to win 3-1, but for Gerrard it was nothing less than he deserved. He was quite magnificent, better than Rivaldo!
After the game, Stevie G admitted that at half-time it was looking hopeless. 'We thought we were out. We sat in the dressing room and everyone was gutted because we really thought that was it. No one said anything; we were just staring at the floor.' But the game was magically transformed by that wonderful Spaniard 'Rafa the gaffa'.
---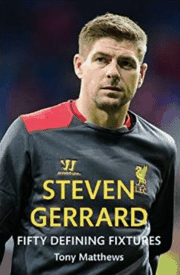 Steven Gerrard Fifty Defining Fixtures
Tony Matthews, football historian and statistician and author of over 100 football books, picks out 50 fixtures that have defined Gerrard's career.
From the Liverpool skipper's debut against Blackburn Rovers in 1998, through Germany 1-5 England in 2001 for his country, Istanbul in 2005, right up to present day, Matthews outlines why Steven Gerrard deserves to be recognised as a legend of the game.
Steven Gerrard Fifty Defining Fixtures is published by Amberley Publishing and is available from Amazon.