Has Brendan lost the dressing room? Aaron Cutler analyses Rodgers' man-management and its impact on this season.

How does one lose the dressing room and more to the point how do we as supporters know when such disharmony reigns?
There are tell-tale signs, a 6-1 dismantling at the hands of Stoke a prime and brutal example. Rumours too abound, with ITKs itching for followers announcing tidbits as trustworthy as a Tory manifesto.
But in reality this suggestion is mere conjecture. Indeed the only certainty is when a slump ensues someone somewhere will lament "They're not playing for him, he's lost the dressing room."
In actuality nobody knows the collective state of mind within the confines of Anfield. Some wearing red will champion Brendan Rodgers to the hilt, others will secretly despise him and vent to friends, agents and journalists off the record.
The likelihood is that Rodgers' standing amongst his squad lies somewhere between the two extremes. To some he is Shankly re-incarnated, to others a real-life David Brent.
But while we can only speculate as to whether the Reds boss has/had lost the dressing room we can at least point to reasons why that could be the case. For Brendan, despite talking a good game and projecting a likeable bravado has not been averse to throwing people under the bus.
Rafa Benitez has long been accused of adopting a robotic stance, one that alienates players, yet Rodgers has been involved in twice as many spats in half the stewardship.
Again this is not to say his man-management is flawed as numerous examples point to the contrary.
Raheem Sterling is on record thanking Brendan for nurturing him on and off the field. Likewise, Jordan Henderson is eternally grateful for the comforting hand afforded him when his father was diagnosed with cancer.
But while the aforementioned may endorse their manager the likes of Mario Balotelli and Mamadou Sakho may take a dim view… and for good reason.
Let's take a look at some of the fallings out to have occurred since June 2012.
Andy Carroll

On becoming Liverpool manager Brendan Rodgers decided almost immediately that £35m striker Andy Carroll was not and never would be suitable for his style of play. Fair enough. That was his right and when ushering in a new era you must anticipate and respect upheaval.
Whatever your views on Carroll the player the manner of his departure is most intriguing. For a year after being sold the future Geordie Shore star accused Rodgers of lying:
"He'd say, 'You're going to play every week, you're going to play every game with Suarez up front.' I'd leave and get home and he'd ring me and say, 'Fulham and West Ham want you, I think it's best you should go.' He was telling me one thing to my face and then ringing me and telling me a different thing. He was messing with my head."
Take the latter with a pinch of salt. Carroll was deemed surplus to requirements and such rejection is sure to rankle. Nevertheless if his claims are to be believed it suggests Rodgers is calculated at best and otherwise deceitful.
A counter-argument will point to him putting the club first, something to be respected. But Carroll was the first of a series of players to fall out with the incoming boss.
Martin Skrtel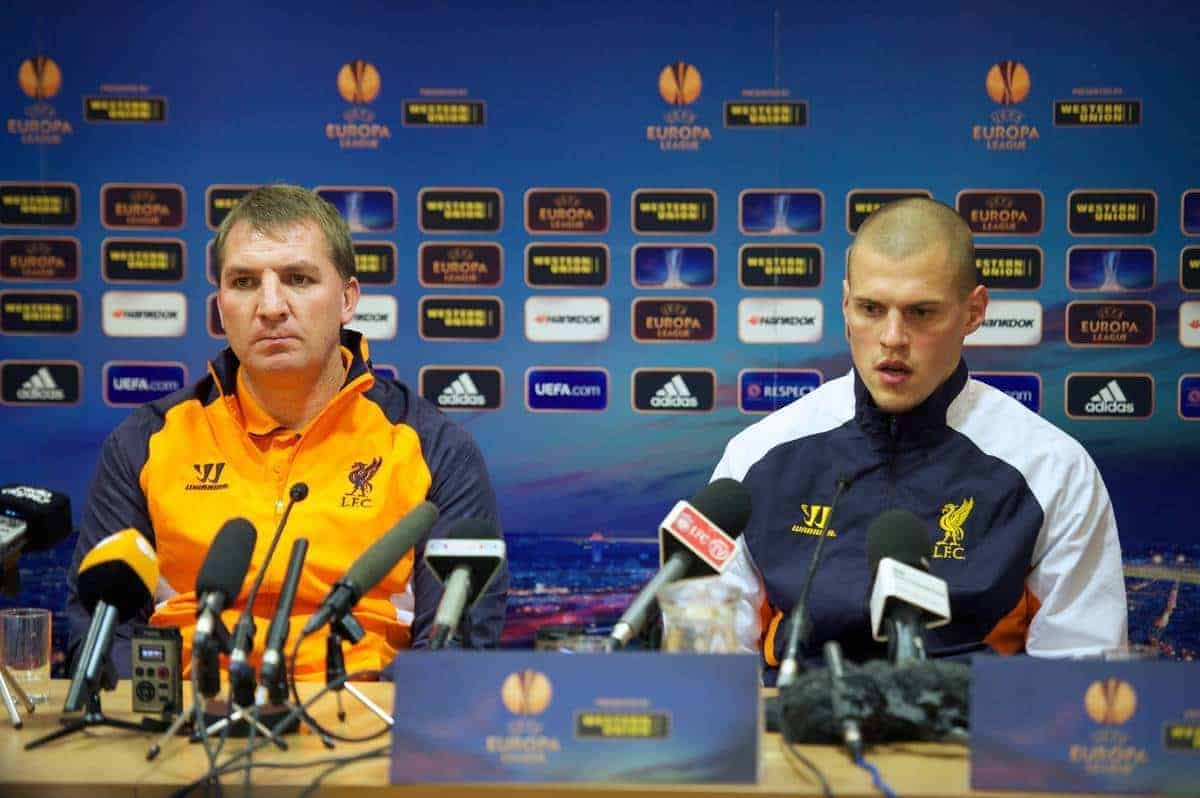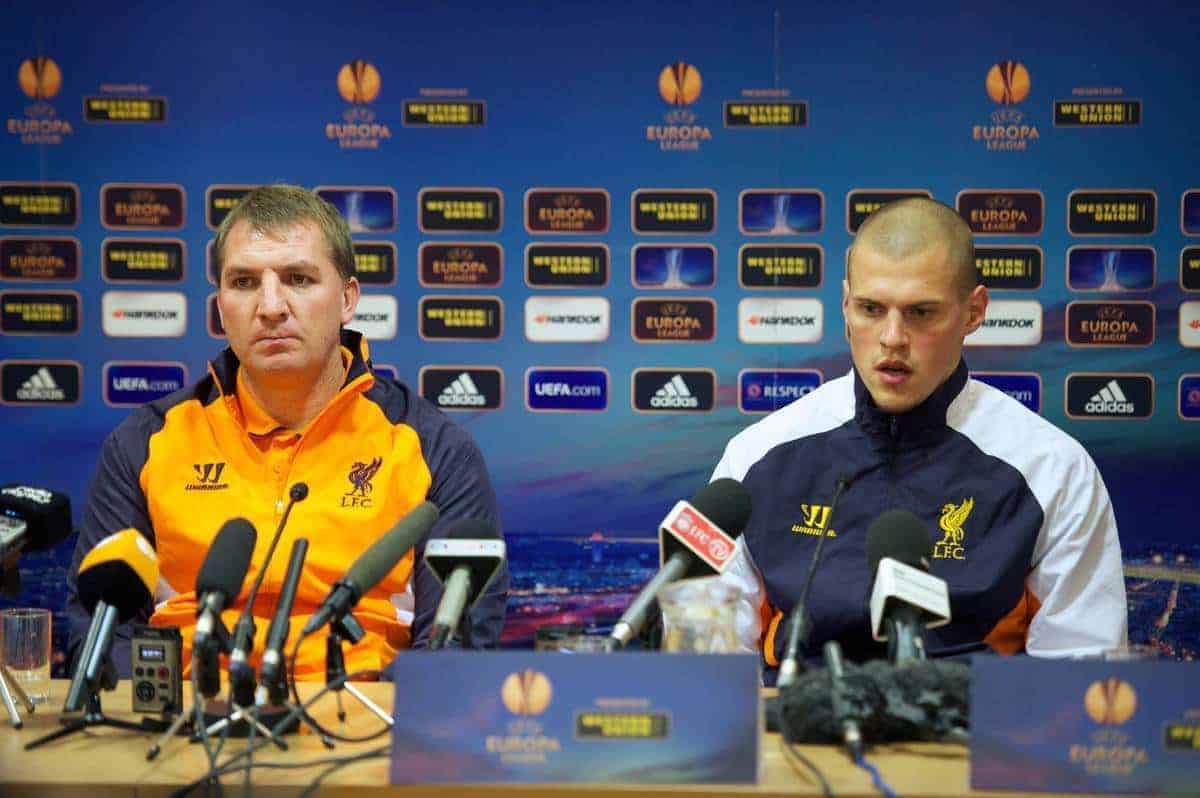 Rodgers' debut FA Cup campaign as Liverpool manager ended in humiliation; the Reds dumped out of the competition by lowly Oldham. Many of us still have nightmares about that defeat, none more so than Martin Skrtel. The combative Slovak was reduced to a quivering wreck by journeyman forward Matt Smith.
Bashed from pillar to post the centre back was powerless to prevent Smith inspiring the League One outfit to this a painful giant killing.
What was said in the wake of this humbling is unknown but one certainty is Skrtel became the fall guy. A regular up to that point the Slovak started just three games from thereon in, the retiring Jamie Carragher ousting him from first team reckoning.
The writing was seemingly on the wall for Skrtel, his exit mooted for the entirety of the summer. That until an injury to Kolo Toure (signed as yet another replacement) necessitated his inclusion against Manchester United.
A man of the match showing put paid to any transfer and suddenly Skrtel, by luck more than judgement, was reinstated and suddenly immovable.
He would go on to become the division's highest scoring defender that season but all could have been so different had a breakdown in communication ended as expected.
Luis Suarez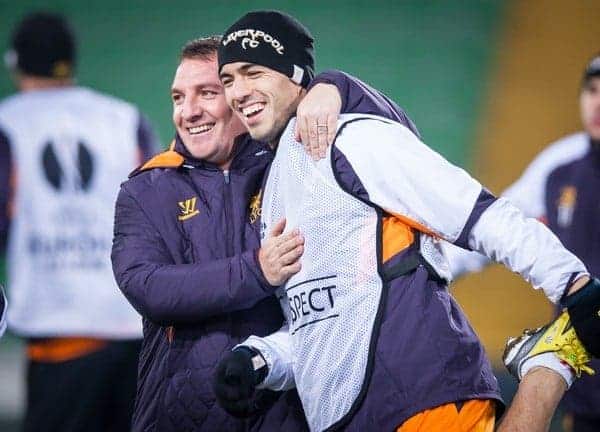 A sensitive case.
Luis Suarez, now fawned over by the majority of Liverpool fans, was a momentary outcast. Rodgers' tough love paid eventual dividends and few can blame the manager for banishing his wantaway striker to train on his own.
At the time Suarez was a scowling brat resenting our refusal to enter into negotiations with Arsenal. He needed disciplining and both manager and club handled the situation brilliantly.
That said the Uruguayan's quotes around this time make for interesting reading.
"I spoke with Brendan Rodgers several times and he told me, 'Stay another season, and you have my word, if we don't make it (to the Champions League) then I will personally make sure that you can leave. I just want them to abide by the promises they made last season."
Again context must be afforded. There speaks a man hell-bent on engineering a move away from Anfield, practically licking his wounds. However he was the second striker to accuse Rodgers of lying.
Unlike Carroll El Pistolero now speaks in glowing terms about Brendan but this incident is another reminder of Rodgers' tendency to go to war.
Daniel Agger

Daniel Agger's Liverpool career rather frittered away, a sad end for a popular figure and loyal servant. The Danish centre back's virtues were debated long and hard throughout his final two seasons, many questioning whether both his injury record and lack of physicality were suitable for the cut and thrust of Premier League defending.
That said, nobody would consider the latter-day Agger a worse player than his replacement, Dejan Lovren.
Allowing the former to leave for pittance before pursuing a £20m downgrade must surely rank as one of Liverpool's greatest hiccups, and there have been many.
Agger left in a dignified manner, choosing not to speak of rumoured differences with his manager. Only recently has the Brondby captain shed light on a suspected tete a tete.
"There was much [distance] between us, and for me it was just enough. The thing that went wrong between us is I say things the way they are and I expect others to treat me the same way."
A degree of sadness and resentment clearly lingers but indisputable is the fact a fans favourite felt compelled to leave following a bust-up. The sheer ineptitude of his replacement makes that fact even more upsetting.
Mamadou Sakho

Mamadou Sakho can be used as a barometer for footballing intelligence. Those who bemoan his passing ability and general awkwardness can be termed clueless supporters who glean opinions not from watching Liverpool but instead lazy and banal pundits whose insight is personified by Chief Goon Paul Merson. Brendan Rodgers is no such fool.
Which made his ostracising of Sakho all the more bizarre. Rumours abound that the Frenchman was signed by committee, overruling Rodgers' own targets. Nevertheless a £17m defender and former captain of PSG is nothing to be sniffed at. But sniff Brendan did.
Until January of this year Sakho was deprived of a run in the team. Even in those dark autumn days, where Lovren proceeded to stink the place out worse than Johnny Vegas post-curry, Rodgers persisted with the Croat – seemingly unmoved as the house fell in.
This indifference bordered on the personal and culminated in Sakho fleeing Anfield in a rage following exclusion for the Merseyside Derby.
The wrong kind of protest he was rightly punished but his exasperation was one shared by most supporters.
Eventually, with Lovren crocked, Rodgers succumbed and begrudgingly re-instated the Frenchman. Lo and behold Liverpool's form improved, only regressing when Sakho injured himself three months later.
The Parisian's importance was realised by luck rather than judgement and few could blame the Frenchman for harbouring a grudge.
Simon Mignolet and Pepe Reina

The deterioration of Simon Mignolet was most alarming.
Between August and December the Belgian stopper underwent a crisis of confidence, visibly cowering as form and self-belief betrayed him. A comeback of Lazarus proportions eventually ensued but not before Brendan Rodgers had dealt him the ultimate insult.
After exiting the Champions League at home to Basel (a game where Mignolet performed just fine) the manager decided to dump him 'indefinitely.'
As if that were not punishment enough his replacement was to be none other than Brad Jones, he of the invisible hands.
Circumstances conspired to give Mignolet a reprieve, sparing us the Jones slideshow. To his credit the Belgian rallied and enjoyed a much improved end to the season.
While some may credit Rodgers for this upturn others will justifiably label his actions callous and disrespectful. If just some of the fan base feel that way you can be assured Mignolet shares those sentiments.
The man he succeeded is unlikely to be sending Christmas cards either. Pepe Reina, having batted eyelashes in the direction of Barcelona, was bombed out by a coach scorned.
An initial 12-month loan was never likely to end in reconciliation, the much loved Spaniard instead suffering the ignominy of a pre-season tour without so much as a substitutes appearance.
For a man who displayed great loyalty when others deserted a sinking ship, this was no way to bow out. Rodgers may point to those Nou Camp aspirations and a 'farewell' letter sighting Benitez as his greatest coach, but the situation could have been handled so much better.
Reina, loved on both the terraces and in the dressing room, was unceremoniously bundled out of the backdoor – something that leaves a bad taste with supporters and – one would assume – long-time teammates.
Mario Balotelli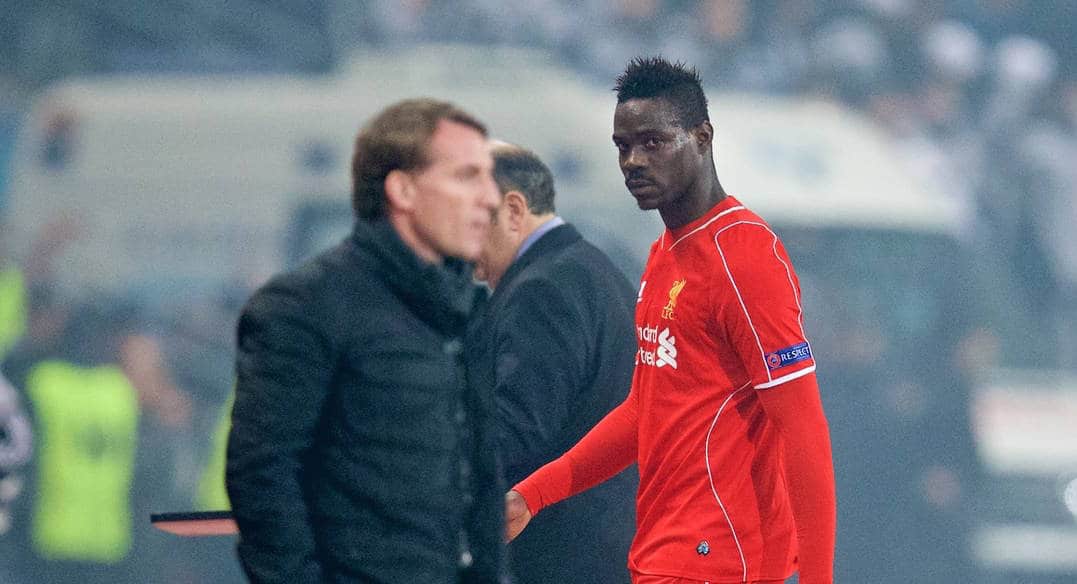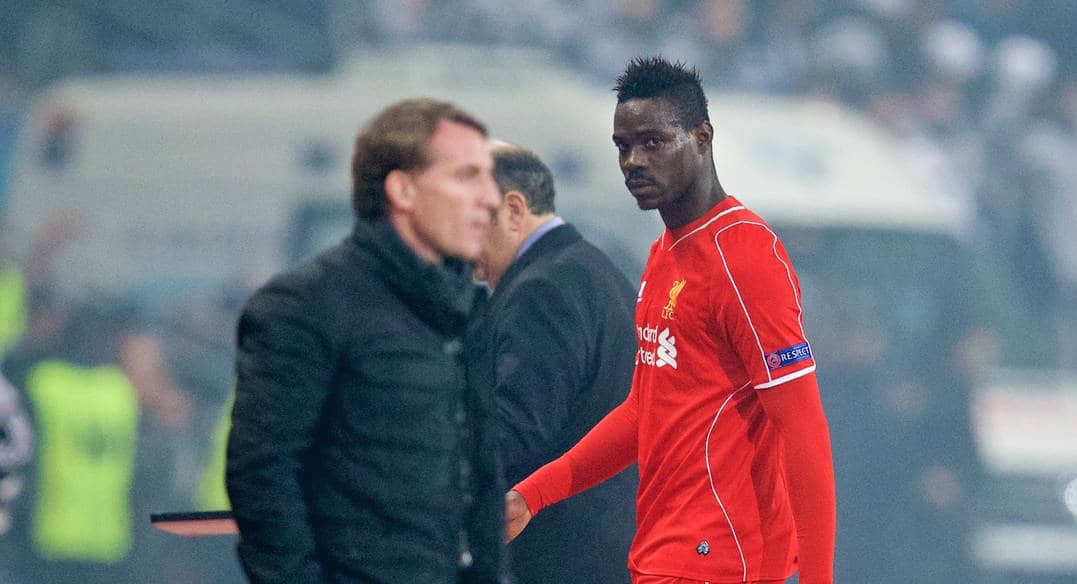 Finally we come to our Mario. A divisive figure who never fit the profile his signing was a head scratcher. The Italian has hardly helped himself at times but then no assistance has come from his manager either.
Indeed Rodgers rejected the Balotelli 'project' within weeks and set about absolving himself of any responsibility and blame.
A long exile was punctuated with quotes such as:
"Working with Mario, we've seen that he is someone who is better in and around the box. That level of pressing and intensity is not part of his game. But you try to make the best out of the players you have, and the qualities that they have."
Valid perhaps but feelings best shared behind closed doors. Why hang one of your own out to dry?
Similarly, these remarks following a match-winning cameo at home to Beskitas were utterly appalling:
"We need to ensure that whatever level we are playing at we have everyone working as a team and once we get the penalty he stops working. So he needs to improve on that facet of his game, to play in his position rather than standing on the side of the football field."
Brendan Rodgers there, chastising a man who had gifted him just his second European victory of an embarrassing campaign.
Balotelli is far from perfect but Rodgers dislike and mismanagement of him meant this roll of the dice never stood a chance.
There have been further examples of disagreement/mismanagement.
Nuri Sahin was loaned to much fanfare, only to depart months later at loggerheads with Rodgers and his ideology.
Borussia Dortmund coach Jurgen Klopp mused "I don't know what Brendan Rodgers was thinking. Playing him as a number ten is not the best solution in my opinion."
Lazar Markovic, already charged with acclimatising to a new country and league has been asked to play out of position for the entirety of this season. Dealt the rough hand that is Liverpool's wing-back berth he has been sacrificed at half-time on multiple occasions, no doubt draining confidence.
One particular withdrawal, away to Arsenal, came on the back of a misplaced pass to Raheem Sterling. Practically punished for such profligacy he has been conspicuous by his absence ever since. Whatever the mitigating circumstances that is no way to treat a youngster. [td_ad_box spot_id="custom_ad_3″]
Similarly, Fabio Borini and Jose Enrique have reason to feel aggrieved. Neither can be considered of any worth to the first team but banishing them entirely is utterly bemusing and hardly good for squad morale.
What of Javier Manquillo? From seeming ever present to forgotten man, all to accomodate Glen Johnson!
What does all this point to? Not necessarily deep rooted disharmony but evidence that Rodgers has prior for upsetting and/or mismanaging individuals. Some have ridden the storm and returned better players but will their relationship with the manager ever be the same? If not, will their understandable indifference rub off on teammates who are also friends?
A successful, thriving workplace is also a harmonious one. It is only when performance levels drop that morale is questioned. It is then a manager must bank on having the trust and respect of his squad.
Heading into 2015/16 Brendan Rodgers will need both, which may necessitate a change of tact.
A vote of confidence from Boston is one thing but make no mistake, Rodgers' fate actually lies in the hands of his players.
He'd be well advised to keep them on-side.
[interaction id="556f235ed42e342e4b1f834d"]