A Liverpool Legends XI ran out 4-2 losers against their Real Madrid counterparts on Sunday night. Here's the best of the players' reactions from the game.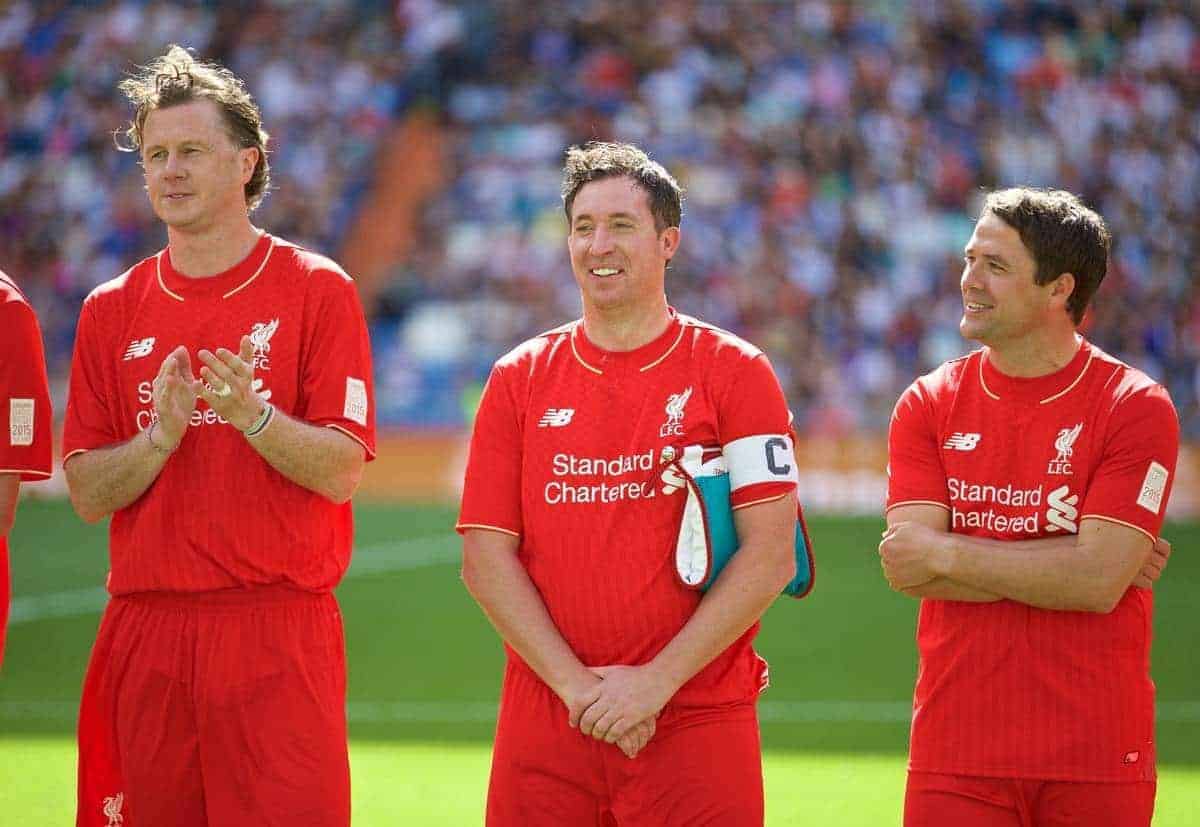 Goals from Harry Kewell and Michael Owen gave the veteran Reds hope going into the break, before a brace of penalties from Roberto Carlos, as well as goals from Jose Emilio Amavisca and Ivan Perez secured the spoils for Los Meringues.
An enjoyable affair all-round, Liverpool's Legends side kept up the spirit of the game—with all proceeds going to charity, this was a light-hearted run-out featuring some high-profile names.
Here's how they reacted.
Before the game…
Boots out again for the LFC legends vs Real Madrid legends at the Bernabeu. Great catching up with Harry Kewell and the lads! Come on Reds!

— Salif Diao (@salifdiao77) June 14, 2015
Looking forward to playing here again today.. Also great catching up with @salifdiao77 @LFC @realmadriden ?? pic.twitter.com/jol7Nq3Li6

— Harry Kewell (@HarryKewell) June 14, 2015
Checking out the Bernabeu before the game tomorrow @MCATEER4 pic.twitter.com/IPqyzFJr1r

— Rob Jones (@RobjonesLFC2) June 13, 2015
What pleasure to be playing with these boys again #RealMadrid v #LFCLegends game KO in 1. Hour pic.twitter.com/hqoQoOjNiN

— David Thompson (@77thomo) June 14, 2015
Just arrived at #Bernabeu ahead of legends game!! Stadium looks incredible! @LFC lads are on form!! #Madrid ?

— Ian Rush MBE (@Ian_Rush9) June 14, 2015
#Zizou and #McManaman reunited for the Corazón Classic Match #Legends #HalaMadrid #CCM2015 pic.twitter.com/ocHtRZAhUK

— Real Madrid C.F. ???? (@realmadriden) June 14, 2015
And after…
Now that was special. What a day great being with the lads again for a kick about !! pic.twitter.com/DudLDGvga0

— Jason Mcateer (@MCATEER4) June 14, 2015
Legend!!!! pic.twitter.com/o0jWyyPnGk

— Rob Jones (@RobjonesLFC2) June 14, 2015
"The crowd were fantastic and we played superbly in the first half but when they got the penalty just before half-time you knew you were at Real Madrid.

"It's great for the lads though and we can't wait for the return leg at Anfield."
– Ian Rush
Three generations of Anfield Goal Scorers!!! https://t.co/Q8kf6O3Bia pic.twitter.com/mRfIQVIWIp

— michael owen (@themichaelowen) June 14, 2015
"It was a brilliant occasion but I'm upset about the result because you want to win. I want to get a goal every time I'm out there because I'm greedy."
– Robbie Fowler
And another ? pic.twitter.com/fJpD4QWwgT

— Rob Jones (@RobjonesLFC2) June 14, 2015
"I just want to go to sleep; I'm so tired. It's a once in a lifetime opportunity to play in a game like this.

"I had to give everything so I'd get asked to come to the next one.

"We were never going to win the game. The refereeing was a bit questionable!"
– Jason McAteer
Which Liverpool legend did you most enjoy watching against Real Madrid on Sunday? Let us know in the comments below.