There appeared to be united condemnation from football fans after the Premier League and Sky Sports announced the rescheduling of games for television coverage on Friday.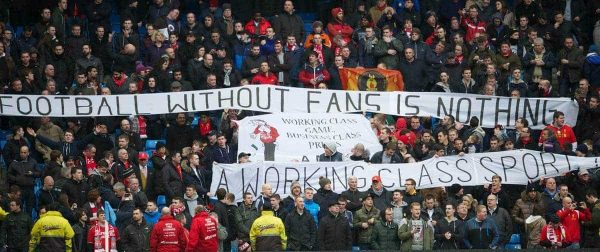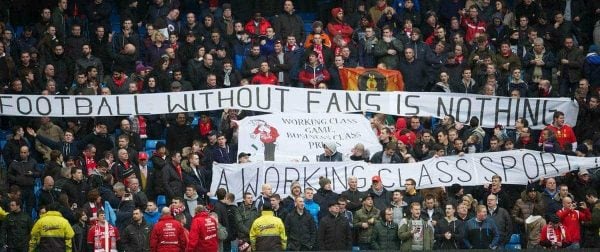 Bournemouth fans face a 528-mile round journey to Liverpool to make Anfield's first game of the season for an 8pm kick-off on Monday, 17th August.
A week later Liverpool fans endure the 410-mile round journey to see their Reds take on Arsenal at the Emirates Stadium — 8pm on Monday, 24th August.
Both games have been moved to accommodate Sky Sports' television coverage, whilst Newcastle fans face the same problem for their trip to West Ham on Monday, 14th September (a 558-mile round journey).
Amongst other thoughtlessly scheduled fixtures, Everton must make the 478-mile round trip to Southampton for a 12noon kick-off on Saturday, 15th August to accommodate BT Sport's live coverage.
Just weeks ago Liverpool supporters' union Spirit of Shankly made a plea to the Premier League, Sky Sports and BT Sport ahead of the fixtures being released:
We are writing to both Sky and BT Sport to request that they consider what moving a match from a 3pm kick off on Saturday to a Monday night at 8pm, actually means to the fans who travel. Particularly when the fixture change means that fans will then be unable to travel home using public transport and will more than likely need to take time off work to attend. Fans should not be expected to travel more than a set number of miles for fixtures at irregular kick off times.
However, it would appear the Premier League has disregarded fan welfare once again.
It wasn't just Liverpool fans upset over the television scheduling announcement — angry voices came from across football.
Arsenal v Liverpool on a Monday night, something surely has to be done about such journeys midweek/Sundays for travelling fans.

— Graeme White (@Greyz10) July 3, 2015

https://twitter.com/OliHepy/status/616949587186745344

As a punter on Red Issue points out, it's good to see the fans put first as usual. Liverpool v Bournemouth on a Monday night at 8pm.

— Nick Metcalfe (@Nick_Metcalfe) July 3, 2015
Premier League logic. Move the Liverpool-Bournemouth game to a Monday night. I mean, Merseyside is so easy to get to from the south coast.

— David Webber (@DrDaveWebber) July 3, 2015
Can't only complain when its against us, making Liverpool fans travel to London on a Monday night is bollocks.

— Adam (@AdamPembrey) July 3, 2015
Bournemouth fans dragged to Liverpool on a Monday night. Everton to Southampton on a Saturday morning. It begins.

— Mark Jones (@Mark_Jones86) July 3, 2015
So Sky put Liverpool v Bournemouth on a Monday night, absolutely no thought for the travelling fans as usual

— Jon (@TikkaMangala) July 3, 2015
Nothing says 'Welcome To The Premier League' quite like Liverpool v Bournemouth on a Monday night, enjoy that trip Bournemouth fans

— Macca (@Macca26efc) July 3, 2015

https://twitter.com/rogerefc/status/616948250671742976

@FA @premierleague @SkySports @AVFCOfficial #againstmodernfootball #skystolethesoul fans obviously mean bery little these days!

— George Wheeler (@GRWheeler7) July 3, 2015

https://twitter.com/born2bscouse/status/616952161847652352

@thisisanfield worst trip i done was swansea away two seasons ago mon night! left at 11am monday home at 5am tuesday #awaydays

— Pablo (@paul_lauder) July 3, 2015
Is Friday's television fixture rescheduling a blatant disregard for fan welfare? Let us know your thoughts in the comments section below.