With Daniel Sturridge returning to training at Melwood this week, Andrew Ronan discusses the importance of this latest return – hoping he doesn't end up like other injury hit strikers.
After two wins and three clean sheets to start the season, "death by football" has been abandoned – or so certain sections of the English football press will have you believe. Apparently, the arrival of man-mountain Christian Benteke is proof that Brendan Rodgers' original philosophy to pass the opposition to death is so three years ago. After all, Barcelona have moved on somewhat from their pioneering brand of Total Football which dazzled us all three or four years ago. So it's okay now for Rodgers' Liverpool to lump it up to the big man.
Sure, Liverpool have been more direct in their opening three games; and why not when Benteke is so comfortable winning headers and holding up the ball. He's hardly John Fashanu, though, and Liverpool aren't going to become a modern day Wimbledon. The English football press, though, seem to believe that Rodgers will struggle to mix his original pass them off the park way of playing with the more direct approach involving Benteke. It has to be one or the other.
The rather subdued play we saw in the opponents half in the opening two games in particular wasn't down to a manager still making up his mind on what way to break a team down, though. It's simply early season rustiness, coupled with new players getting comfortable with their new roles in a different system. As legs become fresher and minds sharper, the talent from the likes of Coutinho, Ibe and Firmino should begin to flourish and show that this Liverpool side will never go into full Wimbledon mode. As will the return of Daniel Sturridge. Remember him?
It's hard to believe that a player who has scored 40 goals in just 66 appearances in a Liverpool shirt is better known for spending most of his spare time on the treatment table. In the cruel world of Twitter and trolling, Sturridge is the modern day Mr. Sicknote straight from the Darren Anderton School of Niggly Injuries. Just 66 appearances in two-and-half seasons says it all.
There has been talk of how he will fit into the Liverpool side when he returns from injury next month, and if he and Benteke will go together. A fit Sturridge should slot into Liverpool's attacking line-up easily; he can play directly through the middle or anywhere across the forward line, so Rodgers should easily find a way to accommodate him. And accommodate him he should because he's still our most prolific goalscorer. The only problem facing Rodgers will be who to leave out.
The big question regarding Sturridge on his return, however, should be how long he can stay fit for. Apparently the hip operation he underwent in May has gotten to the root of his injury problems. For Sturridge and Liverpool fans hopefully this is true.
If his comeback turns out to be another short lived one, and his on-off injury nightmare continues, Sturridge may find himself in the unfortunate category of Liverpool strikers down the years who had their career seriously impeded by injuries. It's not a list that contains forgettable journeymen either; top players such as Michael Owen, Robbie Fowler and Fernando Torres all suffered their fair share of injuries which robbed them of pace and confidence.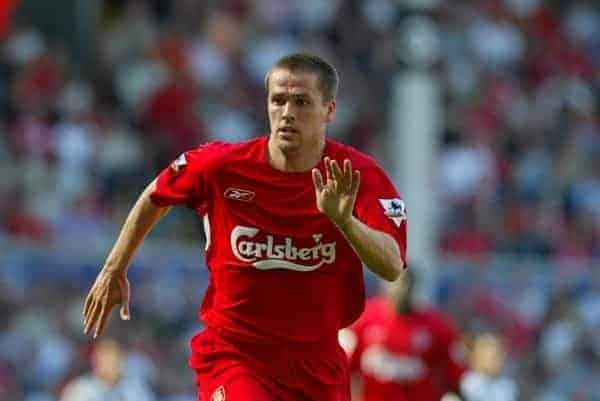 Owen's injury problems began as far back as April 1999. During a league game away to Leeds United, he injured his hamstring and missed almost six months of football. Of course, Owen regained full fitness and scored many more goals for Liverpool, but he suffered his fair share of niggly injuries during the rest of his time at Anfield. His blistering pace was undoubtedly affected, and when he left Liverpool he continued to struggle with injuries and his career was over before he was 30, i.e. he ended up at Newcastle.
In February 1998 Robbie Fowler suffered knee ligament damage during a collision in the Merseyside Derby at Anfield. When God returned, he had noticeably lost that crucial half-yard of pace which made him lethal inside the box. It never returned, and he scored 42 goals during his remaining four seasons at Liverpool, a far cry from the 116 he banged in during his first four seasons in front of the Kop.
Fernando Torres began to suffer niggly injuries well before he left for Chelsea. By the time he did leave Anfield, he didn't look half as quick as he was when he arrived. Proof of those niggly injuries catching up on Torres is his entire Chelsea career. His lack of pace made him look like a hungover Sunday league player half the time, and a once brilliant footballer quickly disappeared before our eyes.
The injury woes of Owen, Fowler and Torres all led to each player losing their burst of pace. The injuries didn't make them as slow as Neil Ruddock after a few kebabs, but that initial burst of pace was gone. That ability to accelerate is as crucial to Daniel Sturridge as it was to Owen, Fowler and Torres. Once that acceleration goes it's only a matter of time before overall pace goes, too. Sturridge relies on quick bursts, changes of direction and quick feet; all of which rely on pace.
A fully fit Sturridge will easily fit into Brendan Rodgers' plans, and he will guarantee goals. He's not guaranteed the luck he deserves as far as injuries are concerned, though. Football is never that simple. Just ask Owen, Fowler and Torres.