With Liverpool returning to a 3-4-2-1 in Thursday night's 1-1 draw away to Bordeaux, Jack Lusby explains how it can bring success.

Brendan Rodgers briefly revitalised Liverpool's season with a switch to a 3-4-2-1 formation in 2014/15, and with a return to this unorthodox system in the Reds' 1-1 away draw with Bordeaux on Thursday night, he highlighted how he could save his job.
Reportedly inspired by Paulo Sousa's effective attacking system at FC Basel in last season's Champions League, this is a tactical layout that gave Liverpool a much-needed identity.
Now, having reverted to a miserable 4-3-3 for much of 2015/16 so far, Rodgers is in dire need of regaining this distinction.
This could come with the 3-4-2-1, as it simply gets the best out of Liverpool's best players.
A Robust Defensive Line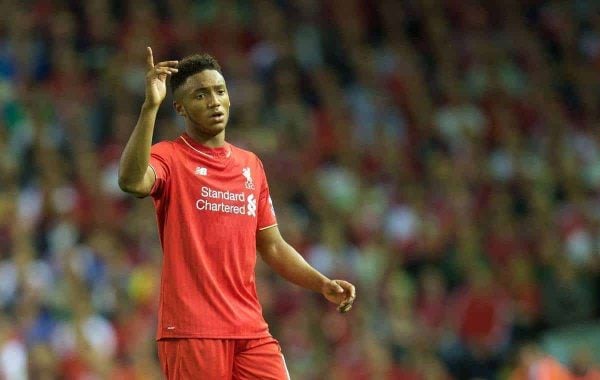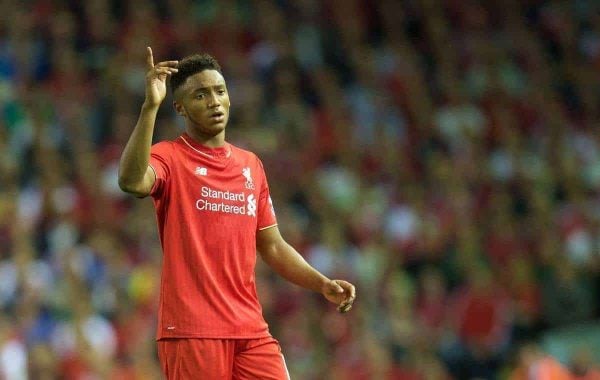 When it comes to Liverpool's troubled back line, a switch to the 3-4-2-1 not only magnifies the strengths of Rodgers' personnel, but it also disguises their flaws.
Moving to a back-three defensive system in 2014/15 saw the Reds concede 17 goals in 17 games in the Premier League, keeping nine clean sheets, before a switch back to a back four towards the end of the season, with a marked improvement in the form of goalkeeper Simon Mignolet a clear signifier of its benefits.
The proximity between Rodgers' three centre-backs—chiefly Emre Can, Martin Skrtel and Mamadou Sakho—as well as a fine balance of their individual attributes formed a robust back line.
With Rodgers utilising a back four so far this campaign, Liverpool have kept a similarly impressive three clean sheets from five league games—but the way in which the likes of Skrtel and Dejan Lovren have performed throughout should be cause for concern.
Skrtel's possession woes in losses to West Ham United and Manchester United should be particularly worrying.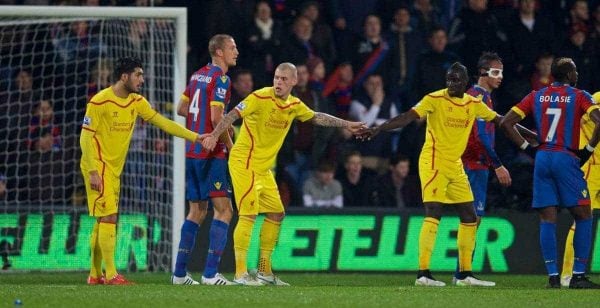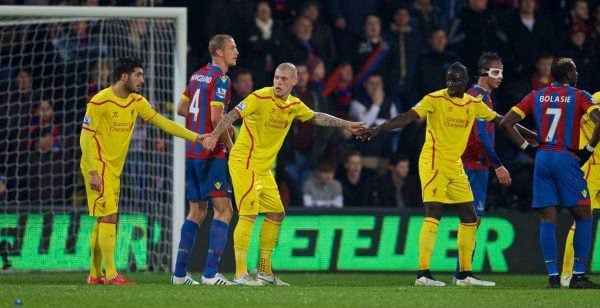 The Slovakian is a brutish, no-nonsense defender who thrives on playing a simple game, but when tasked with added ball-playing responsibilities alongside Lovren mistakes have crept into his game.
Skrtel was a key component within the successful back-three system in Rodgers' 3-4-2-1, primarily because it allowed him to focus on defending and defending alone.
A sweeper role suits the 30-year-old's aggressive, last-ditch style of play—and while Skrtel is not a long-term solution for Liverpool, he has proven capable of thriving in this system previously.
For Skrtel's role to work, however, Rodgers needs his flanking centre-backs to be both defensively strong and capable of bringing the ball out into midfield. Happily, this summer has added a young defender who possesses speed, intelligence, finesse and strength: Joe Gomez.
Fielded in a left-back role for much of the season so far, Gomez found himself in his natural position in Bordeaux.
Joe Gomez's 78 touches of the ball for #LFC vs. Bordeaux. Tailored for that RCB role in the 3-4-2-1? pic.twitter.com/Bhv63dbvvK

— Jack Lusby (@jacklusby_) September 18, 2015
Initially filling to Can role on the right-hand side of Rodgers' back three, Gomez kept the rampaging Nicolas Maurice-Belay quiet, as well as offering a constant outlet in possession and stepping out of defence confidently.
But on his move into the Skrtel role on Kolo Toure's withdrawal through injury, Gomez also hinted at his defensive strength, winning four aerial duels and making four no-nonsense clearances—though his failure to deal with the ball-juggling Enzo Crivelli in the buildup to Jussie's equalising strike highlighted a hesitancy that would see him better suited to a right centre-back berth.
Furthermore, despite making his first start of the season at the Nouveau Stade de Bordeaux, Sakho resumed his commanding role on the opposite side of the back three.
As well as showcasing his typical forward-thinking, crisp passing game, Sakho grew in defensive dominance as the encounter played out.
Sakho is the most pivotal figure within this back-three system, and with the Frenchman having cemented his place in Rodgers' first team with his performance in Bordeaux, he can only continue to grow.
A Solid, Compact Midfield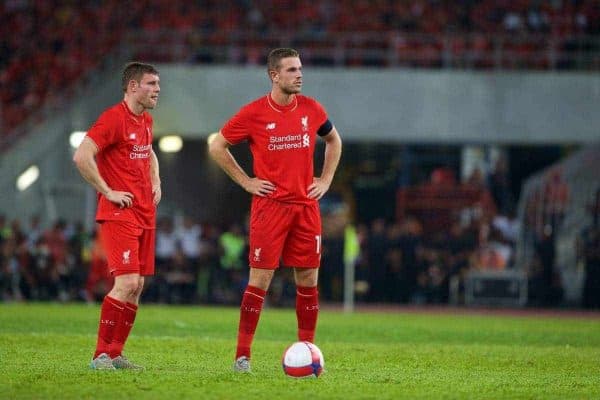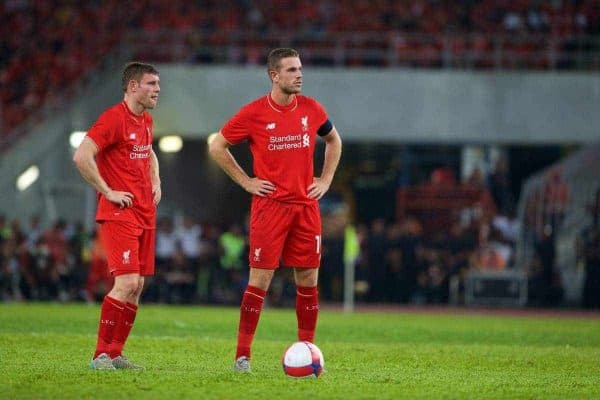 Against Bordeaux, Can and Jordan Rossiter were initially deployed as Rodgers' central-midfield pairing, with 18-year-old Spaniard Pedro Chirivella brought on for Toure early in the first half to accommodate for Can's shift into defence.
Despite these being fledgling partnerships in the middle of the park, the way in which the 3-4-2-1 is set up allowed these players to thrive.
The compact nature of this midfield saw Bordeaux struggle to build from central areas, with Clement Chantome growing frustrated as the game played out, and the balance of qualities between Rossiter and Chirivella aided this.
In the 3-4-2-1 last season, Rodgers typically favoured a midfield pairing of Jordan Henderson and Lucas Leiva, with the former possessing the thrust and creativity required to perform in a supporting playmaker's role, while the latter offered stability in breaking up play as well as dropping back alongside Skrtel in defence when required.

In the south of France, Chirivella played the linking Henderson role, while a remarkably mature Rossiter performed with distinction as Lucas' deputy.
It would be naive to suggest that a Rossiter-Chirivella axis would profit in the consistently demanding landscape of the Premier League, but as Rodgers plots for the future he can instead look to build around Henderson's promising partnership with summer signing James Milner.
Rossiter and Chirivella were also aided by a hardworking quartet of Alberto Moreno, Jordon Ibe, Philippe Coutinho and Adam Lallana, and their roles are arguably the most important in Liverpool regaining an attacking identity this season.
Questionable end product, but Jordon Ibe & Alberto Moreno's WB roles for #LFC vs. Bordeaux provided useful width. pic.twitter.com/YWSV970xUv

— Jack Lusby (@jacklusby_) September 18, 2015
The supporting runs of wing-backs Moreno and Ibe linked defence and attack well, as well as presenting an outlet for Rossiter and Chirivella in possession.
The width provided by Moreno and Ibe has been missing in Liverpool's attack so far this season and, despite neither offering the level of end product required against Bordeaux, this overlapping attacking presence is extremely effective on the counter.
Fortunately, this role suits that of £12.5 million summer signing Nathaniel Clyne, too, with the former Southampton right-back possessing the defensive fortitude and attacking instincts to thrive at wing-back—a role he filled under Mauricio Pochettino on the south coast.

With these wing-backs proving a distraction for overloaded full-backs last season, Liverpool's dual No. 10s—typically Coutinho and Lallana—proved devastating.
Against Bordeaux, neither were on top form, but the positions that they naturally picked up proved the most troublesome for Willy Sagnol's back four.
As Rodgers looks to build on this encouraging result, this formation provides him with an answer to a conundrum posed within the 4-3-3: how to utilise his abundance of No. 10s.
In the 3-4-2-1, Rodgers can field Coutinho in his best position, as well as rotating Lallana and £29 million man Roberto Firmino.
But while this solves many tactical problems for the Reds, it does produce another.
Where Does Daniel Sturridge Fit In?

In theory, this 3-4-2-1 formation would relieve the pressure on Christian Benteke as Liverpool's lone centre-forward, with the third-man runs provided by Coutinho and Firmino—as well as the added width from Moreno and Clyne—ensuring the Belgian receives some much-needed support in attack.
But with Daniel Sturridge nearing his first-team return after another long injury layoff, will Liverpool's most effective striker be able to fit into this system alongside Benteke?
Both demand a starting role, which proves problematic when presenting the 3-4-2-1 as Liverpool's best formation.
However, with Sturridge a much more versatile attacking option than Benteke, the Englishman's return could in fact provide Rodgers with more tactical flexibility within this system.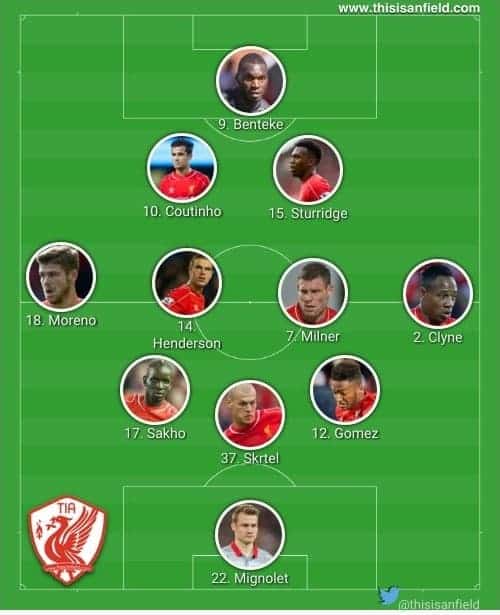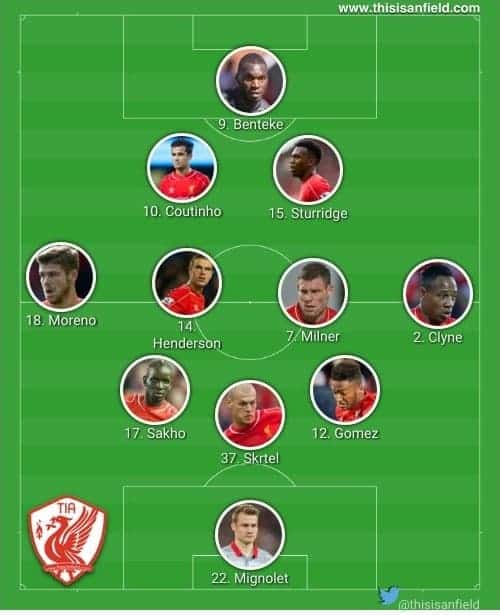 If Rodgers is to stick with the 3-4-2-1 formation, Sturridge could rotate within one of the attacking-midfield roles.
Operating as a shadow striker, and running beyond the physical pivot of Benteke, could see Sturridge latch onto useful knock-ons and providing essential support for the former Aston Villa man when holding up the ball.
Furthermore, Sturridge's ability to carry the ball with pace and confidence would aid Liverpool's buildup play much like with Firmino and Lallana.
However, if Rodgers opted to utilise Sturridge in his best position, a simple switch would cater for this.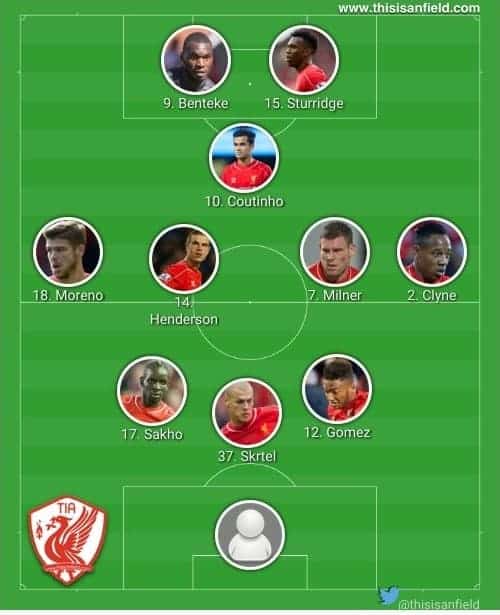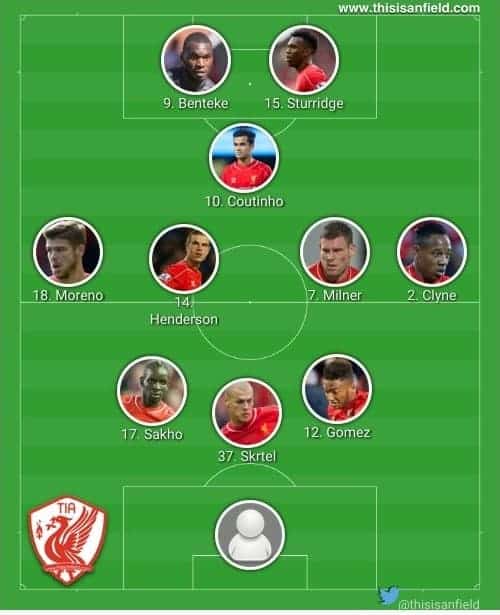 Flipping the attacking triangle would allow Sturridge to operate alongside Benteke in attack, while moving Coutinho into an orthodox No. 10 position, with the Brazilian's creativity key.
It would be a bold move by Rodgers to scrap his desired 4-3-3 setup once again, but he needs to gamble with pressure mounting on Merseyside, and alongside a 4-4-2 diamond this represents his best option.
Simply playing his best players in their best positions in the 3-4-2-1 could see Rodgers save his job at Liverpool.