Confronting the long-running narrative of Brendan Rodgers vs. the Liverpool transfer committee, Jack Lusby separates perception from reality.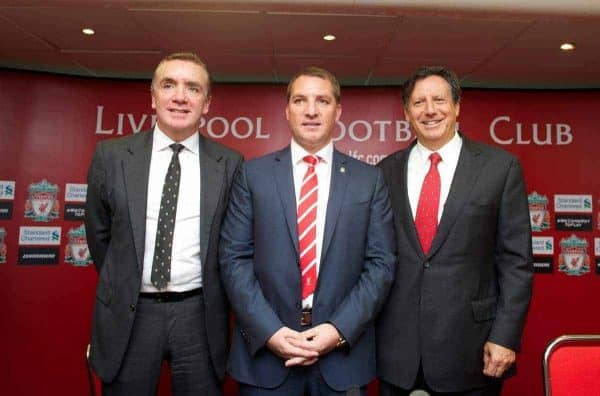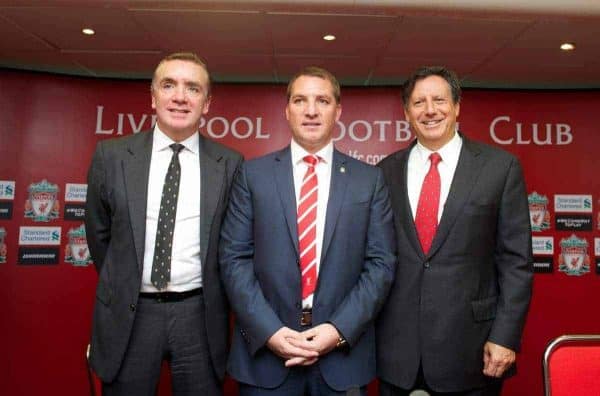 Liverpool's much-fabled transfer committee, and its juxtaposition with manager and club figurehead Brendan Rodgers, has been a long-running narrative among supporters since its inception in 2012.
The group is reported to consist of Rodgers, head of recruitment David Fallows, chief scout Barry Hunter, director of technical performance Michael Edwards, CEO Ian Ayre and director Mike Gordon. It was assembled shortly after the manager's arrival from Swansea City, with Hunters and Fallows arriving later after being placed on gardening leave from their previous club, Manchester City.
Essentially, the transfer committee was formed in response to Rodgers reportedly refusing to work with a director of football / sporting director.
Throughout Rodgers' tenure, Liverpool's transfer strategy has come under question, with wasted funds and misrepresented talent outweighing any true progress in the Premier League and beyond.
But what do we really know about the inner workings of the transfer committee and its many faults?
Perception

Interest in Liverpool's committee setup was inevitable, given the circumstances surrounding Rodgers' arrival on Merseyside.
"I am better when I have control," Rodgers explained shortly after his appointments as Reds manager.
"I am not a power freak. But my point is that I need to feel that I can manage the team and have a direct clear line through to the owners."
Continuing to explain the terms he laid down to Liverpool's owners before his switch from Swansea in 2012, he detailed his issues with a continental, director-of-football setup:
Once that becomes hazy, for me there is a problem. I don't think it was a model the owners were set on, by any means. I think it is one that people have come to them and suggested. They are still learning about the game.

One of the items I brought up when I was speaking to the club was that I wouldn't directly work with a director of football. I feel that if you are going to do that as a club you have to do that first. That was my recommendation. If you want to have a sporting director, get him in and then you can pick your manager from there but if you do I won't be the manager.
This ultimatum was resolved by the formation of the transfer committee, with Ayre, Fallows, Hunter, Edwards and Gordon all contributing, alongside Rodgers, with identifying and securing targets.
But Rodgers' hardline stance has often been read as anti-committee, and as such Liverpool's signings, and their many failures in the transfer market, are shadowed by this perception.
Depending on a supporter's view on Rodgers and his position as Liverpool manager, the success or failure of a signing is often attributed to either manager or committee.

For example, when an under-the-radar continental signing such as Philippe Coutinho is brought in and subsequently flourishes, this is widely lauded as a successful committee signing; when a Premier League-proven player such as Victor Moses is signed and results in an abject failure, this is criticised as a Rodgers-forced move.
The ill-fated loan spell of Nuri Sahin was an interesting case: a popular signing with supporters, but one which did not transition well under Rodgers.
Was this a signing not wholeheartedly sanctioned and ultimately sabotaged by Rodgers?
It is impossible to know for sure, but so the narrative continues.
This is perhaps magnified by comments from Rodgers such as following the 3-1 defeat away to Hull City in 2013, after which the manager declared: "I am privileged to be here and I know the conditions that I have to work in."
But what can we really learn about a disconnect between manager and committee?
Reality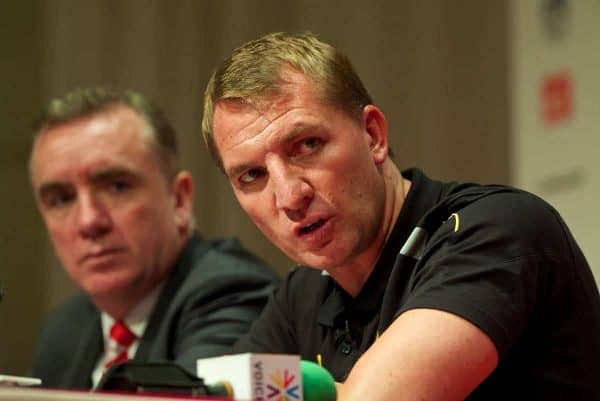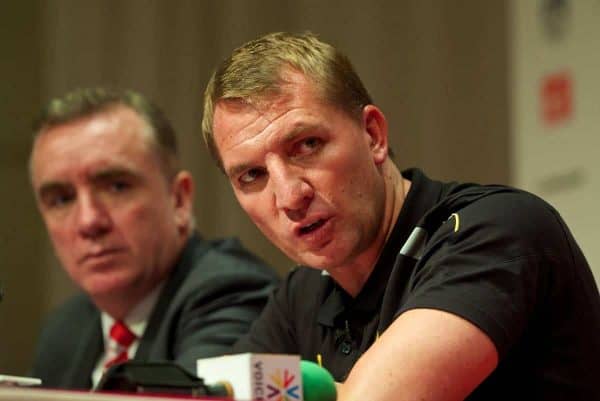 The transfer-committee setup came under question as Liverpool approached their most defining summer under FSG, and heading into the final month of the 2014/15 season, Rodgers was forced to defend the club's transfer strategy:
When I came to Liverpool, I knew 100 percent the model of how the club worked—but on top of that we've got a really good team of people here. They're good guys who work very, very well.

We all work well together and understand the model of the club and how it all functions. We have to look at it over the summer and work out what's going to help our squad, and to put up a better challenge for next season, a more consistent challenge.

That's something we'll work together on.
Shortly after, a 6-1 loss away to Stoke City consigned the Reds to a disastrous sixth-placed Premier League finish.
Only three of the Reds' signings from the 2014 summer transfer window were included in Rodgers' starting lineup for the visit to the Britannia Stadium, with two—Emre Can and Alberto Moreno—withdrawn at half-time in favour of Jordon Ibe and Kolo Toure, while Rickie Lambert was introduced to make his Liverpool farewell just 10 months after joining from Southampton, in a deal worth £4 million.
This defeat bookended a miserable season in which the likes of Lazar Markovic and Dejan Lovren floundered and old hands such as Lucas Leiva and Martin Skrtel prevailed.
The use of Markovic—out of position and regularly substituted—does align, to an extent, with the Rodgers vs. committee narrative, as word from the Times' Tony Barrett this summer attests.

There may well be such a thing as a committee signing and a Rodgers signing—again, to an extent.
Barrett claims Markovic, Moreno, Mamadou Sakho and Divock Origi were committee-prompted signings, while Lovren, Nathaniel Clyne, James Milner, Adam Lallana and Christian Benteke were Rodgers' selections.
Crucially, the latter group have been regular features under Rodgers this season, while only Moreno has been utilised of the committee quartet.
If Rodgers and committee are divided, both seemingly have their own, high-profile transfer failures.
It has also been suggested in the past by the Liverpool Echo's James Pearce, speaking to AnfieldHQ, that Rodgers previously identified Michel Vorm, Christian Eriksen, Wilfried Bony and Diego Costa as potential targets, with each overruled or overlooked by other members of the committee.
To muddy the suggestion that Rodgers solely favours signings from the Premier League, the manager is said to have pushed for a move to sign Costa before his rise to true prominence as a centre-forward for Atletico Madrid.
If the transfer committee had agreed on signing the Spaniard, the mooted £20 million fee would have represented a Luis Suarez-like bargain.
So is pitting Rodgers against the committee really the right approach?
The Way Forward for Liverpool?

Instead, evaluating the efficiency of a committee setup should be FSG's primary concern.
Rodgers explained in 2014 that "the principle idea when I first came in was that like any manager you will have the first call on a player and the last call."
But with various vetoes and oversights seemingly hampering Liverpool's progress in the transfer market, it would seem to suggest that FSG's transfer committee is holding the club back. Would signing the Rodgers-favoured Bony not have been more beneficial than the last-resort offering of Mario Balotelli?
The confusion surrounding this committee setup makes it wholly difficult to apportion blame, and therefore the cycle of remoulding this Liverpool squad will likely continue summer after summer.

Barrett's assertion that Clyne, Milner and Benteke were Rodgers' choices is a crucial one, suggesting that this summer the manager has been given more of an influence.
This may be the way forward for Liverpool, for better or worse.
A manager should live and die by his signings, and the muddy waters of Liverpool's committee setup has seen the club follow a worrying, cyclical trajectory since its inception in 2012. There was no culpability; who – under the committee structure – should be culpable for high profile mistakes such as signing Balotelli or spending £20 million on Lovren?
Pursuing players a manager doesn't want only delays progress, with the distracting peripheral roles of the likes of Markovic, Sahin, Balotelli, Luis Alberto, Iago Aspas, Tiago Ilori and Javier Manquillo serving as key evidence of this.
Giving Rodgers more power over transfers, given the club's backing of his position as manager, may be Liverpool's best hope at finding clarity and direction in moving forward.
Only then will FSG truly know whether they have the right man for the job.