With Daniel Sturridge returning from injury, we take a look at how the England forward can be like the cliched 'new signing' for Liverpool – have we forgotten just how good he can be?

Sturridge is yet to be universally loved at Liverpool, despite the many great moments he has given us since signing from Chelsea in January 2013.
There are rarely any songs sung about him, with far less effective players often lauded ahead of him, while some unfairly question his work ethic and all-round attitude. It is an argument for which there is little basis for.
The 26-year-old has scored 40 goals in just 67 appearances for the Reds, which considering he barely ever takes penalties or free-kicks, is quite a record.
Is Daniel Sturridge the most underrated player in the PL? I'll go out on a limb and say yes. #LFC

— Grobbelrevell (@markbrucerevell) September 10, 2015
He scored more in his first 50 games than Ian Rush, Robbie Fowler, Luis Suarez and Fernando Torres managed, which is even more remarkable.
Following a wretched time of things with injuries over the last 12 months, Liverpool have had to make do without one of the best players at the club.
As Sturridge returns, there remains a niggling feeling that he is criminally under-appreciated.
Goal machine

The England international's arrival coincided with a terrific second-half to 2012/13 for Liverpool, and acted as a catalyst to the following year's brilliance.
Some fans love to claim that Luis Suarez was the sole reason for Liverpool's magnificent 2013/14 campaign, but despite his genius, that would be doing Sturridge, and a number of others, a huge disservice.
People tend to forget that Suarez was not firing on all cylinders at Anfield until Sturridge joined the Reds. They helped make each other brilliant, even if they failed to see eye to eye off the pitch.
Sturridge scored 11 goals in 16 games during his first half-season, then 24 in 33 as Liverpool came agonisingly close to winning the Premier League. That's only seven less than Suarez that year, in four fewer matches.

There were three consecutive winners to start the campaign, against Stoke City, Aston Villa and Man United, as well as key goals against the likes of Everton and Arsenal. That remarkable chip at home to West Brom wasn't bad either.
Man City captain Vincent Kompany called Sturridge, "one of the best strikers in the Premier League and in the world" at the time, which sums up how good he was.
Last season, having missed four months of action, the 26-year-old scored in his first game back against West Ham, and also found the net in an eventual defeat to United at Anfield.
Injury then struck again in April, and he hadn't played a minute of football until his surprise start against Norwich City on Sunday.
Sorely missed

Over these last 12 months or so, there has been one thing that Liverpool have been crying out for more than anything: goals.
We have had to witness Mario Balotelli, Rickie Lambert and Fabio Borini fail to reach double figures between them, while a serious lack of goal threat from defence and midfield has also been evident.
If there is one thing Sturridge guarantees it's goals, but he is far more than just a ruthless finisher who pops up in the six-yard box time and time again.
His pace and movement stretches teams and gives the Reds a constant outlet, and he also has very underrated creative qualities with his left foot. You only have to look back at some of those wonderful link-ups with Suarez to see the vision he has.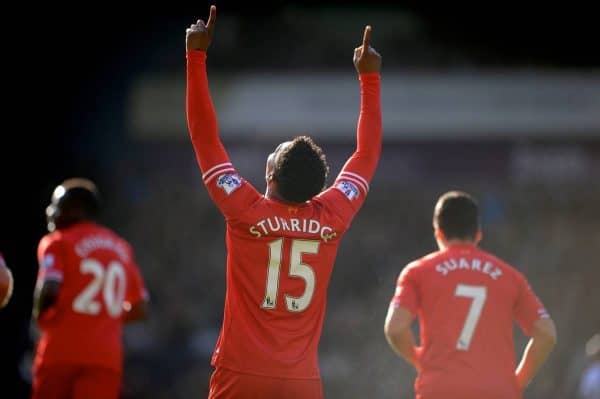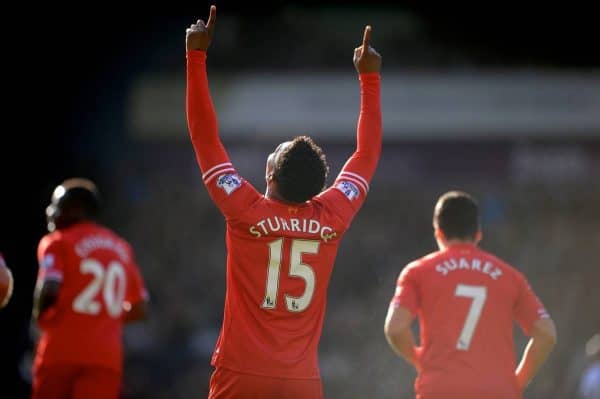 Christian Benteke is clearly a good striker, but you can't help but feel that Sturridge will remain the more important of the two when he returns.
He frightens defences, and his style of play brings out the very best in Philippe Coutinho; probably the only player at Liverpool more talented than Sturridge.
The Brazilian thrives on having speed and movement in front of him, and there are few better in the country in that respect than the 16-time capped England man.
Looking ahead

The one obvious thing working against Sturridge are those aforementioned injury problems. They are a real cause for concern, and it is very difficult for Brendan Rodgers to plan a system around him.
There is also a chance that we may not see the same Sturridge of old, much in the way Fowler and Owen suffered while at the peak of their powers.
It would be heartbreaking to see such a talented footballer cut down with arguably his best years ahead of him, especially when his importance to Liverpool is so apparent.
A fully fit Sturridge walks into the vast majority of Premier League sides, and also leapfrogs a fading Wayne Rooney and unproven Harry Kane for England.
Without question the most pivotal comeback of his entire career. Imminent return. Make or break. #Sturridge #LFC https://t.co/xxjIbmTMku

— Danny Gallagher (@Danny7Gallagher) September 10, 2015
There do seem to be a lot of fans who seem to have forgotten what a fabulous striker Liverpool have at their disposal, which remains a real mystery.
It may be almost impossible to stop the current wave of negativity surrounding Rodgers, but if Sturridge can return to the top of his game, he really could have a season-changing effect on the team.
The Reds could look a completely different side with their best striker in it – already showing signs of that against Norwich. Full fitness will take time, but Sturridge can be the man to turn Liverpool's season around.
We need to start loving him.
[interaction id="55f85ec28f1e96880111431b"]
PLAYER FOCUS: Analysis of Sturridge's LFC return vs. Norwich.