Martin Skrtel is now Liverpool's second-longest serving player, but he has been a long-term weak-link at the back for the Reds.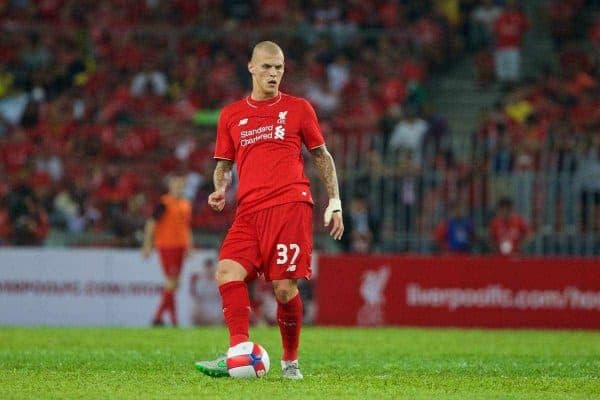 Amid all the furore surrounding yet another hapless Dejan Lovren performance in Saturday's 3-0 drubbing by West Ham, Skrtel's ineptitude went bizarrely unnoticed on the whole.
The 30-year-old played a negative role in two of the Hammers' three goals, failing to clear a header in the lead-up to Manuel Lanzini's opener, and giving Diafra Sakho far too much time and space for his late strike.
Wouldn't mind seeing Gomez and Sakho at CB. Skrtel escaping criticism because of Lovren mistake yesterday. Both just as poor

— keith costigan (@KeithCostigan) August 30, 2015

ADVERTISING

In a lot of ways it perfectly summed up Skrtel's Liverpool career, with the Slovakian largely receiving no criticism despite playing poorly.

He is a player who remains extremely popular with a fair chunk of the Reds faithful, but also wholly unconvincing to others. He divides opinion like few others.

Not all bad

Before being accused of some sort of vendetta against Liverpool's burly, no-nonsense centre-back, it's important to stress that he is far from a bad footballer.

He has given Liverpool over seven years of service, producing some terrific, even match-winning, performances along the way.

The former Zenit St. Petersburg man excelled in a back-three last season, for example, in which he was able to focus solely on being a physical, aerially-dominant defender.

There have been memorable goals, like the double against Arsenal in February 2014, and he has proved to be a popular member of the dressing room.

ADVERTISING

Skrtel has never played with any consistency during his time on Merseyside though, which for a defender is problematic.

When he's good, he's very good; when he's bad he's awful.

Lack of leadership

Skrtel's early years at Anfield saw him rotate with the likes of Daniel Agger and Sami Hyypia, with Jamie Carragher the undisputed first-choice centre-back.

While it was understandable for the Slovakia international to play with a little immaturity and inconsistency back then, he never took on the mantle of Liverpool's defensive leader once Carragher and Hyypia retired.

ADVERTISING

We all watched and expected him to go up a few gears, blossoming into a potential future Liverpool captain, but he hasn't.

At 30 years of age he should be a figure of real authority now, but he can often look like one of the Reds' less dependable players. Lapses in concentration are all too frequent.

Has Skrtel been the problem all along?

It is no secret that Liverpool's defence has been a shambles ever since Rafa Benitez left the club in 2010, and Skrtel has been the only virtual ever-present during that time.

He has played in 176 of the Reds' 194 Premier League matches between the start of the 2010/11 season and the West Ham defeat, and Liverpool have conceded 44, 40, 43, 50 and 48 goals in each campaign- three in four matches so far this season- respectively.

https://twitter.com/JoshRo8ertsLFC/status/637631645265317888

ADVERTISING

In the three full seasons Rodgers has been in charge, Skrtel has made 14 key defensive errors in the league alone. Compare that to three similarly ever-present defenders in John Terry, Gary Cahill and Vincent Kompany, who have made just 15 between them in that time.

After a while you have to start asking whether or not the constant in that defence is the reason for its shaky nature. There has never been a point at which it has looked rock-solid with Skrtel in it.

Time for a change?

Saturday's woeful showing against West Ham was yet further proof that Rodgers needs a shake-up in defence, with those three opening clean-sheets masking its frailties.

Plenty of the focus is deservedly on Lovren, as he continues to endure nightmare after nightmare for Liverpool, but Skrtel feels just as problematic at times.

He's not as noticeably calamitous as his Croatian team-mate, barring the odd avoidable own goal and rash challenge, but he is an understated weak-link.

ADVERTISING

His positional sense is erratic, he is incapable of playing in a high line and there is a general air of recklessness about him.

Lovren was terrible yesterday. But, Skrtel showed again how poor a defender he is and was equally as bad. Both don't deserve to be at LFC

— Jay (@Jay82_LFC) August 30, 2015

Even his use of the ball, which looks good on paper when assessing his passing accuracy, is never anything more than safe. There is no purpose to it.

There is complete bewilderment with many that Mamadou Sakho cannot get a game at the moment, and it could be argued that partnering the Frenchman with Lovren instead of Skrtel could at least be worth a try.

Admittedly both are left-sided centre-backs, which is an immediate issue, but on the one occasion they did start together, away at Spurs last season, they performed very well in a 3-0 win.

Conclusion

Skrtel has certainly been a loyal, likeable servant to Liverpool Football Club since his arrival in January 2008, and his commitment to the cause can never be put into question.

He responded well from being dropped in favour of a soon-to-be-retired Carragher in 2013, but has continued to flatter to deceive ever since.

While his blood-and-guts style of play seems to impress many, when you actually dissect Skrtel's game there are plenty of flaws.

Those last-ditch slide tackles and brave headers may look heroic, but they are invariably called for because of a positional mistake in the first place.

Martin Skrtel: Has made at least 2 more errors that have led directly to a goal (7) than any other outfield player in the last 6 PL seasons

— WhoScored.com (@WhoScored) July 10, 2015

It is the equivalent of a winger who can beat players but has no end product. Andros Townsend, if you will. It all looks impressive, but there is invariably no substance to it.

The time has come for Rodgers to consider life without Skrtel, although fortunately for him, Liverpool aren't exactly brimming with quality replacements right now.

When he does finally leave Anfield, he will be remembered as someone who produced some impressive moments in a Liverpool shirt, but whose presence went hand-in-hand with the Reds' leaky defence.

Albert Einstein once said, "Insanity is doing the same thing over and over again and expecting different results".

That definitely applies to the way in which Skrtel has been forever trusted at Anfield.

[interaction id="55e869be85c614d96165fb2f"]

(Statistics via Squawka)




More from This Is Anfield

Fan Comments