The struggle of Emre Can in an unnatural centre-back role in Liverpool's 3-2 win over Aston Villa should be addressed by Brendan Rodgers.

Reverting to a three-man defence was a no-brainer for Brendan Rodgers this season, with the virtues of an overloaded attacking system proven by improved performances against Norwich City, Bordeaux and in Liverpool's victory over Aston Villa on Saturday.
But one major flaw in this defensive setup has emerged in recent weeks in the troubling performances of Emre Can, fielded out of position as Rodgers' right-sided centre-back.
Though the goalscoring exploits of Daniel Sturridge have masked some of Liverpool's deficiencies in this latest Anfield victory, Rodgers should have noted Can's display, and his contribution to Villa striker Rudy Gestede's brace.
It may be time for a change of personnel, as analysing Can's performance suggests.
Defensive Struggles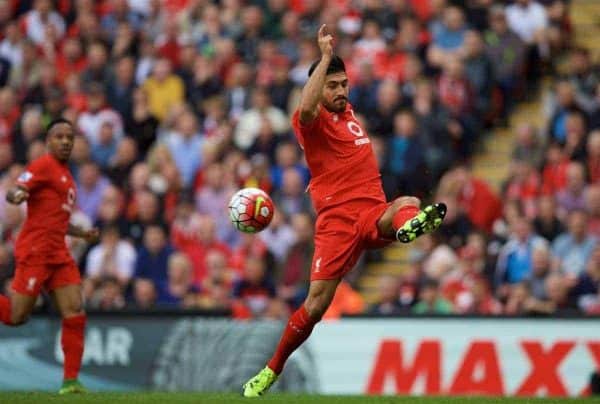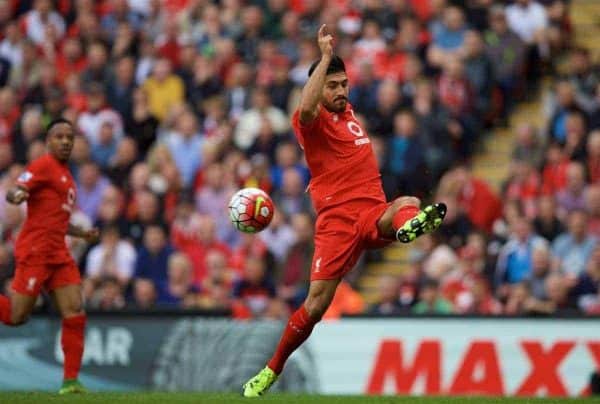 Towards the end of the 2014/15 campaign, Rodgers fielded Can at right-back in a four-man defence, with the German mercilessly exploited by opposing wingers.
In particular, Can was targeted by the imperious Marko Arnautovic in the Reds' 6-1 loss at the hands of Stoke City on the final day of the season—the former Inter Milan winger made four successful dribbles and three key passes on that miserable afternoon at the Britannia Stadium, registering two assists.
Can was withdrawn at half-time of that clash, with Rodgers clearly noting his deficiency in the defensive sector.
Unfortunately, while Can proved a useful option as centre-back in Liverpool's three-man back line last season, these problems continued against Villa on Saturday.
Largely, this came with the 21-year-old's poor positioning and lethargic approach to tracking runners.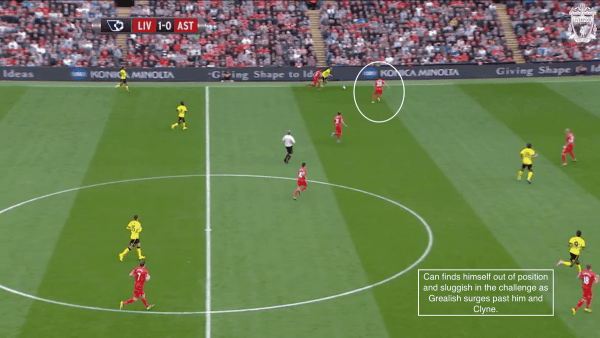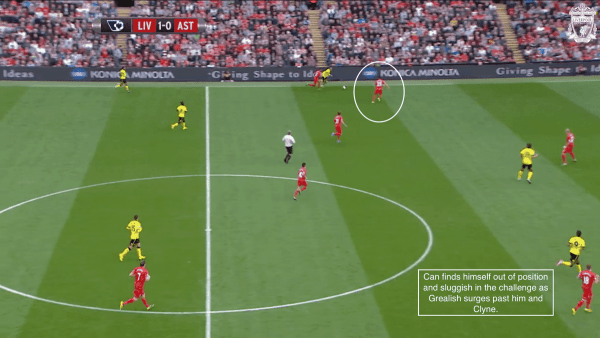 With Jack Grealish firmly established as one of Villa's most dangerous attacking players, Can took a lackadaisical approach to defending when the 20-year-old dribbled towards the Liverpool penalty area.
Despite being fielded as a centre-back, Can found himself in a position alongside right wing-back Nathaniel Clyne, effectively nullifying his own defensive responsibility, with the former Southampton man taking the initiative.
When Grealish beat both with his skill, Can was forced to charge back to cover.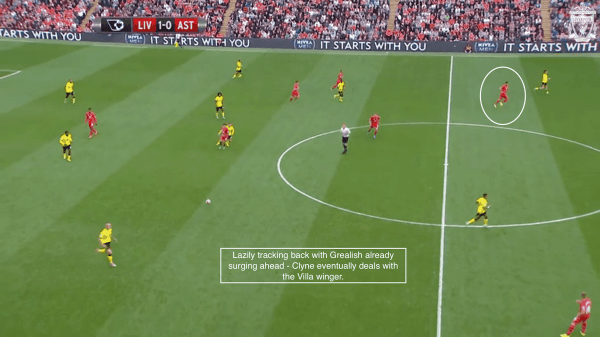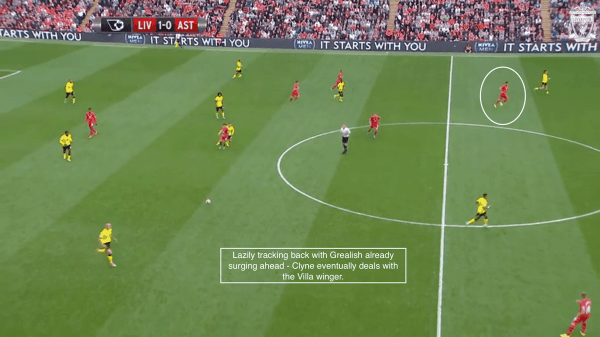 Similarly when Villa advanced up the right flank, Can continued to ignore the threat of Grealish. With Alan Hutton receiving possession by the halfway line, Grealish was allowed to ghost past the German and towards the Liverpool penalty area.
The danger of this approach from Can was evident as Hutton's deep cross looked set to land at the path of the Villa midfielder, who had worked his way into the Liverpool penalty area.
Having trudged back into a defensive position, Can was then caught off-guard and forced into a wild clearance.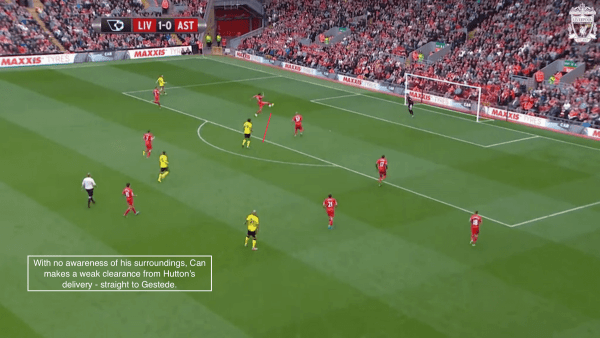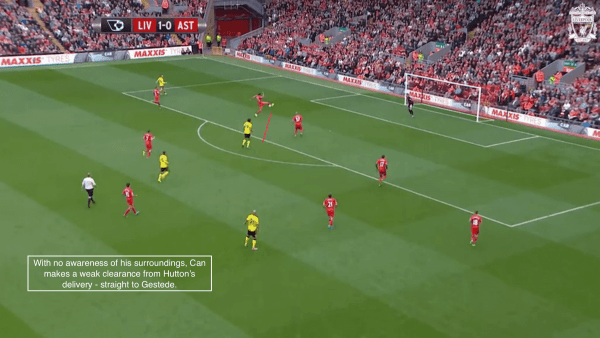 Due to the shape of his body in tracking back, Can was unaware of the safety of his surroundings and required to clear the ball with his weaker left foot.
This fell nicely for Gestede on the edge of the 18-yard box, with the Benin international sparing the German any blushes by hammering his effort just wide of Simon Mignolet's goal.
This should have been a warning for Can, however, but the Liverpool man continued to overlook danger in the penalty area.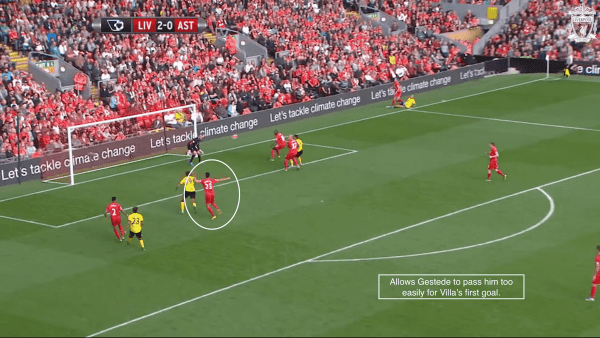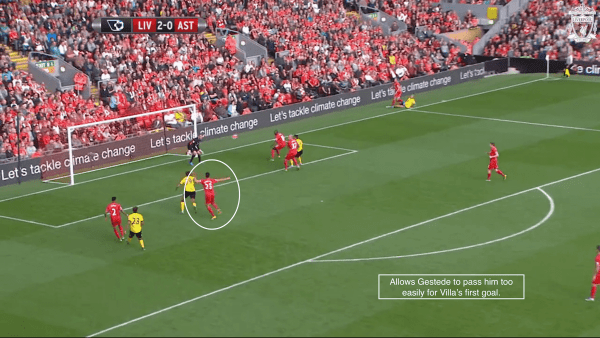 The way in which Gestede sauntered past Can for his first goal of the night was criminal from a defensive perspective, with Can's flailing arms offering little in the way of a barrier between the Villa striker and an open goal.
This was characteristic of Can's work at centre-back at Anfield; seemingly disinterested in his unorthodox role, Can seemed to give up with many of his duties, leaving a considerable gap between him and Clyne, which the impressive Jordan Amavi exploited with his pace on many occasions.
Watching on, Rodgers should have been made aware that this is not Can's position, and his progressive play elsewhere against Villa should have highlighted his strengths.
Progressive Play

"The most important thing is I feature in the games for Liverpool—that's my number one intention," Can told LFCTV during pre-season.
"A midfield role is preferable; of course it is the manager who decides who plays where. We'll see where he choses to play me this season. It is up to the manager but my preference is midfield."
Though decidedly polite in his stressing of his positional preference, this was a clear plea to Rodgers to deploy him as a central midfielder in 2015/16, after spending much of the previous campaign as a utility player.
Can is right: he is too good a player to be Liverpool's John O'Shea.
With Villa sitting incredibly deep for much of Saturday's clash, perhaps inspired by Carlisle United's frustrating rearguard effort in the 1-1 League Cup draw in midweek, Can was allowed to probe into midfield areas when the Reds were in possession.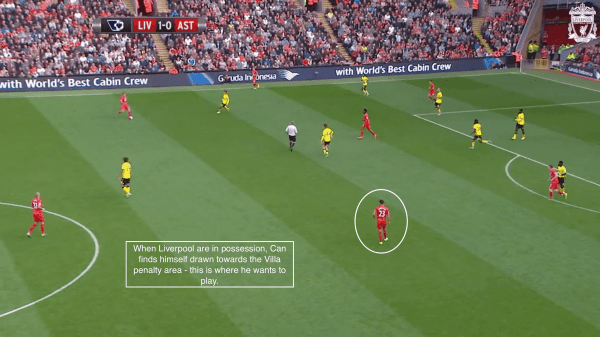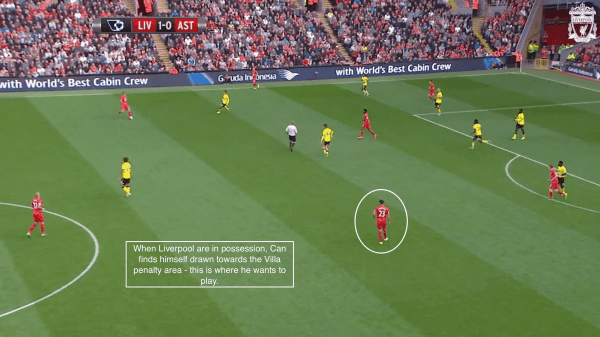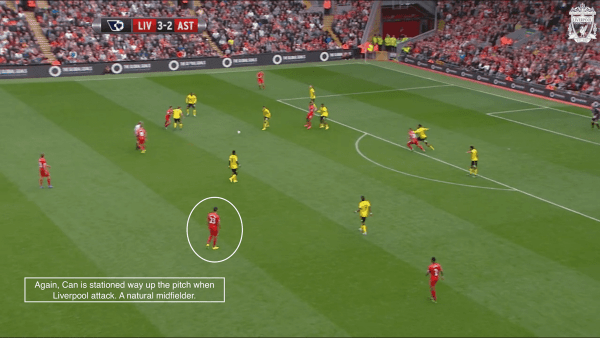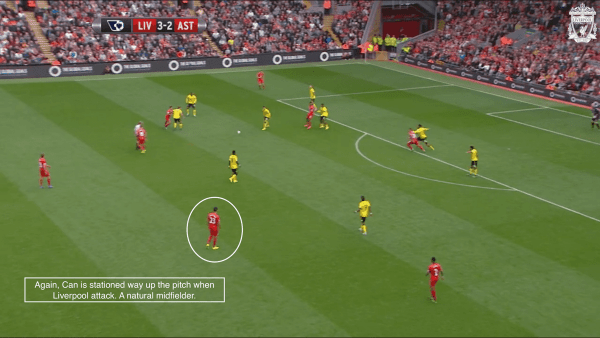 With James Milner supporting Sturridge and Danny Ings in attack, and Clyne and Alberto Moreno given license to overlap on the flanks, Liverpool applied considerable pressure to the Villa defence—with Rodgers finding a more efficient system than against the Cumbrians.
Liverpool overloaded the final third, and as a result Can had plenty of space to occupy in midfield.
It is clear that this is the area he wishes to play and, having fielded him as a central midfielder in the opening games of 2015/16, Rodgers must be aware of his quality in these central areas.
https://twitter.com/jacklusby_/status/648140289572405248
Can is capable of performing in a defensive role in midfield, with three of his four interceptions against Villa coming in central areas, but he is not a last-ditch defender—Can needs a covering centre-back to operate behind him.
This allows him to drive at defences with his Yaya Toure-like power, and deploying him in a purely defensive role in a back three deprives Liverpool of an extremely useful, probing outlet in attack.
Can's poor display at centre-back against Villa should prompt Rodgers into a rethink in terms of personnel—and, fortunately, there is an obvious solution at hand.
The Solution: Joe Gomez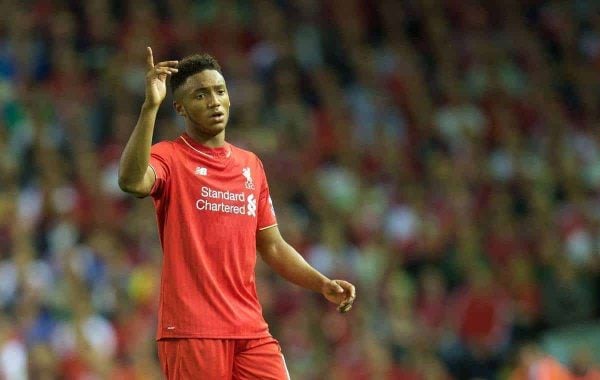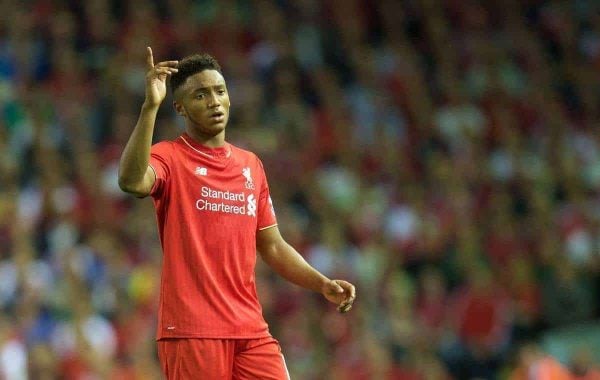 Just as Can wants to play as a midfielder, Joe Gomez wants to play as a centre-back.
"At the end of the day I see myself as a centre-back and in years to come that is where I hope to play," he said at the start of September, before continuing to employ the hint-hint approach that Can had back in July:
At the moment I just have to learn and be grateful to play where I can and use it as a stepping-stone to be the best centre-back I can be.

I know I am still young and people can be wary of putting in young players, especially at centre-back. But the gaffer at Liverpool is good at managing young players and giving me advice so hopefully I will get my opportunity to play at centre-back
It is clear that neither Can or Gomez would challenge Rodgers' judgment as to their best position, or their most useful role at this juncture, but logic dictates that both would be better off in their most natural position.
Can's poor performance at centre-back suggests that a move into midfield would be beneficial—though whether he can dislodge Milner and Lucas Leiva after their strong displays at Anfield remains to be seen.
[quote_box_right]Can's Game in Numbers:
90 minutes
70 touches
62 passes
83.9% passing accuracy
1 key pass
0 tackles
4 interceptions
3 clearances[/quote_box_right]
Similarly, Gomez being exploited at left-back in his last start for the Reds in the Premier League so far—up against Matteo Darmian and Juan Mata in the 3-1 loss to Manchester United—suggests that he would be better served at centre-back from now on.
Moreover, Gomez's ability in bringing the ball out from the back, paired with his defensive strength, should make him an ideal candidate for the right centre-back role.
Why put Can through misery out of position?
Fielding Gomez at centre-back and Can in midfield should see Liverpool's 3-4-1-2 formation continue to flourish—with its main flaw ironed out.