Former Liverpool captain Steven Gerrard believes his omission from the starting line-up for his final match against Manchester United was "a classic case of muscle-flexing" by boss Brendan Rodgers.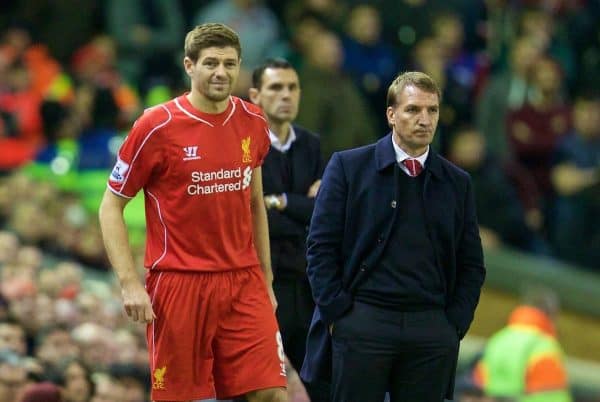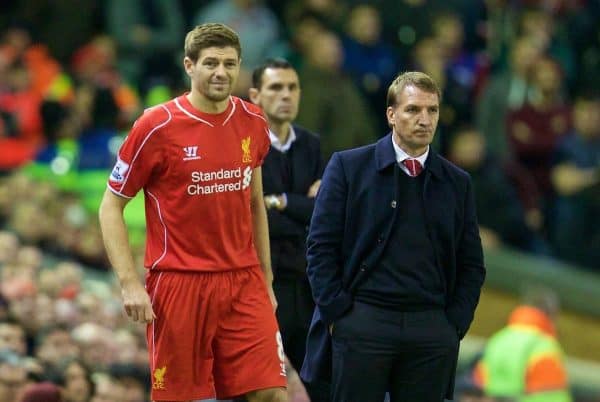 Gerrard, who announced at the start of the year that he would be leaving Anfield at the end of the 2014/15 season, had thought he was in line for a recall ahead of his last meeting with the Reds' fierce rivals in March.
He was surprisingly left on the bench, though, before being introduced at half-time – only to be sent off after just 38 seconds for sinking his studs into Ander Herrera in what turned out to be a 2-1 defeat.
Gerrard reveals in his autobiography – 'My Story', being serialised in the Daily Mail – that he was summoned to Rodgers' office before training a couple of days prior to the match, with the manager telling him he would not be starting.
"'Okay', I nodded. 'I respect your decision'," Gerrard wrote. "We left it at that. I walked out and got ready for training. My mind was swimming. I couldn't believe it. It felt to me, then, like a classic case of muscle-flexing.
"My relationship with Brendan was too good for him to need to make a point to me. He was someone I respected and liked: his training sessions were among the best I had ever experienced while his man-management was excellent, generous and imaginative.
"But I wondered if this was his way of showing the press that he was strong enough to make a difficult decision."
Gerrard said the "anger in the caged animal grew and grew" during the first half of the match, leading to the red card. And following a "fair, but slamming tackle" on Juan Mata, Gerrard found himself coming face to face with Herrera.
The 35-year-old wrote: "I completed a simple pass as Herrera came flying in with his sliding tackle. His right leg stretched out invitingly on the Anfield turf. I couldn't stop myself.
"Without even giving myself time to think I brought my left foot stamping down on Herrera. I felt my studs sink into his flesh just above the ankle. It had to have hurt him."
Steven Gerrard's My Story is released on 24 September. Click here to buy it from Amazon.co.uk.