Liverpool goalkeeper Adam Bogdan admits the players are well aware of the growing discontent among fans but insists they are doing all they can to turn things around.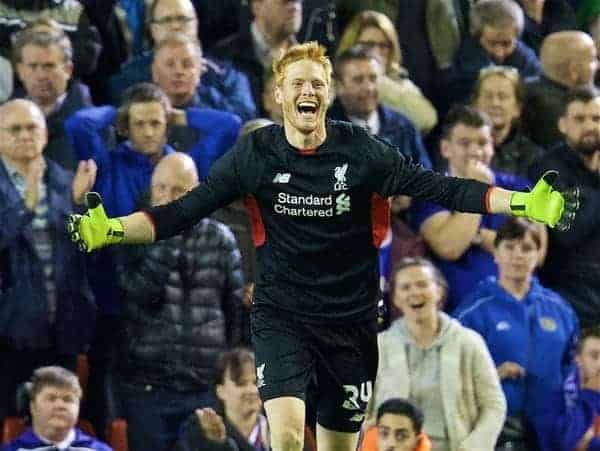 The Hungary international was in the small minority – goalscorer Danny Ings was the other – to come out of the Capital One Cup victory over Carlisle with any credit.
Making his debut Bogdan saved three penalties in the shoot-out when the match finished 1-1 after extra time but the fact he was put in that position only highlighted the shortcomings of Liverpool – roundly booed on three occasions – who failed to breach the leakiest defence in League Two more than once despite taking 47 shots in the tie.
"I tried to think of my performance and the things I needed to do to make the saves," said Bogdan.
"Of course, you're not deaf or blind, you see and hear things, but you can only afford to concentrate on your own job.
"It's frustrating when you have so many chances and don't score but I think the fans could see that we kept trying.
"It was frustrating for me watching their keeper making all the saves.
"We tried to get the job done before the shoot-out. We threw everything at them, we had 50 shots but they defended fantastically in the game.
"I understand the frustration (of fans). We want to win and we're trying everything possible to win and to win in style.

"We all know the Villa game is massive. The final touch is missing for us at the moment but it will come. I really hope it comes on Saturday."
Despite the victory manager Brendan Rodgers remains under scrutiny – even if the club flatly dismissed reports they had approached veteran Italian and three-time Champions League winner Carlo Ancelotti – and only an upturn of results and performances will start answering many of the questions now being asked of him.
After six matches without a win in 90 minutes he cannot afford a repeat against Aston Villa on Saturday or the pressure will become huge.
Bogdan will drop out of the team for the Premier League match and while he was brought in from Bolton on a free transfer this summer supposedly as back-up to Simon Mignolet the 27-year-old has ambitions to push his team-mate for a first-team place.
His appearances are likely to be limited to the League Cup but with little to do against Carlisle he knows there will be few chances to impress.
"I hardly touched the ball for 120 minutes but it turned out to be a great night for me on my debut," he added.
"The only shot I had to save was their goal as we controlled the whole game.
"There is a lot more to goalkeeping than saving penalties but I'll keep working hard and if I get another chance then I'll try to take it.

"This is a fantastic club and a fantastic environment to work in. I'm training with great players and I'm going home with a smile on my face every day.
"It didn't want to go in (at the end). It was one of those nights but our team spirit was really strong and we managed to go through to the next round.
"Afterwards the manager shook my hand and congratulated me, but he didn't say anything special. We will go through the game on Thursday or Friday and analyse it.
"He doesn't speak too much after a game, he does it the day after."