Speaking during his first press conference as Liverpool manager, Jurgen Klopp has played down the expectation surrounding the club.
Accepting one of the biggest challenges in European football by taking over at Liverpool, Klopp has taken on the expectation of a fanbase familiar with success.
But, after taking over from Brendan Rodgers this week, the German has asked for time to develop the club.
"The most important moment for development is the start, I think this will be a good moment for a restart," he told reporters at Anfield on Friday morning.
"It's not important [about winning the league]. It's only important that we play our own game.
"It's important that the players feel the difference from now on, that they can reach the expectations of other people. If someone wants to help Liverpool they have to change them from doubters to believers.
"We will see from this year."
The frenzy surrounding Klopp's appointment has conjured memory of the great managers of Liverpool's successful history, but the 48-year-old said he wants to "start a new way."
"History is only the base for us. It always depends on expectations," he continued.
"Now we have to start, and not to wait – I want to see the first step next week! But not always compare with other times.
"This is a great club with real potential. Everything is there, let's try to start a new way!"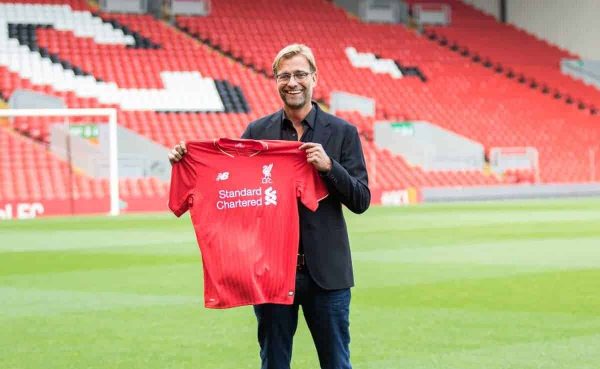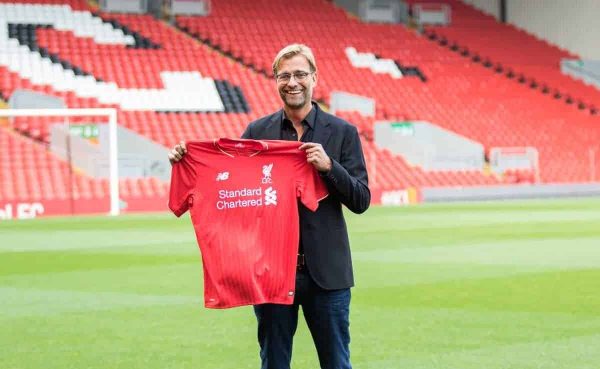 As reporters continued to focus on his influence on Merseyside this season and beyond, comparisons were drawn between Klopp and Chelsea manager Jose Mourinho – which he was quick to dispel.
"I don't want to describe myself," he said.
"Does anybody in this room think that I can do wonder? No. So let me work.
"I'm a normal guy. I'm a totally normal guy – I'm the Normal One!
"I was a very average player, but became the manager of a very special club in Mainz. Then I had the great opportunity to take Dortmund, a very great club, for seven years.
"Now I am here: I hope to enjoy my work!"
Continuing to ask for time to implement his tactics and ethos at the club however, Klopp revealed his ultimate ambition.
"We can start in a very difficult league with opponents that are big and bigger and bigger, but in a special Liverpool way we can be successful," he explained.
"When I sit here in four years, I think we will have won one title!"
While he is aware of the expectation surrounding the club following Rodgers' departure, Klopp is wise to stress that time is required to improve Liverpool's fortunes.
But supporters will be pleased that this is a manager that believes he can bring success.
[interaction id="5615387fc70ac51c03e8a139″]