Jurgen Klopp faces a problem that no other Liverpool manger has to contend with since Bill Shankly in 1959 – the team he has inherited does not contain a reliable superstar, explains Neil Poole.

Reds living in and around the city will be familiar with the prevalent argument from our blue brothers and sisters across Stanley Park. It's the one that goes along the lines of, "our players are better than your players." Which is inextricably intertwined with the conjunctive, "Liverpool are a one man team" argument. It concludes with the observation that more often than not, it has only been Liverpool's comparative financial muscle which has allowed us to buy the star player and which has consequently separated the two teams.
There are, of course, clear warning signs against investing too heavily in the wisdom of your fiercest rivals when assessing Liverpool. After all, many blues hung on for dear life for well over a year that Nikica Jelavic was a better player than Luis Suarez. I'm not making this up by the way!
Jelavic started brightly you see, when he was signed in January 2012, scoring eleven goals in 16 games. He proved, however, to be very much like the eager new boyfriend who quickly morphs into the jaded husband. He threw all his best moves in the first few months and swept the lady off her feet. But once he had her adoration, he quickly reverted to slouching on the settee in a gravy stained vest, whilst scratching his balls and complaining that he couldn't be arsed even reaching for the remote control to turn the telly over.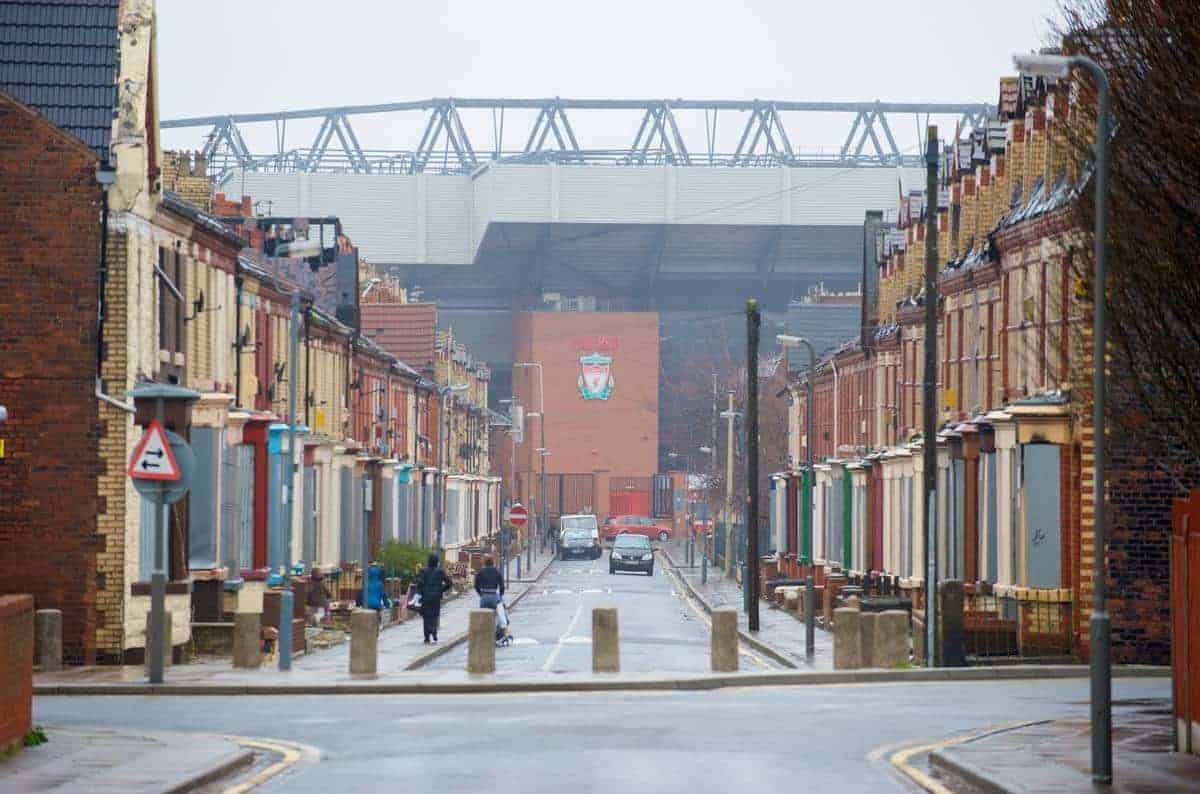 There are large swathes of time in our modern history when the argument that Liverpool were a one-man team holds about as much water as a 90-year-old man with one functioning kidney.
Houllier's 2000/01 treble winning side, Rafa's side in the seasons leading up to, and then reaching its zenith in 2008/09, and the Rodgers side of 2013/14 all contained stand out goal-scoring threats. Owen, the Gerrard/Torres combination and Suarez respectively scored important goals, led from the front, and drove us on to trophies or memorable occasions. At any given time they were the best players in those sides.

However, there was enough talent elsewhere in those teams to very easily put the 'one man team' argument to bed. I recognise this is far more debatable in the case of Suarez in light of events since his departure.  But in regards to form in the second half of that season, Sturridge, Gerrard, Henderson, Coutinho and Sterling made significant contributions to the ill-fated title challenge which it would be unfair to overlook.
However, once you look outside of these periods in the time, the usual vacuous bleating from the addled minds of Evertonians has more than an uneasy whiff of truth. Just look at the team left by Rodgers, how it has fared and consider the lack of a goal-scoring superstar. After 20 years it appears their hypothesis has been proven. No star player equals bang average.
Liverpool have had an unbroken line of star players who have made the difference; players who turn losses into draws and draws into wins. In our barren league title years, the baton has been handed from Robbie Fowler to Michael Owen to Steven Gerrard to Fernando Torres to Luis Suarez. They are luxuries, at least one of which, has been inherited by Evans, Houllier, Benitez, Hodgson, Dalglish and then Rodgers.

Whilst they were bedding in, these managers had players who could paper over the cracks and do something extraordinary. The sheer force of will and talent of these footballers allowed the new managers to ride rough shot over early choppy waters rather than sink…well, with the exception of Hodgson.
You only have to look at the squad Klopp has inherited from Rodgers and the trickiness in finding that first win to see that our new German manager has not been afforded the same luxury. It's not a bad squad and it is packed full of promise.
However, not since the appointment of Shankly in 1959, when the only star player of note was a Billy Liddell already well into his twilight years, has a new Liverpool manager inherited a squad with such a dearth of reliable or proven elite players. Klopp is having to pay some significant inheritance tax.
While it may happen in time, neither Daniel Sturridge nor Philippe Coutinho are consistent enough to claim the mantle of true star quality.
Sturridge could be and should be the best striker in the Premier League. However, the only way his fitness could be considered consistent is in the fact he is consistently injured.

As for Coutinho, although absolutely electric for not insignificant periods during a season, he doesn't retain his form for quite long enough, and he is not the type of player who can still chip in when he's having a poor game. His recent form is a case in point.
You only have to look at results this season alone to see that if these two players could improve their consistency, the difficulties facing Klopp could quickly be eradicated. When these two deliver and live up to their star potential, the difference is made.
Of our four wins (within 90 minutes), Nathaniel Clyne, in the League Cup victory against Bournemouth, is the only other player to have legitimately scored the decisive goal to bag the three points.
A largely stagnant performance, in what seemed like an inevitable draw in the season opener against Stoke was elevated to a victory by a late wonder goal from Coutinho.
Moreover, the difference in the 3-2 topsy-turvy win against bottom-of-the-league Aston Villa was the two goals in a rare appearance from Daniel Sturridge.
The league win against Bournemouth came down to the blind bit of luck that we had a blind linesman who couldn't see the blindingly obvious that Benteke was offside.
Coutinho off form. Sturridge injured. What are we left with? Defeats against Manchester United and West Ham and nobody to turn even just two or three of seemingly ten thousand draws into wins. A cursory look at how the trend is broken comes down to our two best players delivering the goods. Look back at the good run last season and you'll see it's mostly down to individual moments of brilliance from Coutinho.
Klopp has the credentials to solve the problem of the absence of reliable star quality. How?

The purists' answer would be to point to and rely on the managerial and coaching experience of Klopp. The purist's answer would also be to hold up Borussia Dortmund as an example of Klopp's ability to take a team of players who are not household stars and coach them until they are an unstoppable unit greater than the sum of its parts. That all sounds great. Let's do that.
However, I'm not a purist. This article contains a line about a man scratching his balls.
Klopp will need time to get these players playing how we wants them to.  I'm patient but being patient doesn't mean you have to purposely take the slower route or only adopt one strategy at a time. Jurgen Klopp has an ace up his sleeve…he's Jurgen Klopp!
Suddenly we have one of the most sought after managers in world football. As far as I'm concerned, such a man can attract some of the most sought after players in world football. Messi isn't suddenly leaving Barcelona to join Liverpool. But the sheer personality of Klopp and the respect he demands instantly puts us back in a position to buy those on the cusp of greatness again, the likes of Suarez and Torres before they exploded.

Klopp can do enough with this squad to get into the top four, but it will be a long hard slog. But we need to look beyond this season and beyond being content with the top four.  Buying the next batch of high impact players if not in January, but in the summer must also be in our plans, alongside nurturing and maximising the potential of the current squad.
This isn't the knee-jerk reactions of a modern football fan. It's exactly what Shankly did 18 months into his reign when, by sheer force of personality, he went and convinced Ian St John and Ron Yeats to join Liverpool. That was the catalyst for everything that has happened at our club since. Sometimes it's as simple as the right manager buying the right players.
Klopp, unlike other Liverpool managers, may not have the star men at his disposal to ease him into his job. However, he is one of a handful of unique and top class managers in world football. He's this club's new magnet. It's an attribute Liverpool should exploit and shouldn't ignore just because it's so simple.