In the first of a three-part series focussing on Jürgen Klopp's tactical methods, we focus on the German's defensive structure at Borussia Dortmund.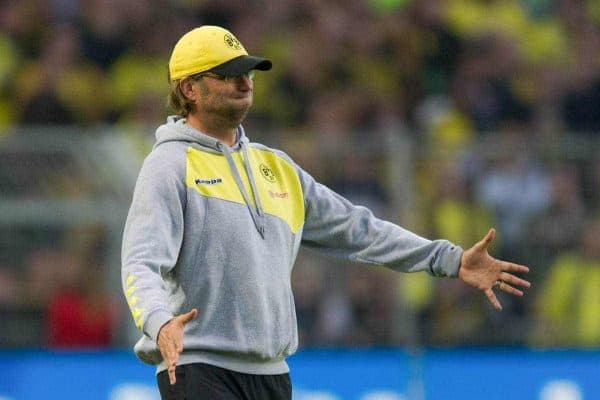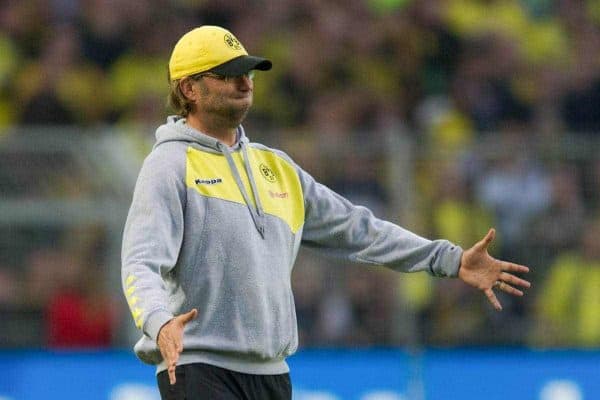 The Normal eagle has landed, the heliKloppter has arrived, the Norbert is here, etc. etc.
Once the euphoria of Liverpool landing arguably the greatest human being alive as their new manager settles down, the bearded one and his collection of coaches will quickly need to settle into realising they have quite the job—but also quite the Klopportunity (last one, promise)—on their hands.
The Reds have been fairly woeful for most of the 2015/16 season yet the top four is by no means a mere speck on the horizon—while all the cups are still to play for, too.
[quote_box_right]Klopp's Dortmund Honours:
Bundesliga: 2010/11, 2011/12
DFB-Pokal: 2011–12
DFL-Supercup: 2008, 2013, 2014
Champions League finalists: 2012/13
[/quote_box_right]
For any immediate chance of success and/or improvement, the new management team have to identify which players best fit their needs of replicating the intensity, quality and consistency on show at Signul Iduna Park over the past few years, so that's exactly what we're doing too—with the advantage of already knowing about Liverpool's own players, of course.
What we're looking at here is a detailed account of the actual jobs and movements required by each position at peak-Klopp Dortmund, and identifying which Liverpool players fit the bill…or, of course, where additions are required.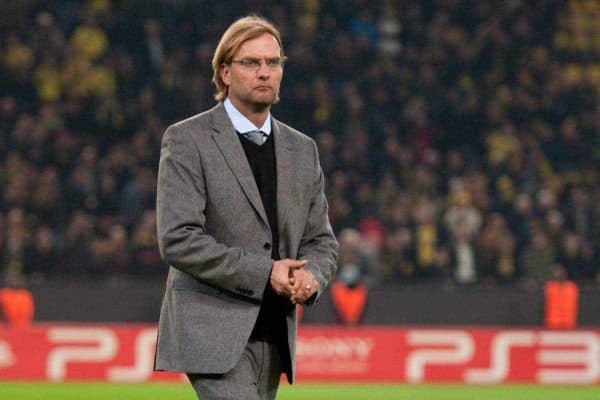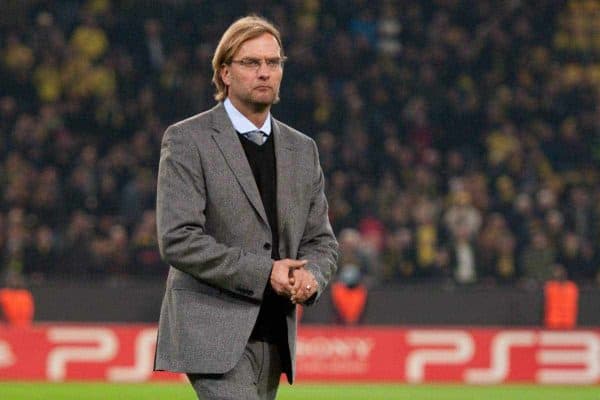 Some initial assumptions and explanations:
Defensive Setup: Notes
Key traits and points:
Both full-backs are, first and foremost, defenders.
Both full-backs attack space, at pace, high upfield (not just the right-back!).
Neither full-back starts with a high position, but drives forward to overlap play.
The team can play from the back, but directly.
The centre-backs do not always split and ask a midfielder to relentlessly drop in between.
Passing (short) out of defence is no longer a must-have feature of Liverpool's play.
The usual back four for Dortmund, when all were fit, was Lukasz Piszczek (RB), Neven Subotic (RCB), Mats Hummels (LCB) and Marcel Schmelzer (LB).
To not leave him out entirely, Roman Weidenfeller was the goalkeeper.
Centre-backs
Looking firstly at their in-possession play, the centre-backs look to do one of two things: play wide to the full-backs (stationed perhaps 10 or 20 yards higher upfield only) or, if those lanes are cut off, go direct.
This can be into the centre-forward dropping deep, or into the wide midfielders—but they won't hesitate to move the ball on.
Passing between themselves, and maintaining possession deep in their own territory, is largely not an option (obviously with the common-sense caveat of defending late leads, being a man down, etc.).
Hummels is the differential in that he will, on occasion and when space invites him to, drive forward quickly to cover 20 or 30 yards himself and force an opponent to step out of position; in turn opening a new passing lane.

In terms of their tendencies and natural inclinations, Mamadou Sakho is probably as close to Mats Hummels as Liverpool could hope to find.
Both play left centre-back; both are adept at looking for the pass into midfield; both are happy to step forward with the ball under pressure and be confident in evading an initial press and move into midfield—the German doing the latter with greater frequency than Sakho, perhaps.
Both also have the same sorts of errors to their game.
That trait of stepping out of the defensive line to make an early challenge requires both good reading and an awareness of play developing aside from the player they're looking to tackle; both are strong tacklers and more often than not show good timing—but get it wrong and a gap is immediately open behind them.
It has been seen at times with Sakho, more often than not after returning from a spell out of the team, where he will mistime his push forward and be exposed—typically until now with no cover from full-back or his central partner.
Hummels did the same, with some frequency.
Hummels vs. Real Madrid pic.twitter.com/v6u5VeXP3l

— Karl Matchett (@karlmatchett) October 12, 2015
Both, however, are exponents of strong defending, good acceleration to recover position and moving the ball from the defensive line forward.
Sakho tends to pass along the ground and into feet more often than Hummels was seen to, but this might be the closest one-for-one swap that Liverpool have for the Dortmund XI.
Alongside Hummels, Subotic was not hugely dissimilar: his main differences in style were a tendency to drop deeper a little more readily, and be less likely (though not to never do it) to stride forward into midfield with the ball.
Subotic is direct, aggressive and goes to ground quickly with his tackles.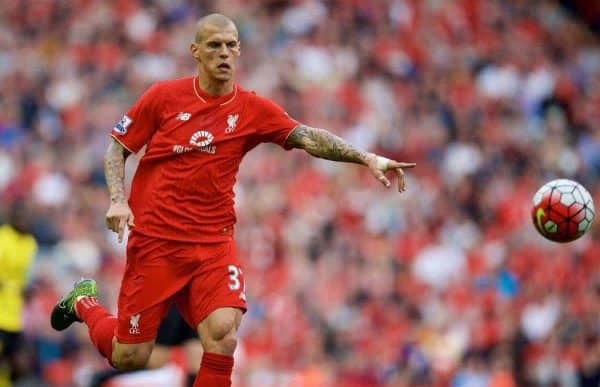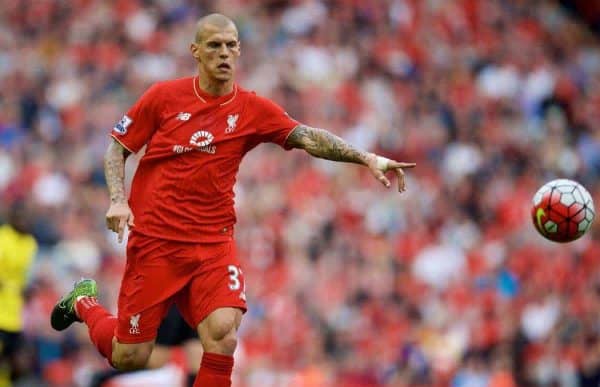 In that light, Martin Skrtel is almost certainly the man to continue on the right side; the only differentiation in style there is that Skrtel also steps up to anticipate a challenge rather than dropping back (a problem with balance in the team).
The biggest issue with Skrtel will be that while he steps out of the line to make a challenge, his natural inclination is to drop off at pace to the edge of his own box as soon as the opposition look like passing forward.
He will, with absolute certainty, either need to change his approach here or else cost Liverpool a large number of chances in getting the defensive line horrendously wrong with shape and timing.
The other option is for Klopp to ditch the lead time between losing possession and the defence dropping off, but that is such a huge and fundamental switch (midfield needs to align differently; team plays in a lower block; different mentality of the team overall) that it is not worth discussing if the idea is to replicate BVB '13.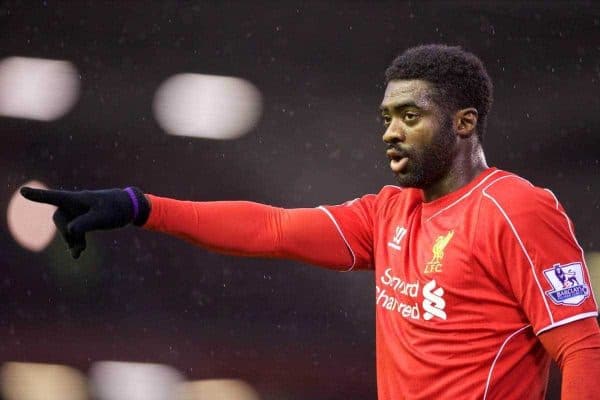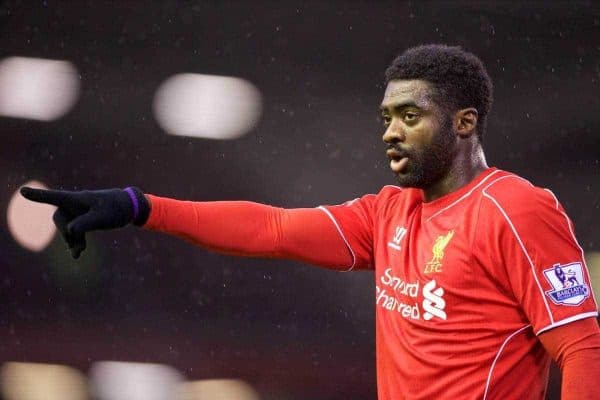 In looking at the other options to Skrtel, Kolo Toure is robust and aggressive, helps to hold a line in place where he's asked to and will be fine to move the ball forward directly—but will likely struggle to play more than two or three full games a month with any frequency.
Rotation of position is possible, but not optimal.
Joe Gomez is untested at centre-back for Liverpool (in a two) and, though he looks to have plenty of ability, composure and recovery pace, it's unlikely (but not impossible) he'll suddenly be asked to start against Spurs, Chelsea and so on.
Ideally, Liverpool will look for a new starter in this position in time and let Gomez be the third choice to get game time when possible.
But to start with, Skrtel is likely to enjoy a significant spell in the team under a fifth consecutive manager.
Full-backs
At full-back, as noted, both will start deep.
Maintaining shape is the absolute first requirement here: being able to drop and push up as needed while keeping in line; relatively compact but able to push out to the flanks quickly to stop crosses; and overlap runners, aid the quick press and subsequent overload after transitions.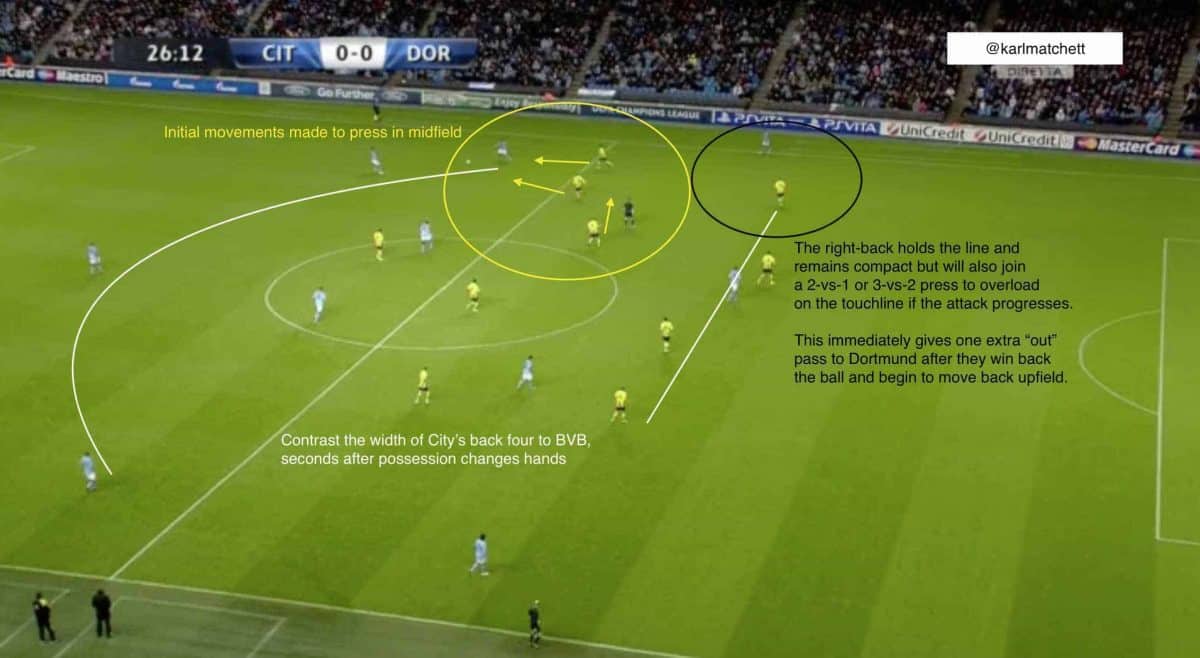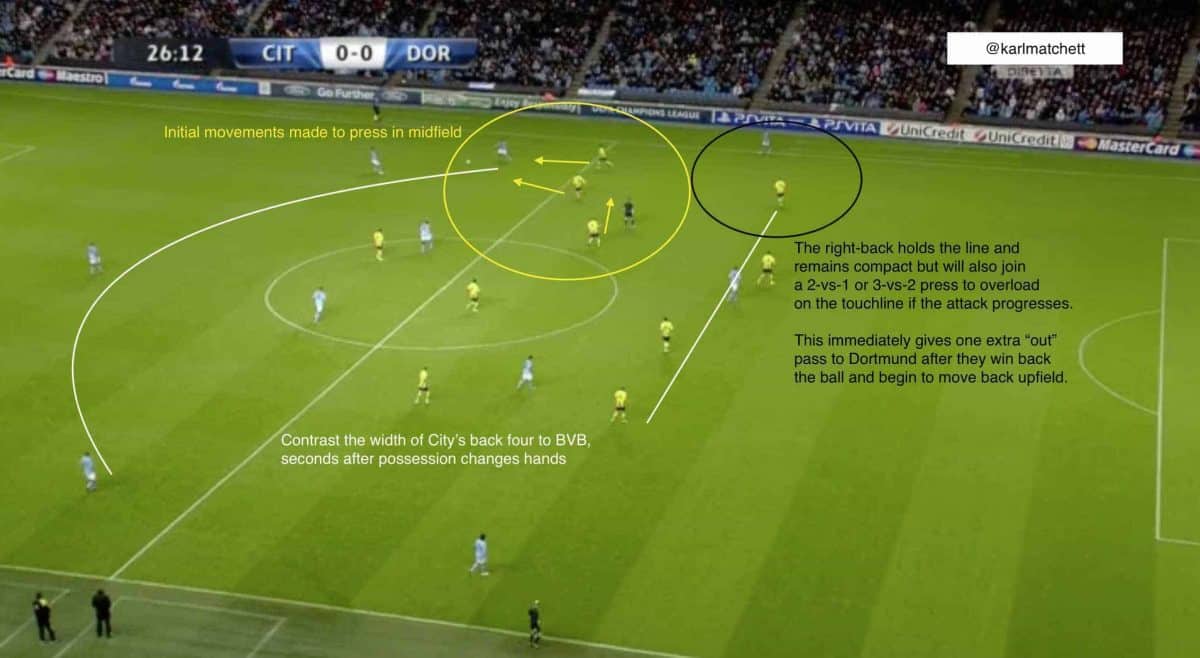 Whereas Alberto Moreno, for example, can often be found stationed 30 yards ahead of play in space, ready to take advantage of a cross-field pass, Dortmund's defenders waited for the attack to already be underway before exploiting gaps and powerfully driving forward.
An odd misconception of the BVB team was that Piszczek attacked the right and Schmelzer held for balance on the left; in fact they both played the same role, attacking whenever possible, though usually only one at a time.
Schmelzer vs. Real Madrid pic.twitter.com/JB0iV94KzD

— Karl Matchett (@karlmatchett) October 12, 2015
For structure, defensive solidity, making a challenge and then quickly moving forward afterward, Nathaniel Clyne is a perfect fit.
He's a good all-round footballer, has pace and is diligent about his defensive work—the Reds are sorted on the right.
Opposite him, Moreno needs to be more forceful about his defensive work now. His pace and acceleration will bring him great success going forward still, but it needs to be timed better and ensure his position in the back-four line is taken care of first.
It's unlikely that being out of position will be an acceptable outcome in this tactic as it has necessarily been in others Liverpool have played over the last two seasons.
Those two are the clearly the best options available, but it might well be that Klopp opts to search for a different style of left-back over the longer term.
Liverpool's Likely Defence Under Klopp: Mignolet; Clyne, Skrtel, Sakho, Moreno.