Part three of Karl Matchett's in-depth analysis of Jurgen Klopp's Dortmund side and how his methods may impact on the current Liverpool squad.

Parts 1 and 2 of our tactical analysis looked at the back four and two central midfielders, their roles in Jurgen Klopp's 2012-13 Borussia Dortmund team and which of the current Liverpool players were suited for each role. Part 3 does the same, looking at the wider midfielders and the forwards.
A reminder of the initial assumptions and explanations used in this series:
Before we even begin to talk about players…Forget the 4-2-3-1 typeface that comes as standard when talking about Jurgen Klopp's Borussia Dortmund team. Yes, by preferred player position and typical graphical lineups, BVB selected an XI to fit 4-2-3-1, but here we're talking exclusively about the actual roles played by the individuals within the team.
For that reason we're not interested in symmetry on paper, in myth or in misconception—we're strictly judging on what actually happened in games, analysing player roles, movements and positions on the pitch. That's the only way to accurately judge which current Liverpool players can fill each requirement in the team and, by extension, begin to get an insight into who might play a significant part in the newest iteration of the Reds.
Klopp's side presses and defends in three banks, with very clear divisions of roles. The initial defensive shape is a 4-4-2 or a 4-5-1, depending on strength of opposition and players selected.
For ease of reference throughout this piece, we'll refer to each role as belonging to the player who featured there most frequently: Marco Reus (left), Kuba Blaszczykowski (right), Mario Gotze (second forward) and Robert Lewandowski (main striker). Kevin Grosskreutz was also a main part of the team, filling in mainly on the left while Kuba was injured with Reus moving right.
Wide midfield key traits:
Narrow natural position, sat inside channels keeping four-man midfield shape
Will step up to close down opposition, often joined by nearest central midfielder
Rarely tuck alongside or behind the full-backs; once bypassed they are support-only
Quick to turn and head upfield when possession won
One-touch passes to evade initial press. Pace and skill afterward in one-vs-one scenarios
The four-man midfield line, as is the overall 4-4-2 shape (out of possession), is unarguable and a key component of the way Dortmund set up and Liverpool can, to begin with, be expected to. It's a similar setup to Atletico Madrid or Villarreal over the last few seasons, or how Arsenal used to in the Premier League with Robert Pires and Freddie Ljungberg as reasonably narrow, creative "wide" players when out of possession.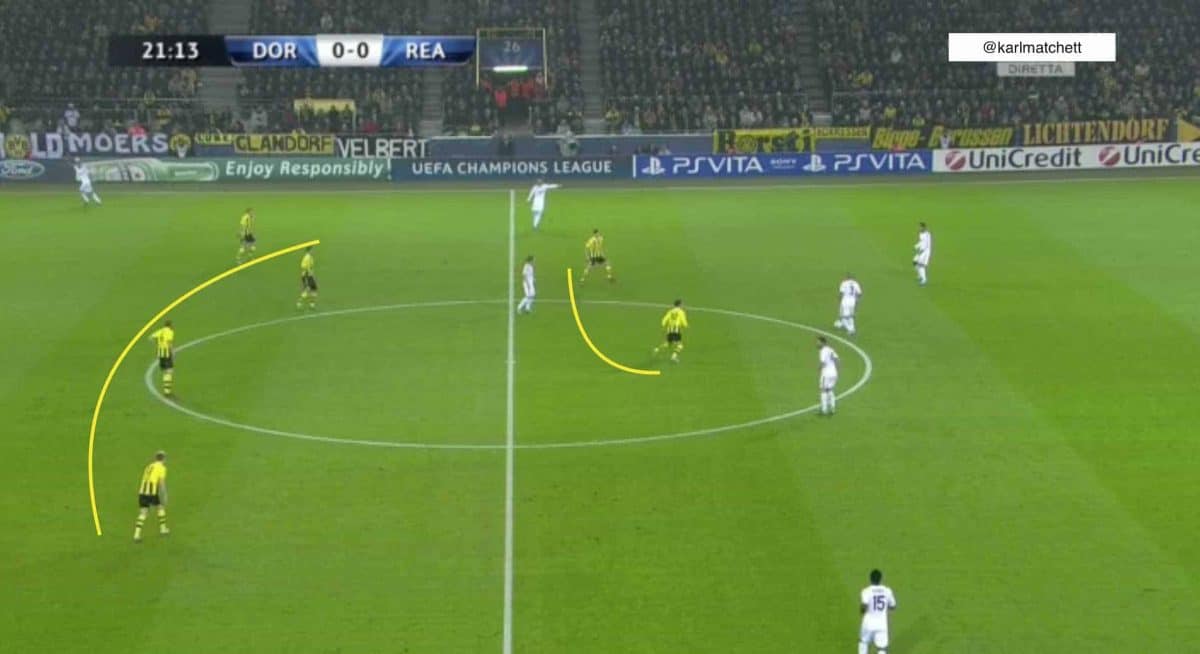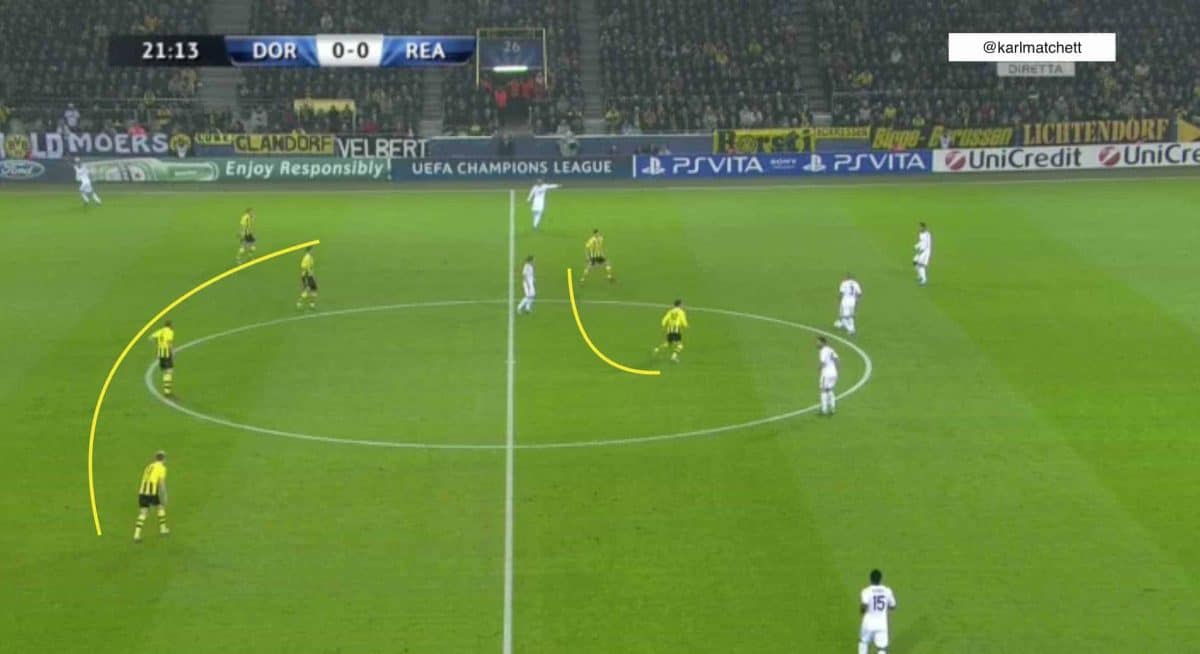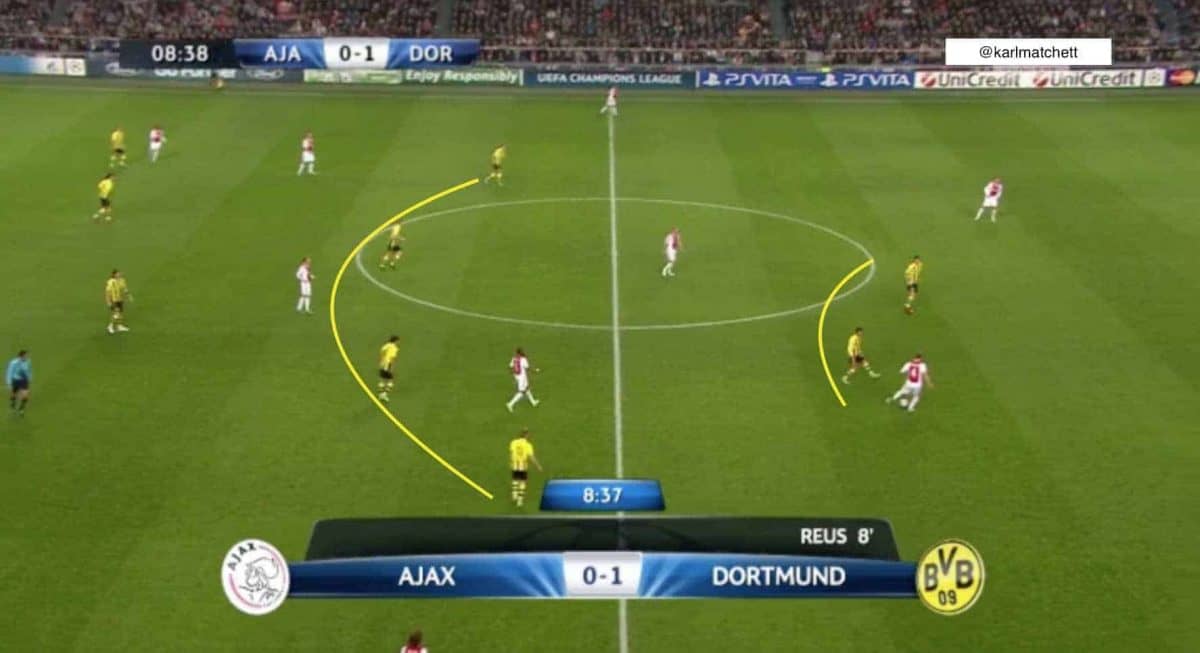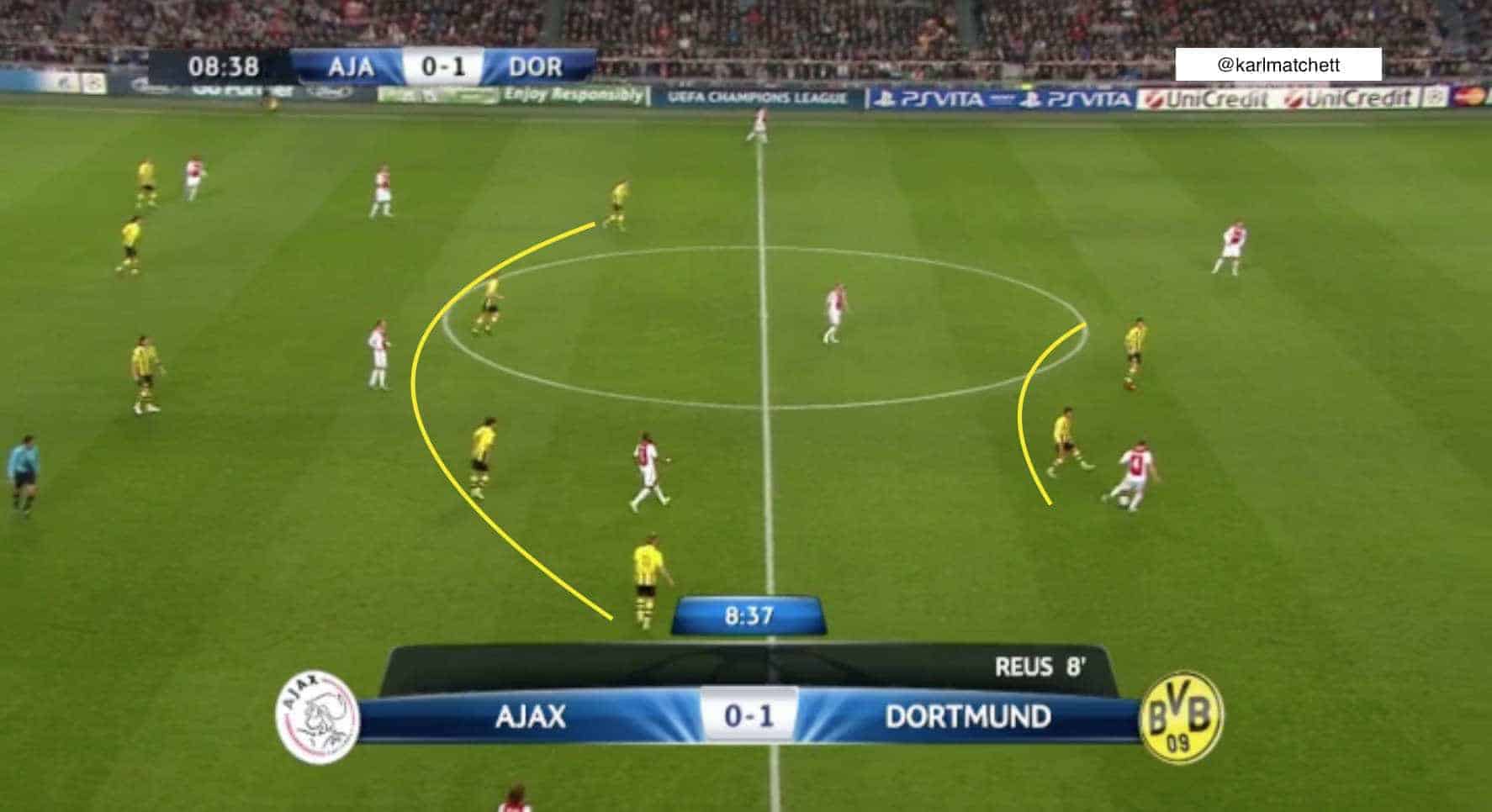 The wide midfielders are key to this; they are offensive players but have a big responsibility for team shape when out of possession and, like the centre of the midfield, can take their own initiative in when to initialise a press—though the collective remains vital, taking the lead off each other when to work as a unit.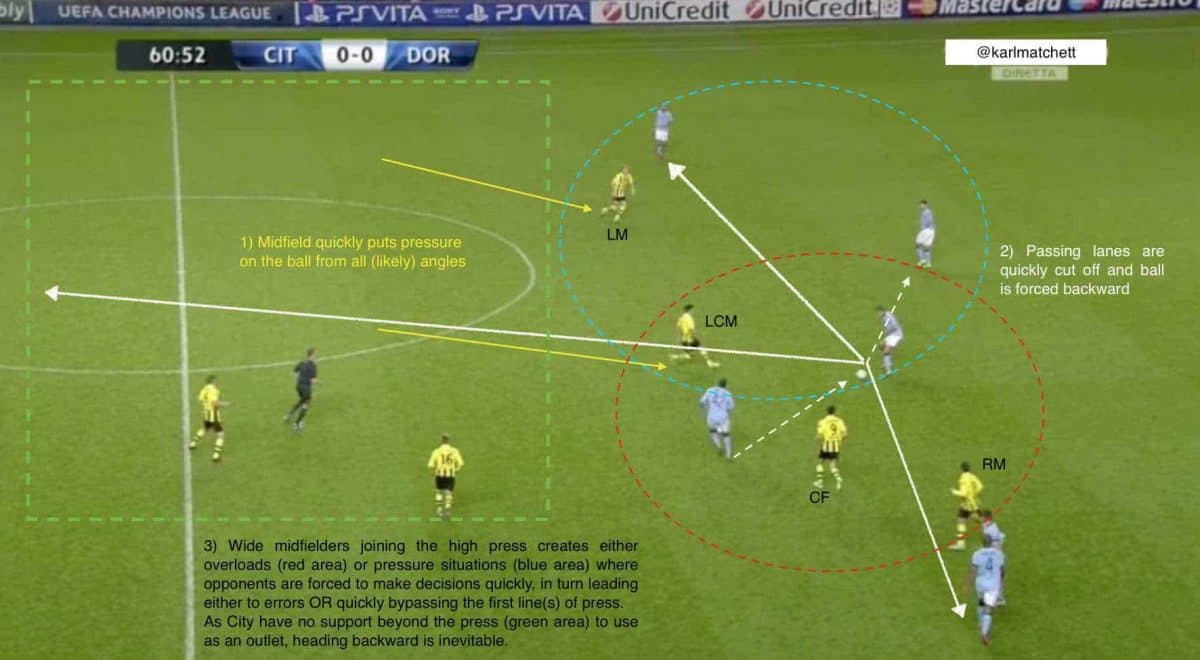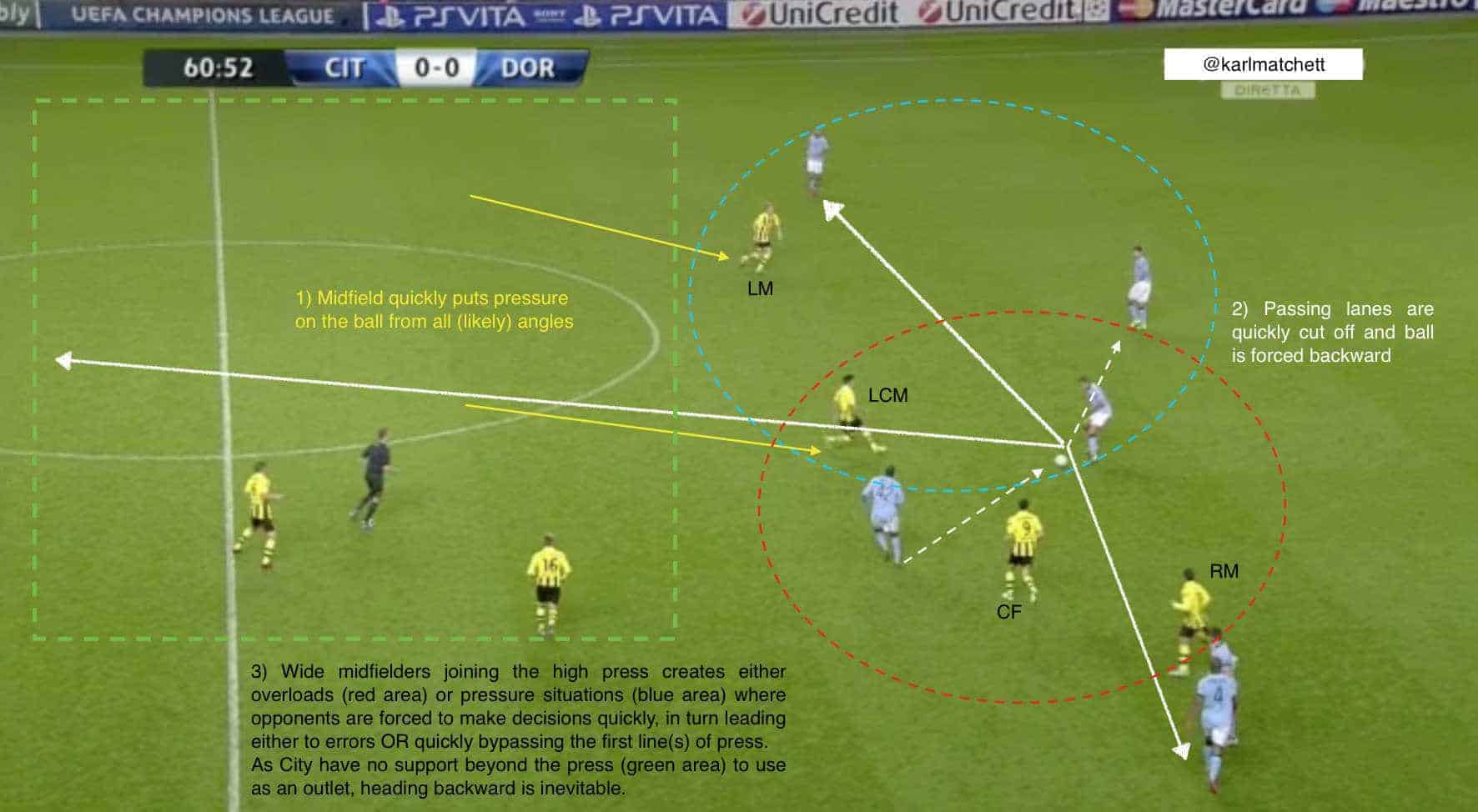 Although it isn't shown here, the entire phase of play was instigated by Gotze (RM) doing a similar job to Reus (LM): making a tackle on the right wing and driving forward, before losing possession right before the first image above, hence his high position in the graphic. The end result on this particular occasion was a triumph for the risks taken by wide midfielders performing the dual role; on another occasion, of course, a more alert City midfielder may have dropped into space to provide an out-ball and a quick counter of their own with four, or even six, players caught out of position.
High risk, high reward.
Marco Reus vs. MNC pic.twitter.com/rjWnjCaFWv

— Karl Matchett (@karlmatchett) October 13, 2015
For Liverpool, that cohesive understanding of when to press as an entire unit, especially in central areas of the pitch, is something which will take time—but will be helped if those players in wide areas are of a tactically sound mind and physically capable.
Even against more dangerous teams, such as the above fixture, away from home in the Champions League, Dortmund's game plan is to press from a flat midfield—simply incorporating an extra body into the middle to plug up the passing lanes even more.
In either shape, when the ball is won back the transition then relies on the flood of bodies from the midfield line with forward momentum; not just pace is important, but also intelligent use of space, an ability to take a touch or pass the ball while on the move and, hopefully, the composure to find a telling final ball at the end of the attack.
And perhaps that's one of the most important points about the Reds hiring Klopp; many managers can align a midfield and the rest of the team well, be organised and in shape, but what about attacking? That's why Klopp was chosen by Liverpool, after all.
At Dortmund, both wide players were of course technically extremely sound. Both had the capacity to run at defences one-on-one and get themselves into shooting opportunities inside the box, but also to combine play quickly in build-up and exchange positions fluidly.
"Transition" is usually used to talk about the team going from defence to attack in terms of their on-the-ball work, but that moment of flicking the switch also has to occur in players' heads. Over time that should happen quicker for the Reds' midfielders (and automatically, for the offensively-minded), but the constant need to go forward, press, challenge, get back into position and repeat… all of it is draining, perhaps especially if results aren't quite going to plan.
It requires a strong personality to thrive in those roles, just as much as an excellent skill set.

What all that is to say is that while James Milner and Adam Lallana will be looked at by some as not fit for purpose, perhaps between them they can offer balance to the team in a tactical sense as well as having enough in their attacking armoury to contribute going forward.
Key changes will be demanded: Lallana's first touch is immaculate, but there is no need for him to take a further 14 touches afterward. Pass it, move into the next space and get the ball back again. And repeat. Lallana is also excellent at looking as though he's making a press, working hard…but it's pointless if he does it alone, or in areas where there is no reasonable gain to be made. If he applies this obvious willingness to actually do the hard work with the capacity to press at the right time, he can be an asset to the Reds down one flank.
Lung and leg capacities are, as mentioned, equally important though, so it's unlikely Lallana will be in the mix to feature every game for 90 minutes. A time-share with Milner—fastidious, versatile, devout in following tactical instruction, aggressive in getting forward—is the more probable outcome and not at all a terrible result for either player, given neither have regularly shone at Anfield thus far.
As for the other side, the options would include Roberto Firmino, Philippe Coutinho and Jordon Ibe if taken by who has played this season.
There have been lots of potential LFC XIs flying around with Daniel Sturridge as one of the wide players in a 4-2-3-1; on paper this is fine, but as we've noted, there is no "wide forward" role in most of the positional play. Is Sturridge expected to take up that high-octane right-sided midfield role? Is he likely to work endlessly at it if asked to do so? The answer on both counts is no.
The easy answer is for Coutinho to fill that role. In the absence of a system which relies on a central playmaker, Coutinho must be given as much opportunity and licence to come infield as possible and the interchanging, the movement and the free reign of creativity afforded by the Reus role (either flank) is as close to that as Klopp's system offers.

Many Liverpool fans will point to Coutinho's best games coming from a No. 8 position againt the likes of Arsenal; on the sides of the four he isn't exactly that, but nor is he a winger: there is the narrow starting position, the aggressive closing down in the channels and the instant thrust forward which comes afterward, all of which are traits the Brazilian has displayed and flourished with.
As for his best side, it's open to reasonable discussion and personal preference—but the right flank might be the better option, for three reasons. First up, it pits the Milner/Lallana hybrid on the left, offering a little more protection to the left-back. Whether that is the offensive-minded Alberto Moreno, the inexperienced Joe Gomez or the incapable Jose Enrique, that is always going to be a good thing.
Secondly, Coutinho has two modes of play in the final third: the cut-inside-and-shoot from the left channel or the slice-defences-apart-with-a-through-pass from the right channel. In the expectancy of far greater attacking movement than has been seen in the past year, in the remembrance of the Coutinho-Sturridge link play in 2014 and in appreciation of Coutinho's own best strengths, the passing option from the right appeals greatly.
The third is the potential exchange between Coutinho and Firmino.
Gotze key traits:
Starts high, as a two, to make the initial press or cut off passing lane
Can drop deeper if the strikers are bypassed, but not aggressively
Actively tackles in the press, not just positions himself
Plays both channels but particularly wherever Reus is, allowing quick exchanges of passes
Switches position in-play to make use of space and allow wingers to run central or behind defence
Dribbles at defenders to create spaces and chances

Two forwards, Gotze and Lewandowski. One naturally a striker, one a clever, skilful and perpetually moving bag of tricks and excitement.
It's not hard to imagine lots of fans wanting Coutinho as the Gotze of the team instead of the Reus, but the beauty of these two together at BVB was their constant ability to work together in possession and bring the best out of each other, combining technically but also positionally, switching roles with frequency.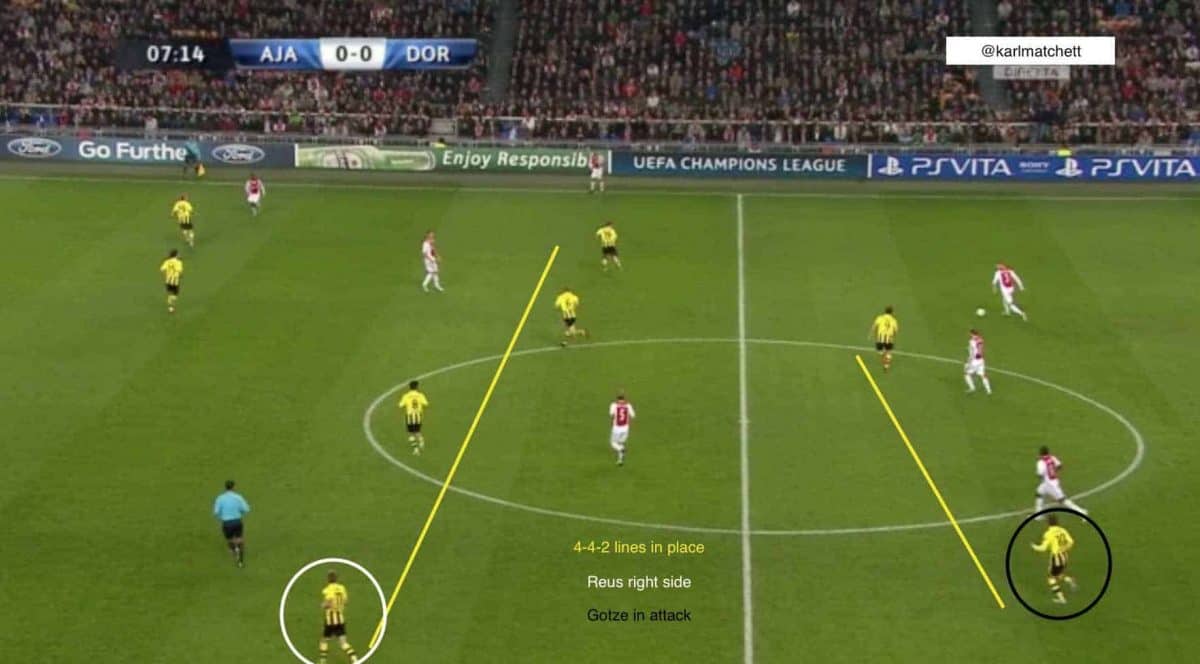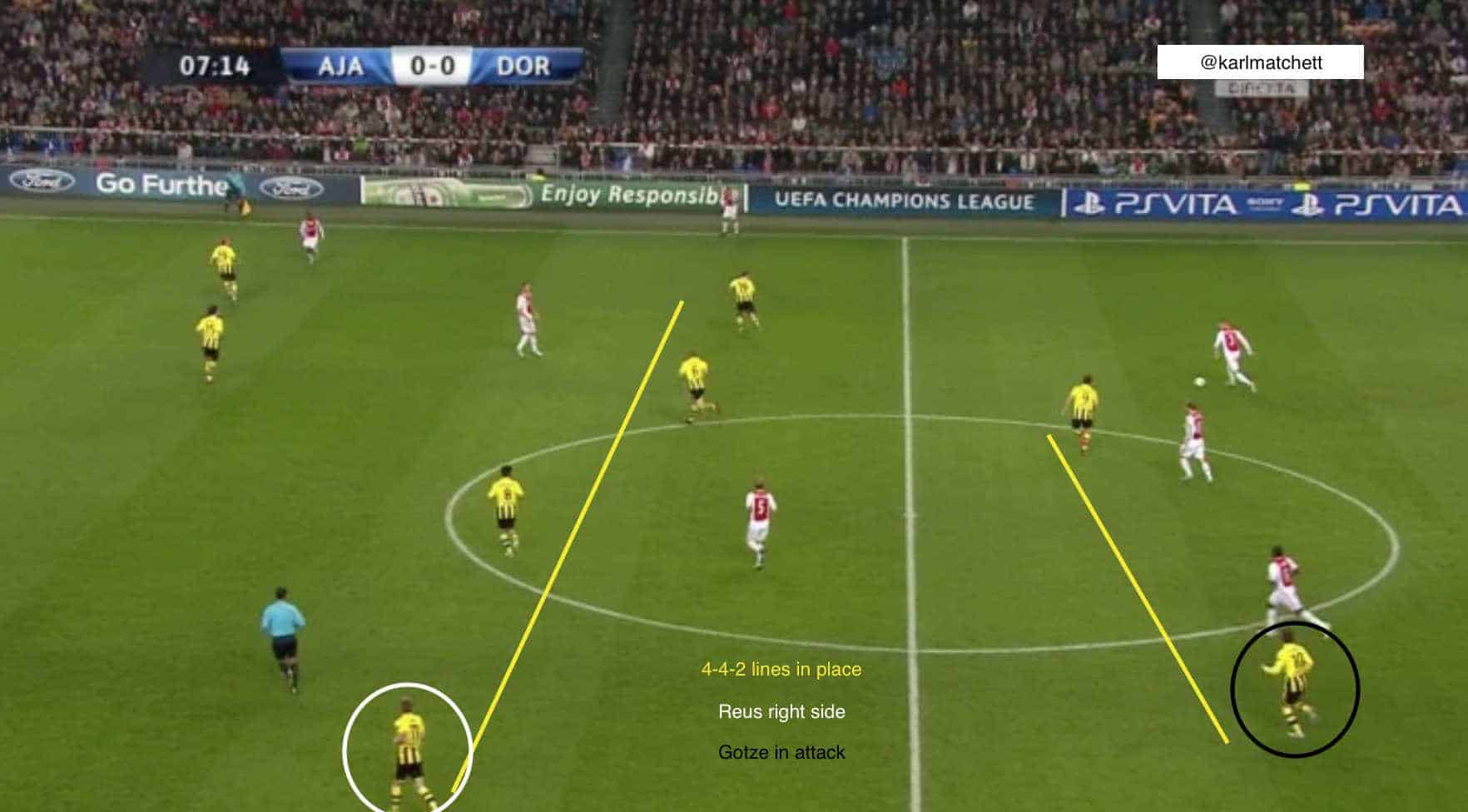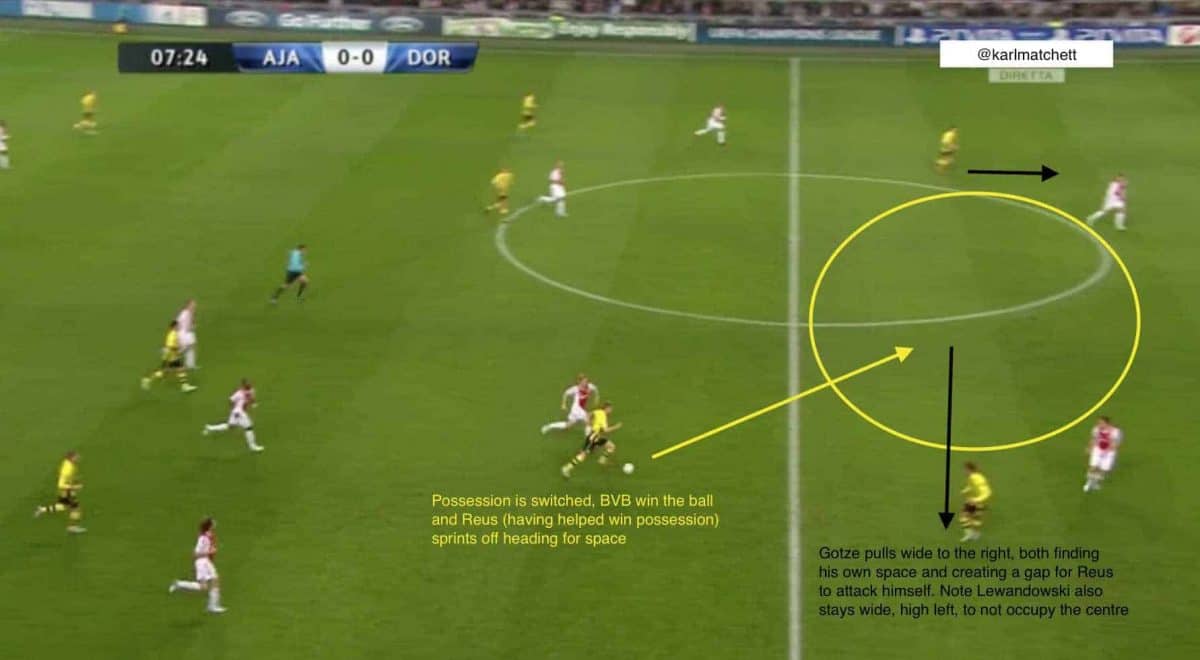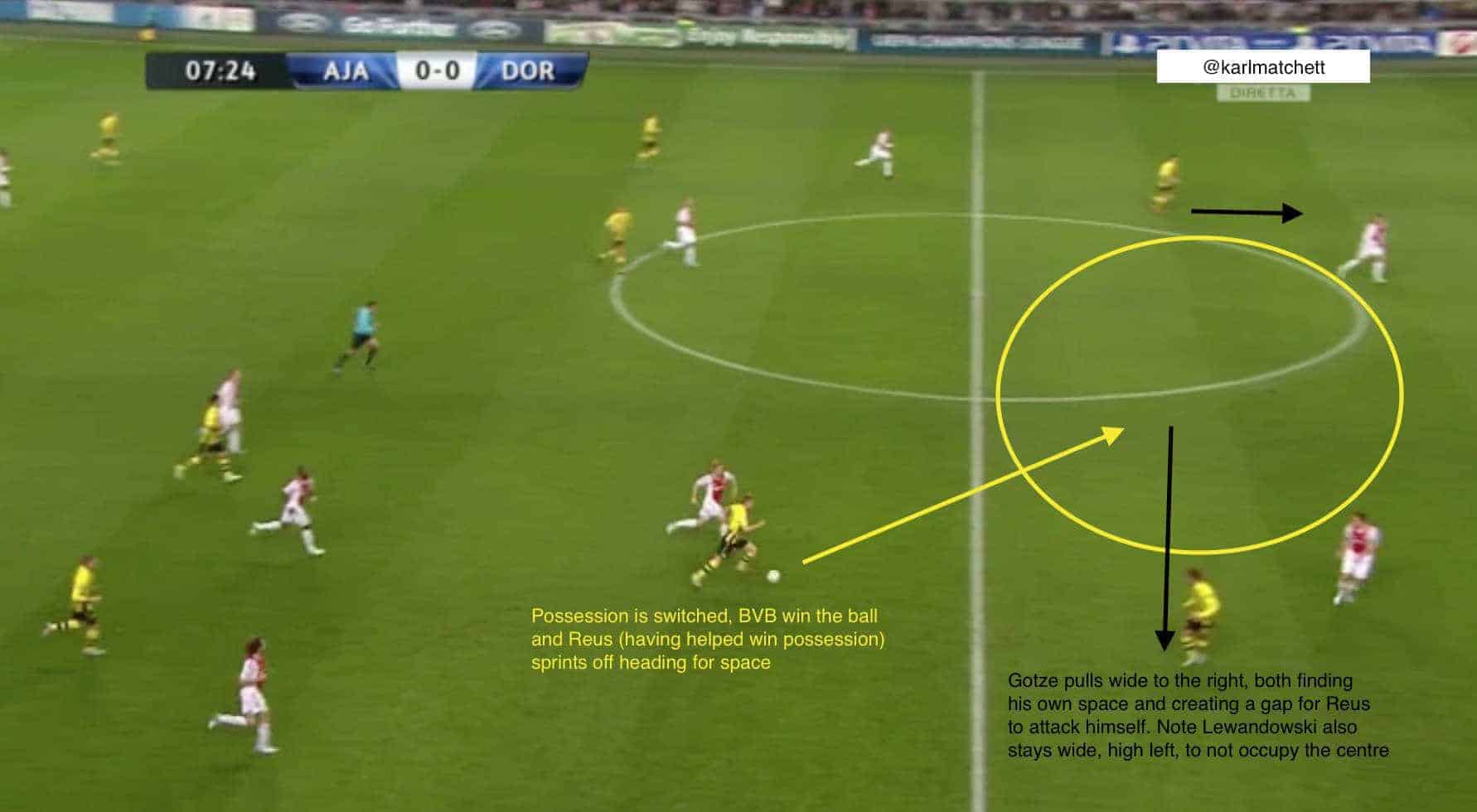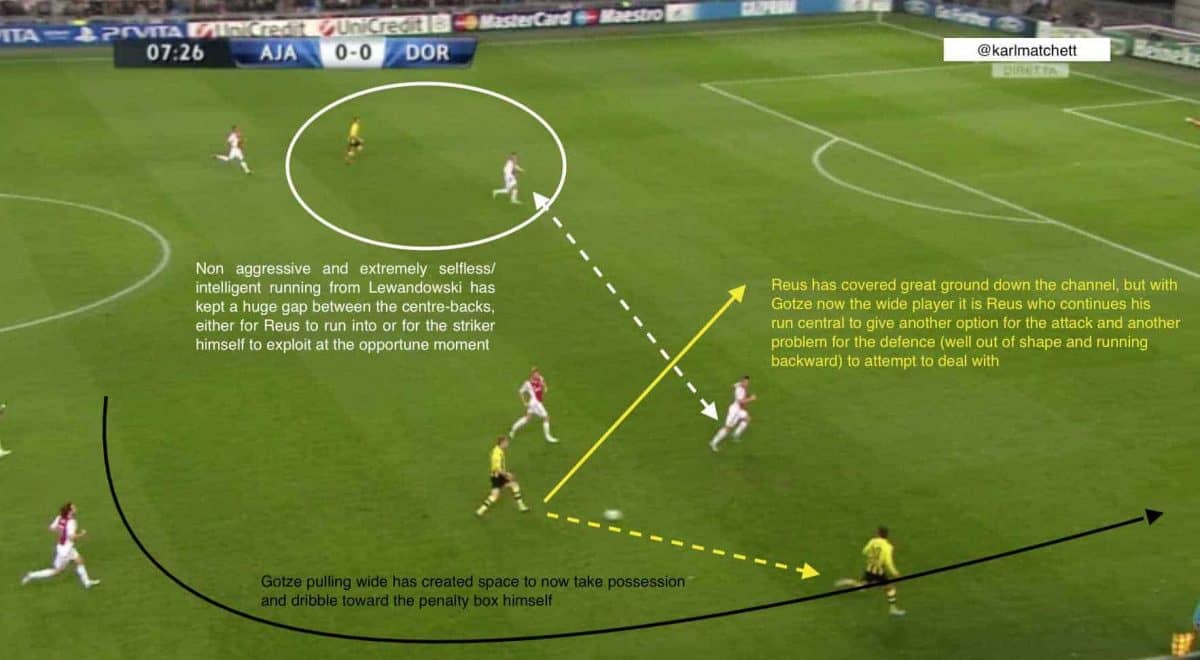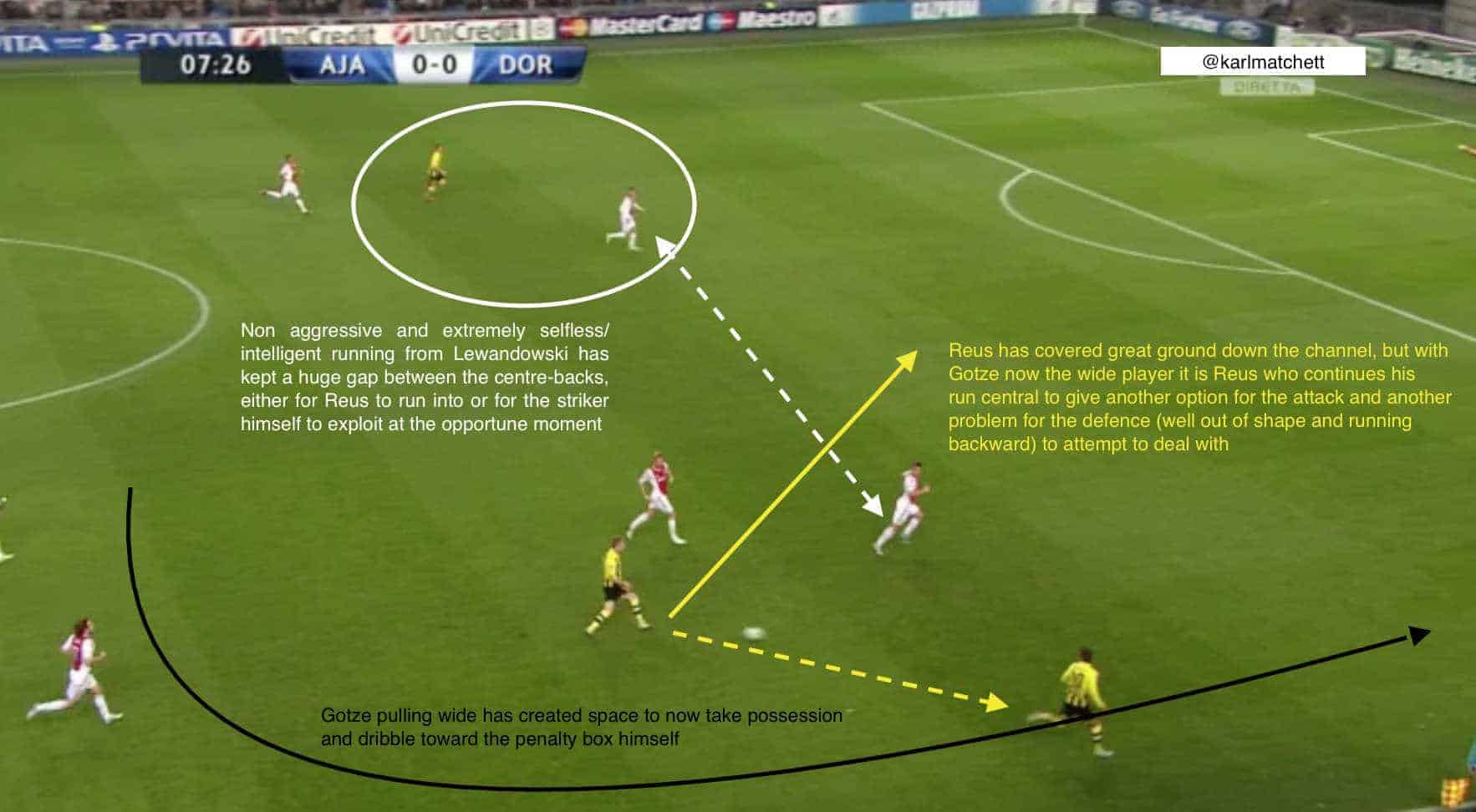 Reus & Gotze vs AJX pic.twitter.com/Wlw66iro2C

— Karl Matchett (@karlmatchett) October 13, 2015
Of course, this is a both an extreme outcome and a simplistic example, but it is a pattern of movement which was oft-repeated and should be utilised well by Firmino acting as the second forward for Liverpool. He presses and challenges well, he's perfectly adept at dropping back into a deeper position after the initial press is bypassed and he's a danger in the final third from central areas, scoring and creating in equal measure.
Get him combining with Coutinho and Liverpool have two genuine top-tier talents in tandem.
The alternative for Liverpool in this position, and the one who will likely start in the role given Firmino's injury, is Danny Ings. A very different type of player to Firmino perhaps, but his overall game style is still almost a perfect fit: he's aggressive in the challenge, works tirelessly, is at his best when able to move around off another central striker—and he can hit the back of the net.
Lewandowski key traits:
Aerial strength to head on or chest down a direct pass from deep.
Will often come deep before Gotze to drag a centre-back out and let Gotze split or sprint behind
Dribbles with the ball as a hold-up technique, often laterally
Main position is central or slightly in channels
Inside the box, almost always looks to get a shot away before any pass is considered

This doesn't need too much discussion beyond listing the traits above. Daniel Sturridge and Christian Benteke will fight it out for the main striker spot and the case can absolutely be made for both.
Liverpool don't need to exactly replicate Lewandowski, just make use of the best that they have; Benteke is great at dropping deeper and taking a ball aerially, but Sturridge is fantastic at holding up play by dribbling across the pitch. Both have pace, both look to shoot whenever possible.
Can they play together? It would be a big ask, not to mention it would leave Firmino outside of his obvious best role, but Klopp will doubtless rotate his attack early on to see which parternships a) work hardest, b) complement each other and c) help the team create danger with movement and technique. Sturridge is the better player overall, but that alone (and especially considering his fitness history) isn't going to be the sole deciding factor.
Team-wide attacking traits:
There is no single playmaker always taking possession and creating, and certainly no "central No. 10"
The emphasis is on quick exchanges, one-touch play and triangles, moving upfield in numbers
Central midfield supports from deeper during counters
Quickest team press comes when opponents have the ball near touchline and an overload is easier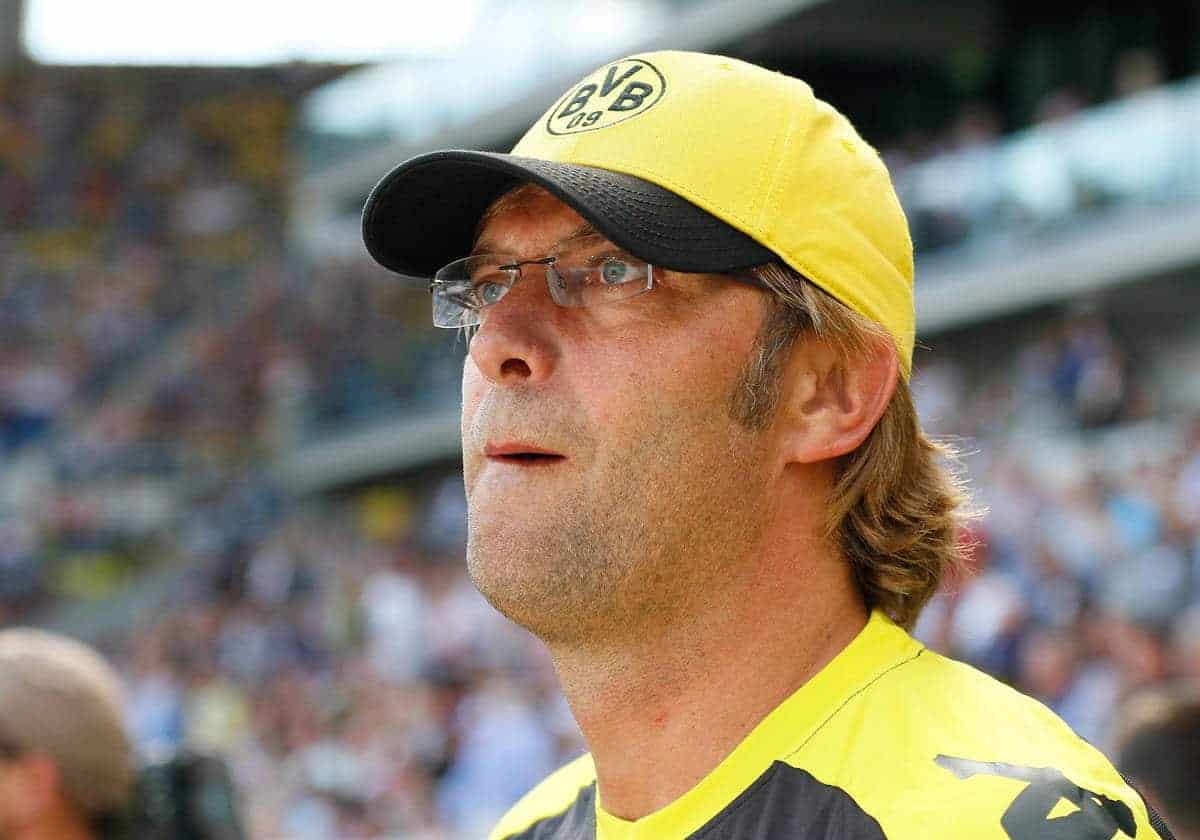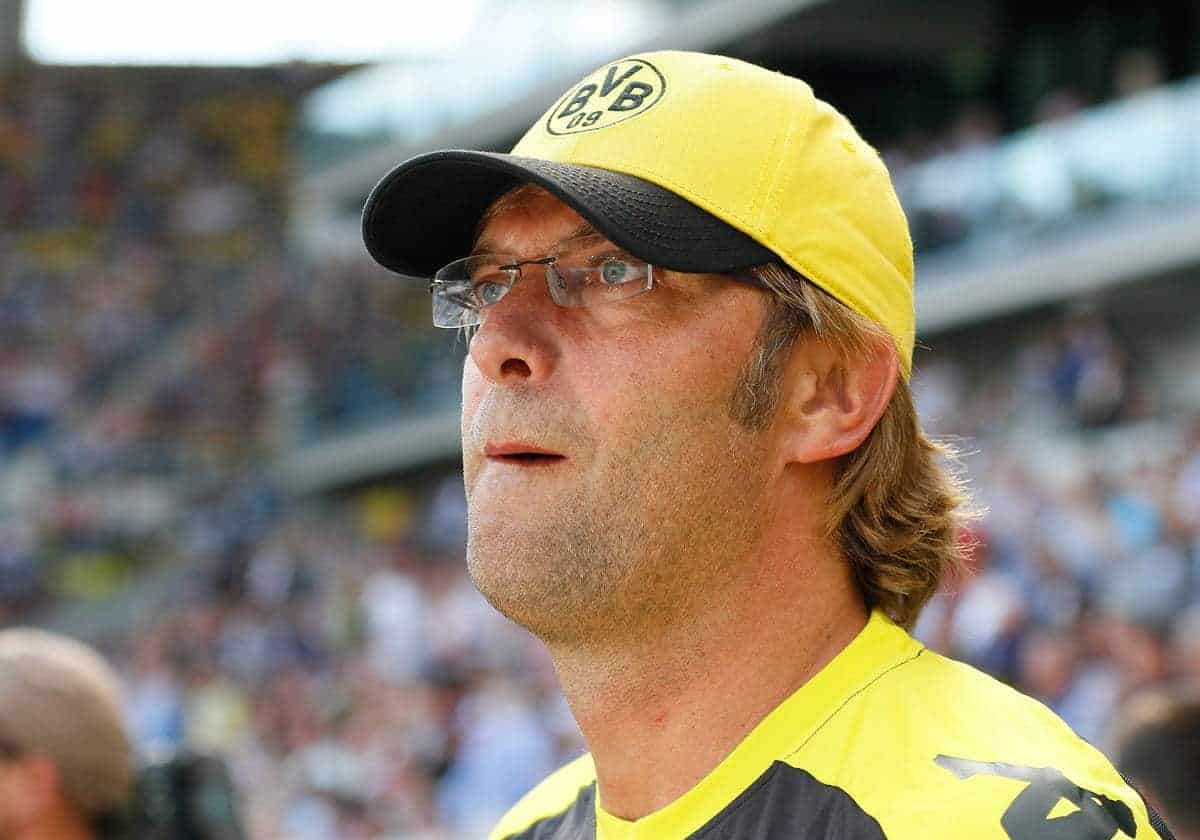 Liverpool have plenty of players who fit Klopp's, and Dortmund's best traits well. The players need revitalising and motivating (which shouldn't be a problem) but also organisation when out of possession and encouragement to play far quicker, far more adventurously, when on the ball. An amount of quality is already there and more can be brought in over time.
Liverpool have, in short, the raw materials to create improvement and success with. Over to Jurgen.