All eyes were on Anfield for Jurgen Klopp's home debut against Rubin Kazan. But, despite good intentions, the club is yet to find its spark.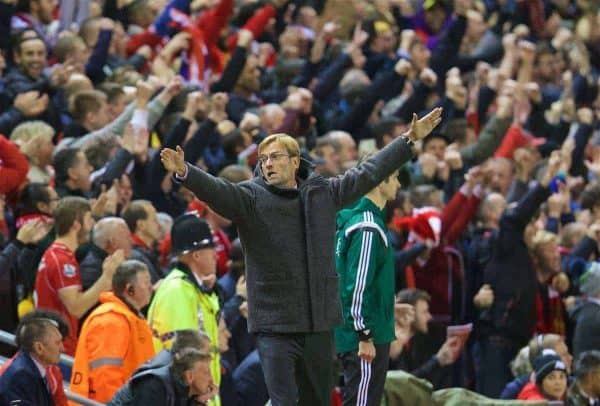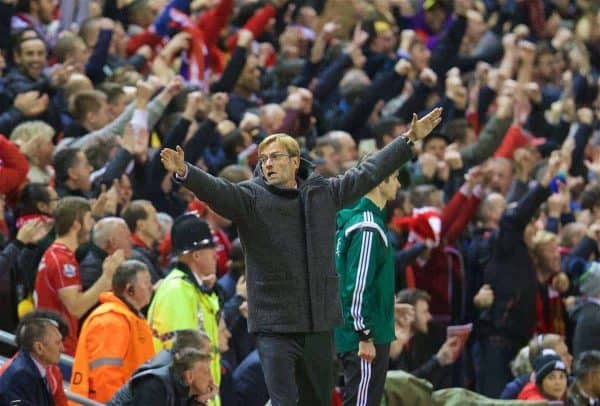 Is it wrong to want desperately to be loved by a forty-eight-year-old German man?
I went to Anfield last night and wanted Jurgen Klopp to love me. I'll admit to being slightly concerned by the looming threat of his last sweetheart, Frau Dortmund, with her flowing yellow hair and wonderful lungs.
Like the 21st-century poet Carly Rae Jepsen, I wanted to sing to the best of my ability, and send a heartfelt and repetitive message to Klopp and simply say, "I really, really, really, really like you. And I want you to like me too."
As it stands, Klopp probably thinks I'm not bad. It will have to do for starters.
I'm not entirely sure what I was expecting from the atmosphere last night. However, as You'll Never Walk Alone played out in its entirety on the loud speakers it was clear that George Sephton had correctly gauged the atmosphere wasn't special enough kick to away our audio crutch, fearing we'd stumble and disappoint without the song ringing out like a jet engine.
You always know when it's going to be a great atmosphere because the YNWA playback is drowned out and it's binned off halfway through, allowing the crowd to work their magic.
To my mind, the last time this occurred was probably the Manchester City and Chelsea games in the run-in of the 2013/2014 title-challenging season.
Maybe the appointment of a world-class manager who would have been the first choice for any of last season's top four (had they needed one) comes a poor second to a legitimate title challenge, and we shouldn't have expected as much from the Anfield faithful.
But, in truth I was expecting a little bit more than we got.

Very much like the players who came up short on the pitch though, there were enough people trying to give it a good go. We were just unable to collectively hit the mark.
Once YNWA had finished, there was an attempt to keep it going. To say it was half-hearted would be a little harsh. It just seemed there wasn't enough oxygen to give life to the embers and light the touch paper to allow it to spread beyond the Kop.
The same happened again at the close of the game.
The first 15 minutes or so saw a constant effort to keep the songs going. Marko Devic's goal on the quarter-hour mark plunged Anfield into silence for the first time. And I mean completely silent.
It was only at this point that I realised that there was no away supporters in the ground. If there was any they were too small in number to locate. I do, however, have conjunctivitis at the moment.
Other than the five minutes after we scored, atmospherically, the game fell out of its Klopp context and into the lull of what it really was: a Europa League group game against Rubin Kazan.
That will be the same Europa League group game against Rubin Kazan I had absolutely no intention of going to three weeks ago when Brendan Rodgers was in charge. What?! Surely, I wasn't the only one!
With little happening on the pitch at times, I found myself noticing that that three of Kazan's players wore the numbers 77, 88 and 99 respectively.
When you stop thinking about the football and start straining the sinews of your neck to establish whether a particular number sequence occurs throughout the entirety of a Russian team, it's safe to say both the game and the atmosphere have lost you for a bit.
Don't judge me Jurgen.

When Klopp was appointed one of his first comments was that he would not be able to walk on water; that he wasn't going to be able to work miracles. I've bought into that.
I'm guessing you have too. It makes sense.
Consequently, although disappointed by our inability to beat a 10-man Rubin Kazan, the size of the task at hand means you're not judging last night's performance against the 1984 treble-winning team, but instead looking for subtle signs of potential improvement from the first eight weeks of this season.
And it's possible to do this and not be blind to the problems that still persist.
Yes, seemingly our players can't shoot on target but on the other hand, Sakho, Lallana and Moreno all followed up and repeated their good performances against Spurs, and appear to have responded particularly well to Klopp.
Furthermore, it was refreshing to see us pen another team into their half and enjoy lengthy of periods of sustained pressure, without simultaneously panicking that we would concede if they hit us on the break.
Add to this that Mignolet appeared to be under instruction to release the ball quickly in an attempt to start attacks and Benteke looked a threat when he came on, and I can find something to cling on to. I could find nothing three weeks ago.
Don't get me wrong, I'm not doing cartwheels over this stuff. But to use Klopp's favourite word, like it or not this is a 'restart'. A major task lies ahead. We just need to be up for it.

If we are going to be sensible with our frame of reference when judging the Liverpool team under Klopp, using this and last season as the barometer, then it seems only fair to do this for the fans too.
Just a few weeks back Anfield was, at its worst, toxic with the infighting and verbal altercations clearly evident, and at its best, as silent as space.
In light of this, it is perhaps too much to expect us to suddenly turn the clock back to 1964, dress up in suits, get our hair cut like the Beatles and sway in unison singing 'She Loves You' for voyeuristic BBC cameras. I can't do that mad, slow Scouse accent anyway.
But there is potential for the atmosphere too.
The Kop stood for the entirety of the game. There is now a full on Sakho love-in, his name was chanted loudly and repeatedly by the vast majority. There was love for Emre Can too. There was very little moaning or animosity.
Actually, someone next to me booed when Kazan scored but I dropped a C-Bomb under my breath which shut him up. Obviously, I glanced at him first to make sure he was smaller than me. I'm not an idiot!
So yeah, there was some animosity, but that was largely my fault. I'd like to formally apologise.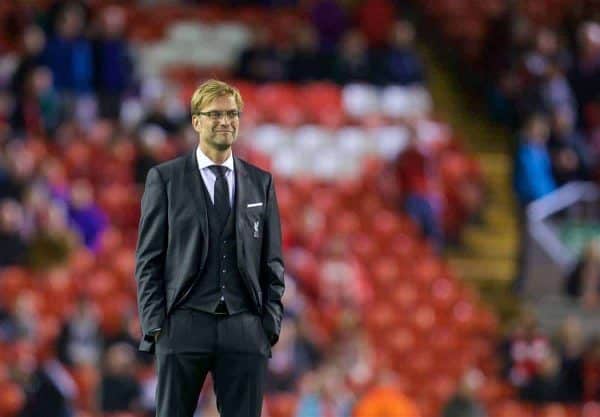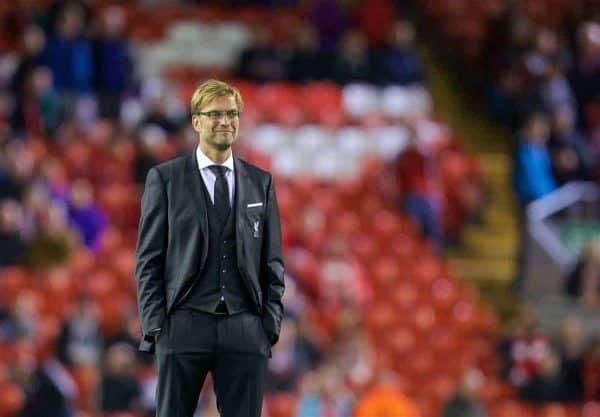 The difference between now and a few weeks ago is there is crucially goodwill towards the manager and the team in the crowd for the first time in aeons. This will ultimately make the difference, and although not spectacularly, it effected the atmosphere for the better last night.
There was direct cause and effect on display in last night's game which demonstrates what we already know about atmosphere.
As the team turned the screw in the second half, the intensity peaking around the eight-minute mark, the volume in the stands followed suit.
This team will take time to improve under Klopp and click into gear. The supporters aren't suddenly going to sprout halos and start walking on water either. These two aspects aren't mutually exclusive. It will take time.
It's far from perfect, but working together, I'm sure we'll reclaim that spark…just as long as we never, ever let James Milner ever take a corner again.
That's all I ask.

LIVERPOOL 1-1 RUBIN KAZAN