With high hopes for another goalscoring performance from Christian Benteke against Swansea City on Sunday, The Kop magazine's Chris McLoughlin discusses the most enjoyable strikers in Liverpool history.

Pre-match pub debates in the local hostelries of Anfield can last a little longer on Sunday thanks to the traditional 4.15pm kick-off Liverpool have arranged for a game not on telly, but with Black Friday having started earlier than Friday this week we might as well get stuck into such a discussion long before the Twelfth Man opens.
Which three Liverpool strikers have you enjoyed watching the most since you've been following the Redmen?
The key word there is enjoyed. Not who was the best, who got the most goals or who netted the goals in your favourite cup final. Who did you enjoy watching the most on a week-in, week-out basis? Depending on how old you are, you could be more spoilt for choice than Hugh Heffner at a hen do. Or maybe you're one of the poor buggers who only started following the Reds so recently that the words 'Fabio' and 'Borini' just crossed your mind. My thoughts are with you.
Some of you silver surfers out there must recall Roger Hunt and Ian St John. Half a century has passed since, but seeing those two fire the Reds to promotion, two league titles and a first FA Cup must have made grown men wee down a rolled-up Echo
Out of our two 70s sevens then maybe Mighty Mouse, aka Kevin Keegan, gave you more joy from the bustling, hustling, barnstorming way in which he played than the subtle dinking delicacies King Kenny Dalglish served up?
Or perhaps seeing carrot-topped David Fairclough charging through against Les Verts (St Etienne) and Les Bleushite (Everton) did it for you more. We also had David Johnson.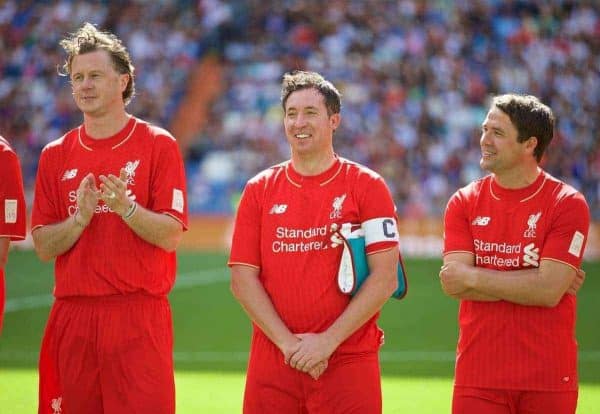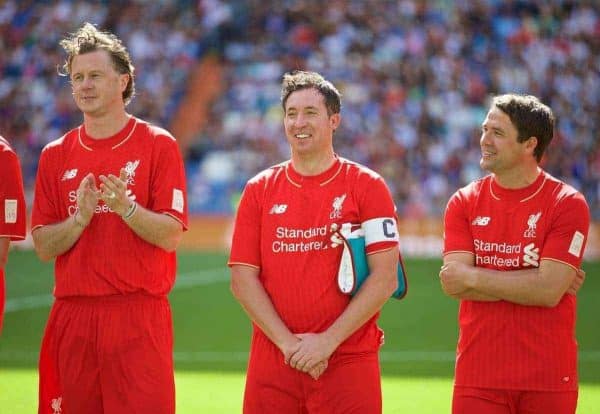 How about Ian Rush, four goals or two, Johnny Aldridge and Peter Beardsley – our greatest goal-getter, an outstanding goal-poacher and a jinking, creative genius? But then some of you may have been more thrilled by the energy of Paul Walsh, the randomness of Ronny Rosenthal or Dean Saunders' inability to shoot without sticking his tongue out.
Robbie Fowler is on my list – I couldn't wait to get to Anfield to see his left-footed brilliance in the mid-1990s – but then I loved watching Stan Collymore too. When he could be arsed.
Forget what happened next with Michael Owen, when he was running full pelt at a defence there wasn't a more thrilling sight in football in the late Nineties, and the same applies to Fernando Torres in the Noughties. Forget Karl-Heinz Riedle and Fernando Morientes though. Surely no-one enjoyed thinking about the players that they used to be?
I suspect a colleague of mine would have Jari Litmanen's babies (although it would take a sex change and some plumbing work for this to happen) given the chance and we've had our fair share of quirky strikers like Titi Camara, Milan Baros, Djibril Cisse and, of course, the Duracell-powered Dirk Kuyt. If you can overlook Danny Sturridge's fitness issues maybe he'd be a contender too.

Luis Suarez? Top of my list. I'd take him back now even if he arrived with a six-month ban and Philippe Coutinho's severed right foot between his teeth. And then there's Rickie Lambert and Mario Bal…ok, I'll stop taking the piss and get to the point.
There are five strikers I have deliberately omitted so far. All for the same reason. Because I reckon that not a single Kopite would include Tony Hateley, John Toshack, Emile Heskey, Peter Crouch or Andy Carroll in a list of the top three Liverpool strikers they enjoyed watching.
Why? Because who truly enjoys watching a big fella attempt to be the foil for a more talented team-mate to play off?
I mean they all had their moments. Hateley netted 27 times in his first season. Toshack got 99 goals. Heskey was superb in the treble season. Crouchie scored two bicycle kicks while his feet were roughly level with the scoreboard. And do you know any Evertonians who wouldn't have paid £35m for an FA Cup semi-final winner against Liverpool?
But when you compare the enjoyment of watching them try to out-muscle a yard-dog centre-half for a flick-on to seeing Suarez slalom past players, Fowler flash in worldies or Rushie putting more balls into Neville Southall's onion bag than onions into his bin bag there really is no contest, right? Big strikers just aren't as good fun to watch.
Which brings me to Christian Benteke. A big man who, weighing in at 32.5 million pounds, has got a fight on his hands to try and change that type of thinking.

Five goals so far isn't an earth-shattering return on the investment, but a change of manager, tactics and injuries are mitigating circumstances. What encourages me the most that Benteke could become a player Kopites loved watching though is the variety of goals he has scored.
A tap-in v Bournemouth. A spectacular bicycle-kick v the Mancs. A thumping header against Southampton. A composed, measured finished to complete a thoroughly enjoyable victory at Chelsea. And then his turn on a sixpence and rifled finish from the edge of the box against Bordeaux.
Those goals prove he isn't a one-trick pony. He doesn't just need high crosses like the one James provided for him against Southampton but can do the business in front of goal with his feet too (although he should've done a lot better when clean through at Man City).
That puts Benteke in a strong position with Jurgen Klopp now patrolling the Anfield touchline. Klopp loves a big, powerful striker up front – that was obvious at Borussia Dortmund – but to play there for him you've got to be as good on the ground as you are in the air.

Can Benteke be that player? I hope he can – his finish against Bordeaux certainly suggests so and with just one up front he isn't a foil for anyone – but he'll need to prove it over the next couple of months as while 'false nines' work in certain games away to the big boys, I suspect a 'proper nine' leading the line will be the key to improving our form at Anfield.
If he does prove to be a goalscoring extraordinaire then maybe Benteke will be the first big Liverpool striker to figure prominently in a future 'top three enjoyable strikers to watch' pub debate. It's happened at other big clubs.
The chances are that if I posed the same question in Dortmund a rather tall chap by the name of Robert Lewandowski would be a top answer and we all know who got the best out of him there…
---

• By the way, I've interviewed Christian Benteke for the official Liverpool v Swansea City matchday programme. If you fancy a read get it at the ground, from LFC club shops or save yourself a few quid and subscribe at www.sportmediashop.com (where you'll get entered into a competition to win a signed Phil Coutinho ball if you do so by November 30).
---