Aaron Cutler believes it's high-time Liverpool's support cast eased the pressure on Philippe Coutinho.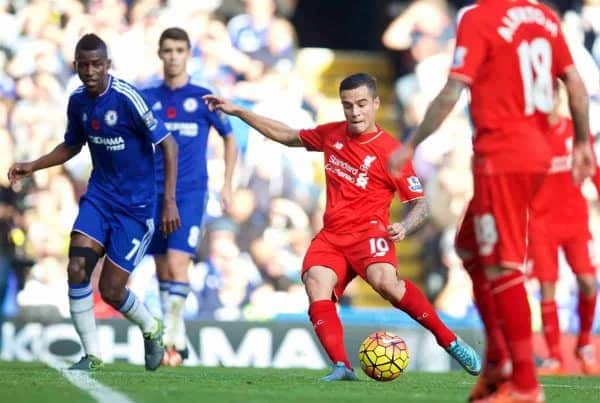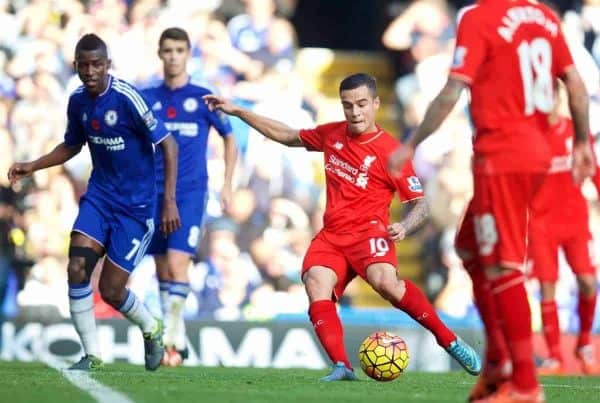 Jordon Ibe's maiden Liverpool goal was significant for a number of reasons. A coming of age, it capped a fine display in icy Russia and bookmarked a clear re-emergence under the tutelage of Jurgen Klopp.
At just 19 Ibe can be forgiven the occasional dip in form. Misplaced passes, ill-judged tricks and ventures down blind alleys are a given whilst this precocious talent hones his game. Ibe's though will prove a learning curve worth navigating should clear potential be realised.
For a player of this ilk a means to an end will always come in the form of goals and assists. Having broken his duck, the teenager must now strive to replicate that loving feel, easing the burden on an embattled Philippe Coutinho.
Ibe is classed as a winger and as such an only child in this Liverpool squad. His wider family however, those with designs on an attacking midfield berth, includes Roberto Firmino, Adam Lallana and Jao Texeira. Between them this quartet must shoulder some responsibility, ensuring the reds do more than simply defer to Phil.
Coutinho became our go-to man twelve months ago, and in doing so complicated his role as chief playmaker. The latter is meant to facilitate others, carving out chances and adding a sprinkling of stardust to the otherwise routine.
At some point in time though the lines got blurred. Suddenly Coutinho was charged with digging Liverpool out of holes single-handedly, not only the chief archetype but the focal point, the match-winner, the saviour.

Soon everything good about Liverpool came through their diminutive number 10, with little to nothing else to shout about.
This newfound responsibility was admittedly hastened by the absence or leaving of Luis Suarez, Raheem Sterling and Daniel Sturridge. In retrospect it was perhaps unavoidable, given automatic ascension to best player status.
Nevertheless that weight of expectation is a dangerous one to place on anyone but a striker. It could be argued that to pin your hopes on the creator – the proverbial go between – is bad practice.
Despite a general dip in form the little magician has still managed to turn games against Chelsea and Crystal Palace in recent weeks. The worry is just what Liverpool do when that contribution tails off and Coutinho – exhausted from carrying his club – wilts.
The obvious fix, of course, is a fit Daniel Sturrdige. Sadly the latter is practically unheard of, with many deeming the mythical Studge a distinct species. His last Anfield appearance pre-dates Klopp and serves as a painful reminder of what could be.
The pace, movement and unerring finishing ability Sturridge provides liberates Coutinho, freeing him up to play his natural game. Suddenly that tendency to force things, dipping the shoulder and unleashing speculative efforts, lessens.
When they come off such strikes are picture book moments – as City and Southampton found to their cost. Yet all too often they come at the expense of a final pass, hesitancy born out of a clear mistrust of those ahead of him.
Reunited with Sturridge, Coutinho tormented Aston Villa with menace and guile back in September. There is an argument that this, ahead of Chelsea even, was his best all round performance of the campaign.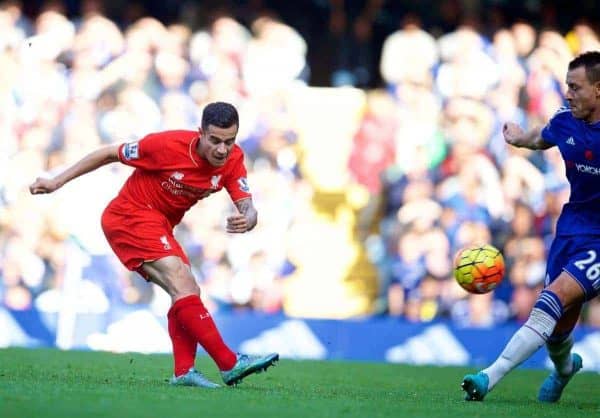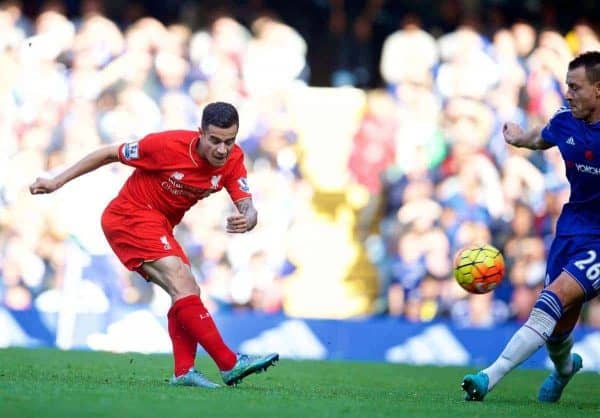 More in-keeping with the season however was the home draw to Saints. With the indestructible Sturridge surprisingly injured Divock Origi was charged with leading the line that day.
Raw in the extreme and prone to wander anywhere but goalscoring positions, Origi's anonymity resulted in Liverpool's game plan centring on Coutinho and Lallana exclusively. Neither played well, meaning Liverpool became horribly blunt.
Still The Kop held its breath, anticipating – demanding even – a moment of inspiration. It never arrived, sparking criticism aplenty and accusations that Coutinho's head had been turned by Barcelona. Ridiculous assertions cast by keyboard warriors and proof that ours is a tough crowd.
The reality of course is far more involved. Opposition managers realised long ago that by negating Coutinho you go a long way towards stifling Liverpool. Sides now set-up to stop him primarily, knowing those around him are of far less concern.
Faced with such resilience Jurgen Klopp must garner more from the support cast. That means Firmino, Lallana and Ibe in particular chipping in with goals and assists.
Between them this trio have registered nil and two in those respective columns this Premier League season. From a combined 26 appearances that is frankly appaling.
To broaden the argument goals from midfield, or rather a lack of them, have been Liverpool's Achilles heel for too long. Indeed the aforementioned playmakers are not alone in their scant returns.
Jordan Henderson has developed at a rate of knots but is still to truly offer a consistent goal threat. Joe Allen – he of the six yard Goodison miss – is as likely as Simon Mignolet, while Lucas' average of a strike every 50 games is none too prolific.
The incoming James Milner meanwhile, scorer of 5 league goals last season, has managed a solitary effort since rocking up at Anfield.
The consequence? Liverpool remain overly reliant on their one jewel in the crown, who by extension attempts to do too much.
Since August the reds have won four league games and in three of them Coutinho has made either the difference or a telling contribution.

An 85th minute screamer away at Stoke, that aforementioned link-up with Sturridge and of course Stamford Bridge – where our dominance would have translated to neither goals nor points if not for two sublime pieces of skill.
You could even make a case that victory over Bournemouth came courtesy of Countinho's offside interference. No assists for lurking, sadly.
There is a trail of thought that Coutinho is in fact better suited to a deeper lying position, sparking attacks from midfield in the manner of an Iniesta. The advocates of such pinpoint routs of Everton and Arsenal in the 2013/14 season when the Brazilian showed bite and brilliance in equal measure.
The key difference of course were the options in front of him. Back then our not so holy trinity could be entrusted with delivering a killer blow. Can Klopp truly bank on Lallana, Firmino and Ibe to do likewise? Until potency is discovered and Liverpool begin scoring twos and threes such tactical experiments are unlikely.
The bigger worry of course is this burden becomes too great and the lure of pastures new comes into focus. Will the soloist have designs on becoming part of a La Liga based orchestra?
Undeniable is the capability within this squad but tapping into just that is Klopp's biggest challenge these next few months.
Firmono needs a regular run of games in a central position, Lallana requires a football diet that displaces Cruyff turns and interviews with goals and assists, Ibe must have the words 'end product' tattooed onto his eyelids .. That's some To Do List before we get to the goalkeeper and Dejan Lovren.
Coutinho himself has this week re-assured fans he can assist others when it comes to an end product.
"When you get new players, especially strikers, it is the job of all of the team to give them the service they need. I have to learn whether it is right to play a fast ball or a pass along the ground, depending on who I am playing the ball to."
Upbeat and on-message these comments are typical of the man yet beyond the rhetoric may just be a cry for a help.
For only when Liverpool boast several match winners will they kick-start their season and piece together an assault on the top four. That breakthrough, should it come, will prove a welcome boost to everyone, not least Phil Coutinho.