James Nalton was at Anfield on a windy Sunday afternoon, where Emre Can provided the major positive from Liverpool's 1-0 defeat of Swansea City.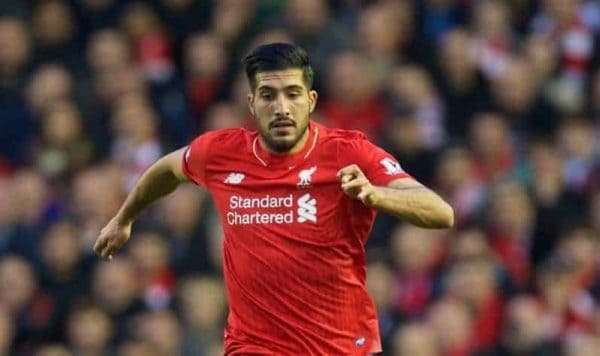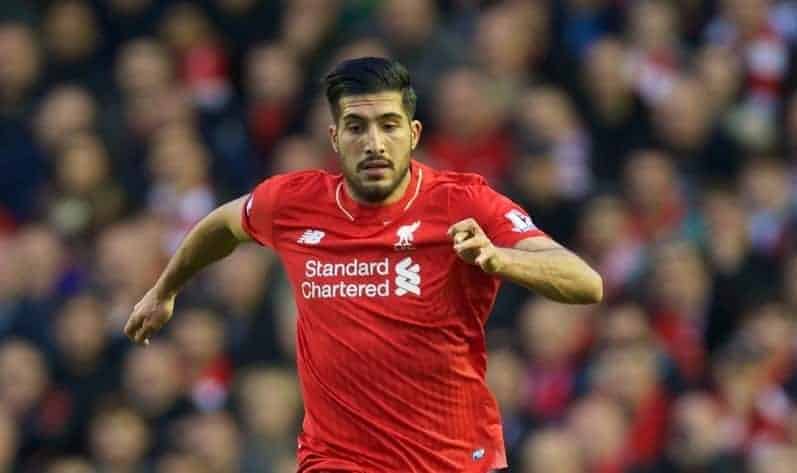 Liverpool's 1-0 win at home to Swansea was as much a battle against the squally weather as it was against their opponents from South Wales.
As the wind circled around inside Anfield, passing and interplay became difficult and players struggled with the finer points of their game.
Midfielders vied for domination as meaningful forward passes became twice as difficult to make, and passes in the air required the judgement of a golfer trying to find the green in blustery conditions.
One midfielder who managed to take the game by the scruff of the neck was Liverpool's Emre Can, who directed his team when in possession and showed organisational skills during breaks in play to arrange his team when defending.
Can operated as a holding midfielder – a position previously occupied by Lucas Leiva, who was suspended for this game thanks to his ever-growing yellow card collection.
It wasn't the perfect performance from the German – a sloppy mistake in the second half could have gifted the visitors a chance had the team not recovered – but he displayed sufficient mastery of the position to suggest that he could make it his speciality.
He's a player who performs to a good level in several positions, but he gives the impression that should he choose on of these and stick to it – learning its intricacies along the way – he would become one of the best around in his chosen role.
It's often the bane of the versatile player that they're forever filling the gaps when other players, are injured, suspended, or out of form, and never manage to nail down a constant position in the eleven.
Against Swansea, however, Can showed that he could be pivotal to the future of the Reds' midfield in a Sergio Busquets type role, roaming from the centre of defence to the centre of midfield.
There are some similarities between Can and Barcelona's midfield maestro, not least their physical attributes.

Both walk at over 6ft so possess the height of a central defender to go with their technical gifts. Their rangy strides through midfield can be as useful as clever passing when it comes to working a way through the opposition, and while the technical side to Can's game isn't at Busquets level it will only improve.
The 21-year-old has played centre back for Liverpool and occasionally for Germany under-21s, and has also played as a full-back at both international and club level. Many of the attributes used in these positions can be transferred to the defensive midfield role.
Can's experience of playing as the right sided centre back in a back three under former manager Brendan Rodgers will help him control play in front of the defence, as he was something of a right sided libero in this role, such was his tendency to wander into midfield.
The understanding of these positions will be useful when playing alongside centre backs such as Sakho and Lovren who like to step out with the ball themselves, as he'll be able to drop in between the two centre backs, becoming an auxiliary defender.
He'll also be able to provide extra cover for Liverpool's dynamic full-backs should they find themselves caught high up the pitch as opponents break.

Earlier this year, Rodgers spoke of Can's desire to play as a holding midfielder.
"When I met Emre, and having seen him play in a whole raft of positions, his great attribute is that he's a footballer, he understands the game," said Rodgers.
"But when I met him I asked him his preferred position, where he sees himself playing, and that was as a controlling midfield player. That's where I've always felt he'll be an outstanding talent for us."
Against Swansea, Can made four tackles, four interceptions, and five Skrtel-esque clearances; blocking one shot and two crosses, and winning two aerial duels for good measure.
He had more touches of the ball than any other player on the pitch – 98 – and was the most efficient passer in Liverpool's midfield with a pass success rate of 84%. During the first half his pass success rate was 90%, but this dropped in the second period as he tried to play the ball behind the opposition defence for his more advanced team-mates.

Earlier in the week Jurgen Klopp had discussed Can's versatility, and hinted that he may play in yet another position in this game.
This position turned out to be defensive midfield in a 4-3-3, which occasionally became a 4-1-4-1 when Ibe and Firmino tracked back in defence. Either way, Can's position was constant, steady, and almost always reassuring.
Anchor man, defensive midfielder, holding midfielder, regista, or deep lying playmaker; whatever the role and whatever the position, Can has the skillset to become a potential master of it, and although Lucas Leiva is experiencing his twenty-second coming at Liverpool, the Brazilian is the only other specialist in the deep midfield roles.
Can could succeed Lucas in the future and finally find a permanent home, but for now he'll provide a vital alternative.
UPDATE: Can's performance was the subject of some laughably bad analysis by Ruud Gullit on MOTD2 – we explain why here.
* Stats via Squawka.
Liverpool 1-0 Swansea City