Neil Poole believes that Jürgen Klopp's understated reaction to Liverpool's 4-1 thumping of Manchester City is just one more indication that our new manager has the necessary approach to take us back to the higher echelons of English and European football.

"I don't know if proud is the right word, but of course I'm really satisfied with the performance. It was far away from perfect, but it was in many moments really, really good."
— Klopp on the Reds' 4-1 win at City
If Klopp had a Yin and Yang face and spirit-level legs, he couldn't have provided a more balanced and level-headed analysis of Liverpool's comfortable victory over Man City on Saturday.
When it comes to the the equation for the perfect response to a significant win it appears that Brendan Rodgers minus Rafa Benitez equals Jürgen Klopp.
Take a poker-faced Rafa scribbling a Brendan soundbite like "outstanding" into his note-book amongst his other observations, and what do you get?  A genuine appreciation and joy in the 'many moments' that were good, countered with the studious acknowledgement of the need for improvement.
He may not think his players are at the moment, but Klopp is currently pitch perfect in his approach to Liverpool Football Club.
Klopp's refusal to be dragged into the scrabble for superlatives in the aftermath of the City victory, but instead place the emphasis on areas for progress, should be music to Liverpool supporters' ears.
Such an approach was the foundation of our past success, and it is the only way we will be successful again in the future.
Rather than trawling through the most illustrious period of our history, even if you look back to our most recent era of sustained competitiveness, between 2005 and 2009, it happens under the guidance of an insatiable perfectionist. It's not a coincidence.

As unlikely as it may initially seem, there already appears to be many similarities in the approaches of Klopp and Benitez to Liverpool Football Club. Not least, that it's clear they're both obsessed with finding new things to be learnt in each game, and then taught, and then taken into the next.
Every time the cameras home in on Klopp in the wake of wins, between the hugs and nearly knocking Ibe out with slaps, he is also in the ear of players like Lucas Leiva, imparting information and observations. It's difficult not to recall Rafa doing the same to Djbril Cisse mere moments after Liverpool had just won the Champions League. It says, "Yes, we may have just won a massive game but that's over now. Here's how we win the next one too."
While Rafa has his detractors and they could point his weaknesses, I'd take a Liverpool manager on an eternal quest for perfection any day of the week over one who acquiesces to and embellishes mediocrity, in the way Rodgers was prone to do in the last eighteen months of his reign.

Much has been made of Rodgers' glowing assessments after poor games and indeed, some of it may have been for the cameras. However, three years without a trophy surely demonstrates that, at its worst, the acceptance of mediocrity, and at its best, the making of excuses for mediocrity, simply mires you in further mediocrity.
Of course, it wasn't all mediocre under Rodgers. Far from it. Finishing second in 2013/14 was an unexpected achievement and a thrilling ride.  However, and I include myself in this, Rodgers was given far too much credit for far too long for not winning the league.
Long have we mocked other clubs for emblazoning memorabilia with Cup final appearances and runner-up berths as achievements. However, many of us found ourselves doing exactly the same.
Worst of all though has been when negative yarn has been spun to make a soothing but ultimately synthetic comfort blanket. Defeats  away to Manchester United in the league and to Chelsea in the semi-final in the League Cup last season were bizarrely treated as some sort of moral victories because the performance was improved from the abject ones which had come before.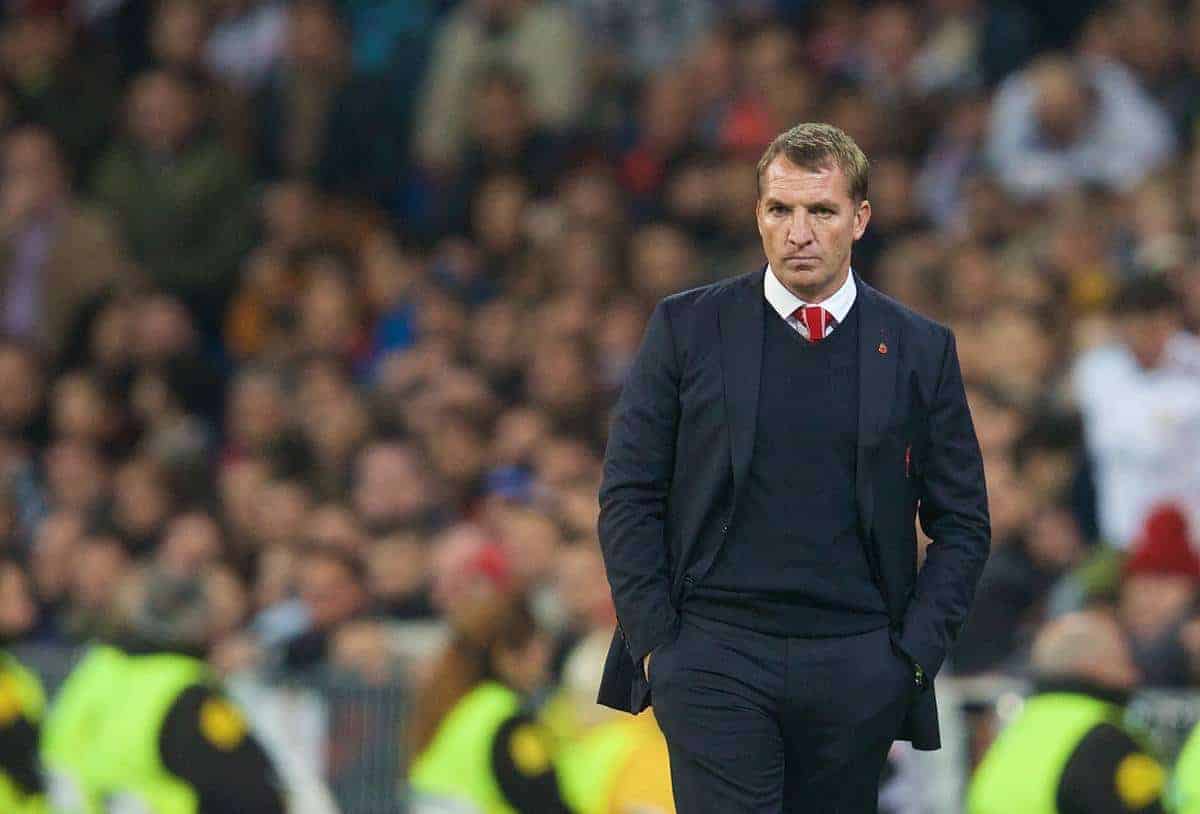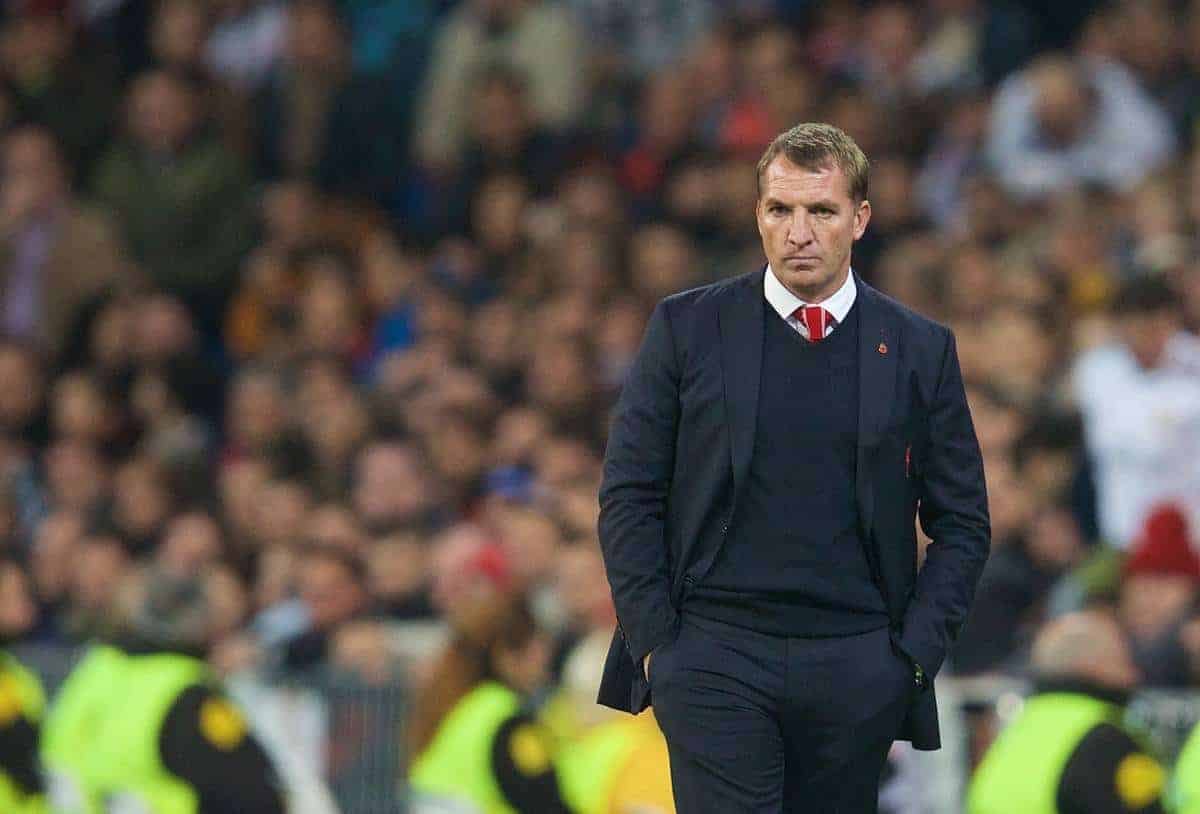 However, the lowest of all low points came in the way we reveled in our 1-0 defeat away to Real Madrid like it was a great achievement.
I've forgone the obvious Brendan quote to demonstrate this, because this post match quote from Gareth Bale makes me recoil in horror:
"I was surprised by how many changes they made. But they worked hard, they gave a good account of themselves. It's always difficult coming to the Bernabeu, playing against us. We're always confident at our home ground, but they played well."
We gave a good account of ourselves!
It's difficult to play against them but we played well!
Erm, f*ck off Gareth! I never want to be in a position again where Gareth Bale thinks it's okay to patronise my team like we're some plucky underdog in a 3rd round FA Cup tie. Start believing you're about as good as Havant and Waterlooville and these are the liberties people take with your reputation.
Again, you just can't see this happening under Klopp.
---
---
On Saturday, Firmino had his best game in a red shirt by a country mile. When everyone was waxing lyrical over his performance and urging Klopp to partake in some massaging of egos, Klopp responded with this:
"Before the game, I told him he's a striker who can sometimes be a midfielder – not the midfielder who is sometimes a striker. We need him as a target and he came very deep. So I said: 'what are we doing here? We can't play the ball in that direction when we have no one to play it to, please stay there.'"
Although spoken like a father gently poking fun at his son for sniffing his fingers after he's just scratched his arse, it's still chastising him for failing to learn a very simple lesson about an obvious thing not to do. It's Rafa-like scrutiny but with an unarming charm that takes the rough edges off.
The content of his message too very much appears to reflect Klopp's entire approach to the game, both on and off the pitch.  Balance is of paramount importance and extreme positions are best avoided. Don't go too far this way. Don't go too far that way. Look to stand in the right place. Don't keep doing the same things wrong. Look to improve. It's so simple it makes me want to cry.
I'm sure there's a boss sounding German expression for this that someone will dig up!
Maybe the word is just, 'perfekt'.