Liverpool kicked off the 2015/16 season with a new kit manufacturer, with New Balance the latest in a long line to showcase the Liver bird.

For many, a successful football team is known as much for its kit as it is its players, with Liverpool wearing some truly memorable shirts in their recent history.
Here, we take a look at Liverpool's kit manufacturers through the years, and the success the Reds have enjoyed wearing them.
Umbro – 1973-1984
With Bob Paisley in charge, and Liverpool riding high in Europe, the Reds' first sponsored kit manufacturer, Umbro, adorned some of the club's greatest ever players during it's most successful era in history.
Between 1973 and 1984, Liverpool secured six First Division titles, four European Cups, one FA Cup, one UEFA Cup and four consecutive League Cups.
Paisley's finest achievement was Liverpool's first European Cup victory in 1977, after spending much of the decade on the fringes of continental success, as his side defeated Borussia Monchengladbach 3-0 in Rome—the Reds' pinstriped shirt, and their European tracksuit, stand as some of Umbro's finest.
Goals from Terry McDermott, Tommy Smith and a penalty from Phil Neal secured the victory, with Paisley's side featuring Liverpool legends Ray Clemence, Emlyn Hughes and Kevin Keegan among others.
Umbro also saw the signing of Kenny Dalglish, the club's greatest ever player, with the Scottish forward joining Liverpool in 1977.
Dalglish, Alan Hansen, Mark Lawrenson, Graeme Souness and Ian Rush were among the stars that brought Liverpool such success in an Umbro kit.
Shirts from this era — from ClassicFootballShirts.co.uk




Adidas – 1985-1996
Taking over as manufacturer in 1985, Adidas oversaw Liverpool's transition from giants of English football to one of many challengers in the Premier League.
Winning the final three top flight titles in history in 1985/86, 1987/88 and 1989/90, as well as three FA Cups and one League Cup, Liverpool's first stint wearing Adidas was another hugely successful one, largely due to the managerial nous of Dalglish.
But as the Premier League era began, first Blackburn Rovers and then Manchester United rose to dominate English football.
Roy Evans took over from Dalglish's permanent successor, Souness, in 1994, and cultivated a Reds outfit that played some of the most attractive football in the club's history, with Robbie Fowler and Steve McManaman spearheading a challenge for the Premier League and FA Cup in 1995/96 wearing an iconic, Carlsberg-sponsored shirt.
The likes of Fowler, McManaman, Jason McAteer, Jamie Redknapp, David James and Stan Collymore become known as the Spice Boys, and were ridiculed for their decision to wear all-white suits ahead of their FA Cup final defeat to United in 1996.
As Fowler, McManaman, Redknapp and Co. looked to put this fashion faux pas behind them, Liverpool's deal with Adidas ended at the conclusion of 1995/96, ending a successful association with the club.
Shirts from this era — from ClassicFootballShirts.co.uk





Reebok – 1996-2006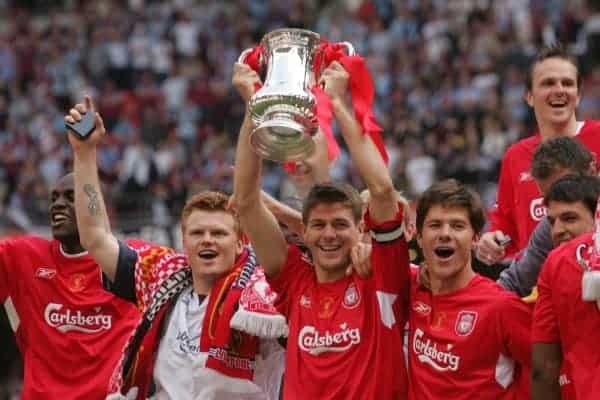 As Liverpool continued their struggle for success in the Premier League, Reebok took over as kit manufacturer from 1996, encompassing some of the club's most iconic moments—including perhaps the greatest game in Premier League history, 1996's 4-3 win at home to Newcastle United.
Though Reebok became the first manufacturer not to adorn a title-winning Reds side, Liverpool won two FA Cups, two League Cups, two Super Cups, two Community Shields and one Champions League title in this 10-year stretch.
Reebok saw two of the greatest managers of the club's Premier League years, too, in Gerard Houllier and Rafa Benitez.
Houllier led Liverpool to an historic treble in the 2000/01 season, winning the League Cup, UEFA Cup and FA Cup, with the Frenchman's influential signing of Gary McAllister in 2000 inspiring this run, along with the goals of Fowler, Michael Owen and Emile Heskey.
More incredible, however, was the Reds' defeat of AC Milan in the 2005 Champions League final—the jewel in Benitez's crown—wearing a Reebok kit that will live long in the memory.
Reebok saw a host of world-class names in their prime at Liverpool, including Steven Gerrard, Xabi Alonso, Jamie Carragher, Sami Hyypia and Didi Hamann.
Shirts from this era — from ClassicFootballShirts.co.uk





Adidas – 2006-2012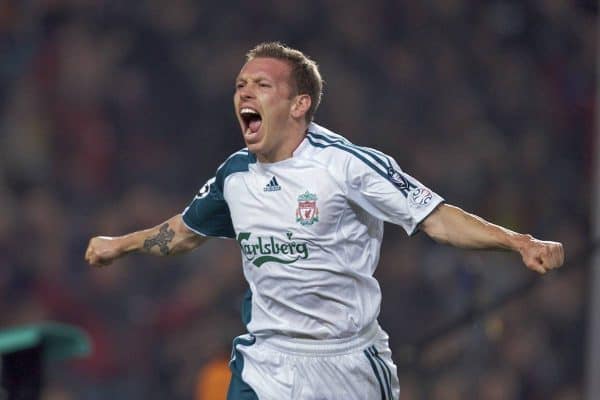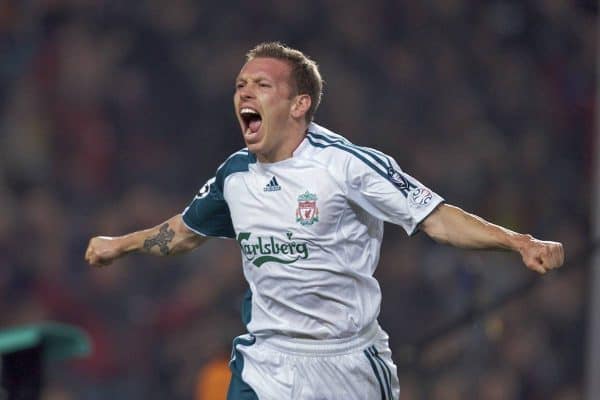 With Adidas returning to supply kits in 2006, Liverpool continued their quest for European glory.
This included another Champions League final in 2007, with the Reds again lining up against Milan. However, set on avenging their defeat two years previous, Carlo Ancelotti's side secured a 2-1 win in Athens.
Benitez led Liverpool in another title-challenging season in 2008/09, with the sensational attacking tandem of Gerrard and Fernando Torres scoring 30 goals between them in the Premier League.
United won out once again however, and Benitez left the club a year later, to be replaced by Roy Hodgson.
The Adidas era saw the managerial return of Dalglish in 2011, with the Liverpool legend steering the club to their only silverware of the current decade, defeating Cardiff City in the League Cup final.
Shirts from this era — from ClassicFootballShirts.co.uk



Warrior – 2012-2015

As Dalglish's time as Liverpool manager came to an end, the Reds kicked off an exciting new era with a promising young manager, Brendan Rodgers, and a new kit manufacturer, Warrior.
Rodgers' reign started modestly, but the Ulsterman soon began to enjoy success on Merseyside, including a surprise title challenge in 2013/14—a season that brought some bizarre, eye-catching away and third kits for the Reds.
Arguably the most exciting season for the club in Premier League history, 2013/14 saw Rodgers' side secure win after win as the Kop grew more vocal and more optimistic, with hordes of supporters welcoming the team bus to Anfield for their defining clash at home to Chelsea.
Though the Reds ultimately fell at the last hurdle, 2013/14 remains an unforgettable campaign.
Gerrard, Jordan Henderson, Philippe Coutinho, Daniel Sturridge, Raheem Sterling and, most importantly, Luis Suarez brought the club to within an inch of its first Premier League title.
Shirts from this era — from ClassicFootballShirts.co.uk



New Balance – 2015-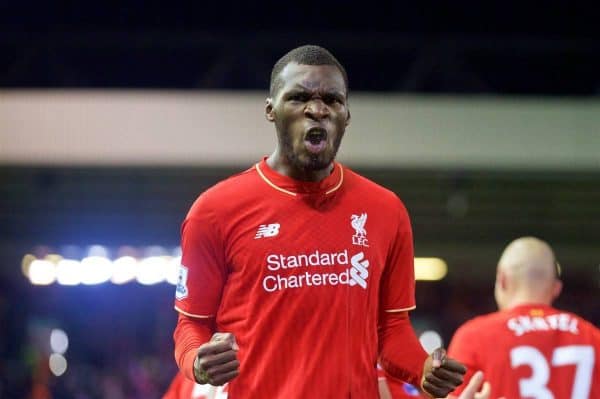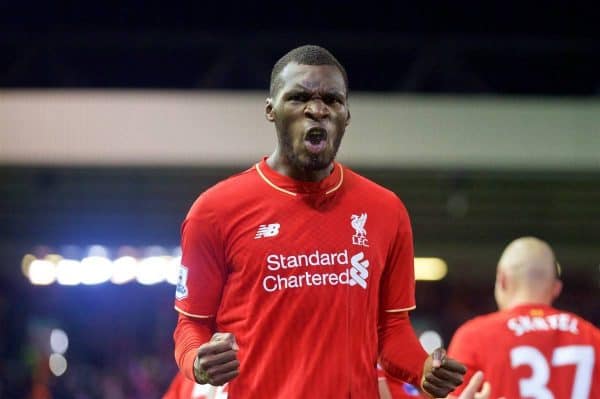 The 2015/16 season saw Warrior discontinued, with New Balance taking over—with Liverpool owner Fenway Sports Group doing much the same by replacing Rodgers with new manager Jurgen Klopp
With Klopp's side wearing New Balance until at least 2018/19, supporters will be hoping the Reds can enjoy success under the German's management during this time.
Memories of Rome and Istanbul will be fresh in their minds.
What is your favourite Liverpool shirt of all time? Let us know in the comments below and visit ClassicFootballShirts.co.uk to see their massive range of Liverpool kits through the years.