In the summer of 1999 and in sole control, Gerard Houllier made wholesale changes to the personnel at Liverpool. The plan was to put the final nail in the coffin of the 'Spice Boys' era and bring about order. Neil Poole reflects on how the class of 1999 instead turned out to be one of the most interesting group of acquisitions ever: a ragtag bunch of future legends, cult heroes and misfits.

There's a film from the late 1980s called 'Class of 1999'. It went straight to video and was quickly relegated from the Premier League of new releases. While your likes of Batman, Dead Poets Society and Indiana Jones and the Last Crusade were an eye watering £2, your Class of 1999 quickly went to the 50p section of the video shop; it was perfect Saturday afternoon fodder for my brother and I with our pre-teen disposable income levels.
It's a film about unruly kids in an American High School in the future 1999. To keep them in order the school secretly substitutes human teachers for disciplinarian robots. Safe to say it goes to shit as the teaching machines go off their tits and start killing kids.
In the summer of the real 1999 when I first heard new signing Sami Hyypia speak I was buzzing. Out went Paul Ince, David James, Jason McAteer, and Steve Macmanaman and in was some stern Dolph Lungdren-esque Finnish fella I'd never heard of, who never smiled and spoke like a robot.
This was the start of a serious revamp. Macmanaman was a bitter loss on a Bosman and McAteer always had a charm which meant you couldn't dislike him. But in getting rid of a self-appointed guvnor and a Game Boy fetishist, the possibility of replacing them with disciplinarian autobots was an appealing prospect for many supporters.
Hyypia, Henchoz and Hamman
In 1999, Liverpool's defence had been abject for over half a decade. It had undermined the impact of great attacking talent at our disposal in the same era and we yearned for days of Hansen and Lawrenson.
Houllier, seeking to build from the back, has probably never bought as complete and absolute a solution as when he signed the centre half pairing of Hyypia and Stephane Henchoz and then purchased Dietmar Hamman to drop in front of them. It was a trinity that, although not holy, was praised by Liverpool fans almost to the same extent as the owner of Jalons in Wavertree.
As a quick tangent and while we're being nostalgic, If you picked up the Echo in the late nineties, those lads were always in Jalons. Years before Rafa's Spanish acquisitions frequented La Vina in town and were held in a headlock until they agreed to have their pictures taken so they could be stuck on the wall, Hamman et al were owning Liverpool's bollocks restaurant 'scene'. They were in Jalons so often that they even got caught up in a shooting in 2000. In fact Erik Meijer and Sander Westerveld, also of Houllier's class of 1999, were there too. We'll come to them later.
Of Henchoz and Hyypia, it's easy to forget 16 years on that the former was the significantly bigger signing at time. Henchoz had impressed for Blackburn and was purchased for the not insignificant sum of £3.5 million. Injured for the first three months, it was Henchoz's arrival in the team in the autumn of 1999 which bought about the upturn in the Red's defence and began to elevate the performances of Hyypia too.
Providing a perfect foil to the Finnish defender, Henchoz helped Sami go from the type of defender who 'didn't do anything wrong' to one who was admirably solid and steady and noticeably did most things 'very' right. It wasn't the partnership of Lawrenson and Hansen that we craved but after years of defensive malnutrition it was great to gorge on the novelty of a bloody good defensive pairing.

Add to this that Henchoz was just plain funny. Red cheeked after minutes on the pitch and blowing out his arse, it was a wonder he was as industrious and as solid a man marker as he was. And while two years later Michael Owen was doing somersaults in the Millennium Stadium with arms outstretched having scored the winner in the FA Cup final, Henchoz could kiss the cheating bastard of a hand that kept out Thierry Henry's certain goal. It was all ok though because it was 'our' cheating bastard of a hand. It left such a lasting impression on Henry that he propelled France to a World Cup using similar tactics years later.
When Hamman signed he was probably best known for the screamer he'd scored for Newcastle. Adorned with positive stereotyping, signing Germans comes a close second to signing Brazilians in regards to assumptions that they're bound to be boss. Haman was boss.
Again, whilst not the midfield General of Graeme Souness, his impeccable timing and unfussy mechanical ability to break up play meant he was at least a semblance of the type of midfielder we harked back to, and which had been sorely missed through most of the nineties.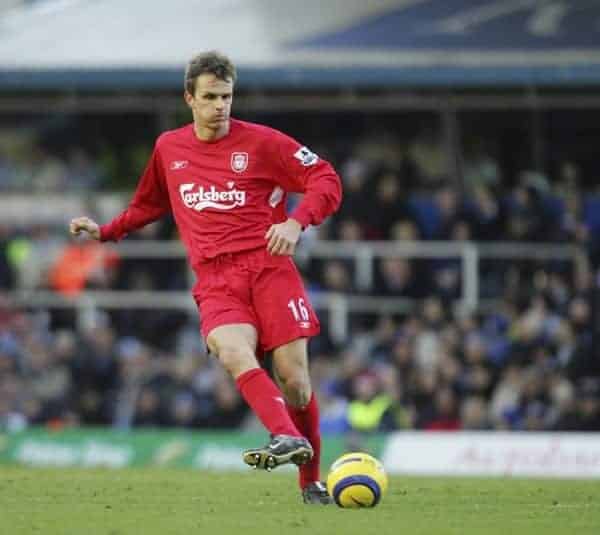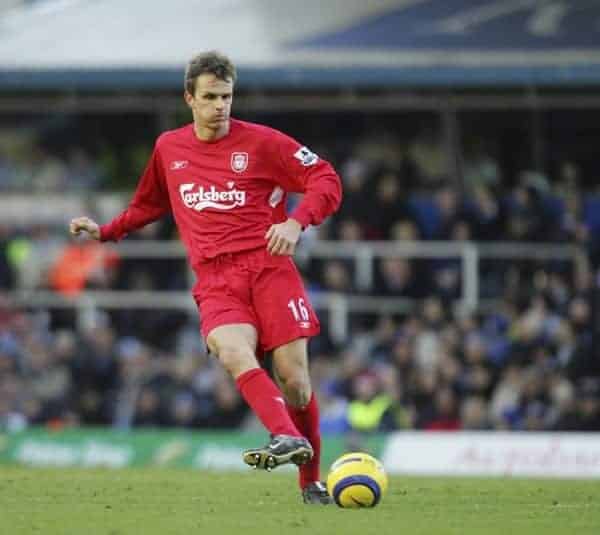 But within the character of Hamman we also had the first indications that while the class of 1999 brought stability and order, not all of these new signings were joyless machines .They might be a bit off their tits too! It made things a lot more interesting.
Rumours started to creep out that Didi wasn't German professionalism personified after all. He enjoyed a cigarette and a drink and couldn't really be arsed with training. Player's autobiographies years later would tell similar tales. If this had been one of the 'Spice Boys' we'd have gone mental. But what mattered most was that Didi delivered on the pitch more often than not, and like the mass of contradictions we often are as football supporters it just made us love him that bit more.
Later, Sami and Didi would go on to be heroes of Istanbul. Another unlikely hero of Istanbul was also a product of 1999's legacy. He was Czech, he was great, he was Paddy Berger's mate. He also didn't even have his own song to himself. Instead, he was forever the less handsome and less talented bridesmaid to Patrick Berger's bride. Vladimir.
Smicer
Vladimir Smicer was a shitter version of Luis Garcia, just five years earlier. Your dad hated him because he frustrated the life out of him with misplaced passes and by being weak in possession. But if you were 21 like me and desperately seeking new heroes you just ignored that and enjoyed the sporadic bursts of flare and memorable goals.
Even though he scored the second goal in the 2005 Champions League Final he still pissed people off by over-celebrating when he scored in the penalty shootout and took an age to return to the centre circle. I was made up for him personally.
Like many of the players bought in 1999 I found him immensely likable and for all his faults and flaws he was always clearly made up that he played for Liverpool. It's a romantic notion I know, but surely there's still a place for that to be a reason to really like a player.

Westerveld
Even less popular players like goalkeeper Sander Westerveld had something you can hang your hat on too. Primarily, Sander benefitted from not being David James.

I actually remember him being a pretty decent keeper for most of his time at Liverpool. However, over recent years I have read more and more derogatory opinion of him that makes me doubt my assessment of his quality. I'm now actually unsure if his claim that there was ice on the ball when he conceded against Middlesbrough was a one off bit of terribleness or whether this was just symptomatic of a general goal-keeping malaise on his part.
But none of this really matters as he has provided me with a triumvirate of Everton based memories that bring me the utmost joy; he became embroiled in handbags and face slapping with Franny 'the next big thing' Jeffers; he kicked the ball against Don Hutchinson's arse from a goal kick in the dying seconds of a game in Goodison only for Graham Poll to blow the final whistle milliseconds before it rolled over the goal line; and he saved future-blue Andy Johnson's penalty in the Worthington Cup final in 2001, simultaneously winning us the cup and making a pre-bald Johnson cry and then lose all his hair. Two bits of Everton misery and a face palm for Jeffers. He wasn't all bad Westerveld.
Meijer and Camara
Last but not least, we come to a pairing of cult heroes from the Class of 1999: Erik Meijer and Titi Camara. I'm trying to think of something new to say about these two. Plenty has been written. Everyone has heard the stories of Erik Meijer's passion in games for the reserves and celebrating in Europe with the fans.
I remember him scoring away against Hull in a cup competition. I can't remember many more highlights yet I hold him in higher regard than Michael Owen. Go figure! He once replied to me on Twitter and retweeted something I was trying to plug. He's one of only two Liverpool players who's done that. Again, it shouldn't matter but you should never underestimate the power of being sound. File with Smicer under 'loved playing for the Reds'.
Titi Camara scored a goal against West Ham at Anfield, fell to his knees and cried. You know that.
He was also brilliant against Leeds away from home early in the 1999/2000 season. As a consequence, Robbie Fowler was interviewed next to him after the game and said, "Titi gave Leeds a torrid time." Ever since, 'torrid' has been one of my favourite words. Genuinely. Titi Camara increased my vocabulary. Moreover, I was right behind his curler into the top corner against Coventry at Anfield. Watch it back now and it's a good goal. From my angle it was world class. Again, it probably wasn't, but what I love about players like Meijer and Camara is they provide you with great, bespoke and unique memories that belie their quality as footballers.
The Class of 1999 was a mixed bag. It included future treble winners and future European Cup winners. We appointed future captains and players who captivated. We instilled order and routine, yet we also bought a bit of chaos too.
There were some £2 signings. There were some 50p signings. But altogether they made for great viewing on a Saturday afternoon. Class.
LFC squad, season 1999-2000: Westerveld, Friedel, Arphexad, Nielsen, Babb, Carragher, Henchoz, Hyypia, Traore, Kippe, Matteo, Song, Staunton, Wright, Bjornebye, Heggem, Thompson, Murphy, Smicer, Maxwell, Gerrard, Hamann, Redknapp, Berger, Camara, Newby, Owen, Meijer, Fowler, Heskey, Riedle, Gudnason.
---

Neil has compiled his online and fanzine articles from the last two years into an E-Book called, 'Why the Queen Will Never Support Liverpool Football Club…and other Bits and Pieces.' The above article is a taster – if you want to read more you can buy on Amazon for just a few quid here.
---