With both in fine form in Saturday's 3-1 win over Chelsea, Mamadou Sakho and Martin Skrtel look to have forged a strong understanding in Liverpool's defence.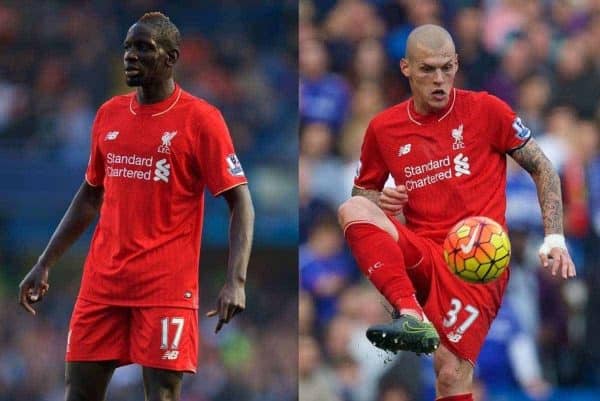 Jurgen Klopp's decision to focus on Liverpool's defensive struggles in the first weeks of his Anfield tenure was well placed and highly commendable.
With the Reds failing to contain their opponents on many occasions through Brendan Rodgers' reign, swift improvement was vital.
Unfortunately for the German, there seemed to be little for him to work with in terms of personnel—but, as proven in Saturday's 3-1 win against Chelsea, Klopp may have found a solution.
The performances of Martin Skrtel and Mamadou Sakho under Klopp have been increasingly solid, and their partnership has blossomed since the imposition of his defensive ideals.
Against Chelsea, this was abundantly clear.
Mamadou Sakho's Class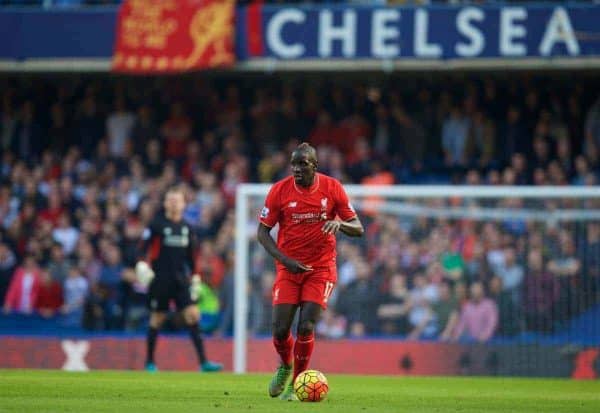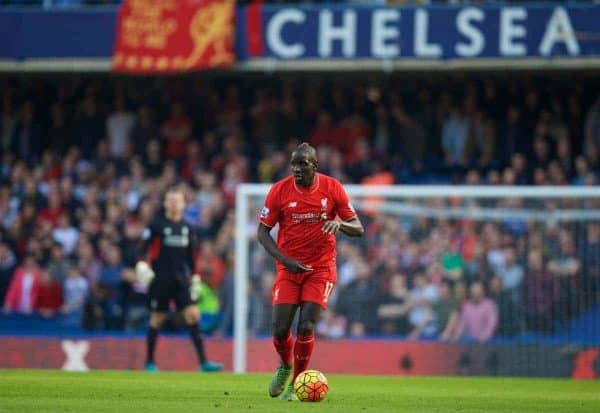 The one centre-back Klopp could immediately rely on, above the slim pickings of Skrtel, Dejan Lovren and Kolo Toure, was the imperious Frenchman, Sakho.
Bizarrely shunned throughout Rodgers' spell in charge of the club, Sakho has consistently proven to be a top-level defender, despite the adversity faced under the management of Klopp's predecessor; barring his poor reaction to being left out of last season's lineup for the Merseyside derby, his behaviour has been immaculate.
Sakho is an exemplary, modern-day defender, capable of marrying defensive stability with ball-playing prowess, and this was on show at Stamford Bridge on Saturday.
Preferring to adopt an aggressive, front-footed approach toward defending, Sakho is more likely to be found anticipating dangerous attacking moves and making bold interceptions, nipping in front of the opponent before a threat can develop.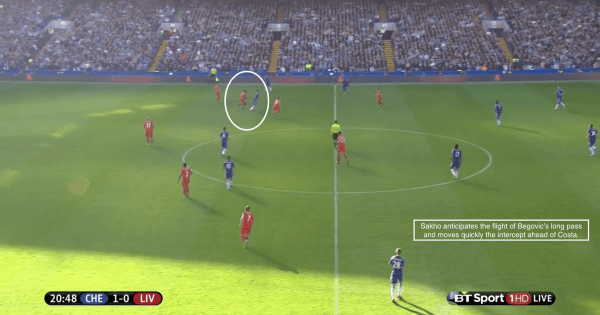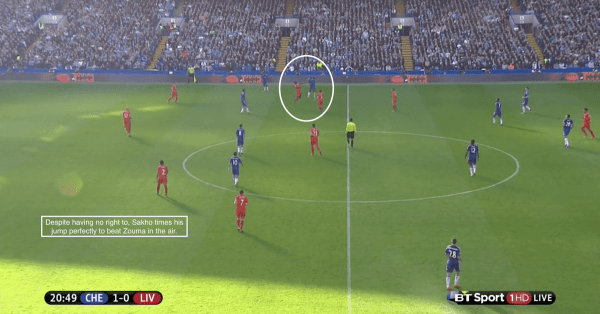 This could be seen in the first half against Chelsea, with goalkeeper Asmir Begovic attempting to loft a long ball towards the attack.
Sakho, reading the danger, coasted past the off-colour Diego Costa before timing his jump to perfection, winning the ball in the air from 6'2″ behemoth Kurt Zouma; a potential attacking move comfortably thwarted.
Much of Chelsea's buildup play took place on the edge of the final third, with both Eden Hazard and Oscar performing below their usual high standard and Costa being forced to drop deep to receive the ball, and this played into Sakho's hands—the Frenchman made two interceptions and blocked one threatening pass.
It was Sakho's work in possession that was most notable in this victory, however, with Liverpool seeing more of the ball than their opponents, despite being the away side.
The Reds had 56.3 percent of the possession, with Sakho enjoying more of the ball than any other player, with seven percent. But it is the way in which Sakho uses the ball that is most laudable.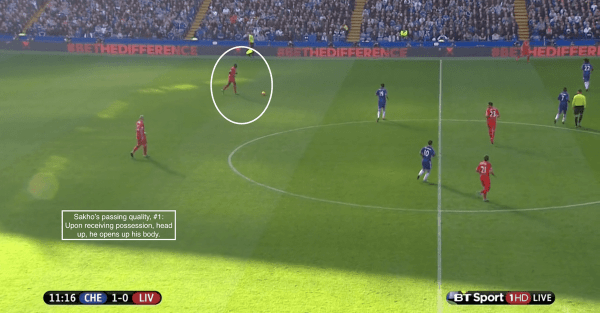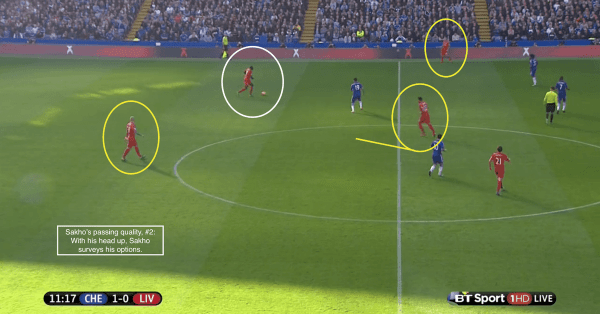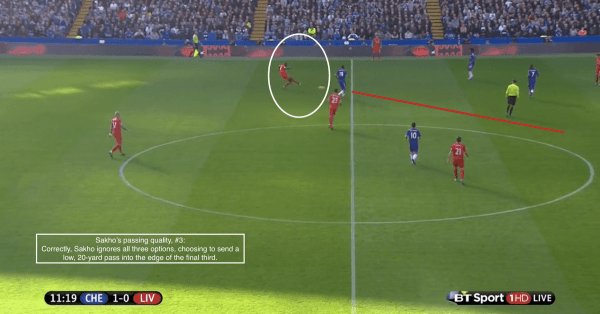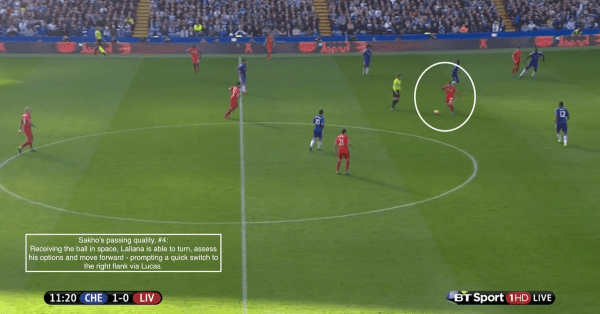 The way in which Sakho assume possession with confidence, keeps his head up and looks to play the ball into the attacking sector is of the highest standard.
Very few centre-backs possess this ball-playing ability, and it seems that Sakho is finally being recognised by the media for this quality—after two seasons of clumsy accusations.
This reputation will have been boosted significantly by the sight of Sakho lofting an inch-perfect, long-range pass up to Christian Benteke for Philippe Coutinho's second goal on Saturday.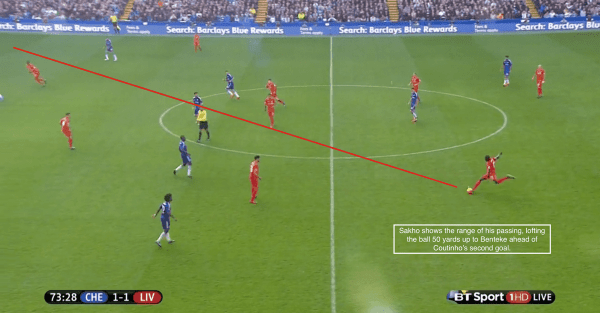 No player made more passes than Sakho (76) in Saturday's victory, with the 25-year-old posting the highest passing accuracy (92.1%), too.
Furthermore, only three centre-backs played more passes into the final third than Sakho (11) in the Premier League this weekend: Manchester City's Nicolas Otamendi (13), Bournemouth's Simon Francis (14) and Crystal Palace's Damien Delaney (14).
None of the aforementioned trio completed as many passes, or posted a higher passing accuracy, than the supremely talented Sakho.
Basking in the now-customary chant of "Sakho! Sakho! Sakho!" the Frenchman reigned supreme against Chelsea, but while this was a familiar sight for supporters, the improvement of his partner was perhaps more significant.
Martin Skrtel's Improvement

When Klopp arrived at Liverpool, he spoke passionately about his emphasis on a bold, aggressive style of play, emphasising the importance of taking risks, and having the confidence to do so.
With this in mind, the position of Skrtel as one of his first-choice centre-backs seemed questionable.
Converse to Sakho, the 30-yard-old has long enjoyed a reputation as one of the Premier League's best defenders, with the casual onlooker enamoured by his last-ditch challenges, physicality and head-to-toe tattoos.
But as seen, for example, in one of the final games of Rodgers' reign, August's 0-0 draw away to Arsenal, this was a fallacy.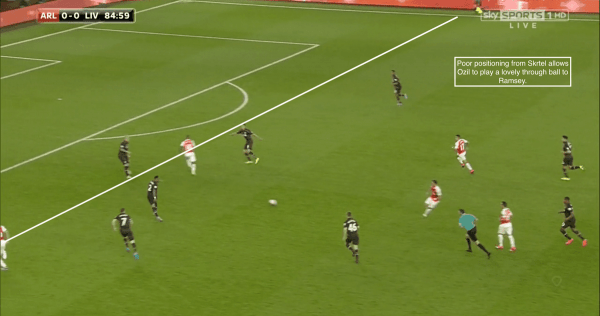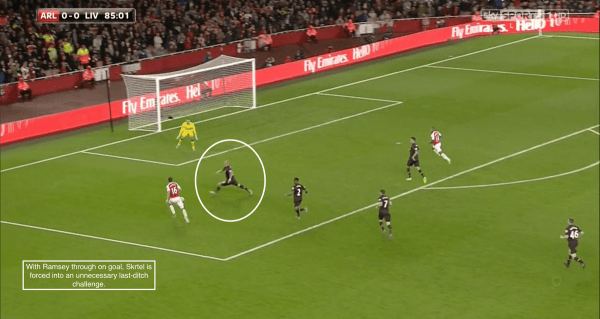 Skrtel's key strengths were only made necessary by his glaring flaws, with his poor positioning and tactical intelligence allowing Mesut Ozil to play a perfectly weighted ball through to Aaron Ramsey at the Emirates Stadium.
Skrtel was lauded for the resulting challenge, but it should not have been necessary.
With Klopp in need of bold, front-footed defenders, Skrtel's tendency to back off under pressure was a major concern, and the travelling Kop would have been forgiven for fearing the worst following his poor contribution to Ramires' goal just four minutes in on Saturday.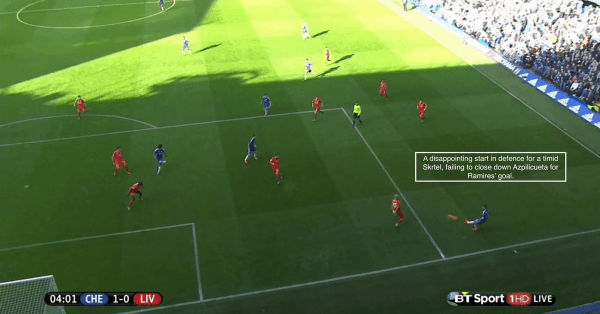 Failing to close down Cesar Azpilicueta allowed the Spaniard to send the cross in for Ramires to power home from close range. Klopp encouraged his side to keep their heads up in the immediate aftermath, but he will have been frustrated with Skrtel's hand in the goal.
But, fortunately, this was seemingly a singular lapse, as Skrtel showcased a desire to take the initiative from then on.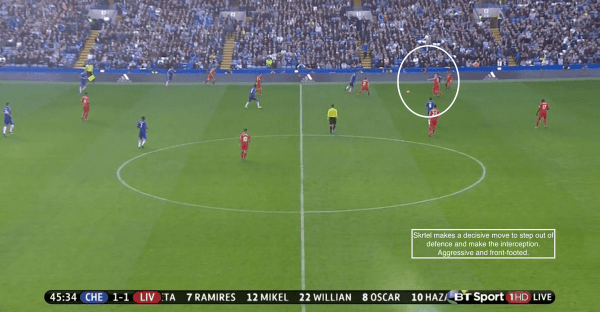 Skrtel could be seen stepping out of defence, much like Sakho, to quell threatening moves early on. Arguably, this was born of his motivation to nullify the threat of Costa.
After the striker spent much of the first half targeting Sakho with no joy, Costa was seemingly spurred into his duel with Skrtel by the Slovak's blow to the jaw on 41 minutes; from then on, Costa looked to gain the physical advantage over the centre-back.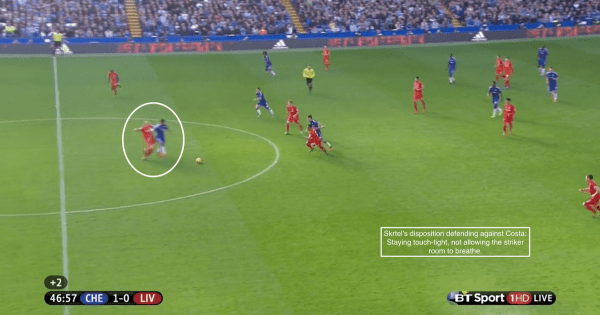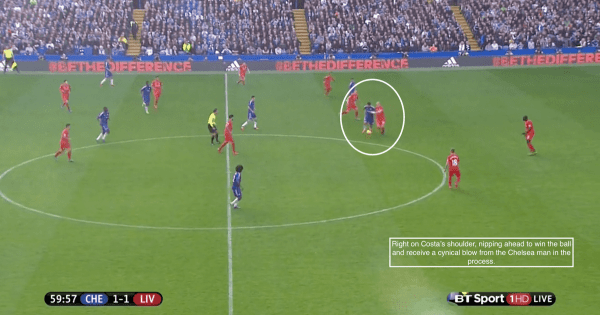 To Skrtel's credit, he performed exceptionally up against the tenacious Costa, not allowing to get goal-side and visibly frustrating him with perceptive defensive work.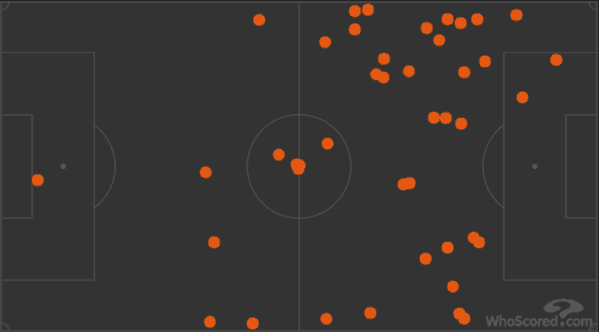 Costa touched the 44 times on Saturday, with only two of these coming inside the Liverpool penalty area, while he failed to connect with a single shot on goal—a testament to Skrtel's performance.
Skrtel and Costa have enjoyed a competitive rivalry in the many times they've lined up against each other for club and country, and this time Skrtel came out on top.
The way in which he did so was in keeping with Klopp's defensive ideals, raising the question of whether the partnership of Sakho and Skrtel can be a long-term arrangement under the German.
Is This a Long-Term Arrangement For Jurgen Klopp?

"I have been here three weeks. I don't read newspapers but everyone tells me 'you want to buy this player, this player, this player'," Klopp lamented during his post-match interview.
"But development is to work with the players you have. It's like if you have a problem with your wife, you don't want to change every day! You just work and work and get better.
"You don't think about the summer of 2016. I don't know what will be there. We have to try and work and get closer and see what we can achieve."
[quote_box_right]Sakho's Game in Numbers:
90 minutes
88 touches
76 passes
92.1% passing accuracy
2 interceptions
2 clearances
3 blocks
4 aerial duels won[/quote_box_right]
Pouring cold water on hopeful speculation that the 48-year-old would be heavily stamping his authority on his new side in the upcoming transfer windows, Klopp seems comfortable working with squad he inherited from Rodgers.
Schalke's right-sided centre-back Benedikt Howedes is one of the players most fervently linked with a move to Merseyside in the near future, and this would spell danger for Skrtel in particular.
But, in line with this admission, is Klopp happy to continue his development work on the Slovak?
One of the key issues for Skrtel immediately after Klopp's appointment was his inability to function within a high line, as Klopp favoured at Borussia Dortmund, but the encouraging signs showed against Chelsea suggest this may not be the case.
[quote_box_right]Skrtel's Game in Numbers:
90 minutes
67 touches
56 passes
83.9% passing accuracy
1 interception
7 clearances
3 aerial duels won[/quote_box_right]
Sakho is guaranteed a long-term role in the defence, and Skrtel's progress in the first few weeks of Klopp's tenure suggest he could carve out a regular role as the Frenchman's partner.
While possibly insignificant, with Skrtel receiving the captain's armband on James Milner's withdrawal just after the hour mark at Stamford Bridge, this could well suggest Klopp has earmarked him as a key player.
On this early evidence alongside Sakho, Skrtel could well warrant this.
[interaction id="5637896841d4754d14e627cf"]