Paul McCabe on the importance of Anfield's atmosphere, and what can be done to improve it again.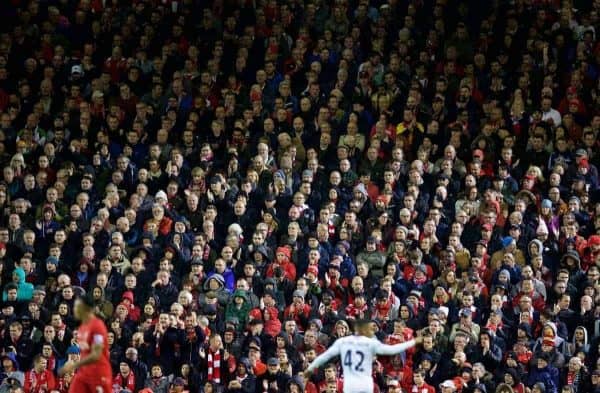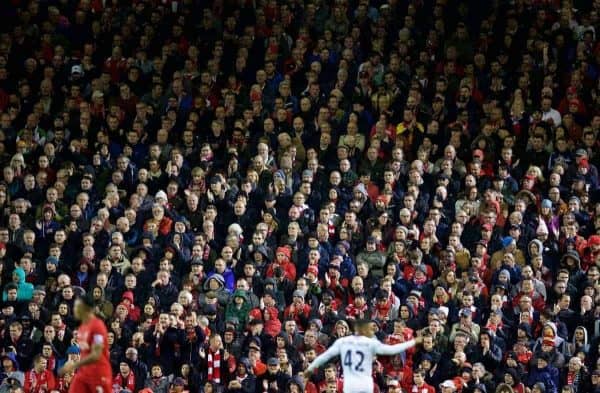 Over a number of years, the atmosphere at Anfield has become more muted, less intimidating for rival teams and, at times, eerily quiet. The blame for this is often attributed to the disappointment of watching mediocre performances, off-field club politics and a general dissatisfaction with the value of the 'product'. While these may be fair points, there tends to be too much blame and not enough being done to offer solutions to the problem of a lack of atmosphere. It needs to be understood and adequately addressed, as it both hurts the match-day experience and the perception of Liverpool as having a fanatical home support.
It stands that to reason the muted experience at Anfield can't solely be due to what's happening on the pitch, out of towners, jaded season ticket holders, high ticket prices, or the multitude of other reasons cited in the past. These factors do contribute to the general malaise that has infected some within the fanbase, but it also smacks of finger-pointing. We don't need to blame. We need to learn and to move forward.
Why has the atmosphere gotten so bad?
Everyone has a theory, but the atmosphere will organically improve when the team's results and style of play improve. It's the surest correlation, and one over which the fans can have any actual involvement. The fans don't sign or pick the players, so some things are out of our control.
We all accept that Liverpool hasn't enjoyed great success since winning the Champions League in 2005 – two trophies in the decade since represents a poor return for the second most successful club in English football.
It's also been painful watching Man United's ascent to the position of the most successful club in England over the last two decades. This was fully punctuated by boardroom politics, the ousting of a brilliant manager in Rafa Benitez, the hiring of Hodgson and the near-collapse of the club in 2010.
To pretend these things didn't happen or shouldn't matter would be disingenuous. The fallout from the Hicks and Gillett era changed everything for many fans, whilst creating a sense of disappointment and bitterness in others.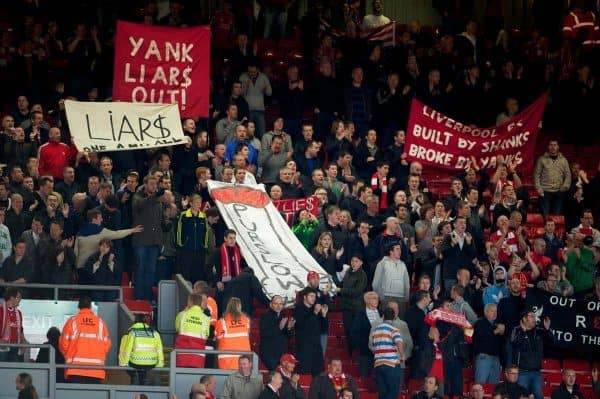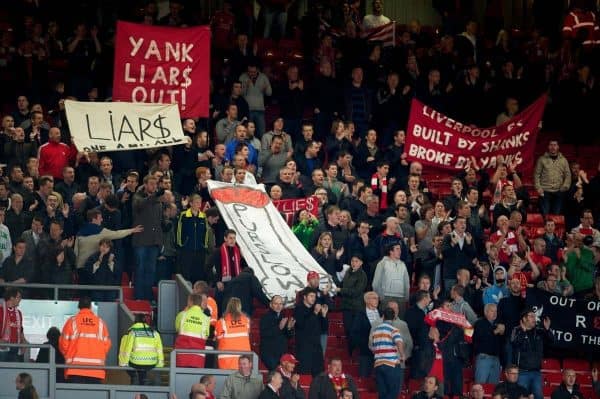 There seems to be an undercurrent of cynicism and a sense that things will never be as good as they were. Maybe that will prove to be true, but football tends to be cyclical. Even Liverpool's relatively disappointing ten-year record would be the stuff of folklore for many other clubs.
If anything, the fact that a lot of the fans in the ground have grown up watching the likes of Dalglish, Souness, Rush, Fowler, Alonso and Suarez only heightens the sense of disappointment that the current incarnation of Liverpool falls way below those standards. So many fans bring so many different views and attitudes to the match, and I know that some fans will simply not support a player they seem to be unworthy of the shirt. It's seen as being accepting of mediocrity.
But football has lost its soul anyway, right?
While it may be true that football is changing and continually becoming a hyper-corporate juggernaut where "Financial Fair Play" is like an ironic punchline, it doesn't mean that fans should neglect their responsibility to get behind the team. It is the job of every fan to, as much as possible, simultaneously create a supportive atmosphere for the Redmen, and an intimidating atmosphere for referees and opposing teams.
Football may not be what it was – and the financial gap between the players representing the club and those in the stands (in general) couldn't be any higher – but that doesn't have to create a resentment. It's a separate debate. It might seem unfair, but a player's wage or transfer fee relative to his perceived talent should only be relevant to the number-crunchers, and doesn't mean we shouldn't try to be as supportive as possible.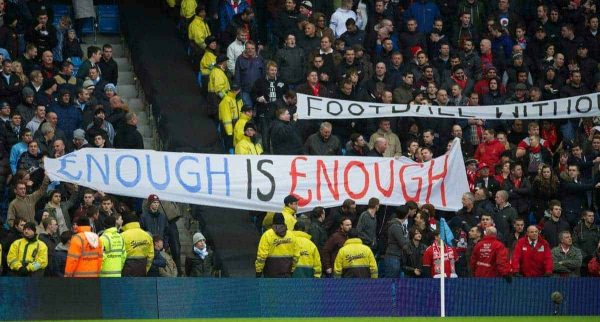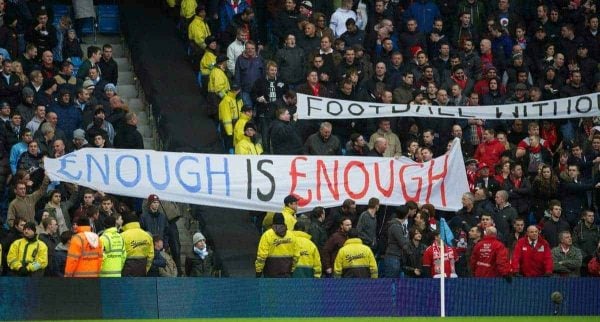 As it stands, the unease only seems to be creating an intimidating atmosphere for the home team. It's been that way for a while now, and the blame was most recently apportioned to Brendan Rodgers. Before that, there was often a similar home atmosphere under Kenny Dalglish, Roy Hodgson (obviously) and definitely Rafa Benitez and Gerard Houllier towards the end of their reigns.
The results play a part, then?
Of course and they always have. You see it everywhere when a team is getting beaten, and some fans leave long before the final whistle. It's not a new phenomenon. Large swathes of the crowd have become disenfranchised with the football they're watching now, or the sense that Liverpool will drop more points.
Too often Liverpool have underwhelmed against "the teams you should be beating". It seems to be a recurring theme, and the team has already dropped a total of 8 points to "home bankers" West Ham, Crystal Palace and Norwich this season. It's not easy on the eye or the nerves, but we must find a way to rise above it. That starts with every fan asking what he or she can do to BE a better fan.
Is having a great atmosphere important?
I do believe that a great atmosphere helps everyone at the club in the long term. There's nothing quantitative about this view, but enough players and managers have maintained that the great home support has given them an emotional lift that's driven them on. That's anecdotal and everyone's experience may vary, yet I'd argue that a great atmosphere adds to the experience of going to the match.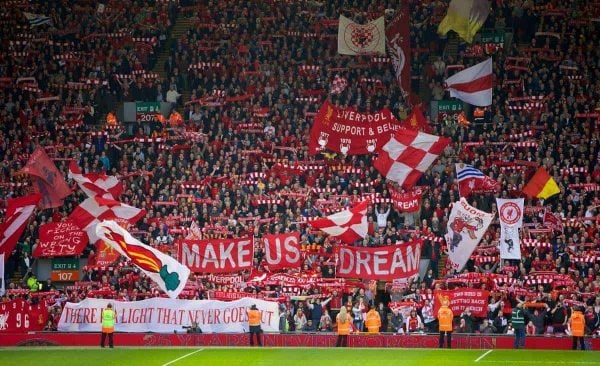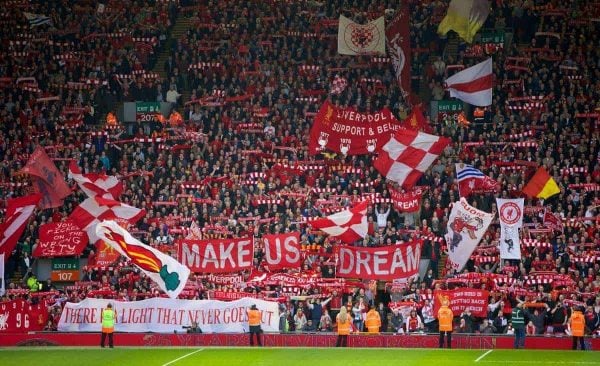 When you're part of a great atmosphere, it's intoxicating and Anfield remains iconic. Like the team, it can be more than what it currently is, and Klopp knows this. It's intuitive. He also knows that a brilliant atmosphere creates a better all-round perception for the fans and the players. If the atmosphere is electric, more fans will likely feel that they've at least had a great experience and the players will most likely be inclined to raise their game.
Is passion in football a bit overrated?
If anything, it's a bit underrated. Having passionate fans is integral to the success of any 'business', and modern Liverpool is certainly set up as a profitable business.
Liverpool have passionate and knowledgeable fans, for sure, but sometimes that passion is placed into fighting lost or pointless causes – arguing against Liverpool fans, blaming and lampooning players, managers and owners for bad results, and not making the positive vocal effort that really is required of supporters. Jürgen Klopp once talked about heavy metal football, but right now the home crowd is giving the team the sound of silence, or frustration.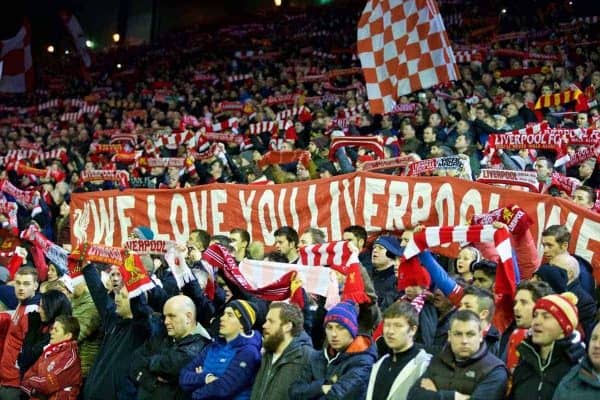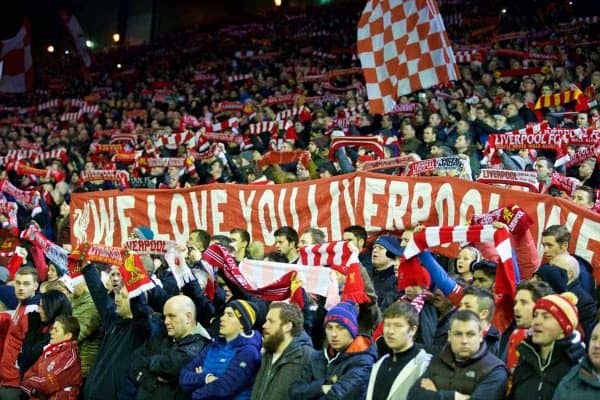 Klopp is an amazingly charismatic manager, who's enjoyed success and plaudits in his career; the excuse that the atmosphere is dependent upon who is manning the dugout, frankly, no longer has much merit. His status is high, yet he can't turn it around alone. He and the players need to feel the support. He has essentially asked for this. It's a reasonable request.
What about the cost of going to the match? Are we fans or are we customers?
We're fans first, but we're viewed as customers which is why the club will throw increasing numbers of merchandise at us to buy. As paying fans/customers, the cost of football is prohibitively high and it far exceeds inflation. We are, after all, in a recession.
Much is made of the Bundesliga model and how they make football more affordable for fans. Dortmund attract a notoriously passionate fanbase and boasts 55,000 season ticket holders, some of whom can purchase a season ticket for as low as €207 (about £150).
This may have a bearing on the relative lack of atmosphere in English football, but conversely couldn't an argument be made that the higher ticket price and associated costs of going to match should ensure that people want to sing their hearts out rather than, say, sit on their hands? They can, after all, sit on their hands and watch a broadcast of the match.
Do all of the "daytrippers" and "out of towners" hurt the atmosphere?
I don't believe there are any absolutes, and it comes down to the individual ultimately. I think too many fans pass the blame onto other fans for causing problems, rather than realising that (broadly speaking) we support the same cause.
If you happen to be a much-maligned "out of towner", the cost (when you add in travel and accommodation) rivals that of a holiday abroad. If you pay for a Holiday abroad, surely you don't want to stay in your hotel room or watch people having fun. Football should be fun and we all have a responsibility to create a good vibe. As it is with life, so it is with football.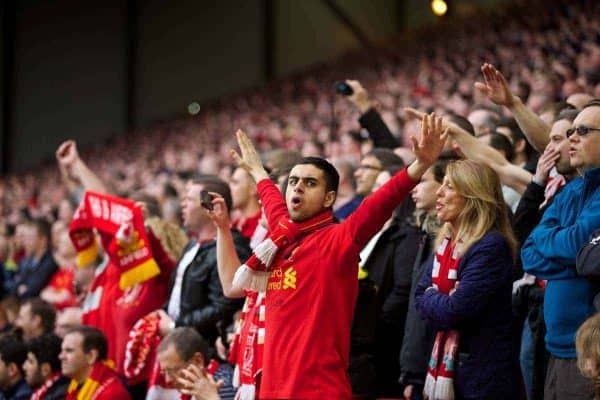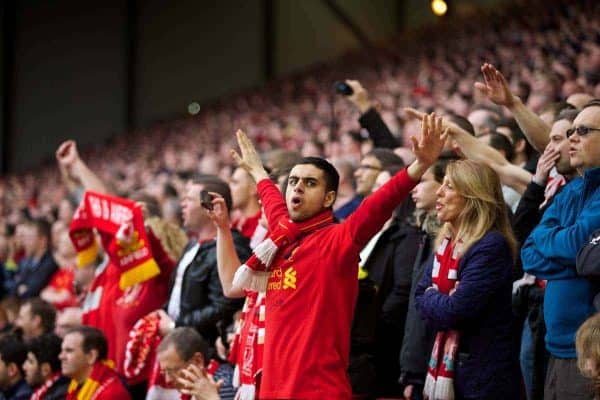 It is up to every fan to bring passion to their role. Otherwise, what's the point in going to the match? It's not Tennis, where dissent or volume is often discouraged. The opportunity to shout, scream and act irrational for 90 minutes is a rare privilege that is afforded to football fans, managers and fans. Too many people seem to go out of habit, rather than for what it is: a form of escapist entertainment.
It is the fans' responsibility to portray themselves and the club in the best light possible: to make Anfield a great match day experience, to stay to the bitter or glorious end (if possible) and to know that they were part of something special – even if, after 90 minutes, the great performance from the crowd remains the only highlight.
Can the owners do anything about the cost?
Naturally, the owners could lower ticket prices, but I'm not sure there's any appetite to do that (it is a business, after all). They're doing this for profit too and some of that profit helps support the infrastructure. Even if they reduced the tickets to £20 a seat, I'm honestly not convinced that this would have the predicted effect.
I'm not overlooking the cost, and sadly some passionate fans have been priced out of the ground. That needs to be properly addressed, as support should never be taken for granted.
What can the owners do to help the atmosphere?
FSG could seek a meeting with supporters groups (Ed note: they recently did this, detailed here) and seek to find out why the atmosphere is so muted.
Perhaps they could invest in improving the pre-match atmosphere, or look at expanding the vocal singing section of Kop 306. Some fans can create an atmosphere and others follow. Not too many people would feel comfortable belting out a tune on their own, but those fans exist and FSG should engage with them and see if they can be more active across the stadium (rallying the troops, so to speak).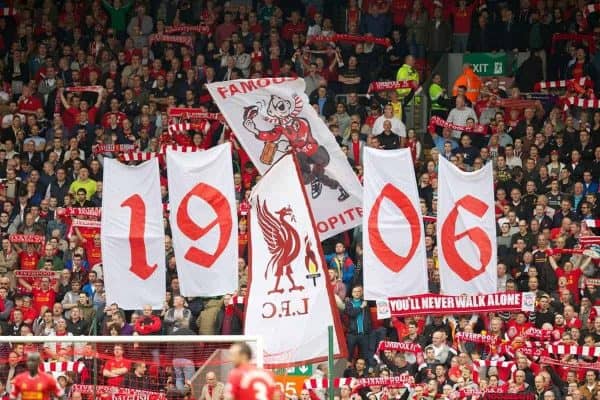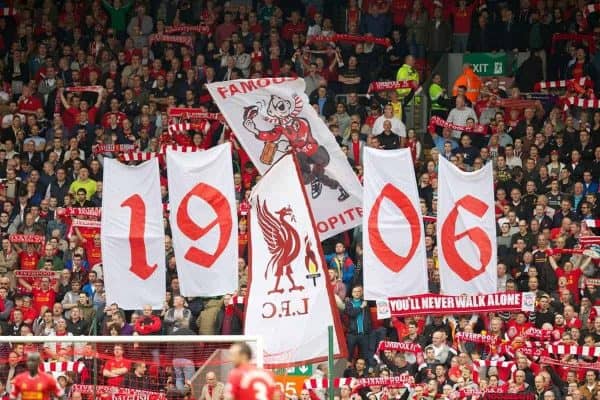 I don't necessarily have the answers, but they are out there. We know that, because the passion is within the fanbase and Liverpool is a club with a global reach.
Maybe the owners could experiment more with ticket prices on a trial basis to see if that makes a difference. Maybe they could see if getting more schoolkids into the ground via subsidised pricing would liven things up. Doing nothing and just waiting for things to click on the pitch is the current approach, but that creates the feeling of stagnation.
We don't know until we know and, if the owners view the fans as customers, then the best companies in the world tend to provide the best customer service and seek to capture the hearts and minds of their customers. In other words, they might benefit from listening to the real concerns and constructive feedback of match-going fans.
Engagement is important, because a lot of fans are still sceptical about FSG's vision for Liverpool. As successful political elections have shown, articulating a positive message and staying "on message" can help galvanise your supporters. I think this is particularly important at Liverpool.
They can also open the coffers to the manager, yes?
Of course, but that isn't always the answer, in the sense that it doesn't guarantee anything. They will be required to, and I expect they will, support their new manager in the transfer market. When Liverpool have enjoyed relatively successful seasons and produced entertaining football, such as in 2013-14, the crowd volume and encouragement has been there. It shows that, despite our tendency to overanalyse at times, we have quite simple desires at heart: winning football matches and being involved in big occasions.

[pull_quote_center]"I walked out into that cauldron and heard that singing and saw that passion…I just kept looking around, trying to take it all in. I wasn't daunted by it, but it was amazing. I wish more crowds were like that"
– John Terry on the 2005 Champions League Semi-Final between Liverpool and Chelsea [/pull_quote_center]
There hasn't been too much to cheer about in the last 12 months or in the aforementioned dry spells, but I'm not sure how much that's caused by watching the poor performances on show or at least partly contributes to said performances.
Anfield's raucous atmosphere is the stuff of legend even though, in reality, there have also been quite muted performances during the good times. It's not about ensuring Anfield is always "that cauldron", so much as attempting to address what is a lukewarm home atmosphere in recent times. Silence and indifference have infected other English grounds, of course, but some of those don't have such high benchmarks as Anfield.
So, if the sense of occasion is meaningful, the atmosphere will be there?
Yes, that's organic, and we accept that the sense of occasion feeds into the more historic atmospheres; we know that a home league game against, for example, West Ham can never compete with a title decider or Champions League semi-final. There's no benefit in being fake about it and, quite honestly, the special nights are more special because the atmosphere is generated from natural enthusiasm.
We can't disguise the fact that too many of Liverpool's Premier League campaigns have ended with the team being also-rans and putting out substandard teams and displays. That will have certainly chipped away at enthusiasm levels.
Nevertheless, to paraphrase the manager, we can ALL be better than we're showing (fans, owners, players): the collective "we." Too often it is the away fans who've taunted their hosts about the "famous atmosphere" and mocked "is this a library?" That should, in all honesty, be a call to arms, but the indifference is strong in this one.
Who's to say whether the so-called "12th Man" has had a hand in some priceless wins and important equalisers? Who can dismiss the view that some legends have given beyond themselves to impress a captive audience? How many great players have signed for, fallen in love and stayed with Liverpool because of the passionate support?
Money is so prevalent, but I wouldn't underestimate the volume of players who've been swept away by Anfield's ability to generate magic. It's alluring. It can be magic again and can create more memories for players, fans and the manager. To overlook its importance would be a mistake.
Never mind where the atmosphere's gone, let's work together to get it back.