Leo Moynihan visits Carragher's Bar in New York and finds a little part of Liverpool tucked away among the Big Apple.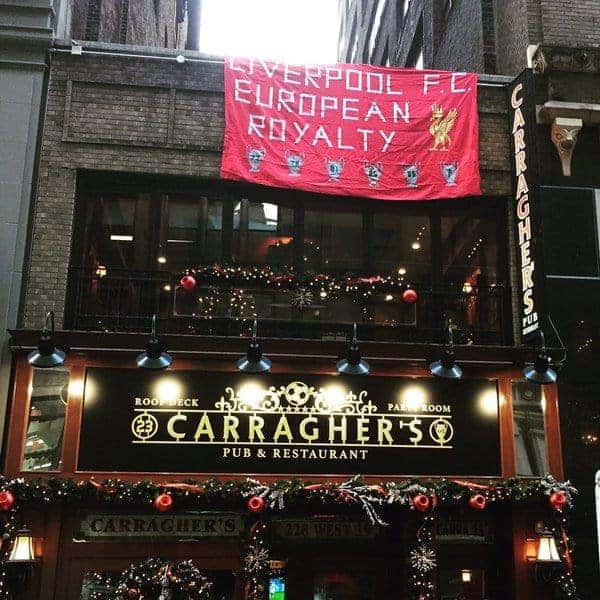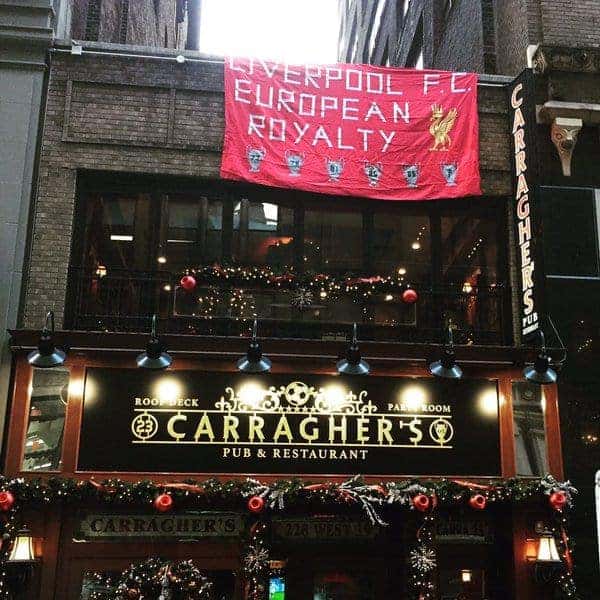 You're standing at the waters edge watching the lights flicker on the horizon across the water. The buildings behind you show off their iconic reflections upon an Atlantic Ocean that has reached the end of its majestic line.
You could be in New York. You could be in Liverpool. Two cities. Two gateways to two continents and two of the most welcoming and bustling places on the planet, with histories that other metropolis' can only dream of.
Multi-cultural? These two melting pots invented the term. New York's many cultures are as varied and complicated as the sandwiches its inhabitants order every day for lunch. As for Liverpool, for centuries its streets have been as full of different ingredients as the pot in which local mums have, for years, lovingly cooked their signature dish – Scouse.
The Liver-Buildings; The Chrysler Building. The Beatles; The Ramones. Two world famous philharmonics. Willy Russel; Woody Allen. John Lennon's birth; John Lennon's death. Both used to brilliant comebacks be they of the witty or sporting variety. Yes, these are two places separated by a vast and temperamental ocean but stand them up together they could be long lost brothers. Oh I forgot. Liverpool F.C and Everton F.C; New York Giants and New York Jets.
Football. Whatever shape the ball, football plays a major part in both cities but it is the more spherical variety that is so catching on Stateside and a new bar in New York, off the hub that is Time Square is today catching the eye for wannabe football fans, with just perhaps an affection for all things Scouse.
Carragher's Bar (228 West 39th Street) is a new venue, dedicated not only to football and to Liverpool F.C, but also to the city itself. Named and in honour of Liverpool legend, Jamie Carragher, the bar is very much like its namesake. Reliable, friendly, entertaining, loyal, built on solid foundations and more Scouse than Ringo Starr kissing Cilla Black.

Even the most blue nosed of Evertonians would – through bitter and clenched teeth – have to admit that Jamie Carragher is a man who represents the city of Liverpool. Brought up a blue, but now dyed in red, Carragher, like his New York Bar has the city running through his veins and visitors – whether they have been to Liverpool or not – will revel in an atmosphere that makes it unique among New York's many drinking holes.
On it's walls you will of course find references to the great game of football and to the great moments that Liverpool F.C have brought to the global game. That isn't all though. A Scouse home from home, you'll find pictures celebrating the world famous Merseybeat, when Liverpudlian bands and singers shook their mop hairstyles and created a sound that reverberated miles beyond their own red-bricked streets.

Other pictures up on the walls include beautiful images of Liverpool's famously friendly pubs and whilst drinking – even though you may be thousands of miles away – you could almost be enjoying a pint at any one of so many iconic Liverpool pubs. Close your eyes and you're in Ma Egertons or The Grapes.
Great food (I recommend the Moynihan sandwich, named after my dad, himself no stranger to drinking in both Liverpool and New York), friendly staff who know how to have a laugh (a must in any Scouse pub) and full of interesting clientele, this is a pub that will keep you coming back for more…and then there is the football.
These days there are plenty of pubs across America that offer their services as a part-time fan club. Carragher's doesn't. Here, rather than merely a 90 minute match day venue, Carragher's is a home from home for all Liverpudlians – wherever they may originate from in the world.

You may not even be a fan, Carragher's offers everything you want from a local hostilely – but do be prepared to fall in love with a wonderful football club! Should that love blossom (and it will), you will have found the perfect pub to keep coming back for more and you'll no doubt one day soon get to raise a glass with Jamie himself; a frequent visitor to the wonderful pub that goes by his wonderful name.
Visit Carragher's Bar Online: carraghersnyc.com
Instagram: @CarrasNYC
Twitter: @CarrasNYC
Facebook: Carragher's Bar
Liverpool Cult Heroes by Leo Moynihan is available in book shops and Amazon.