Following Liverpool's dramatic 2-2 draw at home to West Brom on Sunday, we round-up the best newspaper reaction from the game.

It may be yet more points dropped at home for the Reds, but there was still a feeling of positivity to take from the showdown with the Baggies.
Divock Origi's last-gasp strike earned Liverpool a point, and Jurgen Klopp's much-discussed show of thanks to the supporters after the game left Anfield buzzing.
It was not a bad performance by any means, with soft goals once again letting the side down. Simon Mignolet, in particular, should harbour a fair chunk of the blame.

Here is how the morning papers saw the game, with Klopp unsurprisingly dominating the headlines:
James Pearce of the Liverpool Echo felt the charismatic German was the star of the show on the day:
It was the biggest eruption since Mount Vesuvius took out Pompeii. Jurgen Klopp provided the most memorable performance on a dramatic afternoon at Anfield.

When Divock Origi's deflected 25-yarder nestled in the bottom corner in the 95th minute, the Liverpool manager embarked on the sort of celebration usually reserved for a Champions League final winner.

[…]

His face contorted with emotion, there were a half dozen fist pumps on the touchline before he turned to the West Brom bench and started beating his chest like a crazed gorilla.

Then the passionate German placed his hands behind his ears – demanding more noise from a capacity crowd.

[…]

Not finished there Klopp rounded up his players before insisting they held hands to salute the Kop.
The Telegraph's Chris Bascombe discussed the post-match celebrations, and admitted Liverpool's Anfield form remains a concern:
Never has a home draw at Anfield been celebrated with such a mixture of rage, delight and exasperation. Having seen his side equalise in the sixth minute of injury time against West Bromwich Albion, Jürgen Klopp, Liverpool's manager, ignored the hand of Tony Pulis, exchanged (un)pleasantries with members of the visiting coaching staff, marched on to the pitch and insisted his players salute the Kop.

They sheepishly obliged as their manager assumed the role of manic choreographer. Divock Origi's deflected effort had just earned a 2-2 draw and Klopp was in tub-thumping mood. He refused to elaborate why beyond an admission "this was not a friendly game" but having seen Dejan Lovren seriously injured by Craig Gardner's tackle – the Croatian needed stitches and left on crutches – many were filling in the gaps.

[…]

Klopp's fuse was lit, but the Anfield Premier League revival has stalled.

Dominic King of the Daily Mail believes that, while potentially divisive, Klopp's antics will continue to unite Liverpool as a club:
True, he will not be to everyone's taste. Tony Pulis, certainly, will not be in any hurry to see him again soon after Klopp started beating his chest in front of him after Divock Origi's 96th minute equaliser. The pair had been at loggerheads all afternoon before tempers eventually boiled over.

Plenty of others, meanwhile, will pour scorn on Klopp for lining Liverpool's players up in front of The Kop at the final whistle and making them bow repeatedly. This, remember, was a draw that moved Liverpool up to ninth place, not a seismic victory en route to a trophy.

But Klopp's actions were compelling and there was no doubt he made a difference. He transformed the mood of the crowd, lifted one last effort from his players and, in front of Fenway Sports Group president Mike Gordon, showed the Liverpool will no longer be bullied.
Paul Joyce of Express bemoaned the Reds making the same old errors, and believes Klopp and Tony Pulis' next match-up could be well worth a watch:
When the dust settles, both managers will recognise that instead of nursing a sense of grievance with each other they should be unhappy with a point. This may be the most unpredictable of Premier League seasons, yet some cast iron certainties continue to be played out.

Liverpool contriving to make life difficult for themselves at Anfield due to an inability to defend set pieces, and Simon Mignolet failing to cover himself in glory, remain two of them.

On the one hand, Mignolet was seeking to take responsibility by coming for Chris Brunt's 30th-minute corner, but the slapstick manner in which he did so merely lengthened his charge sheet.

[…]

Round Two of Pulis and Klopp comes on the final day of the season. If it was anything like this, it will be worth the wait.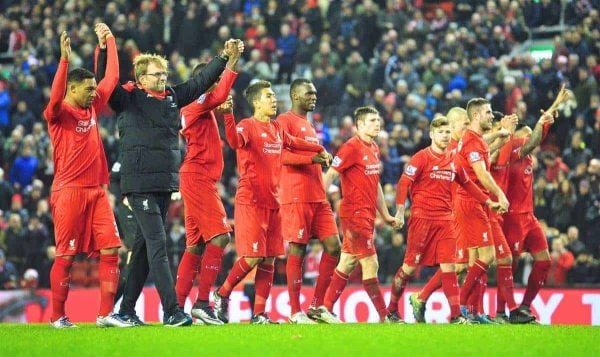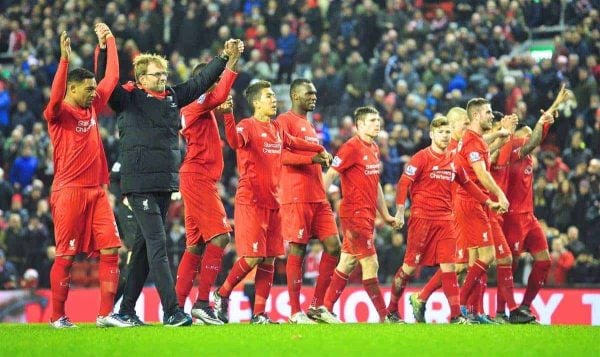 The Mirror's David Maddock was critical of Mignolet, whose error gifted Craig Dawson a first-half equaliser:
Simon Mignolet may have improved during the calendar year from his low point of being axed at Old Trafford, but he still has some serious problems Jurgen Klopp will have to work hard to eliminate.

He is young of course, but he still gets nervous in front of a still unconvinced Anfield, and you suspect that unless he can swiftly win over the sceptical Kop, his days may be numbered despite the words of his manager to the contrary.
In his ESPN player ratings, David Usher was full of praise for goalscoring captain Jordan Henderson on his first start since August. Full-backs Nathaniel Clyne and Alberto Moreno also impressed:
Henderson- Made a goalscoring return to the side when he ran into the box to latch onto a knock-down by Adam Lallana and finish neatly. The captain has been missed and although he showed the occasional moment of rustiness (especially in his shooting from distance) he was probably the Reds' best player.

Clyne- A lively display up and down the right flank from the England man. He was the outlet ball for most of the first half and put some dangerous crosses in before Albion attempted to close off the space. Might have done better clearing the ball after Mignolet's clanger but other than that did nothing wrong.

Moreno- The kind of performance fans have come to expect from the young Spaniard. Composed in possession and provided great energy at both ends. Produced a couple of high quality deliveries that Benteke was unable to convert.
> Video: Jurgen Klopp's post Liverpool 2-2 West Brom press conference
> Klopp goes mad and Mignolet keeps flapping: 5 talking points from Liverpool 2-2 West Brom
> Liverpool 2 – 2 West Brom: Player Ratings
[interaction id="566e7bb6d44dfcea1274974a"]