Producing a hugely impressive performance in Liverpool's 6-1 win away to Southampton, Joe Allen may have played his way into Jurgen Klopp's first team.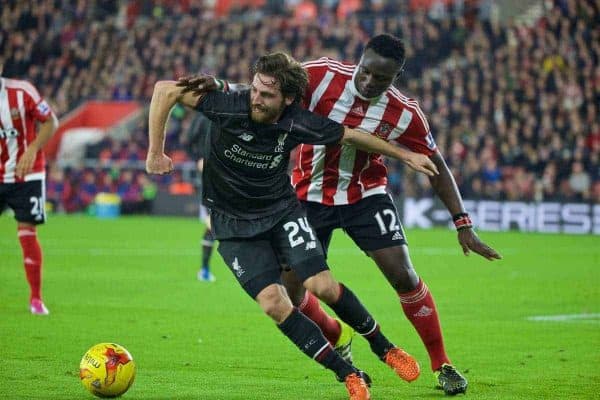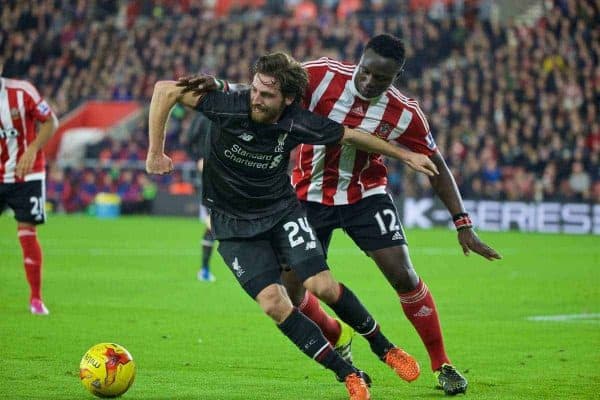 Klopp would be loathe to deny it, but for 70 minutes at St. Mary's Stadium on Wednesday night, Liverpool were close to perfect.
This was a half-rotated Reds side vying for a passage to the League Cup semi-finals against a Southampton selection missing only their captain, Jose Fonte, but in putting six past goalkeeper Maarten Stekelenburg, Klopp's side will have convinced many of their enduring quality.
Supporters can be forgiven, however, for ruing Emre Can's yellow card—his fifth caution this season.
But with the German suspended for the Reds' next outing, away to Newcastle United on Sunday, Klopp may have already found a solution: the indefatigable Allen.
Liverpool's Bright, Expansive Midfield

One of the major improvements in the first months of Klopp's reign has been the structuring of Liverpool's midfield.
Whether it is a two-man or three-man setup, Liverpool's midfielders are now seemingly more aware of their duties and responsibilities in tandem with their partners in the middle of the park.
The major beneficiary within this altered system is no doubt Lucas Leiva, with the Brazilian excelling in his role as the Reds' holding midfielder; breaking up play, pressing beyond the centre circle and prompting attacks with fast, incisive passing.
This key role allows Klopp's midfield to employ a bright, expansive outlook, and the three-man midfield has seen this blossom in particular.
Against Southampton, Klopp fielded a mutation of his regular 4-3-3 formation, with Adam Lallana dropping in to the No. 10 and Daniel Sturridge and Divock Origi interchanging as strikers, and while the German referred to this system as a diamond, its outcome is much the same.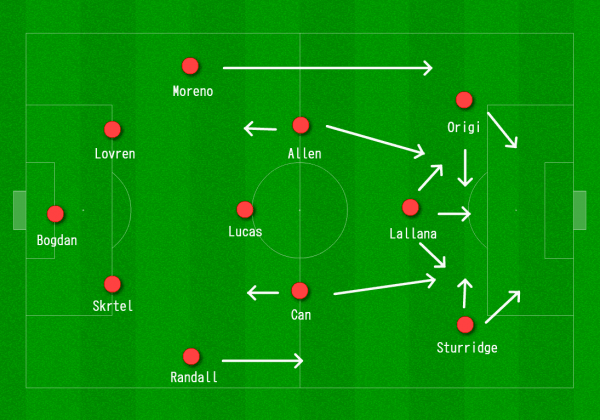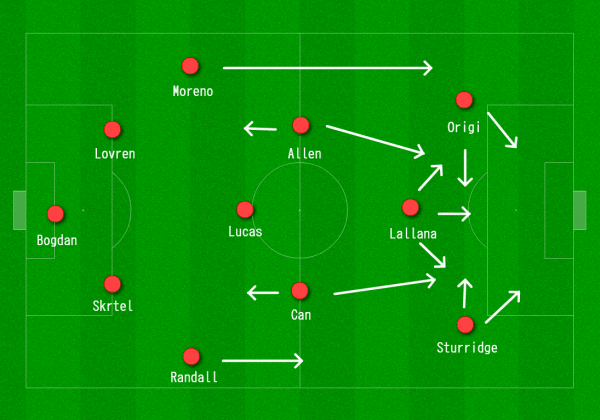 Liverpool still had three busy, attack-minded forwards breaking the lines between a hapless Steven Caulker and Virgil van Dijk, and Sturridge's two goals showed this system's value.
What gives Klopp's Liverpool that added edge are the players in between Lucas and Lallana.
At St. Mary's this was Can and Allen, operating as the flanks to this loose diamond structure and both performing with distinction.
Klopp's central midfielders operate as box-to-box options, supporting both defence and attack and, on Wednesday night, providing a struggling Lallana with an invaluable creative presence moving into the final third.
Both laid on sensational assists for Sturridge in the opening half-hour, as Lallana initially toiled with the added responsibility without Roberto Firmino and Philippe Coutinho.
Without Can and Allen, Liverpool would not have overrun Southampton so masterfully.
It was a considerable disappointment, then, that Can was rather questionably booked by referee Bobby Madley on 65 minutes, with Klopp now facing a major loss for Sunday's trip to Tyneside.
The Loss of Emre Can

While Lucas is the most noticeably improved midfielder at the club since Klopp's arrival, the German's impact on his compatriot, has been significant.
Moving the 21-year-old into a regular midfield role was a no-brainer; whether Brendan Rodgers quite captured what an immense talent Liverpool had secured when they sent £10 million Bayer Leverkusen's way last summer is hugely debatable, with Can shunted into a utility role.
Can has all the tools to become a world-class central midfielder, and his willingness and versatility hampered that in 2014/15—despite, largely, resulting in strong performances.
Installed in his natural position under Klopp, who will have admired him from afar during his time in the Bundesliga, has magnified Can's talents.
His athleticism, tactical mind and fleet-footed technique were all on show at St. Mary's, as Can ploughed through an off-colour midfield of Jordy Clasie and Victor Wanyama with encouraging frequency.

A perfectly executed, outside-of-the-boot pass for Sturridge's second goal showcased his ability to step up from a Moussa Dembele contemporary to a reincarnated prime-level Yaya Toure.
Of course, he still has a way to go before he is able to truly accomplish this.
His limp attempt to block Ryan Bertrand's cross in the buildup to Sadio Mane's first-minute opener showed his current incapacity in supporting his full-back, while he must negotiate his fitness levels in-game to find a consistent level between meek and full-pelt.
But with this just one in a string of shining performances under Klopp to date, Can will be a substantial loss; he is the perfect player for Liverpool's expansive midfield system.
Joe Allen, Liverpool's Faithful Deputy

Since making the £15 million move from Swansea City in 2012, Allen has spent his time on the periphery.
Whether that be in the minds of the Liverpool supporters quick to resurrect that unfortunate Xavi comparison or in a midfield dominated by vocal heavyweights such as Jordan Henderson and Steven Gerrard, Allen has long been the bridesmaid, never the bride.
This does a disservice to the Welshman's quality as, when called upon, Allen rarely produces a disappointing performance—Wednesday night's nuanced display was no anomaly.
In many ways, Rodgers was correct in his assessment of Allen on his arrival from south Wales.
"This boy, when you see him play, you would think he was a European player. He is a unique player in that he is a British player who doesn't give the ball away," he gushed.
"He's incredible on the ball. His body work and intelligence for a 22-year-old is frightening."

Supporters may favour the powerhouse output of Can and Henderson, but Allen's makeup is equally as important.
Negating his nimble frame with a heightened intelligence on and off the ball, Allen's subtlety allows him to operate in that all-important, connecting box-to-box role.
With Klopp taking a cautious approach to Henderson's rehabilitation following a broken foot—affording him just 16 minutes of action against Southampton—Allen's strong showing on Wednesday night should be rewarded with another start at St. James' Park.
The absence of Can could have been a major concern for Klopp going into Sunday's clash.
But the equally brilliant performance of Allen against Southampton will have offered him the perfect solution.
SOUTHAMPTON 1-6 LIVERPOOL

MATCH REPORT: Reds run riot in League Cup rout

PLAYER RATINGS: Man-of-the-match Origi leads the way

FAN REACTION: Reds "genuinely outstanding" in Saints smashing

PLAYER FOCUS: Divock Origi hat-trick shows patience is a virtue for Liverpool's youngsters

TACTICAL OVERVIEW: 4-4-2 diamond shines in Southampton victory