Those criticising Jurgen Klopp's actions post-match following the draw against West Brom seem to have forgotten that football is supposed to be fun.

If you are a Liverpool supporter, how could you possibly have taken issue with Klopp's behaviour following the dramatic 2-2 draw with West Brom?
The 48-year-old was a man possessed when Divock Origi's deflected strike salvaged a late, late point for his side, and his revving up of the crowd single-handedly changed the atmosphere inside Anfield.
For those remaining moments of the contest, the Reds' world-famous stadium was as fervent as it has been since Man City and Chelsea came to town in the spring of 2014.
West Brom were rattled by the sheer volume inside the ground and it was a timely reminder that Anfield can be a frightening place to go for opposing players. For too long now that hasn't been the case.
It has still been staggering to see just how many people have missed the point regarding Klopp's post-match decision to salute the Kop alongside his players.
Thanking, not celebrating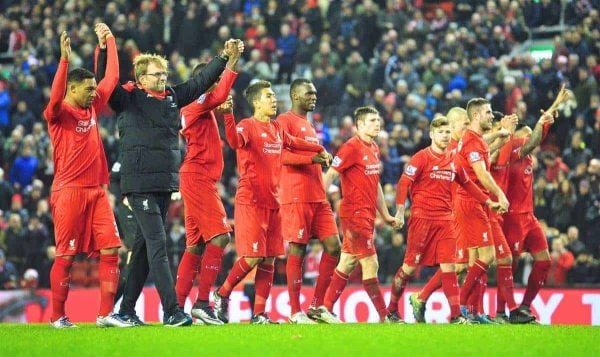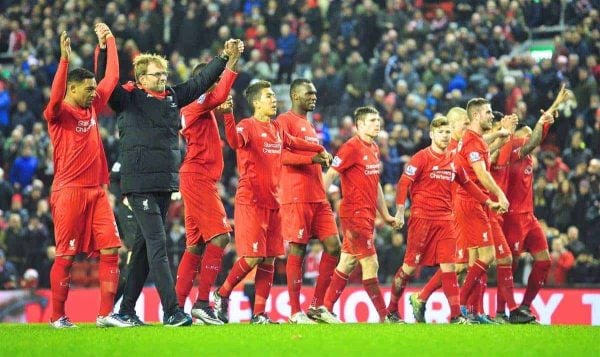 This was absolutely nothing to do with the result, as much as Man United, Arsenal and Chelsea fans, among others, have done their very best to declare.
It is pure envy on their part that Liverpool have one of the world's most charismatic managers at the helm, and they are desperately looking for even the most minuscule chinks in Klopp's armour.
The reason for the German's decision was incredibly simple; he was saying a heartfelt thanks to the supporters for responding to his calls.
Last month, following the home loss to Crystal Palace, Klopp said he felt "pretty alone" when he saw fans leaving with 10 minutes still remaining, and made it abundantly clear that he yearned for an improvement in the atmosphere.
https://twitter.com/TheKop/status/676128150758232068
https://twitter.com/BorussenTweets/status/676115516331790337
While Anfield was still far from electrifying for much of the game against West Brom, they responded to his ear-cupping and arm-waving brilliantly in the final stages.
Had there been an extra five minutes on the clock, the Reds would likely have scored a winning goal. This is the kind of impact the Liverpool crowd can have on a game.
Klopp's decision to applaud the fans in the manner he and his side did at the end – the hand-holding is a German tradition, for anyone saying it was "a bit much" – was to show just how much their efforts were appreciated.
Had he been celebrating a draw at home to sub-standard opposition, that would be truly embarrassing. But only a fool, or a blinkered rival supporter, would genuinely think that.
Where has the fun gone?

What was most striking on Sunday evening was just how much this incident was being discussed on social media. Some Reds fans were genuinely appalled by their team's antics at the end, which all seemed incredibly bizarre.
How can the sight of your heroes applauding their fans, showing a great sense of team spirit and unity in the process, be a bad thing? It's as if people just want to moan for the sake of it.
The modern game has become too serious, with tribalism between rivals at an all-time high, and 'bants' between fans depressingly common.
'German football is great, English football should be more like it'

'HAHAHAHA GET ON THEM DOING THAT GERMAN THING.'

— Phil Blundell (@PhilBlundell) December 14, 2015
I think all of these miserable #lads are just worried they'll lose at #topBantz in the office tomorrow

— Inspectah Degs (@InspectahDegs) December 13, 2015
Too many supporters have turned into children who feel embarrassed by their parents; ashamed at the thought of their club doing something out of the ordinary and being mocked by others.
What we saw on Sunday is exactly why Klopp is arguably the most exciting managerial appointment in Premier League history. He is creating a togetherness, as much as some of the current bickering would suggest otherwise.
Just look at the smiling faces in the Kop after the game. They look delighted with what they are witnessing, despite their team failing to win.
Every Liverpool fan should have felt like that, and realised exactly why Klopp had chosen to do it at that particular time.
Just the start

Klopp clearly realises he has joined a club that has been at loggerheads with one another for a while, and slowly but surely he will eradicate this lack of harmony.
Whether it's Brendan Rodgers, Rafa Benitez, Hicks and Gillett or 'outsiders' coming to Anfield, the fanbase has been divided for a decade.
Klopp is well aware just how influential the Liverpool supporters can be – it was exactly the same for him at former club Borussia Dortmund – and he knows it can be one of his primary weapons.
If he can make so many of us feel this good after a draw at home to an 'anti-football' West Brom side, imagine the scenes if the Reds win a big game at Anfield or lift a trophy.
If you think that connecting with the supporters after a game, regardless of the result is embarrassing then maybe football isn't for you.

— ?Mentality Giants?? (@RedsOrDead) December 13, 2015
People are really surprised at the division in our fan base over Klopp today? Have they ignored all other divisions in recent history?

— Jay McKenna (@JayMcKenna87) December 13, 2015
Things on the pitch are far from perfect at the moment – Klopp himself needs to shoulder some of the blame for that – but this Liverpool team is only going to improve with him in charge.
One of his hardest jobs is making Anfield a fortress again, but in his own unique way, he went a long way to doing that on Sunday.
That late Origi goal could prove crucial come May, but Klopp's decision to salute the crowd may well be even more pivotal in the long run.
Ignore the sneering, envy-ridden rival fans and just enjoy the ride.
[interaction id="566e7bb6d44dfcea1274974a"]