The defensive partnership of Dejan Lovren and Mamadou Sakho proved a major positive as Liverpool defeated Leicester City on Saturday.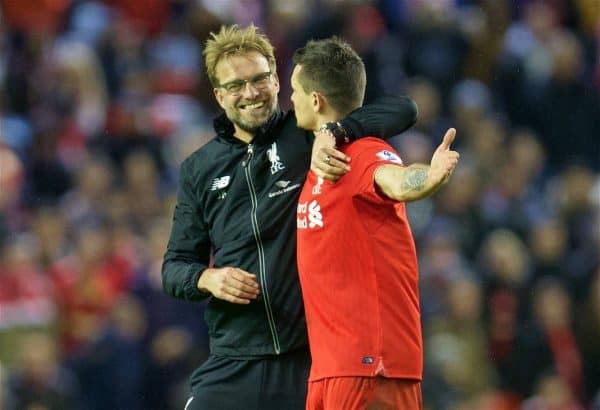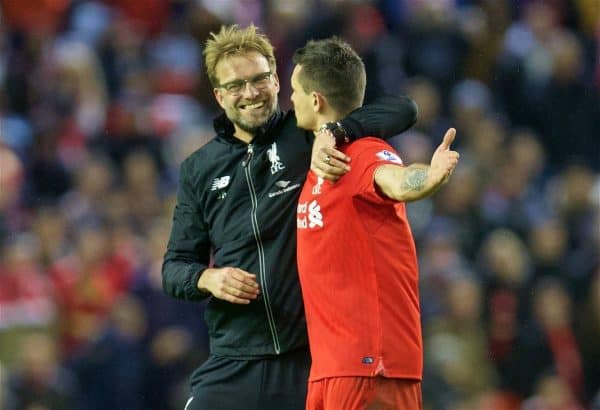 In a game hallmarked by outright dominance, a Christian Benteke strike and then a glaring error from the Belgian in the closing stages, much focus will be on Liverpool's big-money centre-forward in the aftermath of the Reds' 1-0 win over Leicester.
Time will tell whether Jurgen Klopp puts his faith in Saturday's goalscorer, or continues to assess his other options, in Roberto Firmino and "good to go" Daniel Sturridge.
But one certainty that arose from this Anfield victory was the stability of Lovren and Sakho as Liverpool's centre-back partnership.
Blossoming throughout Saturday's outing, the Lovren-Sakho axis looks to be a strong one.
Martin Skrtel's Injury

Limping off midway through last weekend's 3-0 defeat to Watford, Martin Skrtel struck another blow to a rapidly diminishing Liverpool squad.
With the Slovak confirming a six-week spell on the sidelines with the resulting hamstring injury, Klopp will be forced to prepare without his first-choice centre-back for another 10 games.
But, though the manager will lament his dwindling numbers, the loss of Skrtel can be spun as a positive.
Skrtel has long been a weak link within the Liverpool defence, with his limited skill set hampering the club's development at the back.
The 31-year-old is a physically adept centre-back who relishes a one-on-one with similarly bullish strikers, but he is easily found out—as the loss to Watford proved.
Odion Ighalo and Troy Deeney are both strong, stocky forwards who utilise their power to different extents.
Watford manager Quique Flores identified Skrtel's weaknesses and exploited them by deploying Ighalo further forward.
When facing up to Ighalo's pace, movement and physicality, Skrtel resorted to shrinking back into his penalty area, easily turned and relying on his team-mates to counter Watford's attack; he is a back-footed centre-back lacking in the authority that Liverpool require.
Suddenly, this 10-game absence no longer seems like a problem—particularly when assessing the merits of the Lovren-Sakho partnership.
Lovren and Sakho: A Strong Partnership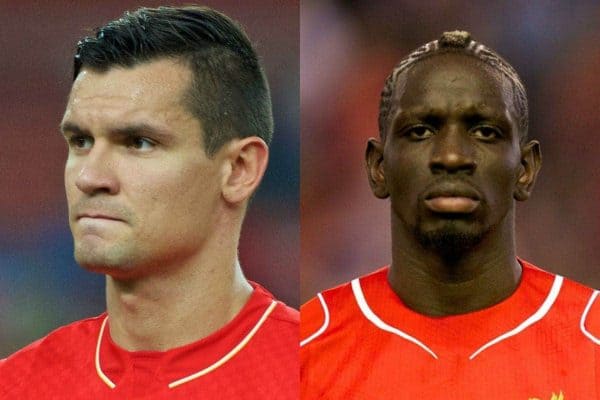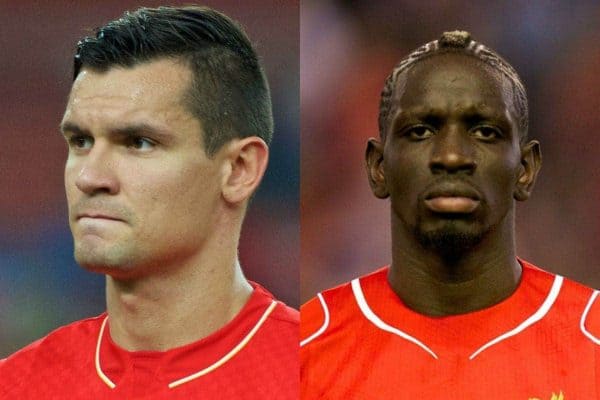 "It is always easier when a manager has belief in your team and in yourself," Lovren explained at the end of November, after a strong start to life under Klopp.
"It makes it much easier to play and gives you the confidence that, even if you make a mistake, afterwards he will talk to you and explain to you the wrong things and the good things."
It became abundantly clear in his first season at the club that Lovren is a confidence player.
Arriving for a lofty fee after forcing through a move from Southampton in 2014, Lovren's start to life at Liverpool was under immense scrutiny.
But as his performances deteriorated, the jeers of the Kop grew, and Lovren looked set to become another high-profile casualty of Liverpool's transfer policy.
Under Klopp, however, he has improved significantly, with his calm, composed performances at centre-back suggesting that his future could well lie on Merseyside—and this continued against the Foxes.
On a basic level, Lovren is the opposite to Skrtel: aggressive, front-footed and progressive in his use of possession.
This allowed Liverpool to deploy the high defensive line they required against Leicester, quelling the threat of Riyad Mahrez and Jamie Vardy before they were able to influence the game.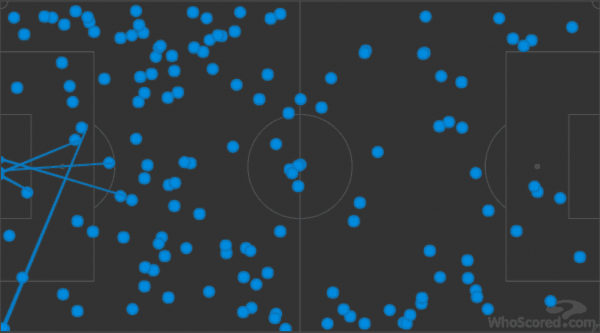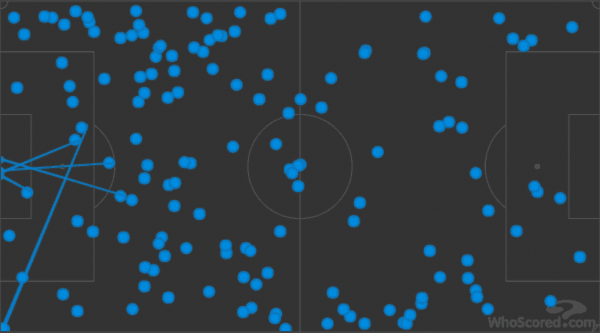 Between them, Mahrez, Vardy, Shinji Okazaki, Marc Albrighton and substitutes Leonardo Ulloa, Nathan Dyer and Andrej Kramaric made just 11 touches in the Liverpool penalty area, with Lovren, Sakho and their defensive colleagues keeping it simple at the back.
Furthermore, the Foxes made just three shots on target at Anfield, with only one of those coming from within the penalty area.
Liverpool's game plan was simple: eliminate the threat of Mahrez and Vardy by starving them of the ball.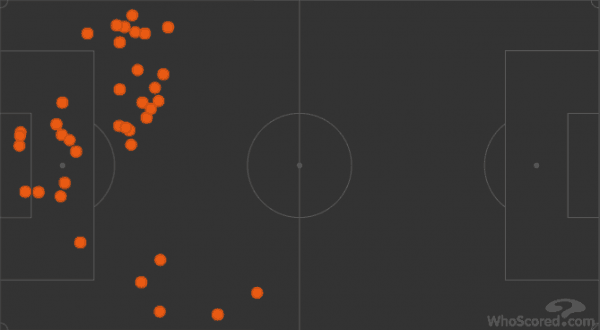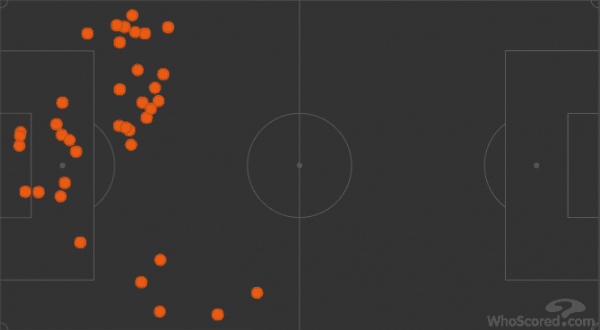 Lovren and Sakho made a remarkable 38 clearances between them on Saturday, with Klopp clearly taking the approach that if the ball isn't in the final third, Mahrez and Vardy could not threaten Simon Mignolet's goal.
Though Sakho initially struggled to find his feet—as with against Watford—the Frenchman improved as the afternoon played out, making a number of vital interceptions and strong aerial challenges.
The pair were composed in possession, both completing over 90 percent of their attempted passes.
They provided a solid base for Liverpool to build their dominance at Anfield, and keeping a clean sheet against the rampant Foxes could be significant as Klopp looks to the future.
Liverpool's Long-Term Back Four?

Before Saturday, no side in the Premier League had kept a clean sheet against Claudio Ranieri's Leicester.
The pace, guile and near-telekinetic partnership of Vardy and Mahrez proved too much for Tottenham Hotspur, Arsenal, Manchester United, Chelsea and Everton's defences.
But with Lovren and Sakho marshalling the defensive line, Liverpool were able to keep them at bay.
Ranieri withdrew Vardy on 68 minutes, with Mahrez following him to the substitutes' bench 11 minutes later, signifying their ineffective displays at Anfield.
With both ploughing the right channel for much of the game, the work of Sakho, along with Alberto Moreno and Emre Can, must be lauded.
But, by the same token, the stability offered by Lovren as his defensive partner is worth highlighting.
On the opposite flank, Nathaniel Clyne produced a solid performance, limiting the deliveries of Albrighton and pushing forward in attack to receive passes from Lovren.
In Clyne, Lovren, Sakho and Moreno, Klopp fielded a back four able to perform the duties required in his bold, high defensive line, and they showed a strong understanding throughout.
The absence of Skrtel proved a positive, and Klopp should continue to field this quartet throughout 2015/16.
LIVERPOOL 1-0 LEICESTER CITY