LLiverpool suffered a humiliating defeat at the hands of a well drilled Watford side whose play was built around a pair of strikers performing at the top of their game.

Jurgen Klopp's men made if far to easy for the home side, in a performance riddled with individual errors and poor performances.
In his pre-match comments, Klopp spoke of flexible offensive play, as well as the importance of counter-pressing, which may have influenced his decision to leave Christian Benteke on the bench.
Roberto Firmino operated in the number nine role in those impressive away wins at both Chelsea and Manchester City, and he performed a similar role today. This appears to be one of Klopp's preferred options away from home.
https://twitter.com/MC_of_A/status/678555772784111616
Liverpool set up in a 4-3-3 formation with Lucas acting as the deepest midfielder, while Jordan Henderson and Emre Can operated in box to box roles ahead of him.
Adam Lallana played from the right of the front three while Philippe Coutinho came from the left in an attacking trident which didn't swap positions as much as Klopp's pre-match comments suggested.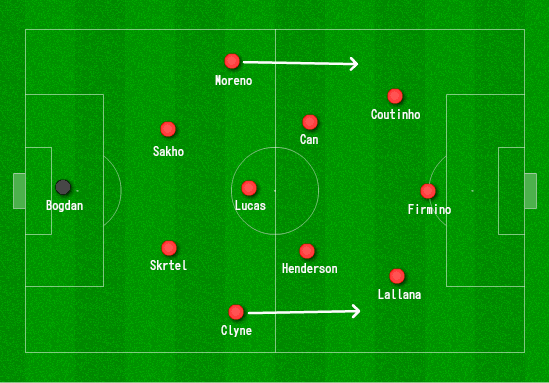 The concession of two early goals was the result of individual errors (including a refereeing error for the first goal) rather than any tactical flaws, but this change in the game state, plus an injury to Martin Skrtel, led to a change in tactic towards the end of the first half.
Divock Origi replaced Skrtel and, in an unexpected turn of events, Lucas dropped to centre-back with Can becoming the holding midfielder.
Lallana fell back into midfield, and as the team started the second half the shape was somewhere between a 4-4-2 diamond and a 4-3-2-1 as Firmino and Coutinho drifted behind Origi.
Lallana is left side of a diamond midfield, which is interesting.

— Karl Matchett (@karlmatchett) December 20, 2015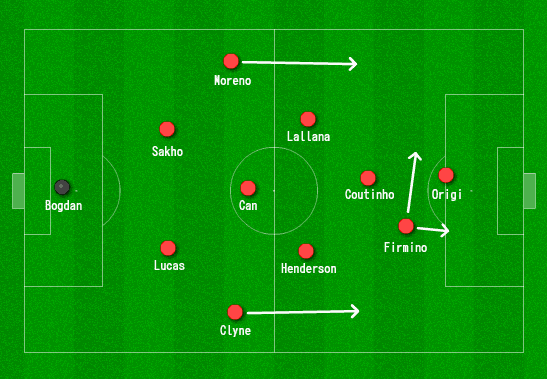 The side struggled to break Watford down on a poor quality pitch which prevented flowing passing moves being carried out on the deck.
Benteke and Jordon Ibe entered the fray with just over 15 minutes to go, as Klopp switched to a loose formation which resembled a 4-2-4.
Ibe offered width on the right and Henderson still broke forward from his midfield position, but the play remained scrappy, and the players struggled to combine midfield and attack.
Watford scored a third when the Reds' makeshift defence parted to leave Ighalo unmarked. This goal was partly due to some positional unfamiliarity from Lucas but, to be fair, even some of the more experienced players in this position have made this type of error in the past.
The home side's strike pairing caused trouble throughout the game, and a lot of Liverpool's defending was based on recovery rather than the proactive prevention of opposition attacks.
Klopp commented after the game that "Our reaction [to the first goal] was really bad, we lost our mind(s)."
"Not the best pitch. We tried plying in small spaces," he added, and commented on Watford's pressing for the second goal – something which his team pride themselves on. "They make pressing they got the ball. Very easy the second one, we can defend this better."

Ultimately, the reaction to the first goal followed by some poor individual defending, which began in the midfield and seeped back into the defence, put the team in a losing position from which they were unable to recover.
Tactical changes were made to try to get back in the game, but these changes can only work if the players react to them and improve their quality and composure on the pitch, which they didn't.