Midfielder Joe Allen rated his penalty shoot-out winner against Stoke as one of the highlights of his Liverpool career "no matter what happens in the future."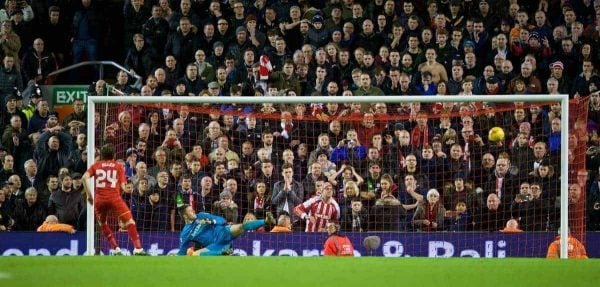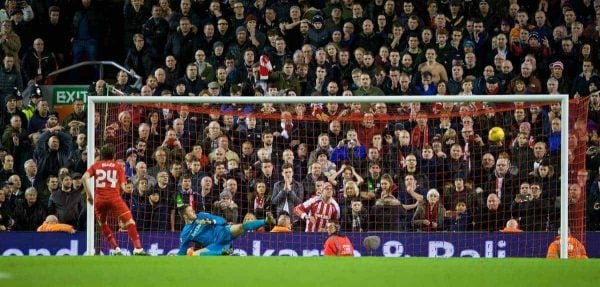 The Wales international, who has less than 18 months remaining on his contract, came off the bench to play an influential role in the 6-5 spot-kick drama which took the Reds to a record-extending 11th League Cup final.
Allen admitted after the first leg of the Capital One Cup semi-final earlier this month he was effectively playing for his future after limited pitch time this season, but since then he has produced a number of pivotal performances, including scoring a last-minute equaliser against Arsenal a fortnight ago.
But even the celebrations after that strike were surpassed by the scenes when Allen sent Jack Butland the wrong way and tucked his penalty inside the goalkeeper's left-hand post.
"It's right up there with the best moments I've had in a Liverpool shirt, no matter what happens in the future," said the 25-year-old, who was the subject of an approach from his former club Swansea last week.
"I'd be lying if I said I wasn't slightly nervous walking up there but I think you get into the zone, this is what we do day-in and day-out.
"There was actually a little bit of confusion about who was going to take the seventh penalty. In the end we settled on it being me.
"We practise them but it is probably something we don't do regularly enough.
"A couple of days ago we did. I just took one and put it in the same corner and that probably made my mind up and that is the reason I went with that pen and thankfully it came off.
"The atmosphere was electric. It's moments like that which is what football is all about.
"It's a big moment not only for me but also for this group."

In an up-and-down season for Liverpool, a trip to Wembley and the chance to secure silverware for the first time since they won this competition for a record eighth time in 2012 represents a success.
They were waiting to learn whether their opponents would be Merseyside neighbours Everton or Manchester City.
Champions League qualification looks no closer than when Brendan Rodgers was in charge before his sacking in mid-October, but bringing home a trophy would be an immediate return for Jurgen Klopp, something his predecessor did not manage in three years despite having a much better squad at his disposal.
"We made it slightly difficult for ourselves but we managed to get through and that will give us confidence," Allen added.
"We want to make sure now that we go to Wembley and bring home that trophy. Everyone will be looking forward to going there and doing what it takes to get that win.
"Consistency is what we're looking for now moving forward this season.
"There's been some great standout performances and standout results. It's about doing it now more consistently. We believe as a squad that's on the horizon.
"We are looking forward to getting the ball rolling and showing that we are a threat to anyone."
LIVERPOOL 0-1 STOKE CITY (6-5 ON PENS)