Liverpool manager Jurgen Klopp has compared one of the city's most famous sons, John Lennon, with Sir Alex Ferguson – the club's nemesis for more than 20 years.
The German's popularity with fans has grown and grown since his arrival in October as Brendan Rodgers' replacement but bestowing such praise on possibly the Reds' fiercest arch-rival, especially with a Beatles reference, may not be welcomed as warmly.
Klopp has had a number of fall-outs with Premier League counterparts already this season, on Wednesday Arsene Wenger was added to a list which includes Sam Allardyce, Tony Pulis and Alan Pardew, but he has nothing but admiration for the former United boss – who once gleefully exclaimed his greatest challenge "was knocking Liverpool right off their perch".
The pair met face-to-face about three years and it is an experience Klopp will never forget.
"I had a few really good moments with Sir Alex and it was a big honour to talk to him," he said.
"As a manager it is the best thing you can do, to sit there and listen – I needed 10 minutes to understand it all but then it was okay.
"Maybe he is the greatest ever, the John Lennon of football or something.
"It was impressive to talk to him and from my side there is a big amount of respect because what he did in his life as a manager is not too easy to do again."
The feeling of respect appears to be mutual as only last month Ferguson spoke of his worry that Klopp would do to United what he had done to Liverpool.
"'I'm worried about him," Ferguson admitted. "I'm worried about him because one thing United don't want is Liverpool to be above us. That's for sure.
"He's going to make a difference to that club, no doubt about it. He's got the personality, the drive, he's got the knowledge and great presence about him. I think things will look up there, I really do."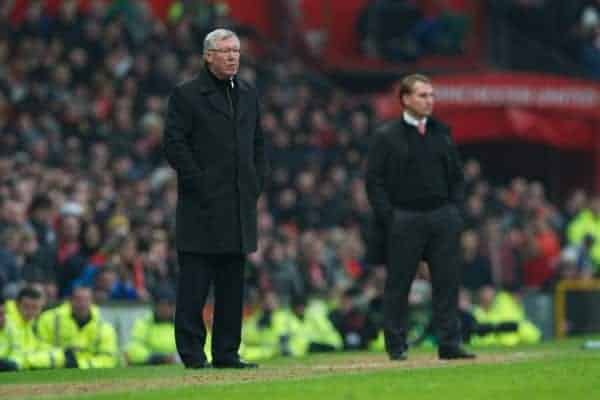 Klopp claims to have not heard or seen those remarks and insists he is only focused on Sunday's meeting at Anfield between England's two most-decorated clubs.
"What he said about me? I don't know. I think it was positive because we had a good time together," he added.
"It is good that he is concerned but I have to prove it."
Friday is Klopp's 100th day in charge of Liverpool, taking in 21 matches, and he has a 50 per cent win record which is just marginally behind Rafael Benitez, who had overseen only eight matches when he brought up his century.
It is not a landmark the Liverpool manager is paying too much attention to however.
"That is positive news but it is not the time to think about it too much because after 102 days we have an important game against Manchester United and what we want to do is make the record better," he said.
"We could have done better, we could have done worse, some perfect moments, some average moments.
"In football the most important thing is the results and we are going for it, I think everyone can see that.
"Sometimes you have to make a step back so you can do the next step in the right direction.
"We need a little time. We are closer than we were a few weeks ago but it is not only our job.
"Man United are coming from the other direction (declining).
"We can make a big step – but maybe not the biggest of the season."
LIVERPOOL v MAN UTD

WATCH: Klopp's pre-match press conference

INJURY UPDATE: Klopp on who is available

QUOTES: Firmino and Lucas on the United match

PREMIER LEAGUE: Full preview of all the games this weekend