Leading the line in an unexperienced Liverpool side in Wednesday night's 3-0 FA Cup win over Exeter City, Christian Benteke once again showed his limitations.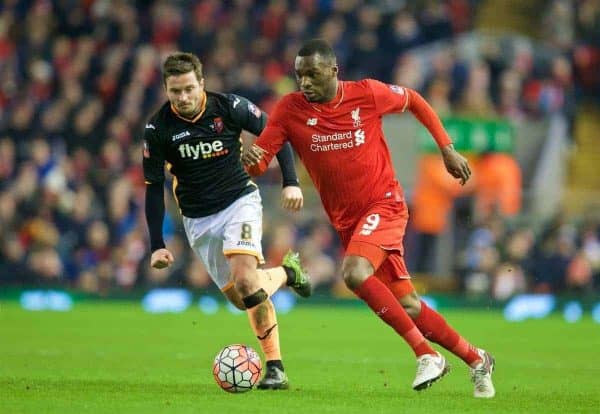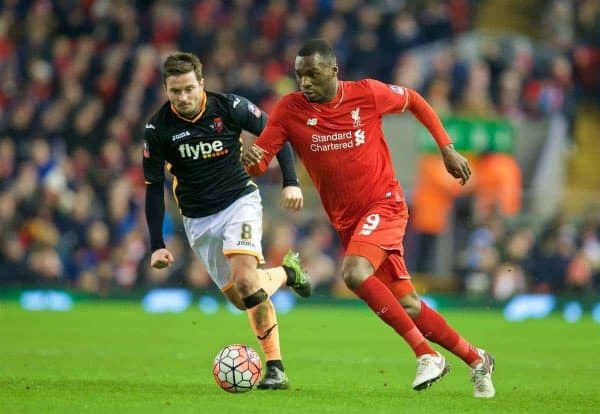 A substitute in three of Liverpool's previous four clashes, Benteke has endured a troubled time under his new manager, Jurgen Klopp.
Despite Benteke's marginal status, with an out-of-position Roberto Firmino preferred as Liverpool's first-choice No. 9 during this injury crisis, Klopp has publicly backed his £32.5 million man.
Speaking after Sunday's 1-0 defeat to Manchester United, Klopp described Benteke as a "complete striker" — though this jarred with his words when explaining why he had been left out, saying "what we have to do is think what team fits together for the special game."
Benteke's "special game" came in a youthful Liverpool side against Exeter at Anfield, but while Klopp will have been more diplomatic as he walked around the Belgian's deficiencies, BT Sport commentator Michael Owen ruthlessly admonished his fellow striker.
Though far from the most astute of critics typically, Owen was faultless in detailing Bentekes' flaws.
Attacking Spearhead

Lining up at the tip of a three-man Liverpool attack, Benteke was fielded in the focal role of Klopp's 4-3-3, flanked by a diligent Joao Carlos Teixeira and a player with a point to prove in Jordon Ibe.
With Exeter sitting back meekly and allowing the first half to play out ahead of them, Klopp's tactics pinned the League Two side back.
Against a lowly opposition shrinking into themselves, Benteke would be expected to dominate but, as Owen soon found, this was far from the case at Anfield.
The game plan for Liverpool's No. 9 was clear, with both Teixeira and Ibe heavily involved, sending a host of dangerous crosses in from wide areas, while Cameron Brannagan provided another threat from set pieces.
This saw Owen recall Benteke's time at Aston Villa:
"All I would say is Aston Villa didn't half play to this strengths, they knew they had a special talent.
"Everything went through him, and every time anyone got the ball, they'd knock it in, cross it in."
When Benteke moved towards the six-yard box against Exeter, he was at his most dangerous, as a series of moves in the opening 20 minutes showed.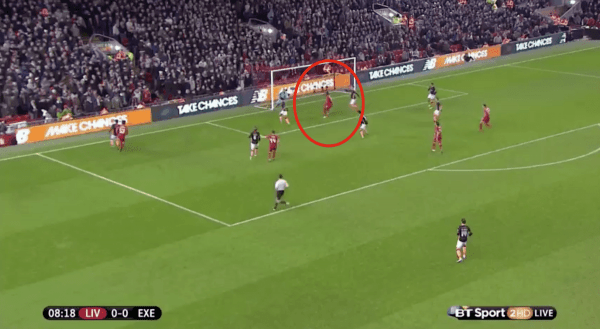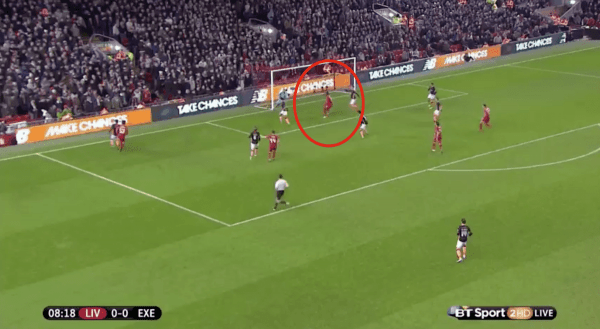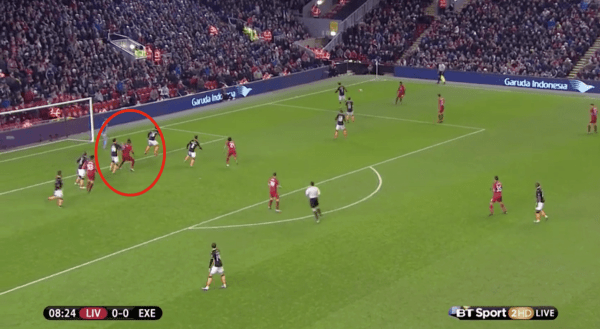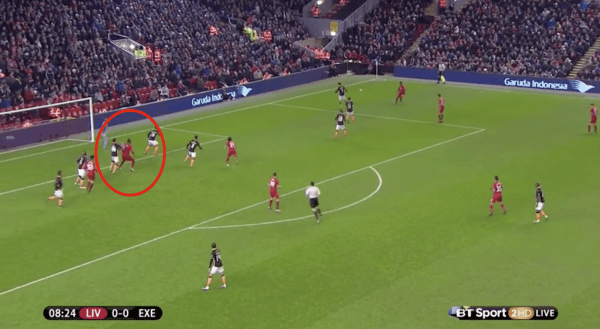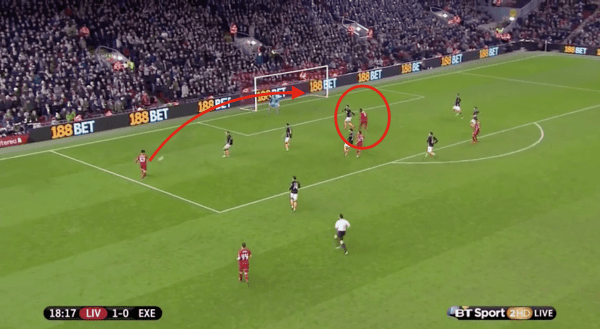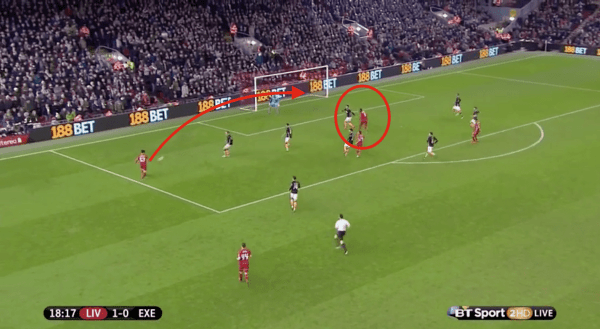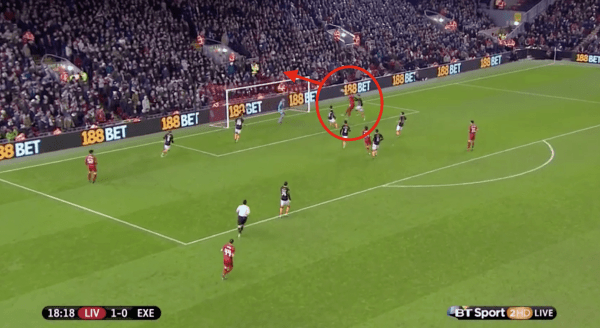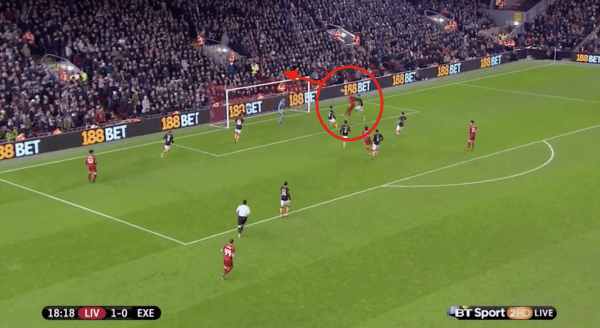 But seemingly straying from the game plan at times, Benteke adopted a tendency to drop towards the edge of the penalty area in order to collect the ball and instigate attacking moves.
Therefore, while Teixeira and Ibe continued to produce intelligent work on the flanks, Benteke was not always there to benefit.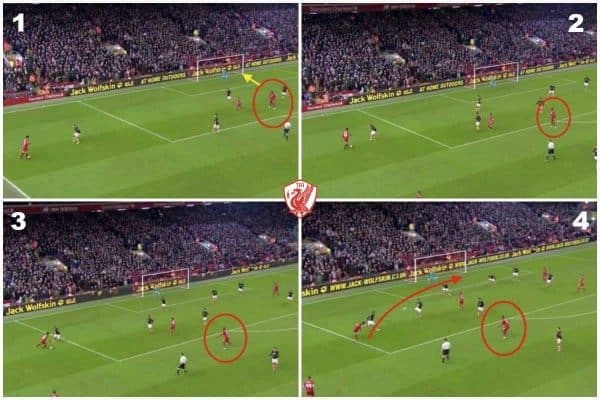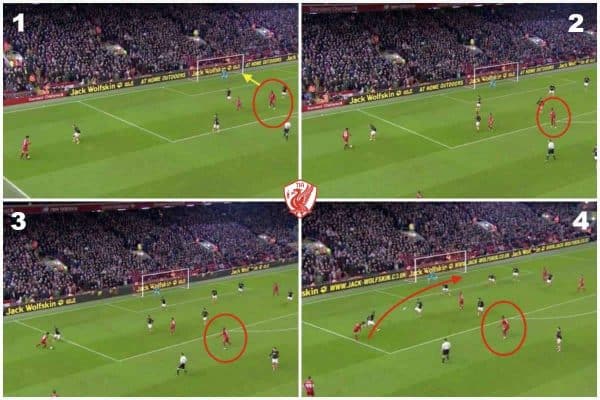 Looking to turn creator rather than finisher throughout, Benteke also drifted into wide areas, attempting to influence play.
On 36 minutes, the striker found the ball in a nice position on the right flank, and after beating his man at the first attempt, could have fashioned an opening with a cross.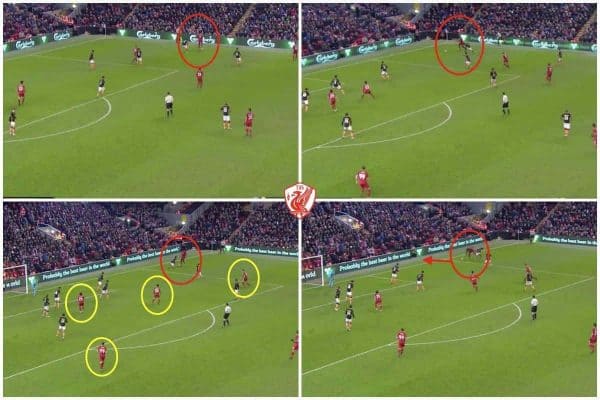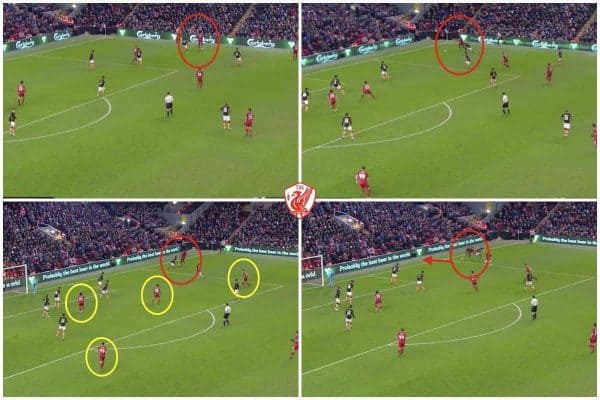 Employing a number of bemusing stepovers, however, Benteke surged towards the by-line before running the ball out of play, with Owen labelling his decision as "strange":
"He did so well, Benteke.
"He beat his man, made a lovely little run, decided to go on his own with that pace, power, could get a cross in but [then] decides to stop. Strange."
Pace, Power & the Counter-Attack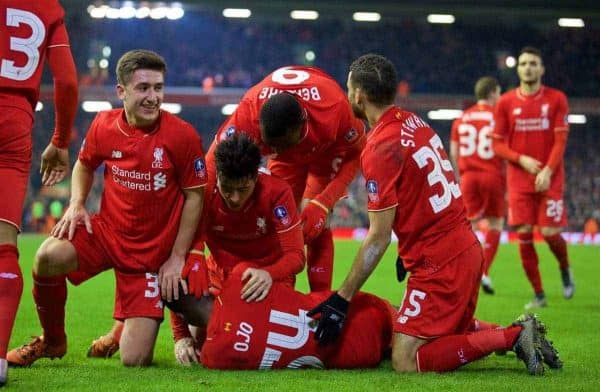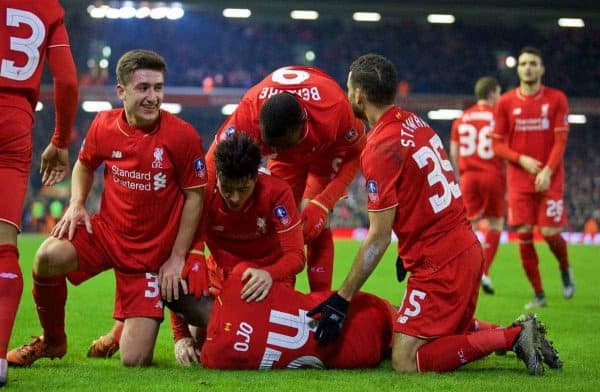 With Benteke having little success in his role dropping into the spaces in the channels, Klopp moved to a 4-2-3-1 formation in the second half, bringing on Sheyi Ojo.
Ojo took up a right-sided role, with Ibe switching to the left and Teixeira operating as a No. 10, and Liverpool adopted a fast-paced, counter-attacking approach.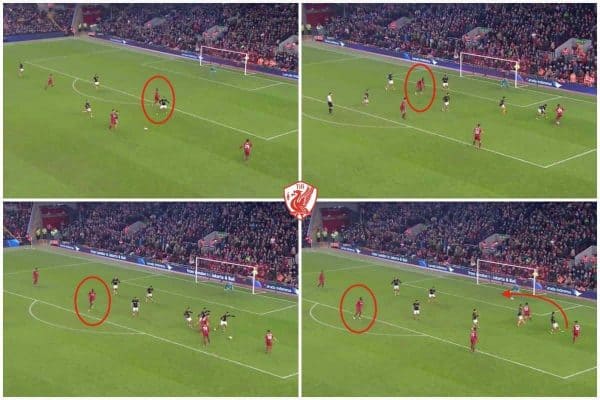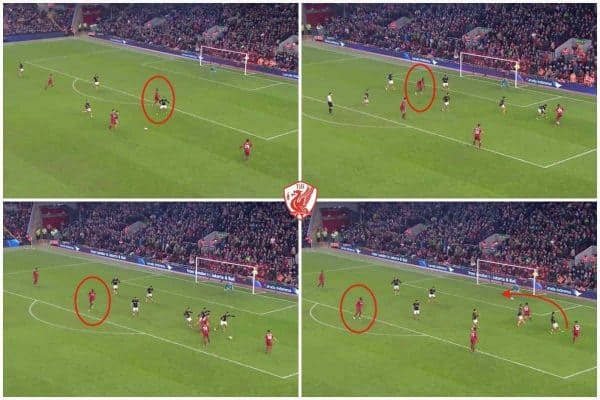 Ojo came into life shortly after his sensational 74th-minute strike, and the 18-year-old found time and space on the right-hand side of the Exeter box, looking to play the ball to Benteke.
But with the move taking time to develop, Benteke moved out of a dangerous position, provoking more criticism from Owen:
"Just look where Benteke's standing when they cross the ball. He's the centre-forward, and he pulls out onto the edge of the box.
"I just don't know what he's doing, [he's] so frustrating to watch."
He later added further analysis on the move:
"I pull my hair out watching Benteke. It's good play, the young lads passing it around waiting for the opportunity to pass the ball and he just runs out of the box.
"I just do not know where he's running, no wonder he doesn't score many goals at the moment."

With Ojo continuing to enjoy space on the right flank throughout the second half, Benteke's poor movement stymied several promising opportunities, as the striker constantly dropped back.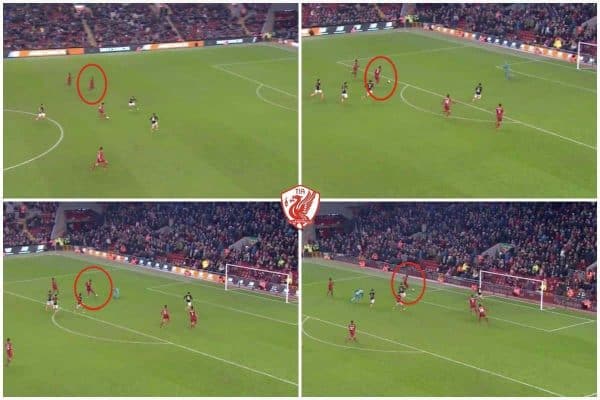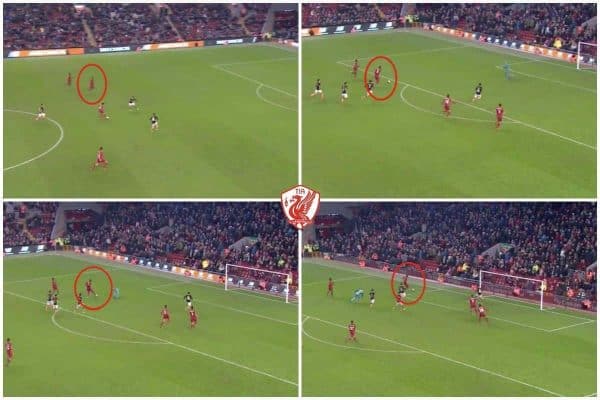 A familiar situation arose for the Belgian in the closing stages of Wednesday night's clash as, with Exeter throwing everything at Liverpool for a late set-piece, Pedro Chirivella led an overwhelming counter.
Chirivella laid it off to Benteke on the break but—as on several occasions recently—Benteke's lack of confidence saw a very promising move break down, with the striker failing to either convert the chance or lay it off to an awaiting team-mate.
Owen, who benefited from a number of lightning-fast counters in his time as a player, was once again frustrated:
"It's typical of what he's going through at the moment, just a total lack of confidence.
"When you're running through one-on-one, you're in control, you dictate where the goalkeeper goes, you dictate everything—you've got the ball!
"It's head down, it's touch, and he should be squaring it, he should swallow his pride and square it straight away, but it's just a total lack of confidence."
As Owen repeated the word "confidence," the former Liverpool star hit on the crux of the problem for Benteke, with ex-Villa man failing to play through instinct.
Confused and Cowed

When he did, for example in bursting forward in a breathtaking counter, holding it up with strength and the laying on the perfect pass for Teixeira's strike, he proved to be an invaluable option in Liverpool's attack.
But at this stage, Benteke is largely overthinking situations, overcomplicating Klopp's game plan and, in turn, confusing himself when it comes to his role in the Liverpool attack.
One move he's Andy Carroll, the next he's Romelu Lukaku, then he's Fernando Torres; and none with much efficiency.
Benteke: 3of 8 shots on target. 2 chances created, 1 assist, fouled once, gave 4 fouls away, 18/24passes

— SimonBrundish (@SimonBrundish) January 21, 2016
Benteke won only 14% oh aerial duels last night!

— SimonBrundish (@SimonBrundish) January 21, 2016
Klopp was asked about Benteke in post-match interview with BT, with the German highlighting his work in "the spaces around the box" as being a positive.
Klopp saw what we saw; Benteke did good work outside the box, but was missing inside the box – which is where he needs to be.
To his credit, Benteke tried to plough a different furrow against Exeter, but his positioning and movement was worrying.
Klopp will want more from his No. 9, and with Firmino taking up a regular role in the Premier League, and Liverpool submitting a £25 million bid for 26-goal Alex Teixeira the morning after this win, it is clear that Benteke's contributions are not enough.
Though he produced some positive moves against League Two Exeter on Wednesday night, Benteke's disappointing overall game suggests the end could be near under Klopp.
[interaction id="56a12bf2ef54eee31eebb643″]