Liverpool's trophy hopes were ended at Wembley on Sunday evening as they lost on penalties to Manchester City in the League Cup final, Karl Matchett was at Wembley as the Reds' penalty shootout luck came to an end.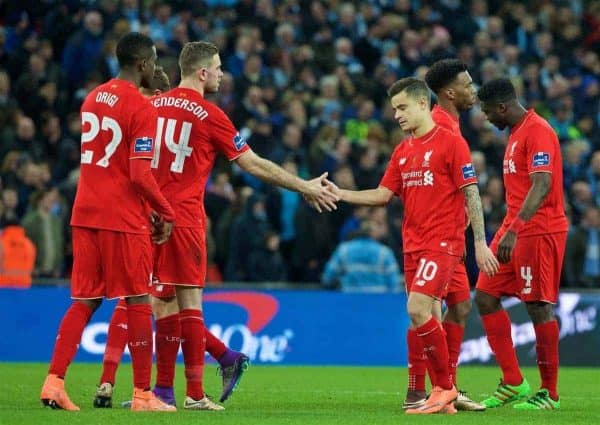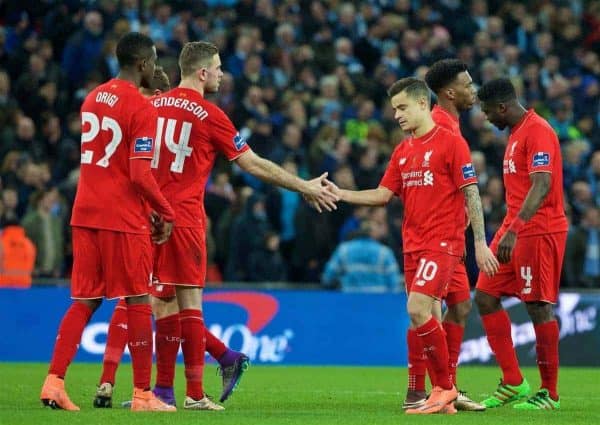 A tense match, largely devoid of final-third quality for the most part, came to life in the second half as Fernandinho opened the scoring soon after the break, with Liverpool equalising late in the game through Philippe Coutinho.
Neither side took their chances in extra time, meaning a shoot-out was on the cards, but Willy Caballero saved from Lucas, Coutinho and Adam Lallana to give City a 3-1 win from on spot kicks.
A day which began in optimistic fashion for Liverpool ended on a sickeningly disheartening note, but provided plenty of talking points for full time and beyond.
Five more years of the amazing and the abysmal?
Simon Mignolet didn't have an awful lot to do in the first hour of the match at Wembley, but two shots on target showed the best and worst of the Belgian 'keeper: A fine fingertip save onto the post in the first half from Sergio Aguero, and a poor attempt at stopping a low drive from Fernandinho, on the angle but toward the centre of the goal, for the opening strike.

The groans around Wembley were audible as the replays were shown on the big screens at either end of the pitch, with the unspoken agreement of same old, same old prevalent in the mood of the supporters clad in red.
That wasn't it though as Mignolet pulled out the other side of his game—improbable, messy and pivotal saves—on a further two occasions to deny City in the latter stages of the the 90 minutes and help Liverpool to extra time. As if that wasn't enough, it was Mignolet to the rescue again toward the end of the first additional period as he produced a huge bear paw to his left to deny Aguero one-on-one, with City fans already cheering for a goal before Kolo Toure calmly ran off with the ball, which had been heading wide anyway thanks to Mignolet's save.
Mignolet began his Liverpool career with a last-minute penalty save on his debut against Stoke, but couldn't repeat the trick in the shoot-out as the only penalty City missed struck the woodwork.
Tactically important but technically lacking
James Milner was never going to be left out of Liverpool's starting XI. He's experienced, energetic, composed for the most part and has played in plenty of big games before, for Manchester City and for England, but similarly nobody would likely pick him as a gamechanger or a match-winner.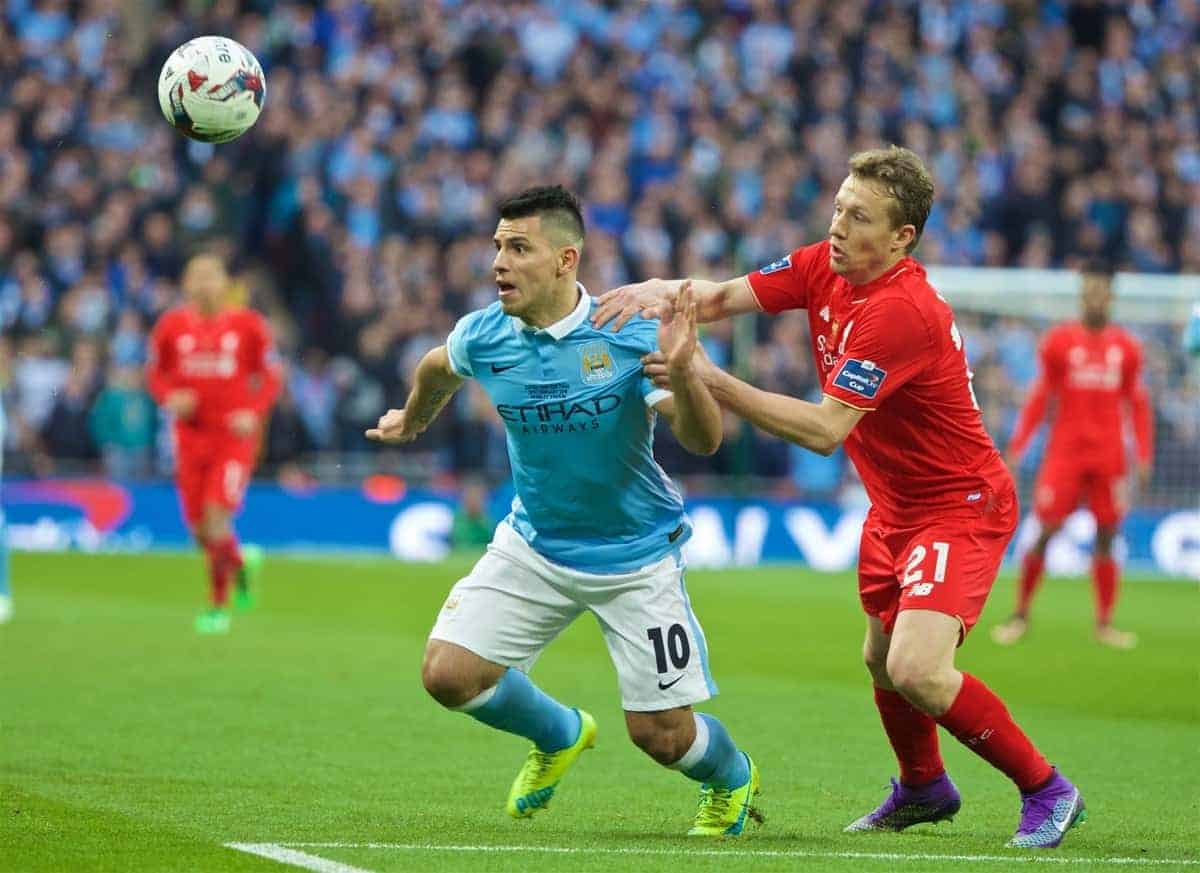 In truth he performed reasonably well on the day with his work rate, his positional work and tactical discipline—chasing back Raheem Sterling, covering centrally if a team mate was out of position—but in possession he simply doesn't possess the ingenuity or variation in his play to open up defences regularly enough, certainly not against title-challenging defences.
His commitment to the cause and importance in the squad was notable again when he moved to left-back for the last 40 minutes or so of play, but in a key game when small moments can make the difference between success and failure, there was never any expectation that Milner would be the one to send the Reds to glory.
Unless they were awarded a penalty, of course.
The same could also have been levelled at Jordan Henderson, unable to return to anything like top form following his injury so far. The captain couldn't dominate midfield, created nothing of note and only irregularly pushed forward into the offensive third to support the attack—more, much more, was needed from an inspirational figure.
The biggest question of all will be: where was the captain in the shoot-out, presuming Milner was down as fifth taker?
Moreno with no concept of moderation
Alberto Moreno is an exciting outlet for Liverpool, one of the few players in the squad with blistering pace to beat offside traps and defenders in one-on-ones and, when tracking back, is possessed of a fearlessness in the challenge which has benefited the Reds on more than one occasion.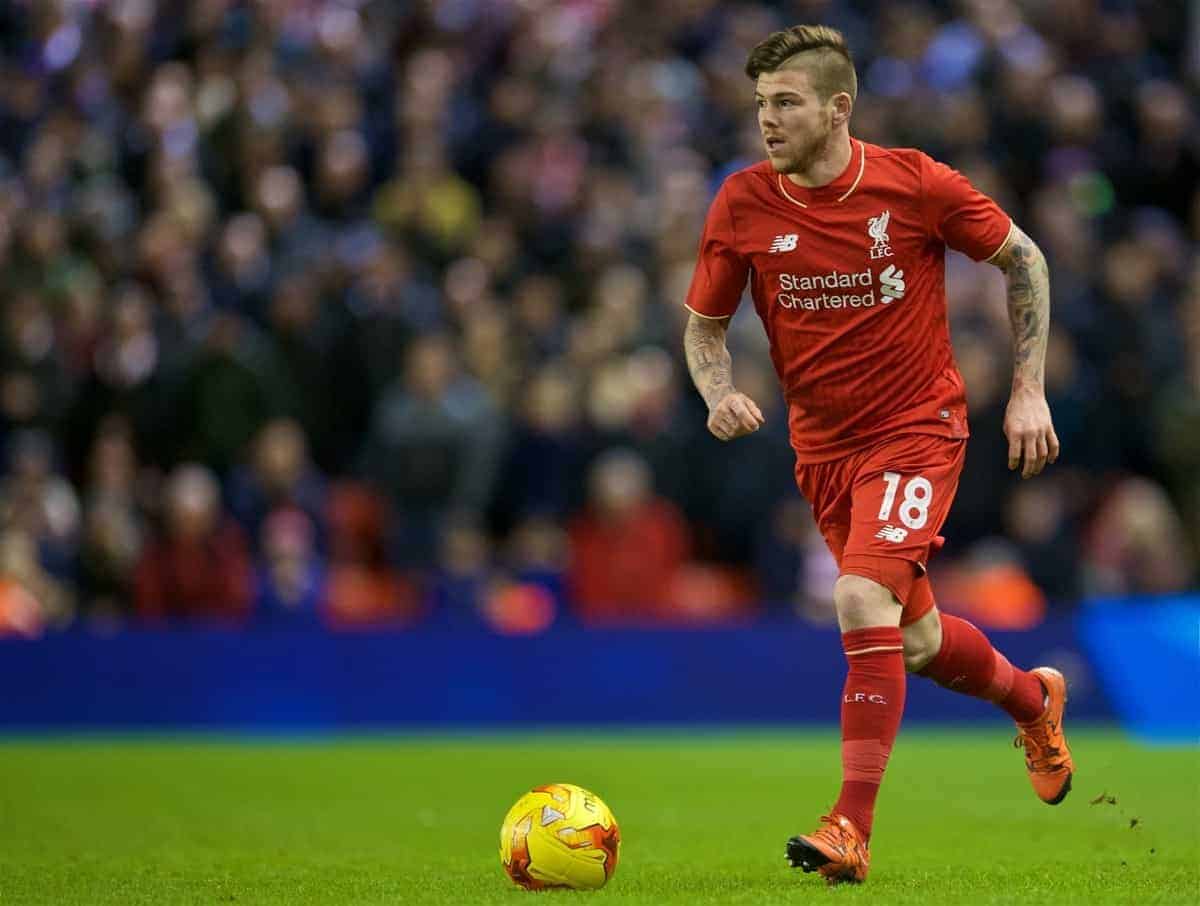 He's also at times a brainless buffoon, caught up in the emotion of games and unable to separate himself from situations with a moment of clarity. Jurgen Klopp fumed at his left-back in a recent match when Moreno became embroiled in a personal off-the-ball duel with an opponent and would have been left similarly unimpressed by the Spaniard's efforts in the second half at Wembley. Twice in succession he was left far, far up the pitch after losing possession, made two extremely petulant fouls and was ridiculously fortunate not to gift a penalty.
It wasn't a surprise when he was subbed and if he is jettisoned in the summer it will be down to his questionable mentality rather than any shortage of footballing ability.
To put it bluntly in contemporary online parlance, Alberto Moreno has no chill.
Dynamic in-game switches

Klopp didn't simply make substitutions this time, he altered the roles of players and the layout of the team.
Liverpool were struggling to get a foothold in the game at 1-0 down and certainly weren't creating chances of their own, so rather than simply go like for like, the German deserves credit for having the courage to entirely alter his team's approach. Bringing on Adam Lallana and Divock Origi saw a change to a 4-4-2 diamond, with Emre Can at the base of midfield, and suddenly gaps began to open up for Liverpool.
The equaliser came after a period of sustained attacking play and one or two more good chances were fashioned thereafter, while City's midfield marauding forward was more ably dealt with too.
It might not have paid off, it could have gone horribly, but defeat was a certainty if no atlerations were made by Liverpool. Having versatility in the squad is one thing, but Klopp used it to good effect on this occasion and there wasn't much more the manager could have done with the players at his disposal to get a positive result for the Reds on the day.
Rest of the season
What now for Liverpool in the remainder of 2015-16? The top four is beyond them in the Premier League, so focus will naturally switch to the Europa League and lingering hopes of success there.

Motivation won't be a problem in the round of 16, with Manchester United the opponents, but it's still an awfully long road to another final and the potential Champions League place which comes with lifting Europe's secondary competition.
It's fair to suggest that from this point onwards, places in next year's squad are up for grabs, not just by the odd good showing in a technical sense but in leaders and good mentality coming to the fore. Klopp's last season at Dortmund was a disaster initially, but the squad—more talented and used to winning than this Liverpool one, admittedly—rallied and made a huge surge in the latter stages of the campaign, reaching a cup final of their own in fact.
The manager must cultivate that same sort of refusal to let the season peter out in benign and unimportant fashion, and only those who contribute to that target on the pitch should be considered for involvement next season.
A trophy hasn't been won, but the rebuild can begin here nonetheless.