Speaking ahead of Liverpool's Europa League clash with Augsburg, Daniel Sturridge dismissed speculation that he was looking to leave the club in the future.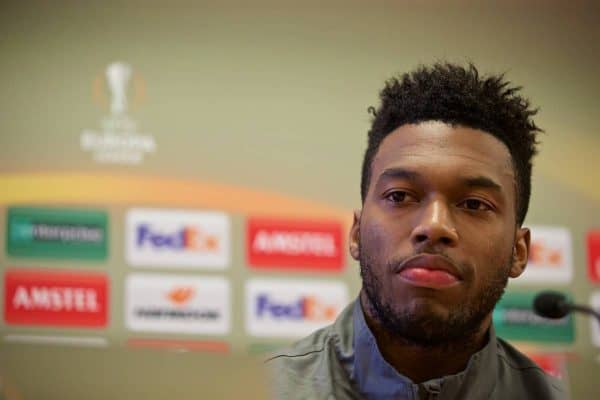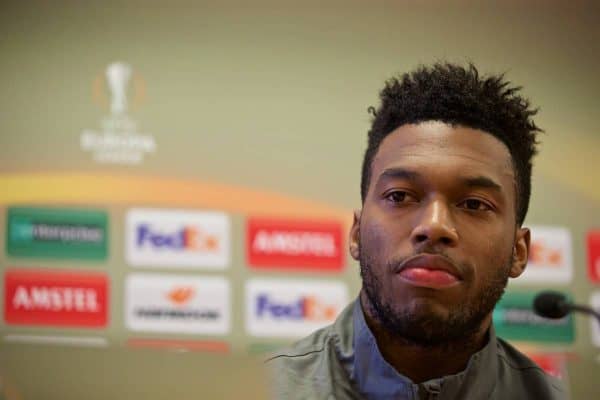 Sturridge will be looking to make another start against Augsburg as he steps up his recovery from a number of troubling injuries, and work towards top form in the Liverpool attack.
During his time on the sidelines, however, the 26-year-old was rumoured to be dissatisfied to the club's approach to his layoffs.
But speaking to reporters on Wednesday afternoon, Sturridge quashed speculation, saying he is "looking forward to the future" at Liverpool.
"It's important to worry about the present," he said.
"It's been a difficult time, being injured, but it's part of football.
"Now I'm looking forward to the future, of course with Liverpool.
"I'm relaxed, I've been relaxed the whole time, and I'm happy here."

More spurious claims suggested that Sturridge's Christian faith was keeping him from performing for Liverpool, with the striker taken aback by questioning along that line, stressing his commitment to the club.
"I don't listen to social media," he explained.
"It's surprising to be honest, I didn't know religion had anything to do with football. As a child you don't think about those things.
"To say a player doesn't want to play, that's the biggest disrespect you could say to any individual footballer.
"It's astonishing, it's disappointing, but it's football and, of course, people are entitled to their opinions.
"I don't think anybody will understand how much it means to me to play football.
"I'll continue to focus on doing my best, and playing for Liverpool."
Sturridge also refuted claims that he was content to remain on the sidelines, saying he was "devastated" to suffer with continued injury problems.
"I'm not someone who's at the house chilling, laughing and joking, living my life to the fullest when I'm not playing; I'm at home devastated, sitting in the stands devastated," he continued.
"I think some of the things people say about me, a lot of them aren't the truth.
"All I want to do is play football, and help this team have success, that's the most important thing to me."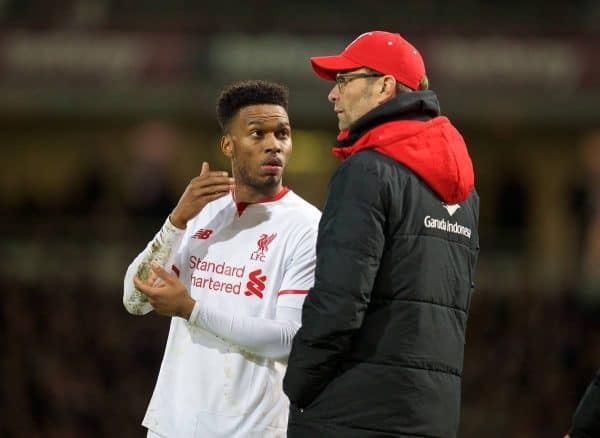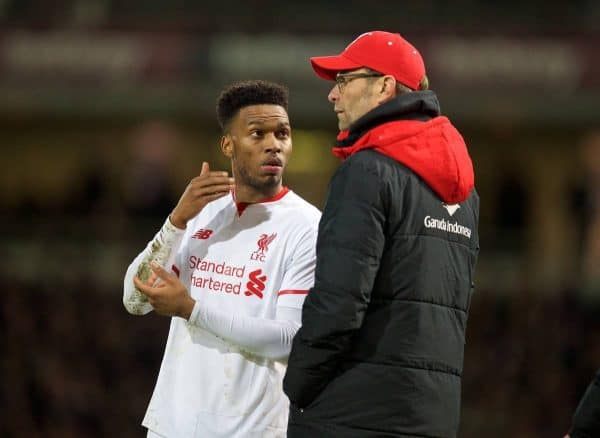 Joining Sturridge at Liverpool's pre-Augsburg press conference at Melwood, Jurgen Klopp praised his player's approach.
"It was interesting to hear what you asked," he said.
"He was completely relaxed.
"I think a few things are more clear now than before, and that's what we need.
"I heard from him – not second- or third-hand – a lot of times, about his future at LFC.
"Everything is fine, and you can now stop thinking about this.
"He's a really good football player, and now he's able to play, and that's what we want to see all the time."
Klopp suggested that Sturridge could start against both Augsburg and in Sunday's League Cup final against Manchester City, and the German will be hoping his star forward can find top form and a rhythm as a result.
A committed, fit and firing Sturridge is invaluable to Liverpool, and the ex-City man's goals will be key if the Reds are to enjoy success in the Europa League and the League Cup.